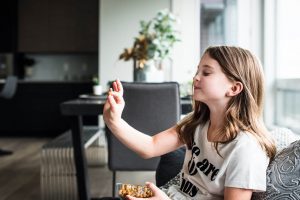 After months of cooking, tasting, and photographing, with my foodie BFF Jessica Musslewhite we're ready to share our first recipe collection. And, phew, just in time for National Cookbook Month!
"Easy Peas-y" is a cookbook for kids of all ages that celebrates Alberta-grown beans, peas, lentils and chickpeas. It's filled with yummy, GetJoyfull recipes that help kids find adventure in the kitchen, plan ahead for healthy eating, and add personality to the plate.
Special thanks to Alberta farmers, and our friends at Alberta Pulse Growers for supporting the GetJoyfull movement, and for helping to make Easy Peas-y possible.
---
---
Recipe of the Week
Chicken-Lentil Dippers (Dry Red Split Lentils)
Crispy tender dippers loaded with lentils, veggies, and cheese. Ready for dipping! 
INGREDIENTS
3/4 cup (175 mL) dry red split lentils, washed & drained

2 1/4 cup (560 mL water

2 cups (500 mL) finely grated carrot 

1 lb (454 g) ground chicken

1/2 cup (125 mL) grated cheddar cheese

1 tsp (5 mL) garlic powder

1 tsp (5 mL) onion powder

1 cup (250 mL) panko breadcrumbs

1 Tbsp (15 mL) canola oil
DIRECTIONS
Add dry split red lentils to medium stock pot with water. Bring to a boil, and cook for 10 minutes until tender. Drain.

In a large bowl with a wooden spoon or clean hands, mix cooked lentils, carrot, chicken, cheese, and spices until well combined.

Form mixture into small balls and roll in breadcrumbs. Gently form into dippers.

Preheat skillet on medium heat and add oil.

Add dippers to pan. Cook 4-6 minutes per side until cooked through and golden brown.

Serve with your favourite dipping sauce.
NUTRIENTS PER SERVING (1 dipper)
Calories 90, Fat 4 g, Cholesterol 23 mg, Carbohydrate 6 g, Fibre 1 g, Sugar 1 g, Protein 7 g, Sodium 96 mg, Potassium 83mg,  Iron 1 mg
Tip: Bake a double batch. Reheat dippers from frozen at 375°F for 10 minutes.