Growing up, raspberries, currents, cherries and gooseberries covered my Grandmother's property in Newfoundland. As a little girl, we'd snack while playing, even having neighbourhood cherry picking parties. My Grandmother seemed to be always making jam, or canning fruit. Just the perfume of raspberry jam simmering on the stove can instantly bring me back to being eight years old again.
That's why it's so perfect that for our latest GetJoyfull adventure, Cela and I found ourselves planting a few strawberry plants and canning with Edmonton Chef, Dad and owner of Workshop Eatery Paul Shufelt. Like our family, Paul shares with us his own fond memories of spending countless hours in the garden with his Grandmother and mom, picking fresh off the vine, turning their harvest into delicious meals and of course sweet jams. Making your own jam is easy, nutritious and a great way to leverage and extend the season of local fruit. Try growing your own berries, visit a farmer's market or even a local u pick like these.
Chef Paul is a big supporter of locally produced ingredients. On their patio they grow a variety of fresh produce and herbs, and what he can't grow himself he sources from a handful of local businesses. Paul says by going local we:
Reduce the distance our food has to travel before making it onto the plate. A lot of the produce sold in traditional grocery stores is shipped in from the United States or even Mexico, stretching the amount of time it takes for the food to get to us after it's picked. This greatly reduces the nutritional value of the food we put into our bodies.
Improve taste and shelf life. By buying food picked or made fresh that morning we treat our taste buds to the best experience. Purchasing locally, also almost guarantees you'll have a product that lasts longer in the pantry or fridge, reducing food waste and saving you money.
Help support the local economy. By spending money on businesses that operate in and around our city we help contribute to the overall economic well-being of the city we raise our families in.
You cannot miss Paul's passion for food and going back to basics. With a commitment to handcrafting each ingredient in-house, wherever possible, his PB & J French Toast is a delicious example of how we can bring joy to every meal.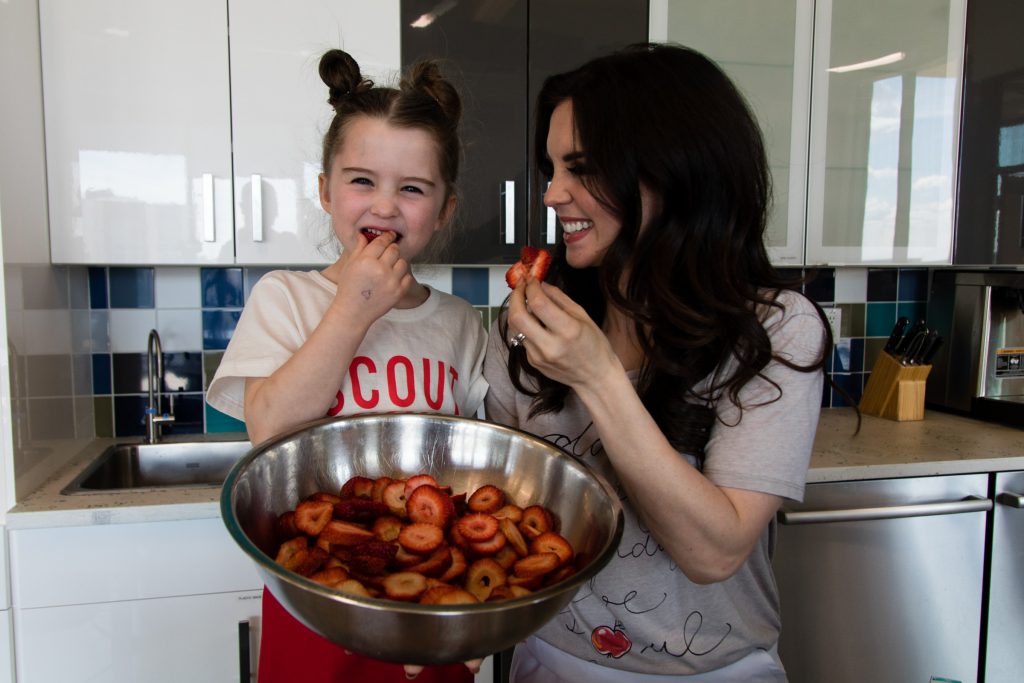 KEY INGREDIENT: Fresh Local Strawberries
PREP TIME: 30-40 Minutes
COOK TIME: 5 minutes
SERVES: 4-6 Servings
Strawberry Jam
Ingredients:
3 ¾ cups strawberries, hulled and crushed
1/4 cup lemon juice
7 cups granulated sugar
1 pouch certo liquid pectin
Preparation:
In a pot stir together fruit, sugar and lemon juice
Bring to a boil over high heat
Boil hard 1 minute
Remove from heat, stir in pectin
Return to stove and simmer for five minutes, skimming to prevent fruit from floating
Remove from heat and if preserving, follow the standard preserve method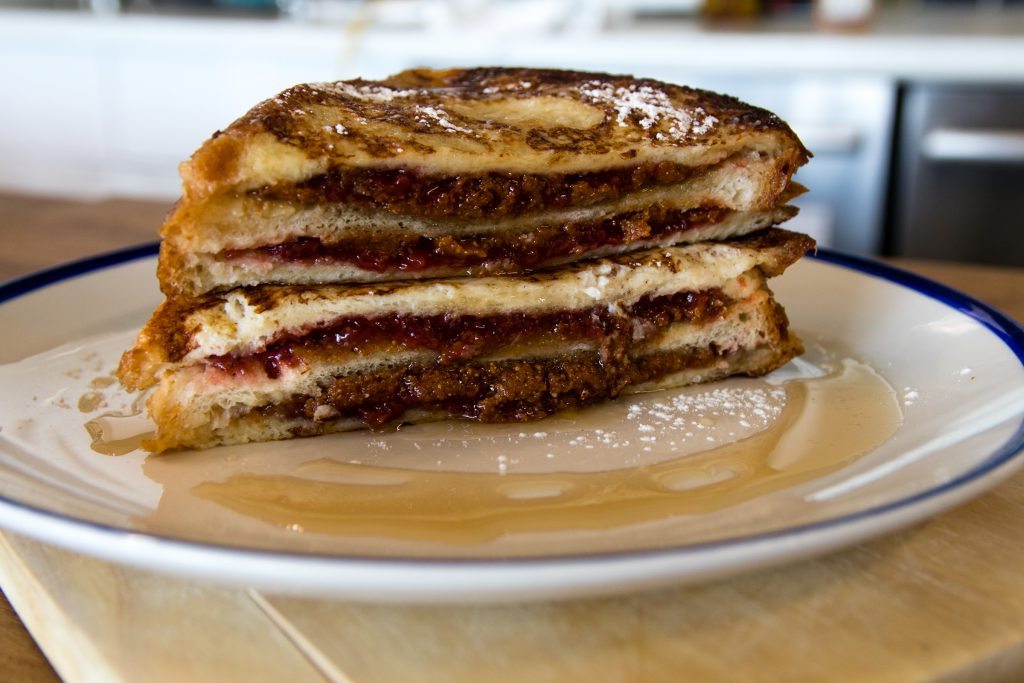 Peanut Butter
Ingredients:
2 cups peanuts
1/2 tsp. salt
1-2 tbsp. peanut oil
1-2 tbsp. honey
Preparation:
Preheat the oven to 350F
Line a baking sheet with parchment paper
Spread the peanuts on the baking sheet
Roast the peanuts for about 8-10 minutes
Remove the peanuts from the oven and then place in the bowl of a food processor
The key to preparing this is time, begin by pulsing the peanuts until they form a coarse meal, about one minute
Then process for another minute
Stop the machine, remove the lid, and scrape down the sides
Process for another minute, it will begin to get clumpy, stop, scrape down the sides again
Process for another minute, adding the salt, and some of the oil and honey as the machine spins
Continue to spin until it reaches your desired consistency
Remove the lid, taste test, adjust the salt and sweetness to your liking
Store in an airtight container and refrigerate
French Toast
Ingredients:
1 loaf soft white bread
4 eggs
1 cup milk
3 tbsp. sugar
1/2 tsp. cinnamon
1/4 tsp. nutmeg
4 tbsp. butter
jam and peanut butter
icing sugar and maple syrup to garnish
Preparation:
In a large bowl combine the eggs, milk, sugar and spice. Wish together until thoroughly combined
Preheat a pan to medium heat
Lay out the bread, smearing a generous dose of jam on one side, and peanut butter on the other
Put the sandwiches together
Soak the bread in the egg mixture, leaving it in there for about a minute
Add a dab of butter to the pan, then add the french toast, griddling on each side for about 1-2 minutes
Sprinkle with the icing sugar and maple syrup and serve!
Just in time for Father's Day this yummy French toast recipe is sure to be a family favourite, perfect for a sunny Sunday brunch at home, great news if you failed to snag one of the tables to take in Workshop's mouth-watering Father's Day Brunch menu! Get Joyfull this Father's Day everyone and don't forget to fill up on family time.