Nothing says Joyfull eating to me more than food that comes from generations of farmers, growers or fisherman passing their craft down the family line. Effing Seafoods is a great example of that rich family tradition, passed down from father to son and now to his two daughters. We recently met up with Rob Tryon, Owner of Effing Seafoods and his two daughters Sierra and Savanna to learn more about the passion for food that fuels this popular farmer's market staple.
Effing Seafoods brings sustainably-caught fresh and flash-frozen fish, oysters and seafood from Canadian coastal waters straight to the fish frenzied market-goers of Edmonton. Rob's father passed his fishing knowledge down to his son and now Rob involves his girls in everything from boarding grandpa's fishing boat, the Miss Tatum, to sharing their seafood knowledge with Edmontonians under the Effing Seafoods tent.
The most important thing to this seafood savant is knowing and connecting with the fisherman and boats that catch the bounty he brings back to his customers. Rob says there are three things to look for when picking out a good fish at the market:
Nice pink gills
Clear and not cloudy eyes
A fresh not fishy smell
In the full webisode above we treat the girls to a yummy fish taco recipe using Rob's delicious rockfish. Here's how to make yours at home:
Blackened Rockfish Tacos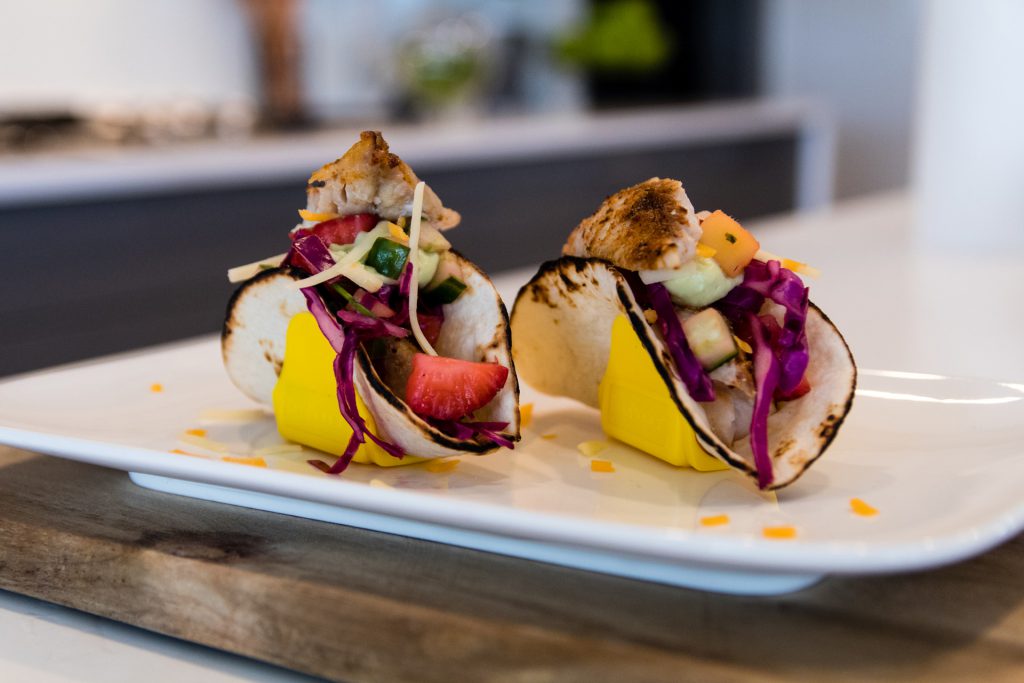 KEY INGREDIENT: Effing Rockfish
PREP TIME: 30 Minutes
COOK TIME: 8-12 minutes
SERVES: 8 Servings
INGREDIENTS:
1 pound rockfish
2 tbsp. blackening spice:

1 tbsp. onion powder
1 tbsp. garlic powder
2 tbsp. chili powder
1 tbsp. black pepper
1 tbsp. oregano
½ tbsp. red pepper flakes
½ tbsp. sea salt

1 tablespoon extra-virgin olive oil
8 mini soft tortillas
PROCEDURE:
Preheat oven to 400 degrees.
Place rockfish filets on lined baking sheet; coat with olive oil and season rockfish with blackening spice.
Bake for 8-12 minutes, or until cooked through.
Remove from oven, and use two forks to flake the fish into bite-sized pieces.
Warm tortilla on grill, or any way you like. Assemble tacos by filling a tortilla with fish, salsa and a drizzle of avocado cream.
---
Summer Fruit Salsa
INGREDIENTS:
1 cups local strawberries, diced
1 red pepper, diced
1 mango, diced
1 English cucumber, diced
½ red onion, diced
1 cup red cabbage, shredded
2 tbsp. fresh lime juice
1-2 tbsp. cilantro, diced
Salt and pepper, to taste
PREPARATION:
Wash, prep and dice all fresh ingredients. Use what you have on hand, and at peak freshness.
In a large bowl, gently toss all ingredients together and stir to combine.
Avocado Lime Cream
INGREDIENTS:
3/4 cup plain Greek yogurt
1 avocado
1 tbsp. honey
2 tbsp. fresh lime juice
Salt and pepper, to taste
PREPARATION:
Add all ingredients to a blender or food processor.
Process until completely smooth.
Optional: Add chipotle peppers, or cilantro for added depth of flavour.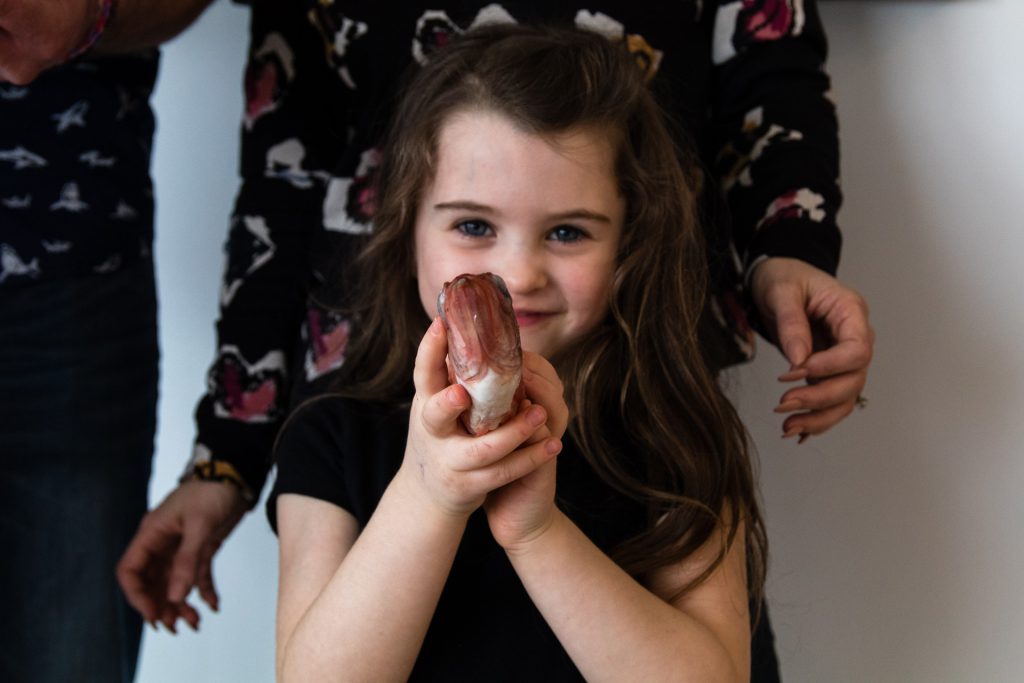 You can find Rob popping up at local farmer's markets all summer long. Wednesday nights find Effing at the Southwest Edmonton Farmer's Market from 4:00 p.m. – 7:30 p.m. Rob is also set up at the Salisbury Famer's Market on Thursday nights, also from 4:00 p.m. – 7:30 p.m. and Old Strathcona Farmers Market on Saturday from 8:00 a.m. – 3:00 p.m. Then starting in June you can find him at the St. Albert Farmer's Market every Saturday from 10:00 a.m. to 3:00 p.m. Bonus, you can catch Effing Seafoods on the menu at many awesome local restaurants. Enjoy!