Sunny days are a sure sign picnic season is here and summer is around the corner. Will you be packing up for a picnic this month? I know we will! My kiddos love to eat outside, and somehow just eating on a blanket in the backyard brings them running to the kitchen to grab their lunchboxes to go. It gets me outside, too. And, while I'm not exactly outdoorsy, I'm warming up to the idea, and absolutely loving our little conversations under the apple tree.
Did you know Monarch butterflies migrate over 3,000 miles? I didn't, but this is just one of many facts I picked up from Cela Joy, our little critter expert, at Friday's picnic.
Picnic lunches don't have to be complicated, or fussy. Most days we just share a platter of crackers, cheese & fruit. Other days, Remi makes dinosaur PB & J sandwiches, with chocolate chip eyes. But some days, I like to plan ahead, roll up summer and pack a little something special. Lately, we've been mixing & matching fresh veggies, sweet fruits, creamy cheeses, crispy tofu and tender chicken into perfectly portable salad rolls. I am loving them! Our favourite combo so far is one hundred percent strawberries, pea shoots and chicken. Amazing.
Sweet fruits are the perfect pair to savoury chicken. In fact, protein-rich foods like chicken, nut butters and beans can all benefit from a fruity boost. Adding fruit to savoury dishes is an easy way to help kids feel more at ease when trying unfamiliar foods, or foods that pack, dare I say, something green!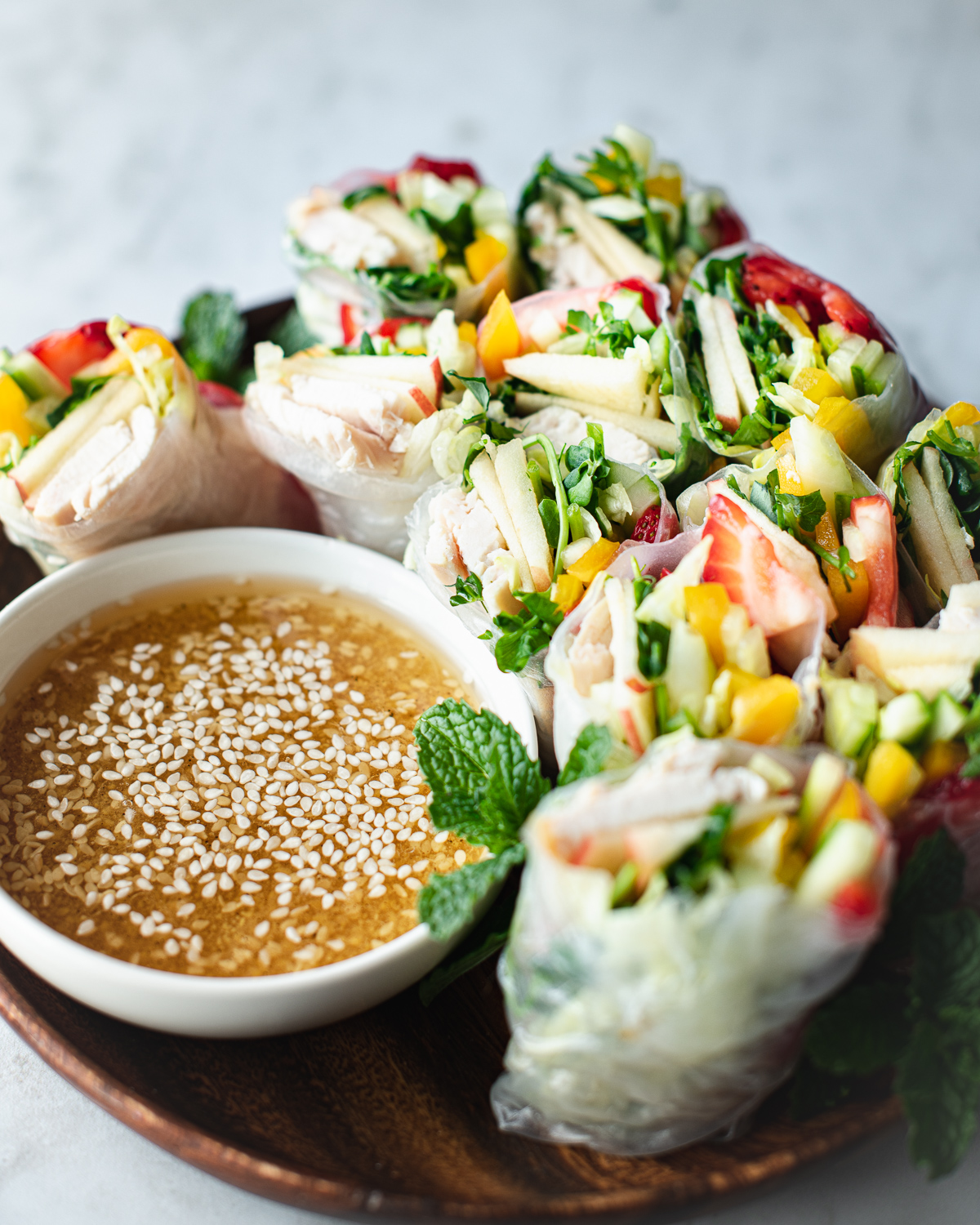 Here are a few of our favourite fruit & protein pairings: 
Chicken, apple & cheddar kabobs

Medjool dates

stuffed with peanut butter and rolled in granola

Pear & Chicken Flatbread. Store made whole-grain naan topped with pear, chicken and goat cheese, then finished with honey and chopped walnuts. 

White bean smoothie

with coconut and banana 

Sweet & sour chicken thighs with pineapple and peas

Seedy crackers with hummus and grapes 
What are some of your favourite fruit & protein combos?
Sweet Sesame Salad Rolls
---
Tender yummy chicken layered with sweet strawberries, crisp veggies & pea shoots. 'Sweet Sesame Salad Rolls' are perfect for a backyard picnic, or road-trip lunch—they're delicious! 
Prep time: 20 minutes
Cooking time: 10 minutes
Yield: 10 wraps
Ingredients:
Salad Rolls:
2 cups (300 g) cooked chicken breast, thinly sliced

10, 8" sheets rice paper wrappers

½ head crisp lettuce, shredded 

1 yellow bell pepper, seeded and thinly sliced 

1 English cucumbers, julienned

1 tart apple, julienned 

10 medium strawberries, hulled and sliced

1 cup fresh pea shoots
Sweet Sesame Dressing:
2 Tbsp (30 ml) olive oil

4 Tbsp (60 ml) apple cider vinegar 

1 teaspoon (5 ml) sesame oil

1-2 Tbsp (15-30 ml) honey*

1 Tbsp (15 ml) Dijon mustard 

Salt and pepper to taste

1 Tbsp (15 ml) sesame seeds (garnish)
*sweeten to your liking
Directions:
Add dressing ingredients into a small mason jar. Add lid and shake well to combine. 

Chop cooked chicken, fruit and vegetables as needed. 

Add warm water to a dish that will fit an 8" rice paper wrapper. Soak each rice paper for 10-15 seconds, until translucent and ready for filling & rolling. 

Place softened rice paper on a clean damp surface. Layer fruit, veggies, chicken & pea shoots. Roll the bottom one-third of the paper towards the center, covering the filling. Tuck in both sides, and continue to roll until sealed. Repeat until all rolls are complete. 

Cut each roll in half and place on a platter. Keep rolls cool until ready to each and enjoy with sweet sesame dressing. 
Heartfelt thanks to Alberta farmers and Alberta Chicken Producers for supporting the GetJoyfull movement, and for helping to make this post and recipe possible. To the farmers who continue to farm so that we have food to feed our families, I am eternally grateful.
Take care, everyone. 
Joyfully, 
Emily 
Emily Mardell is a Registered Dietitian, busy mama of three and proud Alberta foodie. Emily is passionate about quality ingredients and creating delicious, nourishing recipes that bring families together. Follow her at GetJoyfull.com for nutrition advice and tips to grow food joy and fill up on family time.