As winter settles in, the call for cozy, comfort food meals can be heard and felt everywhere.
For me, soup stands alone in the comfort food arena. Boasting endless flavour possibilities, spoonfuls of memories and an almost impossible-to-replicate-magic…I've yet to meet a soup I didn't like!
What's your most favourite soup you've ever tried?
While my GiGi's Chicken & Rice Soup will always be my #1 fave, this "Thai Coconut Curry Chicken Soup" simmers strong in my top 5 all year long. Inspired by the flavours of Thailand and simplified for home cooks in a hurry, this soup might just sneak into your top 5, too!
---
Thai Coconut Curry Chicken Soup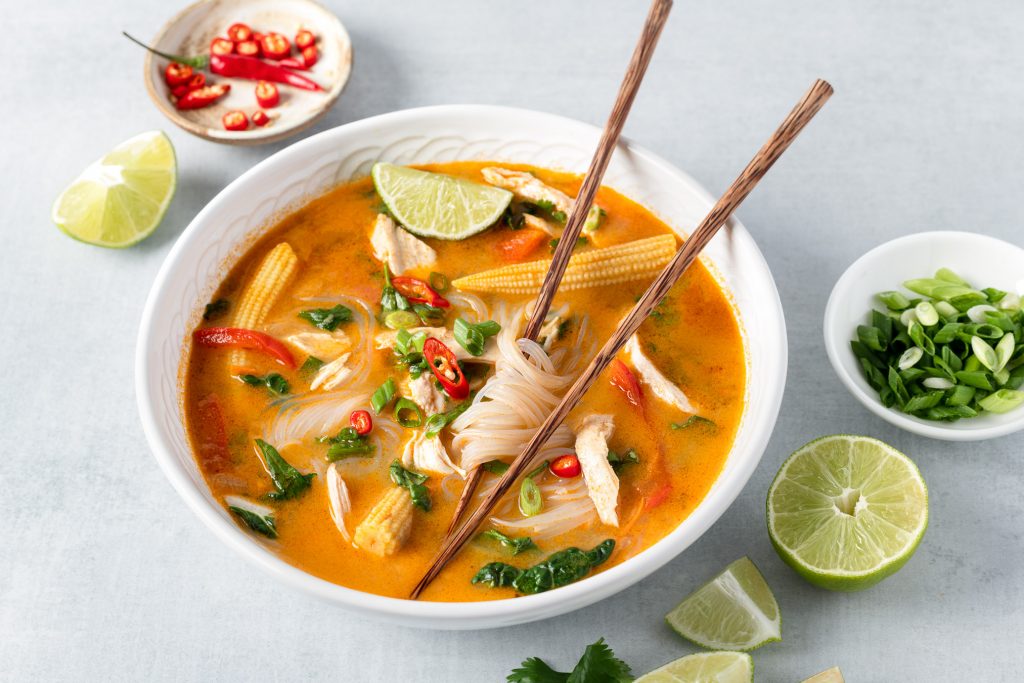 Prepared with the planned extras from this week's roast chicken this incredibly fragrant, fabulous soup is sure to help us all stay a little healthier and warmer this winter.
INGREDIENTS:
1 Tbsp (15 mL) oil

3 Tbsp (45 mL) red curry paste

½ onion, diced

1 clove garlic, minced

1 Tbsp (15 mL) freshly grated ginger

1 medium carrot, thinly sliced 

1 red bell pepper, diced

1 can (400 mL) baby corn, drained

2 cups (500 mL) shredded chicken

4 cups (1L) low-sodium chicken broth (homemade or store bought) 

1 can (14 oz) coconut milk

2 heads of bok choy, sliced 

2 limes juice and zest

1/2 (8-ounce) package rice noodles

1 tablespoon fish sauce

1/2 cup fresh cilantro leaves, chopped

Salt and pepper to taste
DIRECTIONS:
Heat oil in a large stockpot or Dutch oven over medium heat. 

Add garlic, bell pepper and onion. Cook, stirring occasionally, until tender, about 3-4 minutes.

Stir in red curry paste, fish sauce and ginger until fragrant, about 1 minute.

Stir in chicken broth and coconut milk, scraping any browned bits from the bottom of the pot.

Add prepared chicken, bok choy, corn and carrots. Bring to a boil; reduce heat and cook, stirring occasionally, until reduced, about 10 minutes.

Stir in rice noodles, until noodles are tender, about 5 minutes.

Remove from heat; stir in green onions, cilantro, basil and lime juice; season with salt and pepper, to taste.

Serve immediately.
RECIPE TIPS:
Short on time? Take the pressure off and use a ready-prepared rotisserie chicken to make this soup. Ready to roast? Try our Cilantro-Lime Whole Roast Chicken and use the leftovers to make this amazing recipe, even more delicious! 
Try your hand at making homemade chicken stock!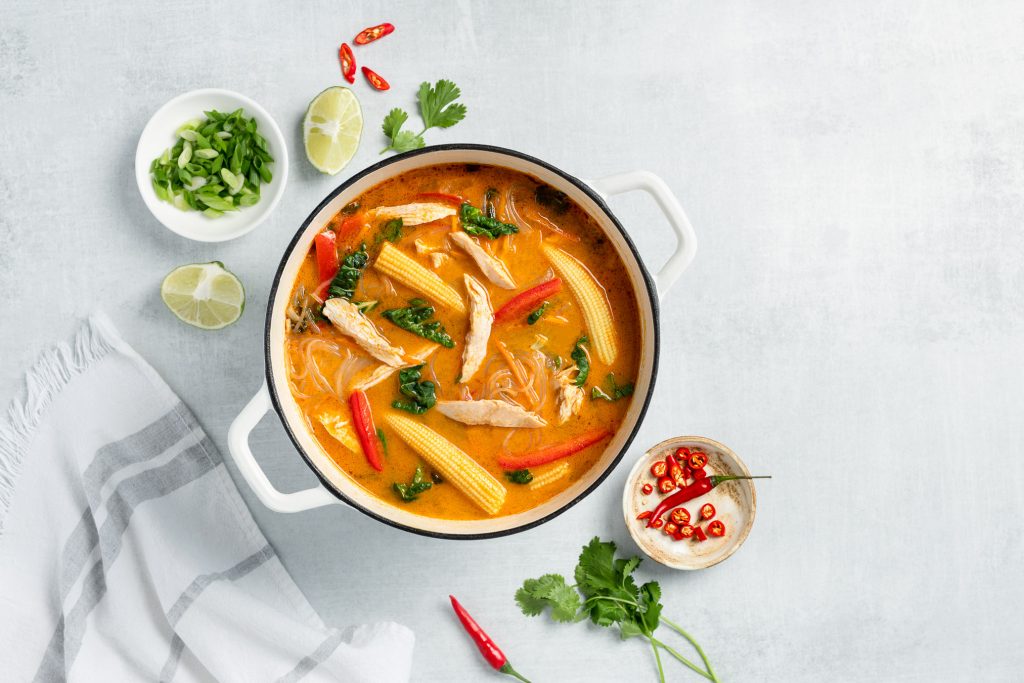 Quick Steps: Add leftover roast chicken carcass, along with onions, garlic, spices and lemon to a stock pot. Cover with water and simmer for anywhere between 2 to 12 hours. Even longer if you have time to spare. It's a labour of love. Tip: Keep an eye on the water level and top-up as needed while cooking. As time simmers on, the stock becomes more enriched with b-vitamins, zinc and iron…all nutrients that help everyone stay strong and healthy, especially during the winter months.
Get ready, don't wait to make this amazing soup. Let's all stay warm and healthy, friends!
Special thanks to our partners and producers at Alberta Chicken Producers for helping to make this post and recipe possible. To our followers, we're so glad you're here and part of the GetJoyfull community. You are the heart of it! We love your participation, tips and comments. Feel free to like, comment and share! 
Joyfully, 
Emily 
Emily Mardell is a Registered Dietitian, busy mama of three and proud Alberta foodie. Emily is passionate about quality ingredients and creating delicious, nourishing recipes that bring families together. Follow her on social media @GetJoyfull or GetJoyfull.com for nutrition advice and tips to grow food joy and fill up on family time.