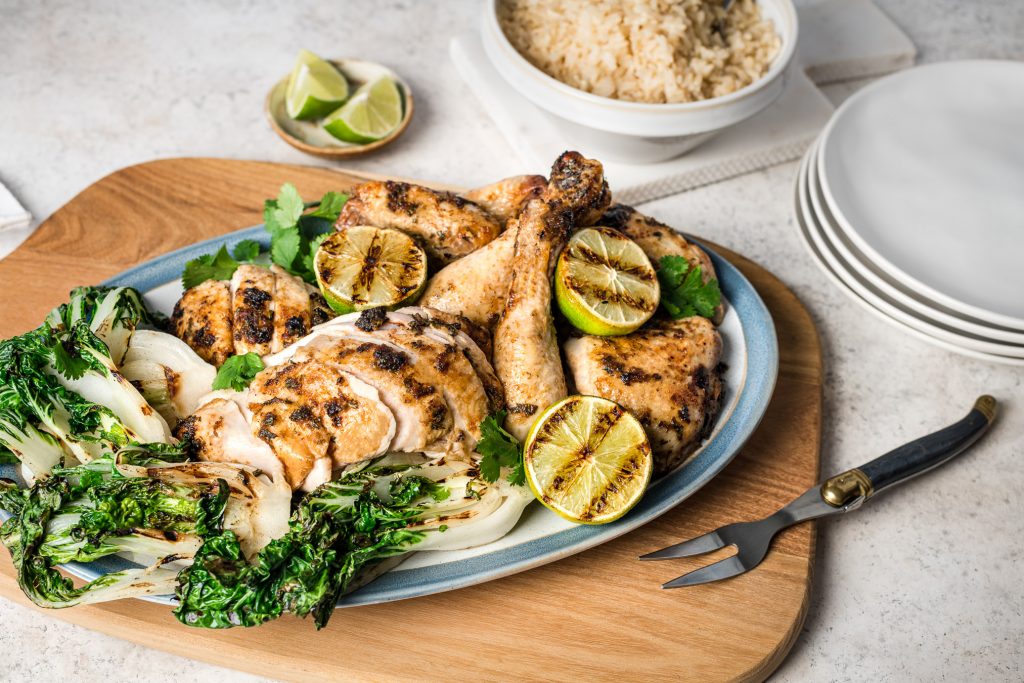 Canadians need no reminder to dress for the elements now that colder winter temperatures have settled in. That puffy parka, a pair of waterproof boots, as well as insulated gloves, a comfy scarf and lucky toque are true wardrobe essentials. Eventually, we all come back inside, peel off the layers and settle in for the best kind of warm-up. Any guesses?
Enter comfort food essentials! Comfort food favourites like epic roast chicken dinners, creamy mashed potatoes, cheesy pasta bakes and hearty chicken & veggie soups. Tried and true recipes that help us all warm-up from within.
This month we're doubling down on the power of comfort food with another edition of our "Cook Once, Eat Twice" recipe series. First up, our usual roast chicken dinner gets a flavour flip with the addition of cilantro & lime. Second, we leverage leftovers into a nutritious and delicious Thai-inspired soup!
Keep scrolling for both recipes and helpful "Cook Once, Eat Twice" tips!
---
Cilantro Lime Whole-Roasted Chicken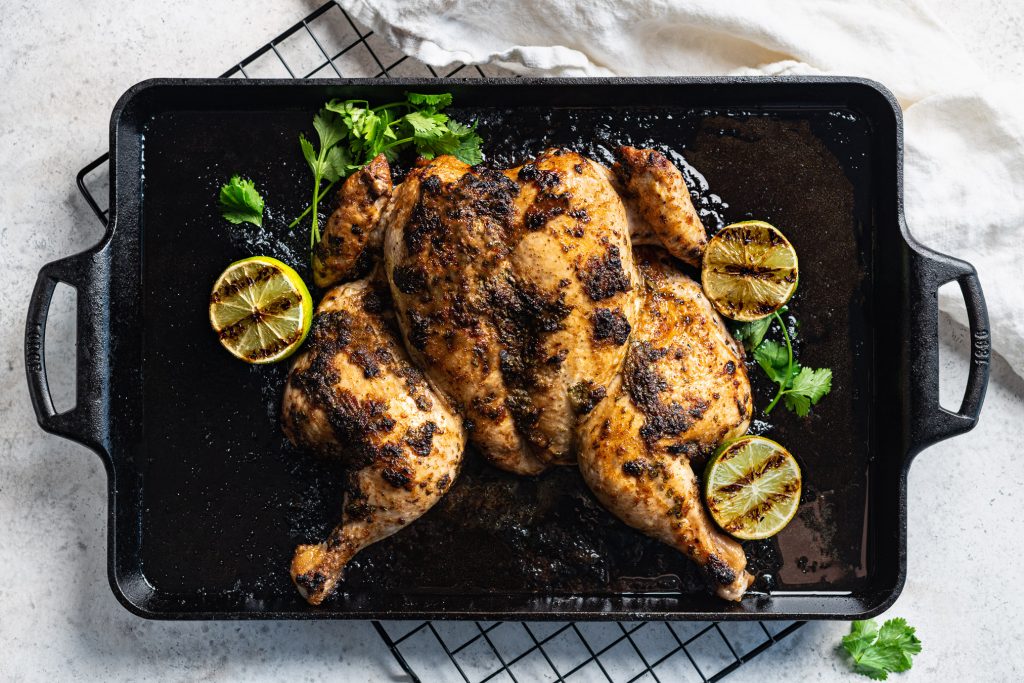 Infused with cilantro and lime, this roast chicken is juicy, flavourful and a sure bright spot on any cold dreary day. 
INGREDIENTS:
MARINADE:
2 Tbsp. 30 mL vegetable oil 

2 Tbsp. 30 mL soy sauce 

2 limes juice and zest

1 Tbsp. garlic power

1 Tbsp. grated fresh ginger

1 cup fresh Cilantro, chopped

Salt and pepper to taste
DIRECTIONS:
Preheat the oven to 375 F

Add all marinade ingredients to a medium bowl and whisk to combine.

Place chicken in a shallow roasting pan and thoroughly coat chicken both on the inside and outside with prepared marinade.

Roast chicken for 45-60 minutes until cooked to an internal temperature of 180 F.

Serve with rice, favourite greens and extra lime.
RECIPE TIPS:
Cook once, eat twice!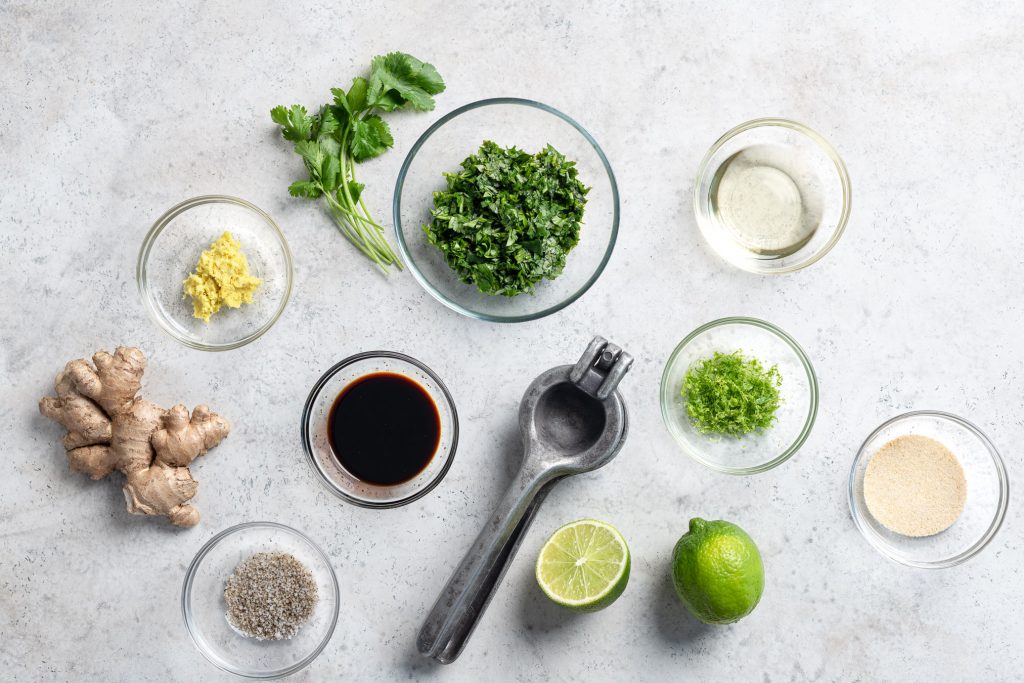 Did you know? Cooked chicken can last up to three to four days in the fridge, and up to three months in the freezer. This makes it the ideal ingredient for planned extras! Adding cooked chicken to soups, salads, sandwiches and casseroles is a surefire way to step up your weeknight dinner game and enjoy the benefits of quality protein.
Are you a leftover fan? If no, hear me out. If yes, hear me out, too! Leftovers are perfect for those busy weeknights when time is tight and you're already past hungry. Leftover prepared proteins such as shredded whole roast chicken as well as convenience items like frozen vegetables, canned beans and fresh pastas are all go-to ingredients in my busy kitchen. They're nutritious, cost-effective and helpful time-savers. 
What are your favourite ways to use leftovers prepared proteins, such as cooked chicken?
Ok, awesome. Next time you have extras on-hand and feel a comfort food craving coming on, give this delicious, family-friendly, "Thai Coconut Curry Chicken Soup"a try. It's the warm-up we'll be making all winter long. Let's "Cook Once, Eat Twice," together!
Special thanks to our partners and farmer friends at Alberta Chicken Producers for making this post and recipe possible. To our followers, we're so glad you're here and part of the GetJoyfull community. You are the heart of it! We love your participation, tips and comments. Feel free to like, comment and share! Stay warm, friends.
Joyfully, 
Emily 
Emily Mardell is a Registered Dietitian, busy mama of three and proud Alberta foodie. Emily is passionate about quality ingredients and creating delicious, nourishing recipes that bring families together. Follow her on social media @GetJoyfull or GetJoyfull.com for nutrition advice and tips to grow food joy and fill up on family time.