Chocolate chip happiness, mixed with a dash of warm hugs combined with great conversation between friends; the perfect recipe for a lovely afternoon with fellow mom and blogger Kari Skelton, her husband Ryan and their young Wyatt. Cela and I were so pleased to get together with their family for an afternoon of cooking and conversation recently. The Jespersen's were hoping for a few ideas to help revive their family mealtime routine and save time in the kitchen.
As a Dietitian, and busy mom I'm familiar with the challenges that we all face when it comes to family meals. I am chronically crunched for time, and while I love to cook, I sure wish there was a cleaning fairy to help with the dishes. Whatever the challenge, if you're ready to create a family meal routine that you can feel good about, there's a GetJoyfull solution to help you out.
Getting started:
| | |
| --- | --- |
| Challenges: | GetJoyfull Solutions: |
| #1. Crunched for time | Try "planned extras," and leveraging leftovers |
| #2. Dislike cooking (and clean up) | Embrace one-pot wonders, and "healthy helpers" |
| #3. Mealtime mayhem | Minimize distractions and keep conversation light.  |
| #4. Picky eaters | Avoid pressure and cook together! |
| #5. Conflicting schedules | Give yourself a break, and celebrate small wins |
Crunched for Time 
As both entrepreneurs and working moms, Kari and I bonded instantly over shared tales of little time and lengthy to-do lists. What's most important is looking ahead to find that pocket of time for meal prep. To cut down on your time in the kitchen you can embrace 'Planned Extras'. I live (and survive) by the mantra "cook once, eat twice." I rely on doubling up freezer-friendly dishes like Crowd Pleasing Turkey Chili and Cinnamon-Curry Chicken Thighs so I can keep family dinners within reach, more often. 
You can also try reinventing leftovers into new and exciting dishes. BBQ a couple extra chicken breasts so you have leftovers on hand to make a chicken-avocado-apple wrap. Lately, I've been loving the versatility of split red lentils. I pre-cook a large pot and transform them into a Roasted Sweet Potato and Lentil Dip, Hoisin Turkey Lentil Lettuce Wraps or Coconut Oatmeal Chocolate Chip Cookie Bars. They're nutritious, super economical, and a great protein and iron boost for the kiddo that's not a meat fan.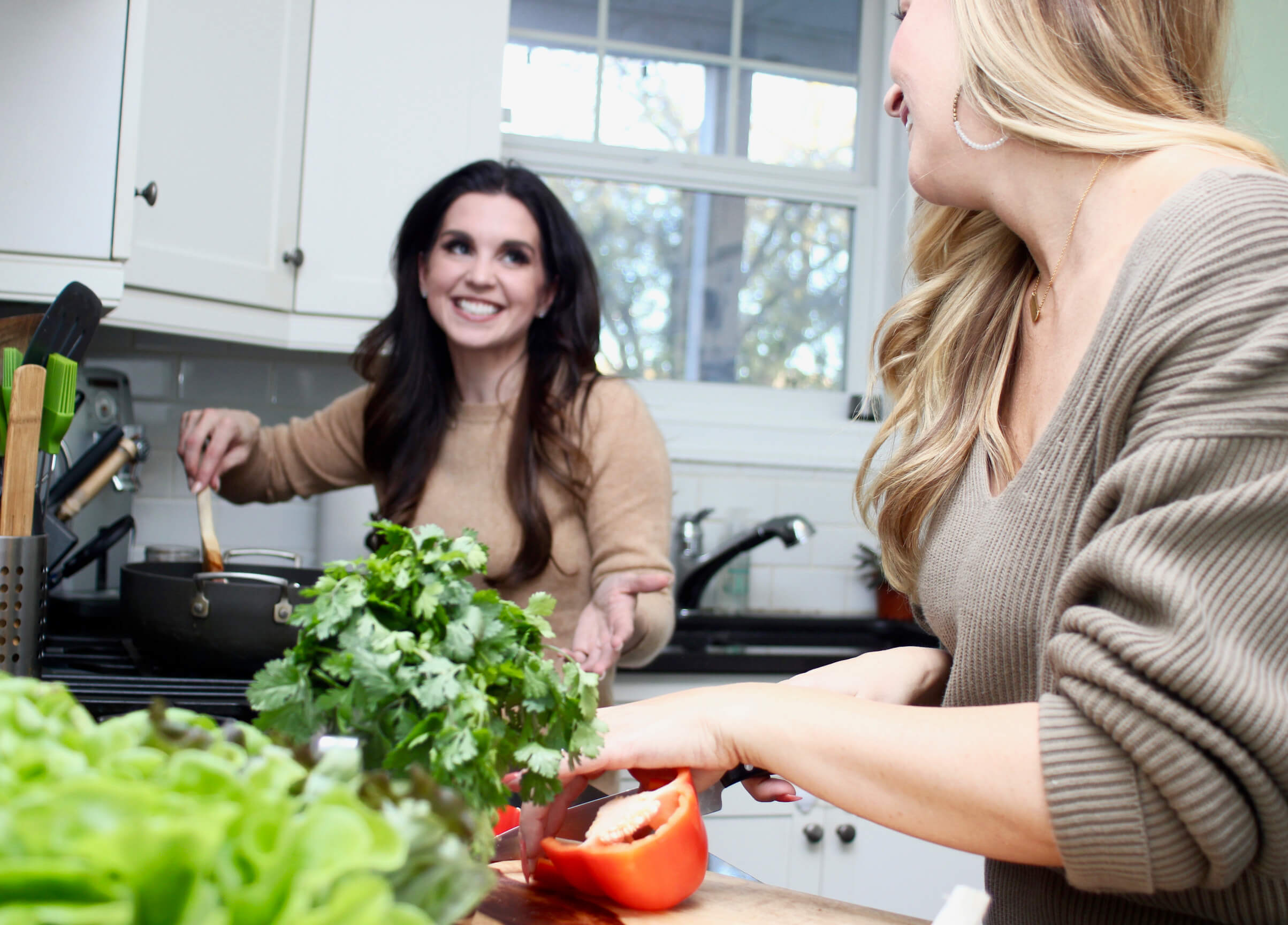 Dislike Cooking (and clean up)
If cooking is not your jam, or you lack experience in the kitchen, don't despair! One thing Kari brought up was the importance of finding simple recipes with limited ingredients to cutdown on the stress and the mess! For a little inspiration you can even take in a cooking class. Embrace the ease of one-pot wonders, or Sheet-Pan Suppers. Throw everything in a pot (better yet a crock pot) or pan and let the magic happen.
'Healthy helpers' are a necessity in any GetJoyfull kitchen. These are convenience foods that pack nutrition, and also save time and energy. Frozen cubed avocado and butternut squash, Whole-grain flatbreads, rotisserie chicken and canned salmon are just a few favourites that can help bring dinner together in a snap.
Mealtime Mayhem
Most families, mine included, watch TV from time to time during a meal. However, it can quickly lead to mealtime mayhem when unchecked. If possible, try to me mindful about things like TV, tablets and cell phones during family meals. Even if it's only for 15 minutes, try to turn off the distractions to create an environment where kids understand what is expected. Try these go-to Conversation Starters sure to get everyone chatting.
Picky eaters.
Try you best to avoid pressure at the dinner table, putting the pressure on your kids typically backfires. Trying to get a child to eat more than she wants makes her eat less. Trying to get her to eat certain foods makes her avoid them.  If you're trying to minimize mealtime mayhem, ask yourself what can I do to reduce pressure?
Pressure can seem positive: Praising, reminding, bribing, rewarding.

Pressure can be negative: Restricting, coaxing, punishing.

Pressure can be hard to detect: Ask yourself why you are doing something with feeding. Is it to get your child to eat more, less or different food than he does on his own? If so, it is pressure.
Cooking together is another wonderful way to broaden your child's relationship with food. It exposes them to food in a way that is fun, interactive and "joyfull." When they're empowered to use their natural curiosity and creativity in the kitchen their self-esteem grows, and food joy grows. Keep it simple, and set aside one hour a week to cook or bake with your mini chef. Kids often approach the food they've help prepare with playful wonder, which leads to more trying, and less crying.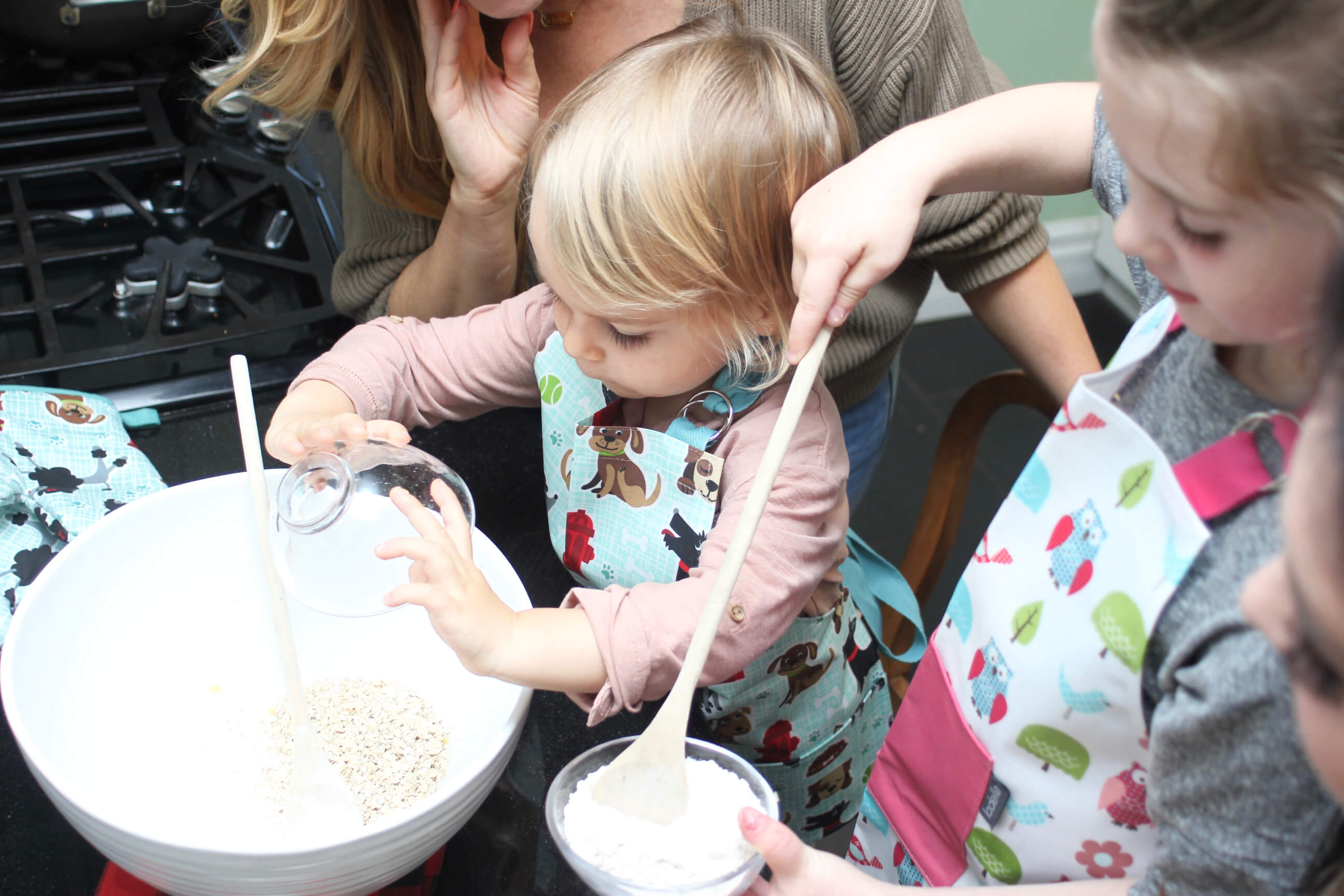 Conflicting schedules.
Kari is incredible about managing her families time through shared calendars, but often we are our own toughest critics. If we get too focused on creating the perfect family meal, when "the plan" falls apart and real life gets in the way we can feel like we're failing. Filling up on family time can take many different forms, for one family it is a weekend breakfast, for another it's Wednesday night dinner because that's the only night of the week everyone is home together. Celebrate small wins, and make the most of the time you can create to enjoy family meals. You won't regret it.
A big GetJoyfull thank you to Kari Skelton for welcoming us in. Don't forget no matter the mealtime challenge, take the pressure off, just enjoy the food and enjoy the time spent with your loved ones. Don't forget to Fill up on Family Time!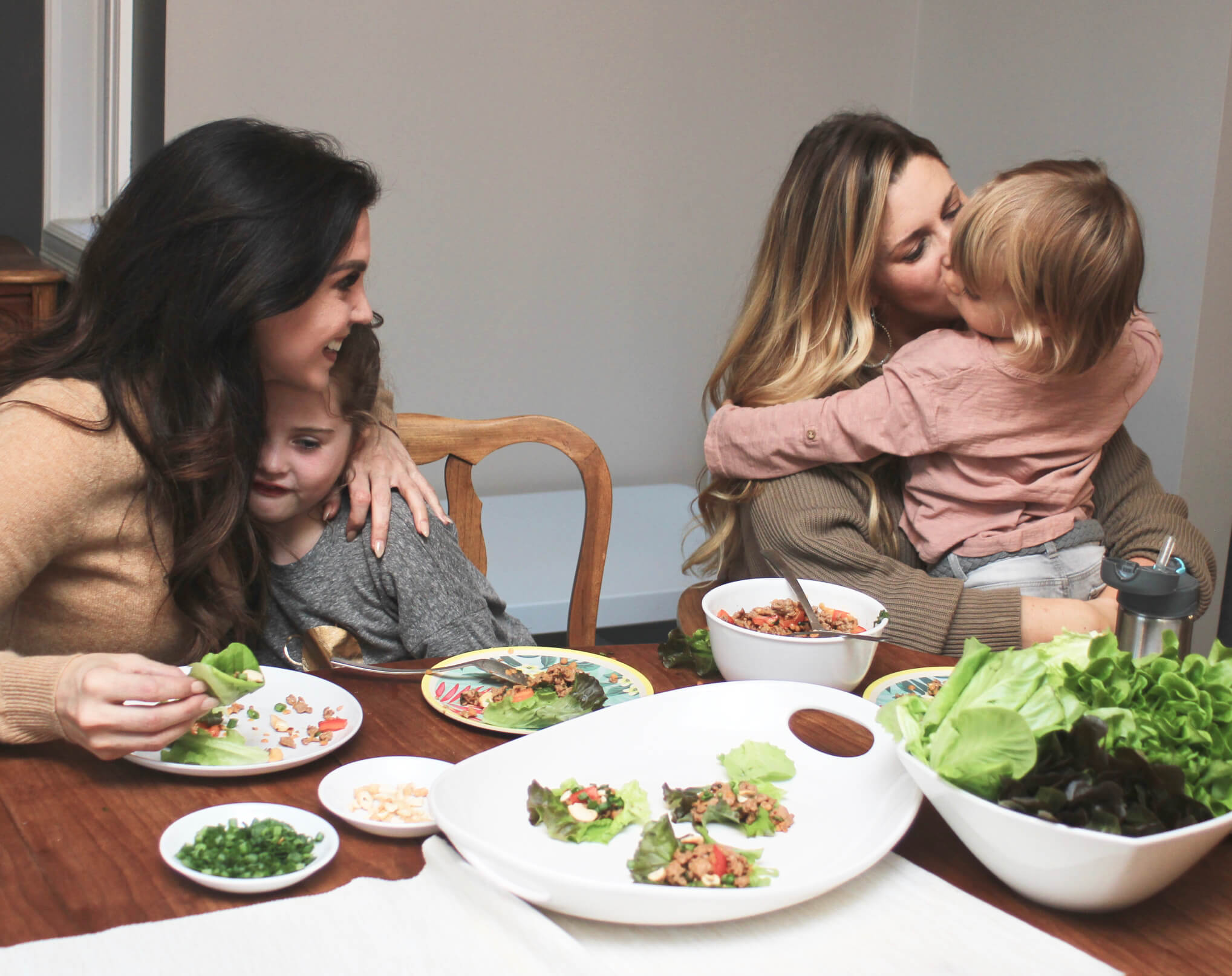 *Adapted from EllynSatter.com
*Not a sponsored post.