Our love for easy recipes is strong! 
So when Cela and I discovered how easy it was to make a healthier homemade version of the goldfish crackers she loves—we got a tad excited!
Our "Family Fish Crackers" came to life thanks to the amazing Jessica Musslewhite, and quality ingredients like real Canadian Armstrong Cheese Cheddar, whole-grain flour, and a dash of family time. We've been snacking, laughing, and making fish faces ever since!
As a busy-mama, and Dietitian time spent in the kitchen with my kiddos is how I double down on two things that are super important to me…quality family time, and quality eats. I feel good about this recipe because it's strong on flavour, family, and fun!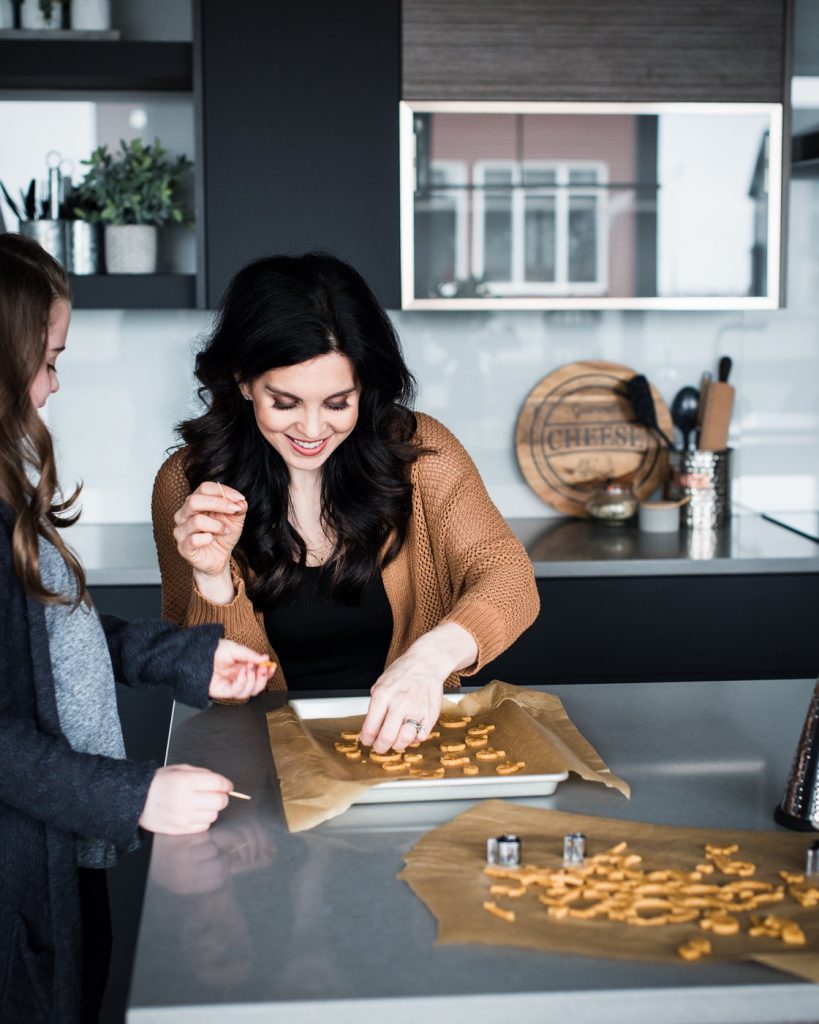 Armstrong Medium Cheddar Cheese gives our Family Fish Crackers their signature flavour, and buttery aroma. It's delicious, preservative free, and close to my GetJoyfull heart made with 100% Canadian milk.
---
RECIPE
Makes 4 cups
INGREDIENTS
1 cup whole wheat flour
¼ cup cold butter, unsalted, cubed
2 cups Armstrong Medium, or Old Cheddar Cheese, shredded fine
3-4 Tbsp. cold water
1 Tbsp. wheat germ
½ tsp baking powder
½ tsp onion powder
½ tsp garlic powder
¼ tsp ground white pepper
DIRECTIONS
Pulse the butter, flour, wheat germ, spices, and baking powder together using a food processor until the mixture resembles coarse meal.

Add cheese, and 3 to 4 tablespoons of water, 1 tablespoon at a time, and only enough so that the dough forms a ball. Remove, wrap in plastic, and chill for 30 minutes.

Working with half of the dough at a time. Roll out the dough on parchment paper to 1/8 inch thickness. Cut into desired animal shape. If making goldfish, use the tip of a toothpick to make the eye and press the toothpick lengthwise to make a smile.

Heat oven to 350

 

F. Line baking sheets with parchment paper or silicone baking mats. Place crackers on prepared baking pans. Bake for 12-15 minutes until golden.

Store in an airtight container to preserve crispiness.
---
The crispiness, and crunch of these little crackers is absolutely wonderful. And, the real cheese taste we love shines through in each, and every bite.
Finely grating the cheese is a key step to this recipe. If you can keep your "helper" from eating all the cheese as you grate, all the better.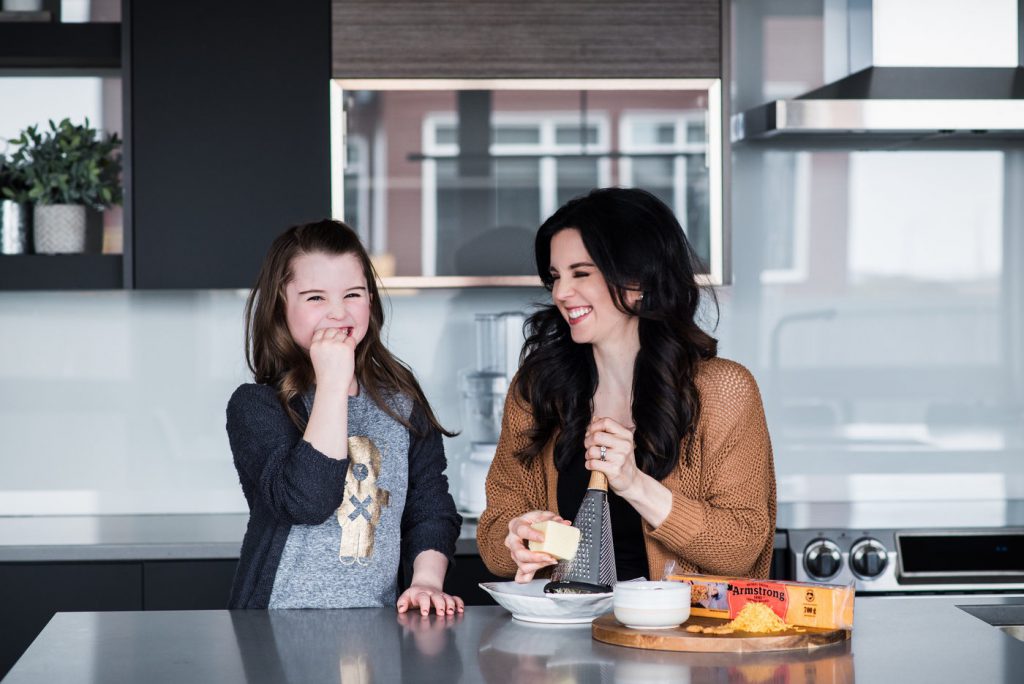 Seeing my Cela take such pride in every GetJoyfull step…finely grating the cheese, rolling the brightly coloured dough, and creating little fish smiles reminded me that we're baking-up a lot more than crackers.
We're learning new skills, making silly memories, and adding joy to the foods we love to eat!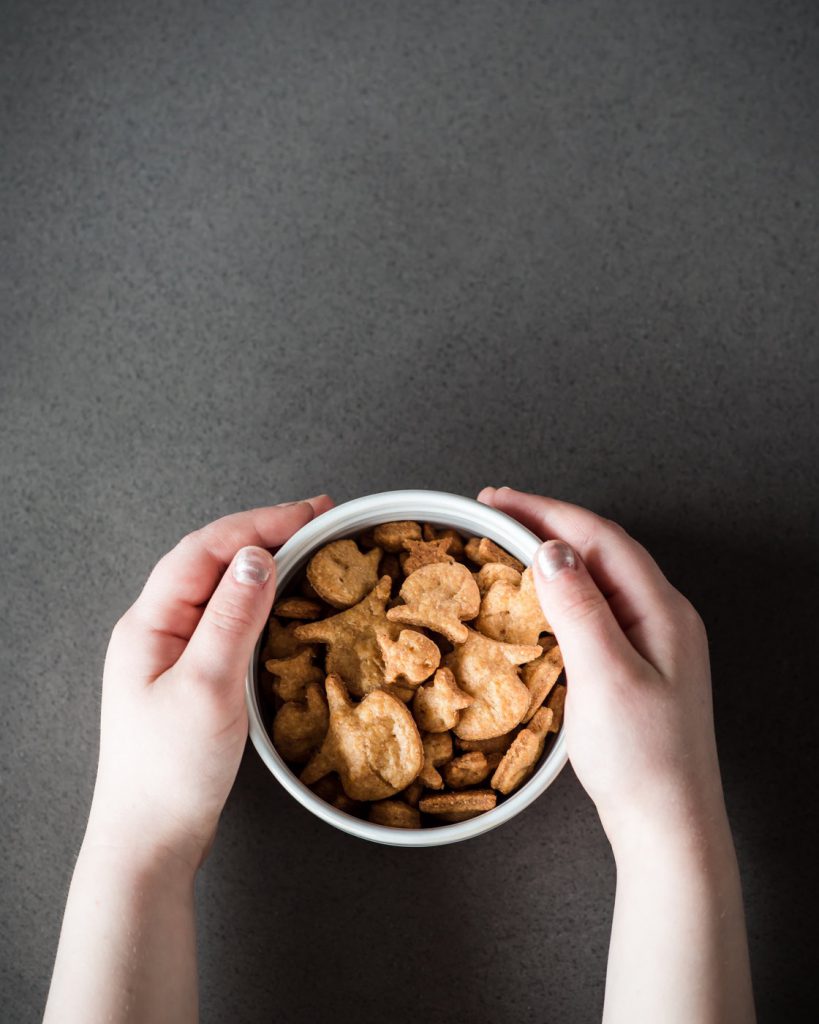 Special thanks to Armstrong Cheese, and my foodie BFF Jessica Musslewhite for a recipe collaboration full of fun, family, and flavour. This is a recipe we're sure to treasure for years to come.
Joyfully,
Emily