Our love for flavourful dishes is strong! 
I first discovered a love for rich, creamy, flavourful cheddar when I was about the same age as my Cela. As a young girl I spent a lot of time at my Great Grandmother Emily Rowe's house, and thankfully have many fond memories to treasure. We were four generations strong around her little kitchen table. Sharing plates of biscuits, fruit, and cheese. I still remember the laughter, chatter, and antics. And, I love reliving those moments. Best of all I can still see my Great Grandmother smiling sweetly. Graciously taking in all of our silliness, and loving the company of her doting girls. The memories always make me smile, and fill me with a warm sense of home, and belonging. It's truly amazing what sharing good food can do!
What food, or recipe makes you smile, and feel seven years old again?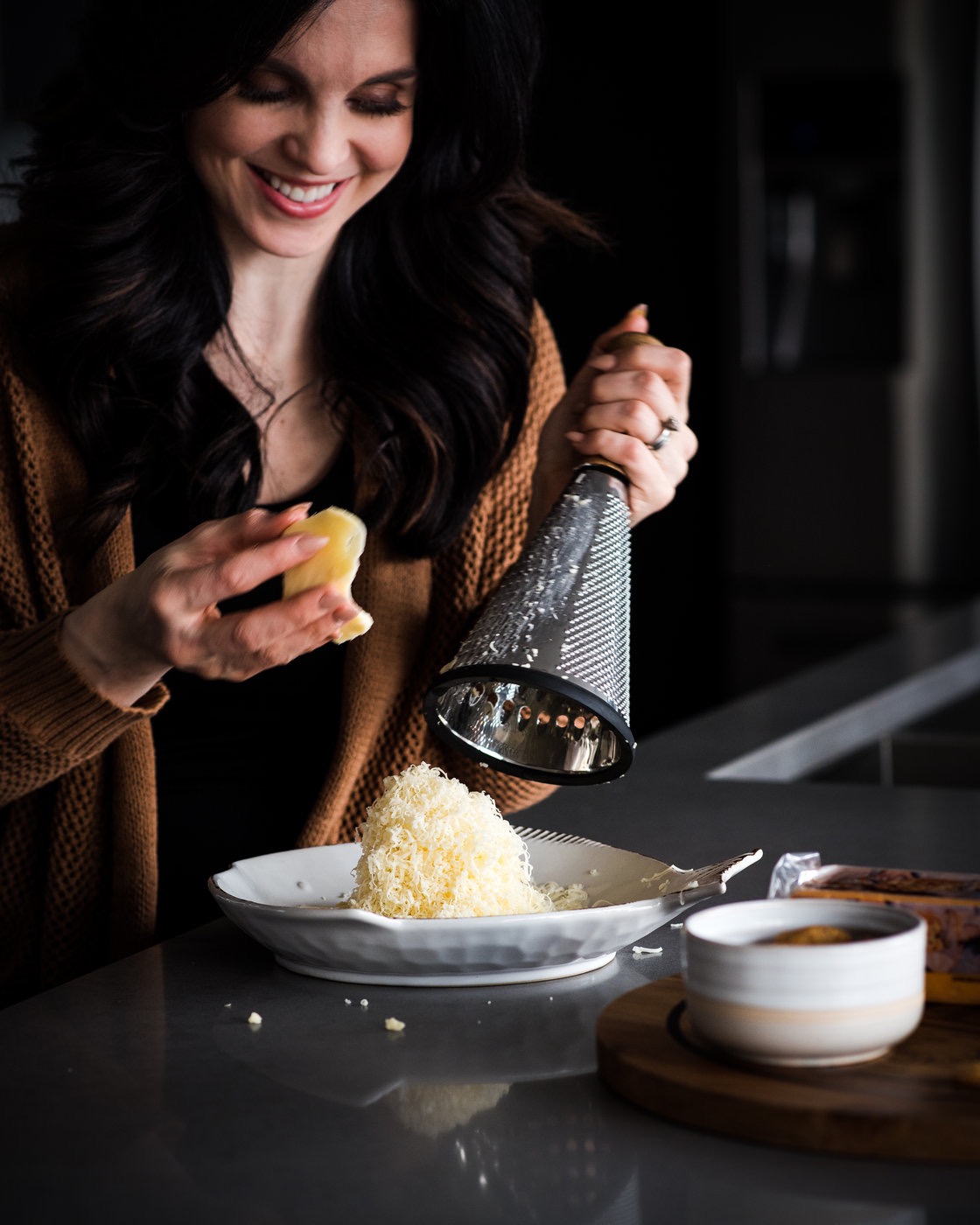 As a kid, I didn't understand why the cheese at Nan Rowe's always tasted extra delicious. It was a mystery, and truly was one of the simple joys I looked forward to when visiting. That and her stash of butterscotch candy, haha. Now, as an adult, I understand  it was because she didn't compromise taste, and always chose a flavourful, full-fat aged cheese like an old, or extra old cheddar. She was a one wise lady!
So, whenever I'm planning a GetJoyfull gathering, or just need a quick mama-recharge you can bet there's a little extra old cheddar in the mix.
Recently, thanks to a recipe collaboration with my foodie BFF Jessica Musslewhite, and Armstrong Cheese I discovered a whole new way to enjoy the intense, and memorable flavour of extra old cheddar. In homemade crackers! Seriously, it's true. By combining real Canadian cheese, whole-grain flour, and a few simple ingredients you can make the most delicious cracker–a cracker that's truly everything and more.
Friends, you have to try this cracker recipe, and seasoning blend. Together, they're next level delicious!
"Everything and More Seasoning" features yummy, and nutritious chia, sesame, and poppy seeds. Bonus, in a homemade batch you can adjust the salt."
RECIPE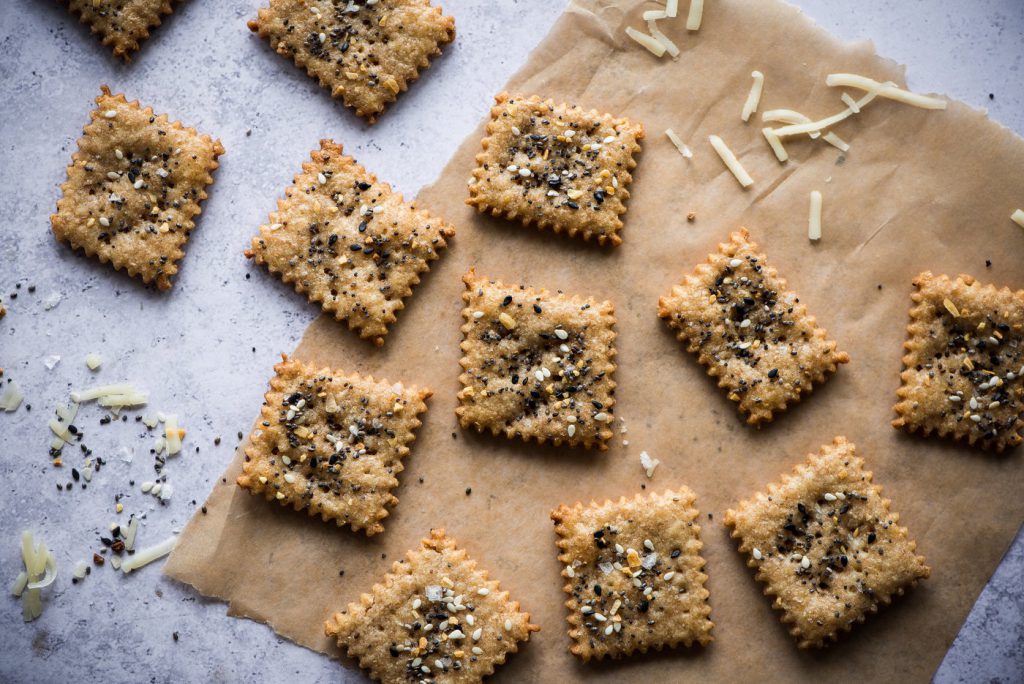 INGREDIENTS
Makes 40+ crackers
Base:
1 cup whole-grain flour

¼ cup cold butter, unsalted, cubed

2 cups Armstrong Extra Old Cheddar Cheese, shredded fine

3-4 Tbsp cold water

1 Tbsp wheat germ

½ tsp baking powder

½ tsp onion powder

½ tsp garlic powder

¼ tsp ground white pepper
Everything and More Seasoning
Make your own everything seasoning at home. It's so simple you'll want to sprinkle it on everything. Mix everything in a small bowl and stir. Store in a sealed jar.
Seasoning:
1 Tbsp chia seeds

1 Tbsp poppy seeds

1 Tbsp black sesame seeds

1 Tbsp white sesame seeds

1 Tbsp dried onion flakes

1 Tbsp dried garlic flakes

1-2 tsp flaked sea salt
DIRECTIONS
Pulse butter, flour, wheat germ, spices, and baking powder together using a food processor until the mixture resembles coarse meal.

Add Armstrong Cheddar Cheese, and 3 to 4 tablespoons of water, 1 tablespoon at a time, and only enough so that the dough forms a ball. Remove, wrap in plastic, and chill for 30 minutes.

Working with half of the dough at a time. Roll out the dough on parchment paper to 1/8-inch thickness. Cut the crackers into desired size using a pastry cutter or sharp knife.

Sprinkle crackers with 'Everything and More Seasoning.'  

Heat oven to 350

F. Line baking sheets with parchment paper or silicone baking mats. Place crackers on prepared baking pans. Gently add venting holes in each cracker with a fork. This will help keep them flat when baking. Bake for 15-20 minutes until golden.

Store in an airtight container to preserve crispiness.
I'm obsessed with Jess' "Everything and More Seasoning." I've been sprinkling it on avocado toast, homemade cheese crackers, celery-hummus "boats," and even poached fish! 
Recipe created by:
Jessica Musslewhite & Emily Mardell in partnership with Armstrong Cheese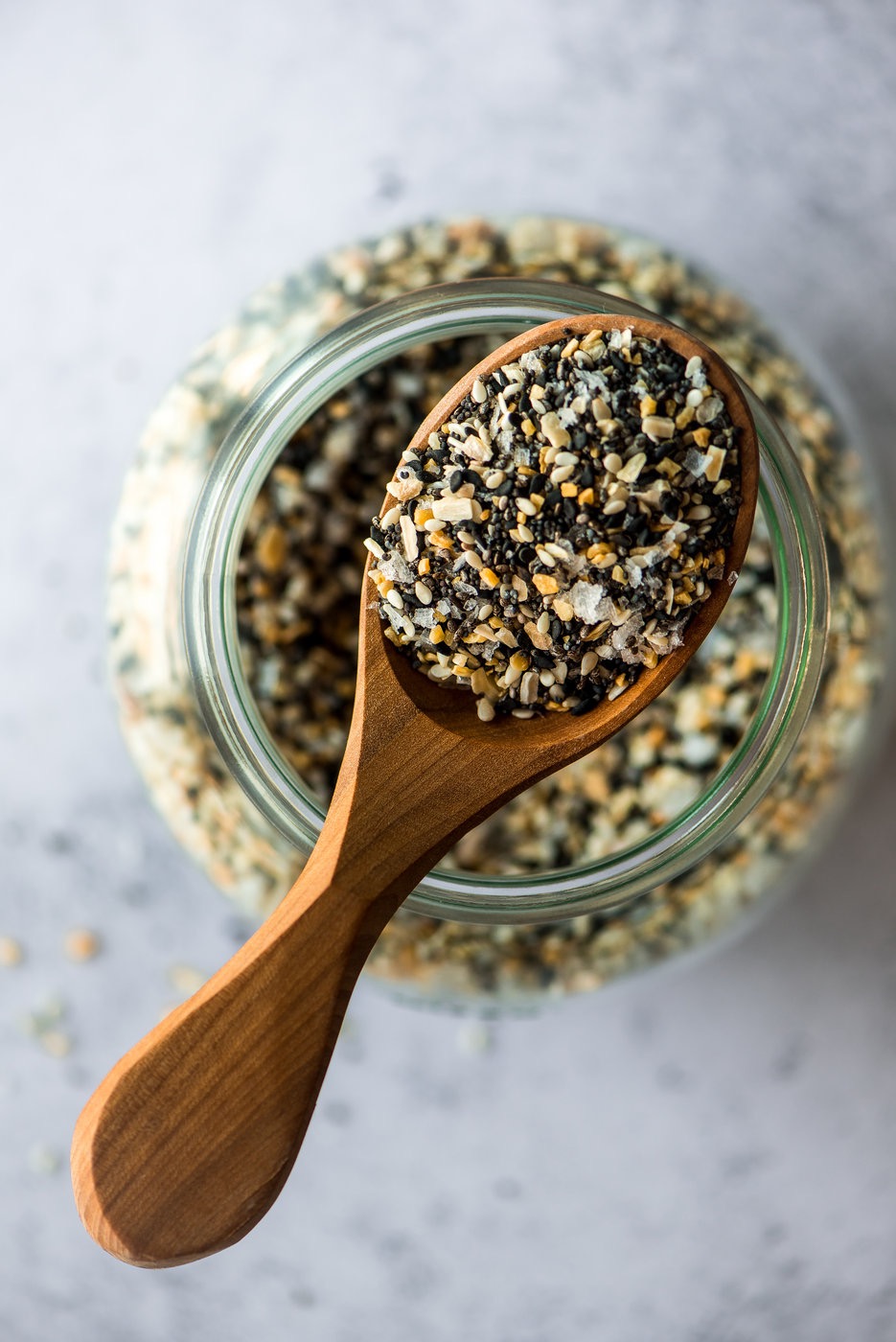 ---
This weekend I'm expecting a company, and one of my favourite ways to connect is over a beautiful cheese platter. Our love of family is strong [ad] so there's definitely a selection of Armstrong Cheese on display. Remi is a Marble Cheddar fan, Cela's all about the Medium Cheddar, and Papa and I go bite for bite with Garlic & Herb, and Extra Old Cheddar. A fresh batch of our "Everything and More Crackers," and a medley of fresh berries, and veggies, too. After all, colour, and crunch is a must! A spiced nut, or smoked meat never disappoints, and for any occasion the garnish brings the whimsy, and fun. Mini chocolate eggs for the garnish win this Easter!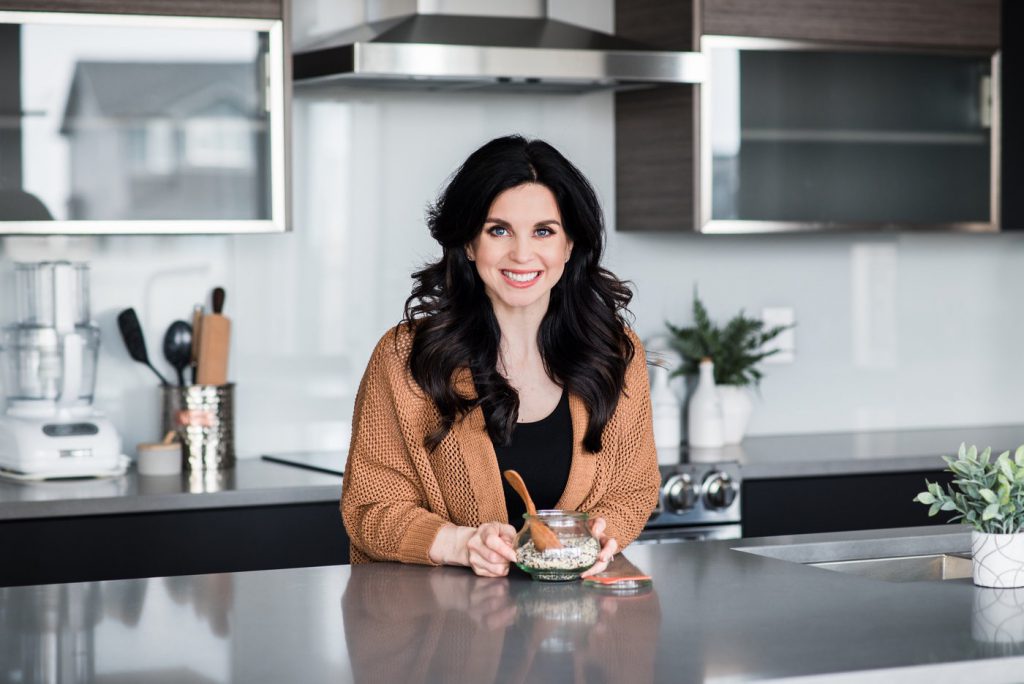 Have a wonderful weekend, friends, we sure hope you get to relax, connect, and fill up on family time. 
Joyfully,
Emily