As a dietitian, people often tell me about feeling sluggish and lacking energy in the afternoon, especially around 3pm. One of the possible reasons for this is not 'fueling' enough, or in a way that meets their unique needs. In other words, not consuming a balanced, energizing meal, or possibly skipping lunch altogether!
To avoid skipping lunch or eating something that lacks the energy and nutrition needed to power through the day… a little planning and preparation is in order.
The idea of planning and preparing lunch may feel a little daunting at first, especially if you're out of the habit. Luckily, a loveable lunch doesn't have to be complicated or time-consuming. In fact, I would argue a balanced, energizing lunch actually saves you time and energy in the long-run. With energy to burn, we're way more likely to be productive, happy and ready for fun!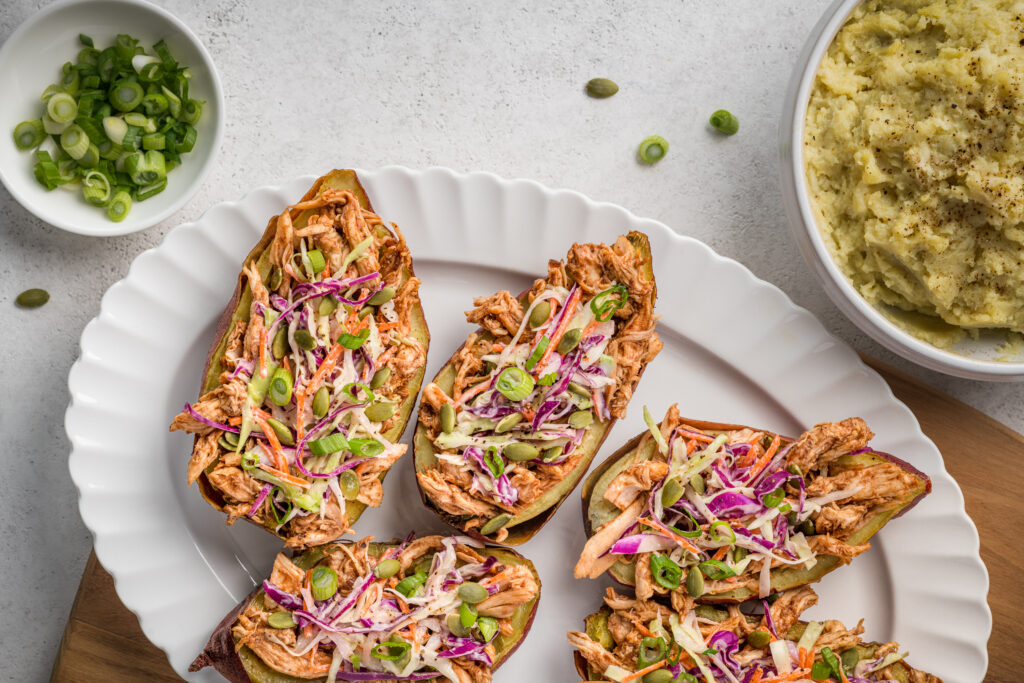 "Striving for balance and incorporating protein into your lunch will help keep you energized and focused throughout the day."
– Emily 
3 Tips to Love Your Lunch
Tip #1 Leverage Leftovers!
Lunch presents a unique opportunity for all of us to plan to eat well. Lunches are usually easier to make ahead as we can schedule preparation time perhaps on the weekend, or a less busy weeknight. Lunch empowers us to leverage leftovers and reduce food waste. Smart additions like a piece of fruit and a handful of nuts can quickly balance out whatever protein and starch you might have left over from the night before. 
Tip #2  Enjoy Variety!
Both plant and animal protein sources offer unique benefits, so enjoy a variety! If you ask me, proteins often shine their best when combined with a protein partner! Classic combos like eggs & bacon, chicken & black beans, hummus & kabobs… I could go on and on!
Tip #3 Prioritize Quality!
When more protein is needed, like after a workout, or when craving a super satisfying meal, opt for protein sources that pack a serious protein punch! For example, fresh Canadian chicken [#partner] is a great source of protein, with 31 grams of protein per 100 grams of cooked chicken breast. It also contains all nine essential amino acids that our bodies need to function properly.
When I have a little leftover chicken available in my fridge, I'll often combine it with canned black beans, or chickpeas to help stretch the complete protein power over two lunches, instead of one. It's an easy, cost-effective way to get the nutrition and taste I enjoy most, more often. 
Here are some lunch ideas that are not only ENERGIZING but also EASY to make!
Chicken salads: Chicken is an excellent source of protein, which can help regulate blood sugar and keep our energy levels more stable throughout the day. To make a quick and easy chicken salad, simply toss cooked chicken breast with some mixed greens, cherry tomatoes, cucumber, and your favourite dressing. You can also add some cooked quinoa or chickpeas to up the satisfaction factor and total energy.
Flexitarian wraps: Wraps are a great option for a quick lunch on-the-go. Fill a whole-grain wrap with hummus, sliced veggies like bell peppers, carrots, and cucumber, and top it off with some grilled chicken or tofu for protein.
Power bowls: A power bowl is a colorful and nutritious meal that is packed with protein, veggies and whole grains. For a "Santa Fe-inspired" power bowl, start by layering some brown rice in a bowl, then add roasted sweet potatoes, thawed frozen corn, black beans, and grilled chicken. Top it off with a dollop of salsa and yogurt. Delish!
Potato "boats": Baked potatoes are not just a side dish in the GetJoyfull household. We often use them as the base for a variety of balanced meals. Take our "Stuffed BBQ Chicken Sweet Potatoes," as the latest and greatest example. Tender sweet potato, tangy BBQ chicken & creamy coleslaw all shine in this all-time great, loveable lunch! Let us know if you love them as much as we do!
---
Stuffed BBQ Chicken Sweet Potatoes
Tender sweet potato, tangy BBQ chicken & creamy coleslaw all shine in this all-time great, loveable lunch!
Serves 4
INGREDIENTS:
4 small sweet potatoes

1 Tbsp canola oil

1 tsp garlic powder

Salt and pepper to taste
BBQ Chicken:
2 cups cooked chicken, shredded

½ cup BBQ sauce (more if you like it saucy!) 
Crunchy Coleslaw:
1 ½ cups red cabbage, shredded

1 ½ cups green cabbage, finely shredded 

1 medium carrot, finely shredded
Apple-Dijon Dressing:
¾ cup Greek yogurt

¼ cup mayonnaise

2 Tbsp Dijon mustard 

2 Tbsp honey

¼ to ⅓ cup apple cider vinegar (depends on how tangy you like it)

Salt and pepper to taste
Garnish:
1-2 Tbsp hot sauce (optional)

2 green onions, thinly sliced 

¼  cup pumpkin seeds
DIRECTIONS:
Preheat the oven to 375

o

F

Wash and lightly scrub sweet potatoes and poke with a knife to vent. Coat evenly in a little oil and season with garlic powder, salt and pepper. Place on a parchment lined baking sheet and bake for 45-60 minutes, or until fork tender. 

In a small bowl combine dressing ingredients until creamy.

Shred cabbage and carrot. 

RECIPE HACK: If short on time, swap for 4 cups of store bought cabbage mix!

In another small bowl, combine shredded chicken with BBQ sauce.

After cooling just a little, halve cooked potatoes and scoop out inside. 

RECIPE HACK: Reserve leftover potato for another dish like frittata or vegetable soup! 

Top scooped potatoes with tangy chicken and bake for 10 minutes to heat through.

Top hot potatoes with creamy, crunchy coleslaw. Garnish with hot sauce, green onion and pumpkin seeds. Serve and enjoy!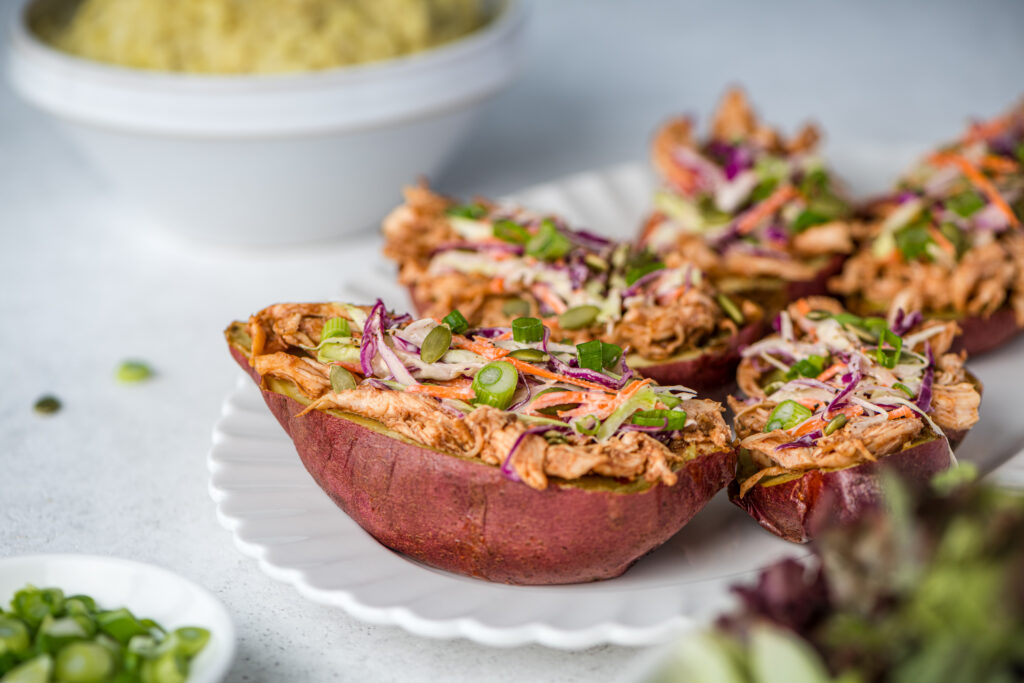 Lunch brings so much opportunity to boost nutrition and healthier food habits. Don't miss out on the opportunity to plan ahead for a healthier, more energized day! Please let us know if you like this recipe as much as we do. Be sure to tag us #GetJoyfull and share if you make it!
Special thanks to Alberta Chicken Producers for inspiring this recipe and continuing to grow food security and food joy through their Good Neighbour Program. 
Take care, friends.
Joyfully, 
Emily 
Emily Mardell is a Registered Dietitian, busy mama of three and proud Alberta foodie. Emily is passionate about quality ingredients and creating delicious, nourishing recipes that bring families together. Follow her on social media @GetJoyfull or GetJoyfull.com for nutrition advice and tips to grow food joy and fill up on family time.