It's that frightfully delightful time of year!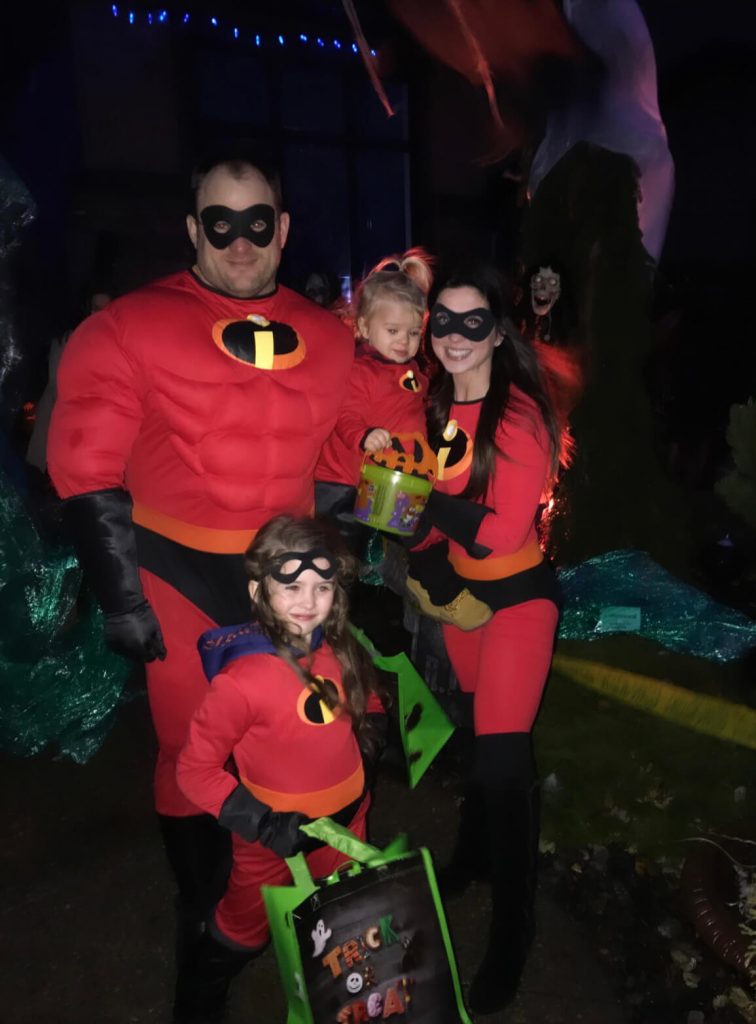 Halloween in the GetJoyfull household is all out fun for big and little kids alike! Our family of five all get in on the dress-up action. Oh sorry, Boo, I mean six! How could I forget my costume-loving fur baby?! We put a lot of thought into costume planning, and often my little goblins end up just as excited about Mom and Dad's costumes as their own. It's always joyful to see their faces light up when they see their parents remembering how to be fun-loving, treat-trading, Halloween howling kids, too!
Now you might be wondering how a Registered Dietitian became such a super fan of an occasion that literally celebrates candies & sweets. But, if you follow along here, you already know we love ALL food. Fun foods are such a wonderful part of life, joyful eating and what I consider a healthy relationship with food. So, I live by and promote a pretty relaxed approach to managing sweets for myself and my littles. And, I'm suggesting you should, too!
We all have a childhood "blueprint" for how treats were presented to us when we were kids. So, if you were taught that treats are "unhealthy," or "not good for you," it may be your default to share similar messaging with your kids, or perhaps something completely different! It can feel natural to say such comments like, "Don't eat too many, you'll get sick," or "Sugar is bad for you, don't eat so much," or "You get to eat candy, but only after you finish dinner!" If you've been impacted by diet culture in this way, take heart. There are fun, simple ways that can help us to find balance and to make peace with sweets, for our kids and even for ourselves as grown-ups!
If you're conflicted or feel like you need to be the "treat police" this Halloween– try not to! It might be hard at first, but you can do it! Micromanaging treats and restricting sweets, is basically taking over your child's ability to self-regulate and decide IF and HOW MUCH to eat.
When we do this, our kids miss a valuable learning, and the opportunity to practice managing fun foods.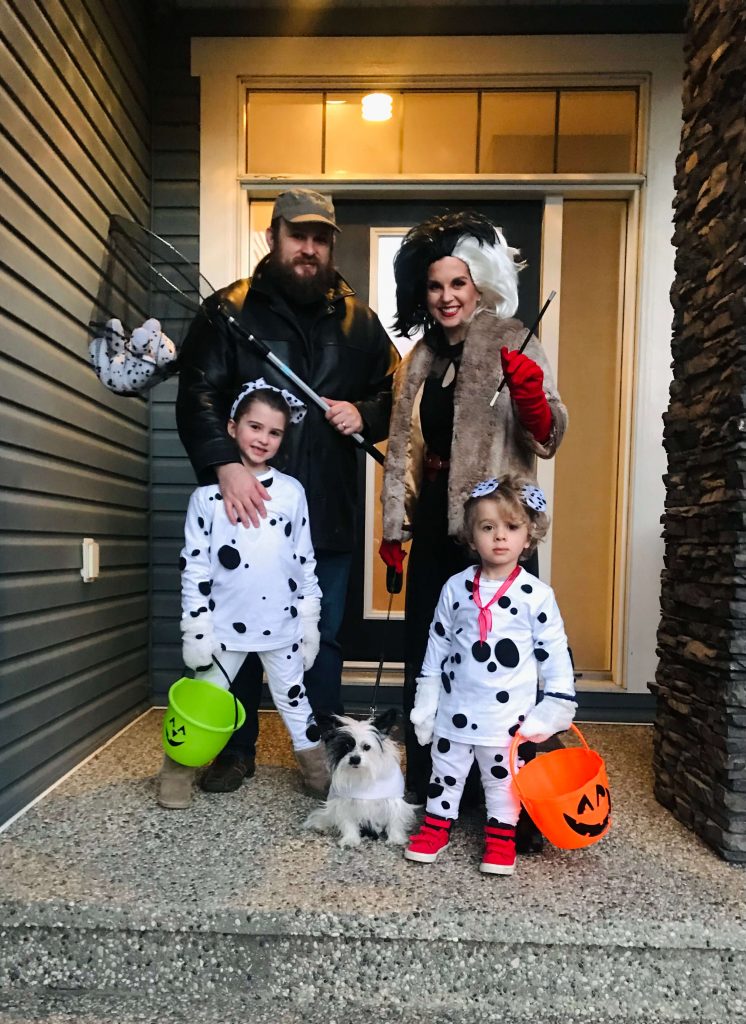 A couple days enjoying candy with no adults managing their loot, will not make or break a child's diet, nutrition status or food relationship. True, they may end up with a stomach ache, but they may also surprise you and listen to their little tummies and simply stop eating when they need to!
Sitting and enjoying candy with your littles is not only a delicious parenting perk of having kids old enough to trick or treat, it is also a great opportunity to role model food joy, mindfulness and judgement free eating.
Look out Coffee Crisp, this mama is coming for you!
Food Neutrality
Model food neutrality by reminding your child that food is food. Avoid labelling foods and good or bad, or pitting them against one another such as: "junk foods" vs. "healthy foods." We want our kids to feel good about the foods they eat and to not feel conflicted or have negative self-talk when they want to eat or enjoy eating something that's "bad," or "bad for them."
Mindfulness
Grow mindfulness by sharing a fun activity to taste a new treat, or to describe a fun new food. We love to explore chocolates for example with all our senses. Check out this quick little GetJoyfull tasting exercise, here!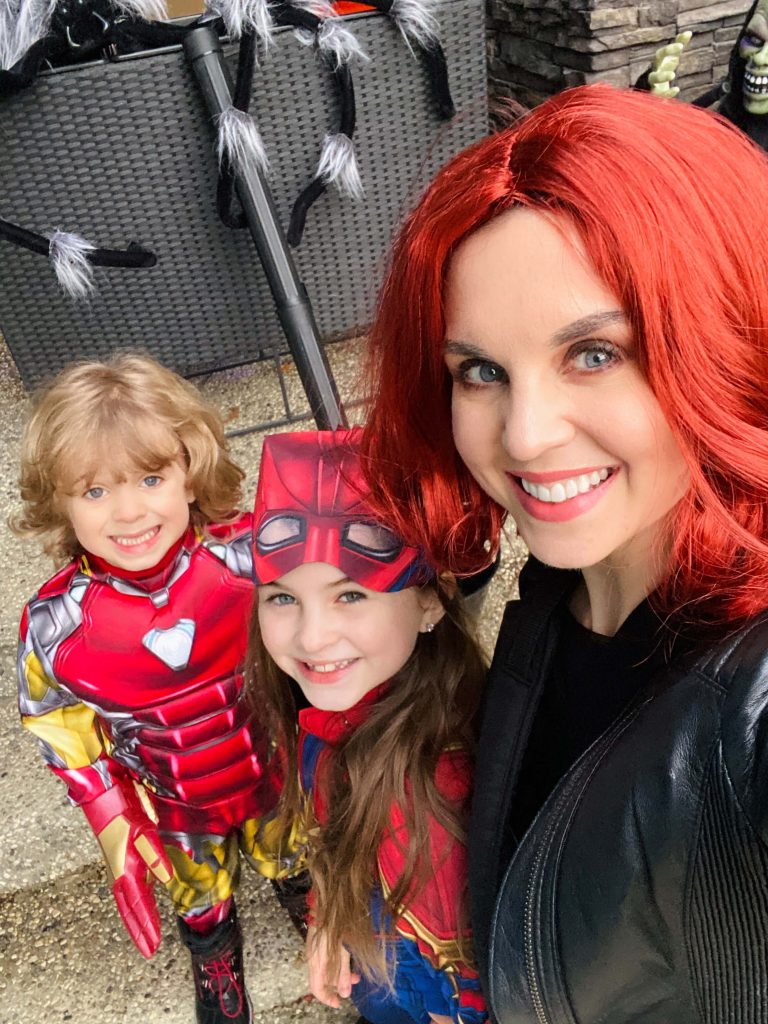 Judgement-Free Eating
Create an opportunity to show judgement-free eating by sitting and enjoying some treats and candies with your child without negative food, body or treat talk. Keep it light, breezy and relaxed. Role model how to savour your favourites and move aside the ones that aren't!
Halloween night is always a ton of fun around here. Over the years we've settled on a few traditions that have helped us create joy and family fun with activities that are both food and non-food related! What are your favourite family Halloween traditions? And, why?!
Next to costumes, decorating, trick or treating and scaring daddy for a week, our kids really look forward to family dinner on Halloween night, or as we call it the Mardell "Halloween Boo-fet!"
Halloween Boo-fet!
Halloween night there's always an Instant Pot or slow-cooker meal that's cozy and balanced on the menu. Plus, a tray of raw veggies and Cela's favourite fresh sourdough bread & butter. Even though we're all going trick or treating, and know a lot of candy will disappear into our bellies that evening, we still keep our regular family dinner routine. After all, I know a solid warm-up of protein, veggies, and goodness is just what they need to keep their super powers at full charge for the busy night ahead!
Here's a sneak peek of what we're making (um, brewing) this year as the centrepiece of the Halloween Boo-fet…
---
Chicken Tortilla Soup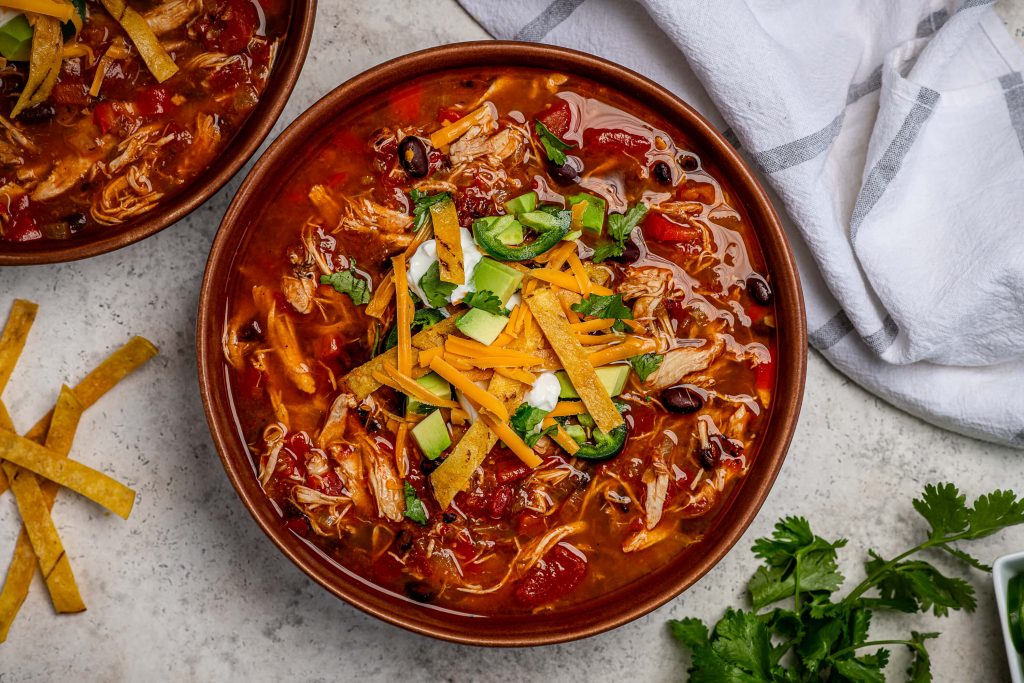 Bursting with the benefits of white & dark chicken meat and packed with pantry favourites diced tomatoes, black beans and fire-roasted chiles, this soup is equal parts cozy comfort and creative cool. After all, on Halloween night this soup quickly turns into the best darn witches brew one can imagine! Delish!
INGREDIENTS:
1 tbsp (15 mL) canola oil
1 medium onion, finely chopped
1 large red bell pepper, seeded and diced
2 tsp (10 mL) fennel seeds
1 Tbsp (15 mL) ground cumin
1 Tbsp (15 mL) chili powder
2 tsp (10 mL) garlic powder
1 tsp (5 mL) crushed red pepper flakes
1 (15 oz.) can black beans, drained and rinsed
1 (15 oz.) can diced tomatoes
½ cup (125 mL) fire-roasted green chili
4 cups (1 L) low-sodium chicken stock
2 lb (900 g) whole roasted chicken, deboned and shredded
½ cup (125 mL) grated cheddar (plus extra for garnish, if desired)
½ cup (125 mL) plain Greek yogurt
Salt and pepper to taste
TIPS:
This recipe is great for the slow cooker or instant pot; however, it also comes together nicely on the stove top in about 30 minutes. Whether you have just a few minutes on a busy weeknight, or more time on a Sunday afternoon, this recipe is ready to deliver a great family dinner!
A little extra time on your hands? Try our "Peruvian-Inspired Whole Roasted Chicken" recipe before you make this soup. Pressed for time? Grab a fully cooked, ready-to-shred rotisserie chicken on your way home. In a few short minutes, dinner is on!
DIRECTIONS:
Heat a skillet to medium high, add canola oil, onion, pepper and spices. Sauté for 2-4 minutes until tender and fragrant.
Transfer spiced veggie mix to slow-cooker and add all remaining ingredients, except for cheese and yogurt.
Cook soup for 2 hours on high in a slow cooker on high, or 30 minutes on stove top.
Before serving, stir in yogurt, ½ cup cheddar and season to taste with salt and pepper.
Garnish and serve with extra grated cheddar, crispy tortilla pieces, chopped avocado, fresh cilantro, and lime wedges. Enjoy.
A warm up in a bowl is something everyone looks forward to when they come home from trick or treating. Filling up a bowl, grabbing some sourdough and piling their candy on the table to sort and favourite is a tradition we all love! Food is food, and when we can role model enjoying balanced meals, eating and enjoying treats and simply being together, it's a win, win.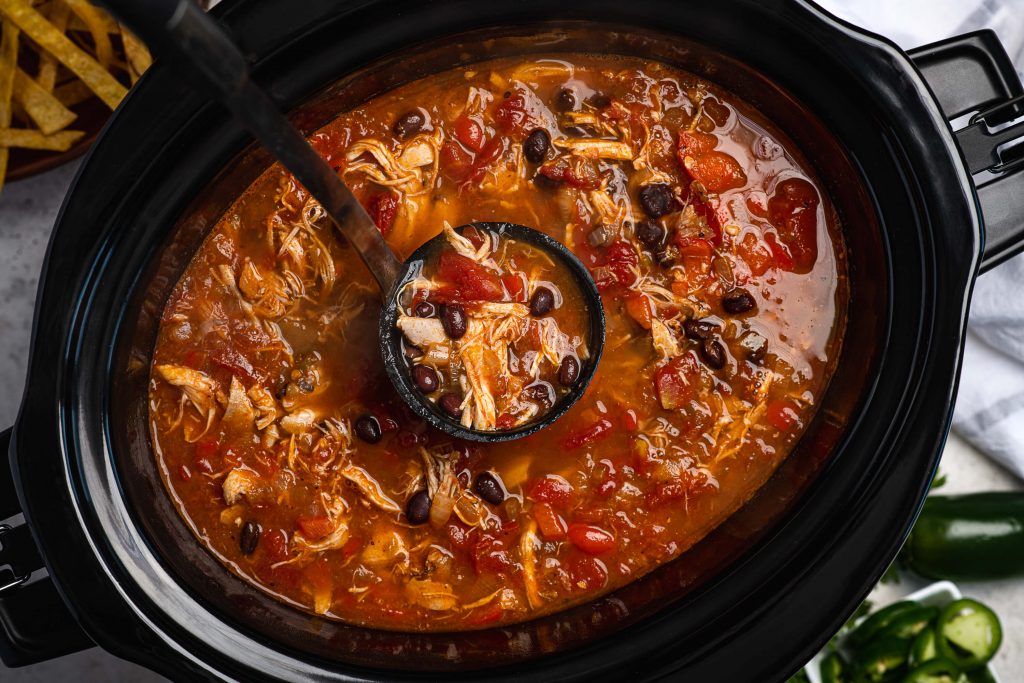 A heartfelt thanks to Alberta Chicken Producers for supporting the GetJoyfull movement and inspiring this Halloween joy in our kitchen, on our table and beyond.
Happy Halloween, everyone.
Joyfully,
Emily
Emily Mardell is a Registered Dietitian, busy mama of three and proud Alberta foodie. Emily is passionate about quality ingredients and creating delicious, nourishing recipes that bring families together. Follow her on social media @GetJoyfull or GetJoyfull.com for nutrition advice and tips to grow food joy and fill up on family time.