The GetJoyfull household is a happy place for food fans and sports fans alike. Youngest to oldest we all love to watch, play and connect to the sports we love best. In our sporty family, 'game day eats' are a big, joyful part of our weekly menu. When we want to gather for the Sunday evening game, or warm-up after street hockey we make one-pot wonders like our "Sweet & Smokey Slow-Cooker Chili" for a guaranteed win! Loaded with sweet bell peppers, smoked paprika and lean Alberta beef [#Partner] this go-to recipe is a triple sensation. It's satisfaction, energy and comfort all in one bowl!
So, whether it's football, hockey, or you name it…You'll find us cheering, refuelling and practicing our best 'game face,' together!
'Game day eats' are a big, joyful part of our weekly menu. When football season kicks-off one of the first recipes we make is our "Sweet & Smokey Slow-Cooker Chili." Loaded with sweet bell peppers, smoked paprika and lean Alberta beef [#Partner] this recipe is a triple sensation. It's satisfaction, energy and comfort all in one bowl!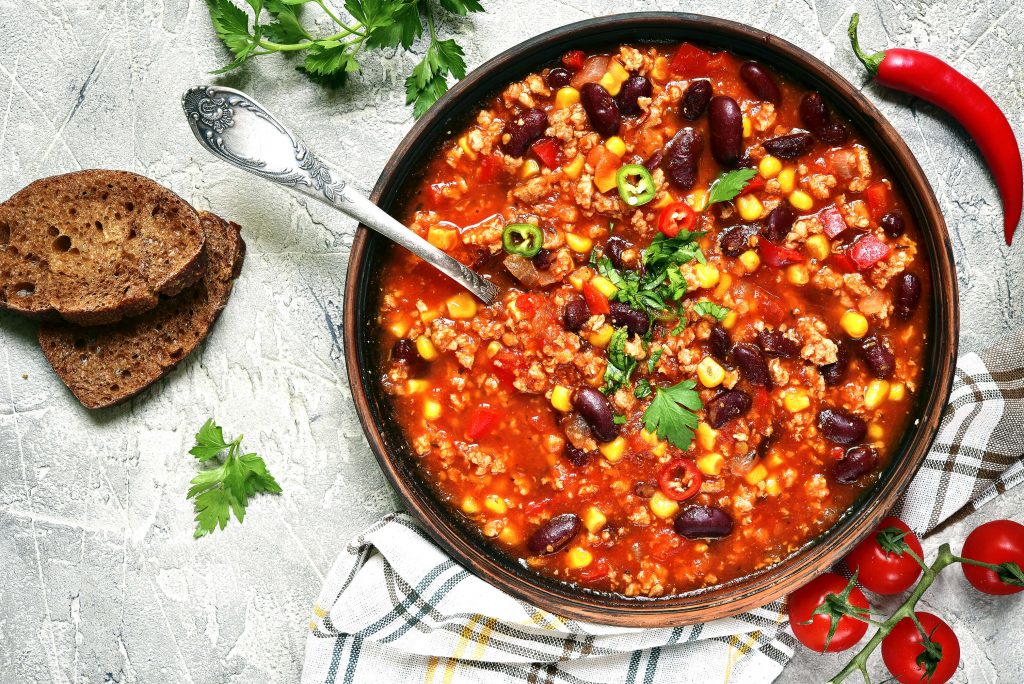 What activities bring your family closer together?
It use to be just the two of us, donning our jersey's and catching games at the neighbourhood pub or downtown arena. We travelled to a lot of great cities and made awesome memories watching our favourite players, all the while enjoying chili dogs and curly fries. One of our best getaways was definitely our honeymoon in Boston, around this very time of year. We arrived on the heels of of the Red Socks winning the World Series, caught an epic showdown between Brady and Manning, saw Sid the Kid battle the Bruins, and cheered on the Celtics court-side. It was an absolute "sportymoon." Corny, yes, but that's kinda the point, lol.
On our small, but mighty squad of five, Papa definitely holds the title for most fanatical sports fan. Alex rarely misses a match-up. Yup, my husband is 'that guy,' the one streaming the game on his phone while watering the lawn, or filling a cart of groceries. We chirp him a bit, but at the end of the day it's this unbridled enthusiasm that makes him a great Papa, too.
He's always the biggest supporter at Cela's hockey, and Remi's soccer practices. In the stands, or on the sideline, ready to high-five and they happily know it!
Sport, much like food, is has incredible power to bring people and families together. What are your family's favourite 'game day eats' and traditions?
Game Day Eats
We had hoped to travel back to Boston this fall. 2021 marked the year to celebrate both a milestone anniversary and Alex's 40th birthday. But, that trip will have to wait! The pandemic certainly realigned our priorities and made it an easy decision celebrate close to home base.
Alex's birthday was first on the calendar, and lucky for me the kids stepped up big time to help me with the planning. They decorated their hearts out, and made the sweetest homemade cards. The main floor was covered with balloons and an abundance of teeny tiny football confetti. ("That was a fun clean up," said no one ever!)
The menu was a game day classic with a few special twists. I made a double-batch of "Sweet & Smokey Slow-Cooked Chilli," a tray of crispy Sweet Potato Wedges and an epic Black Forest Cake. Well, Freson Bros on Rabbit Hill Road actually made the cake, but I'm not mad about it. SO, SO GOOD!
Game Day Eats
One-pot wonders are always somewhat of a staple in the GetJoyfull kitchen; however, every fall they really become the starting line-up for our entire family menu. One pot, means less fuss and fewer dishes. It's a win, win.
Another win, this fall we've partnered up with our friends at Alberta Beef Producers to create a whole series of one-pot wonders! Recipes for busy families like ours who crave yummy, nutritious meals, but more than anything crave quality time together! We can't wait to share more of what we've come up with, so be sure to stay tuned to the GetJoyfull blog!
One-Pot Wonders
Our favourite one-pot wonders score these 3 essential points!
Number ONE – It's packed with the power of both protein and veggies. too!

Protein is such an important nutrient for budding athletes and armchair quarterbacks alike, giving strength to muscles and filling tummies straight through to the 4th quarter.

Number TWO – It's fast and freezer-friendly.

One-pot meals like this slow-cooker chilli below, that I can double batch and freeze for other nights of the week are on the MVP recipe list!

And Number THREE – It brings the heat!

The best one-pot wonders warm up the belly and the heart. They're hearty, nutritious, and full of comfort, and love.
Put Extra Time on the Clock – Double batch it! 

"Sweet & Smokey Slow-Cooker Chilli" is an easy way to get a perfectly hearty, nutritious meal on the table without having to sweat it out in the kitchen. Who doesn't love a great slow-cooker recipe?!

I always double batch this recipe and freeze half to serve Halloween night. It saves this mama time on another busy October night, and Chilli is one tradition my littles count on every Halloween when they come in from trick-or-treating. This recipe also gives a double protein punch with the addition of no added salt kidney beans. You can get creative and use whatever veggies you have from fall favourites like grated carrot, sweet potato, lentils, frozen peas. You could easily make this chilli bean-free and enjoy over quinoa, or couscous, too!
Sweet & Smokey Slow-Cooker Chilli
Chili is such a wonderful hearty stew that packs in all the glorious root vegetables of the season with all the protein power of lean ground beef.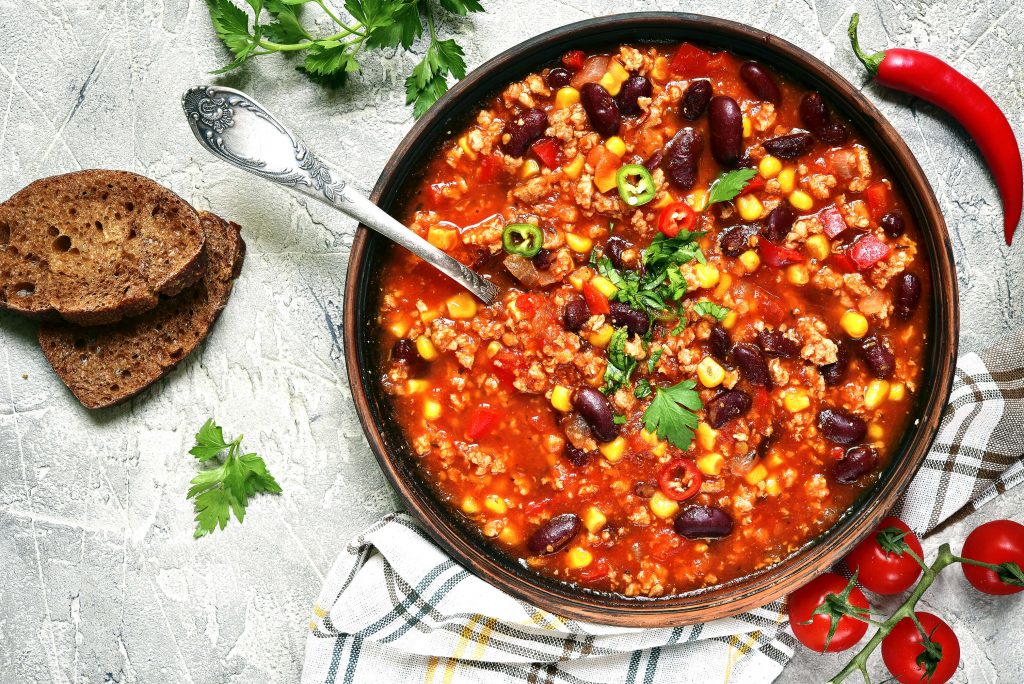 Makes 6-8 servings
Ingredients:
1 tsp (5 mL) vegetable oil
1 Tbsp (15 mL) fresh garlic, minced
1/2 cup (120 mL) white onion, chopped
1 1/2 lb (700 g) lean or extra lean ground beef
1 Tbsp (15 mL) chilli powder
1 Tbsp (15 mL) smoked paprika
1 Tbsp (15 mL) brown sugar
2 tsp (10 mL) dried oregano
1 tsp (5 mL) crushed red pepper flakes
2 cans (28 oz) no added salt diced tomatoes
1 can (14.5 oz) no added salt kidney beans, rinsed and drained
1 cup (250 mL) frozen corn
¼ cup (60 mL) tomato paste
4 cups (1 Litre) low-sodium broth
Salt and pepper to taste
Directions:
Preheat a large pot, or instant pot to medium high heat. Add oil, onions and garlic. Cook for 2 to 3 minutes to tenderize onions and get all the aromatics happy.
Add ground beef to the hot skillet. As it cooks, break apart with a wooden spoon until well crumbled.
Season with chilli powder, paprika, brown sugar, oregano and  crushed red pepper flakes. Continue to cook mixture until beef mixture is fully cooked and lightly caramelized. Add red peppers, cook for another 2 minutes.
Set heat to low and add the remaining ingredients. Stir well. Cover and allow chilli to simmer for 1-2 hours. If using an instant pot, use simmer function for 1-2 hours. If transferring chilli to a slow-cooker, use low heat and set timer for 1-2 hours. No matter the cooking method, be sure to monitor the liquid level and add splashes of extra water or broth if needed.
Before serving, taste test and adjust any seasoning, if needed.
Serve hot and garnish with awesome toppings, such as: fresh chopped cilantro, sliced jalapeño, creamy Greek yogurt, shredded cheddar, diced avocado, fresh lime, tortilla chips etc. Then, enjoy!
Choose your Beef
Alberta beef is recognized the world over for quality and taste. Most often, we opt for lean or extra lean ground beef when cooking with beef in our kitchen. It's versatile, economical and high in quality protein and iron, two nutrients I tend to prioritize a lot for my kids, and myself.
When choosing ground beef, you've got several options and can pick and choose based on your personal preferences and recipe needs. Extra lean ground beef has 10% fat or less, so for one-pot wonders or super flavourful recipes, like our "Sweet & Smokey Slow-Cooker Chilli" that don't need extra fat, or I simply don't want to fuss with draining any extra fat, I prefer this option. If you're into saucy meatballs, cabbage rolls, spaghetti sauces, soups and stews you might consider the leaner option your go-to choice, too!
For everything you could possibly learn about Alberta Beef, and specifically ground beef, I suggest you check out the Ground Beef Toolkit by Alberta Beef Producers.
I would like to send a heartfelt thank you to the Alberta Beef Producers for supporting GetJoyfull and for helping make this recipe and post possible.
Joyfully,
Emily
Emily Mardell is a Registered Dietitian, busy mama of three and proud Alberta foodie. Emily is passionate about quality ingredients and creating delicious, nourishing recipes that bring families together. Follow her on social media @GetJoyfull or GetJoyfull.com for nutrition advice and tips to grow food joy and fill up on family time.