The thing that makes the GetJoyfull kitchen joyful – is cooking together with my family. For a time, my sister lived with us while she was going to university and memories of cooking and chatting with her in the kitchen are truly some of the best we've shared. Whether it was making late night caramel popcorn for a study session, or trying our hand at Dad's homemade stew, we had a blast being besties again.
The pandemic has made cooking together tough for so many families – including my own. So I was beyond excited, after 18 months apart, to get into the kitchen and cook with my sister this week.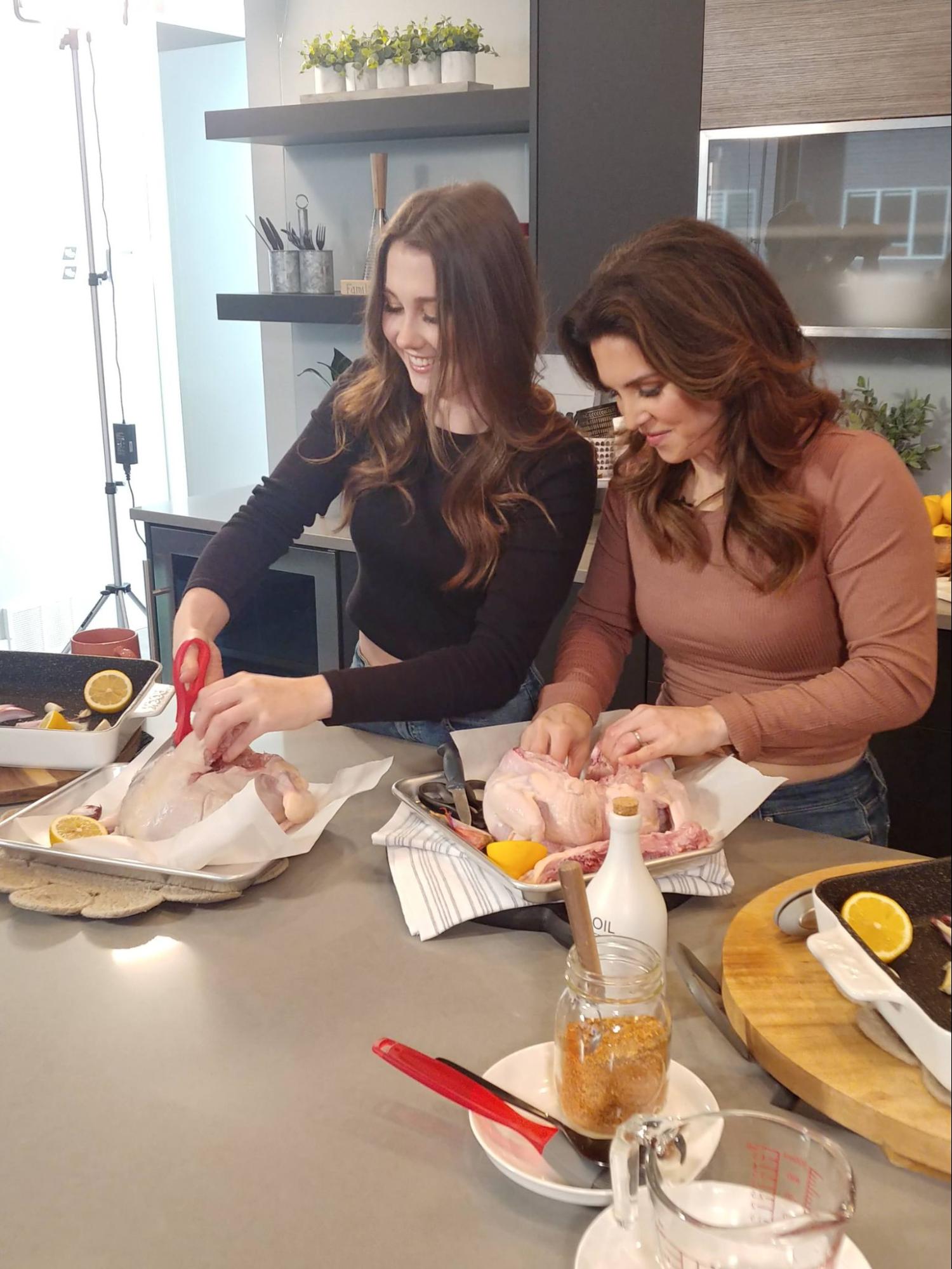 Cook Once – Eat Twice
Despite living pretty different lifestyles. Me "The busy Mama," striving to keep a business afloat and three kids happy and healthy. Anna, "the everything girl," killing it as a restaurant manager, avid gym goer, rockstar auntie and all-around adventure seeker.
Turns out meal planning is key to a healthy, GetJoyfull lifestyle for the both of us. Just for different reasons!
For Anna, she's always on the go, working out regularly and logging long, late night hours. She has high energy needs and really needs portable, protein-packed meals that support her energy throughout the day and muscle recovery after a gym session.
For me, I'm not only feeding myself, but several other people – big and little – on a day to day basis. Meal planning helps me plan ahead to serve the people I love nutritious meals, to stretch food dollars and to save time in the process!
The more I thought about it, the more I was excited to show Anna one of my favourite meal prep hacks—whole roasted chicken! [#Partner] But this time, with a special time-saving twist!
Roasting a whole chicken leads to endless meal prep options. The versatility is off the charts, and leftovers can be leveraged into whatever recipe your heart desires!
Power Bowls
Seasonal Soups
Hearty Salads
Crispy Flatbreads
Comforting Casseroles
You name it!
So today we're going to roast the whole bird, then quickly shred it down into the best bits and make two different, but equally joyful meals!
Enjoying both the white and dark meat for their nutritional benefits! Chicken breast is the leaner option and perfect for pre-workout meals. Dark meat chicken packs double the iron and zinc compared to white meat chicken, so it's great for growing littles!
A protein-packed meal like this, "Santa Fe Chicken Power Bowl" is perfect for Anna's post-workout routine, packing well in the range of the 20-40 grams of protein she needs after a strength-training session!
A hearty one-pot wonder like this, "Chicken Tortilla Soup", is perfect to satisfy my (always) hungry family of 5! Loaded with the stellar combo of protein, fibre and fat it's satisfaction you can slurp!
Similar ingredients, shining in their own unique way. That's the power of one whole chicken leveraged two ways!
So, let's get started and "Cook Once – Eat Twice!"
Roast Chicken
Whole chickens really do bring more nutrition, flavour and possibility in the kitchen. But, roasting a whole bird can take an hour or more, and frankly, a lot of the time, I just don't have that kind of time. Can you relate?
Luckily—there's a GetJoyfull solution!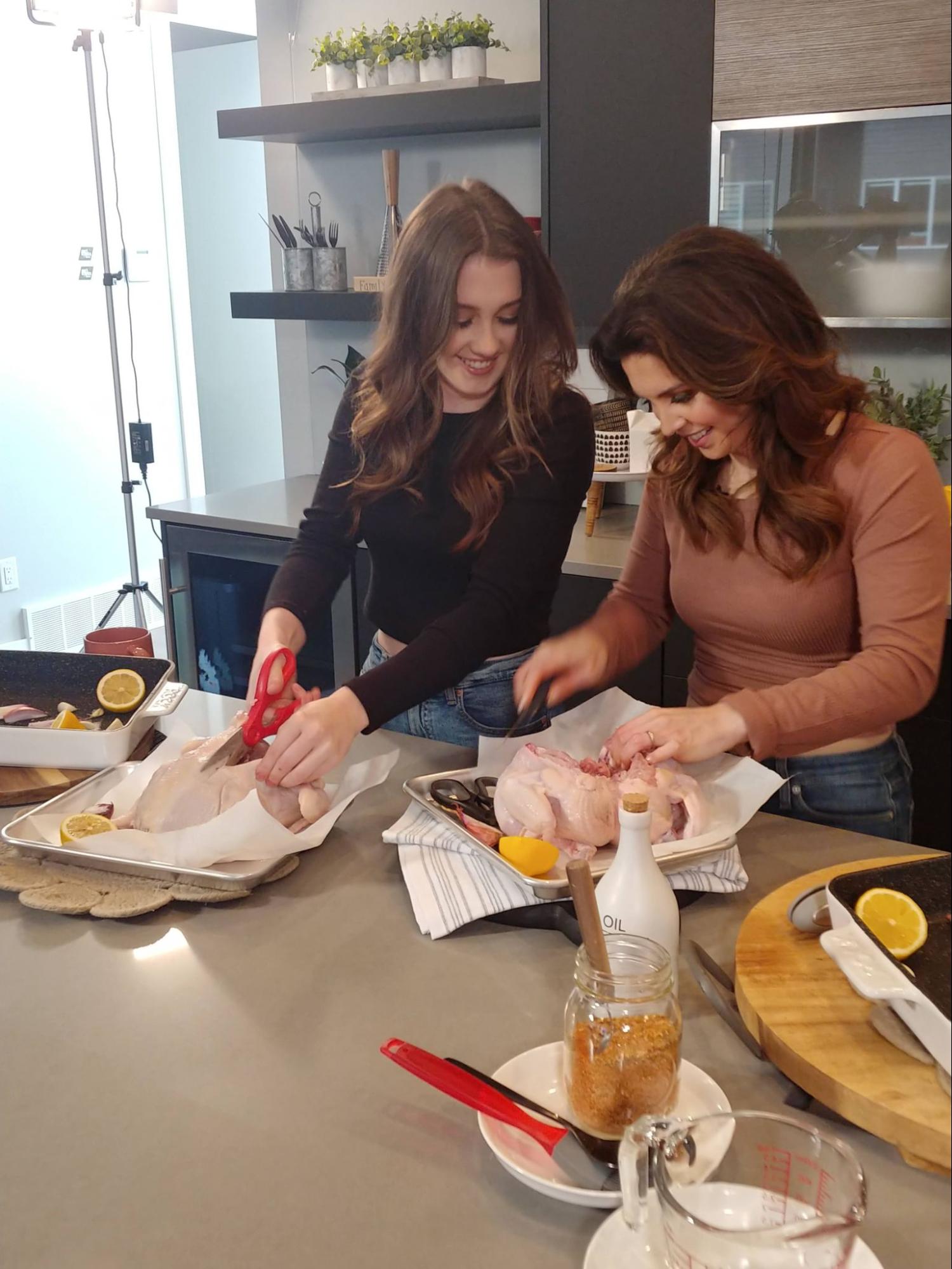 One of the ways to cook up a moist and beautiful bird quickly is to…spatchock it!
Funny to say, and even funnier to try for the first time, but it is simple and tried and true cooking at it's finest! Also known by terms "butterfly" or "flattening," no matter how you say it, spatchcocking is one of my go-to timesaving methods—drum roll—it cuts the cooking time nearly in half!
Here's a quick "tutorial" in 3 simple steps!
SPATCHCOCKING 101
Use kitchen/poultry shears to carefully remove the backbone.
Lay the chicken on a parchment lined baking sheet, breast-side up.
Firmly push down on the breast bone with the palm of your hand—just like magic you have a flattened chicken that's ready to season and roast!
My all-purpose, never-fail seasoning is a pretty simple spice rub.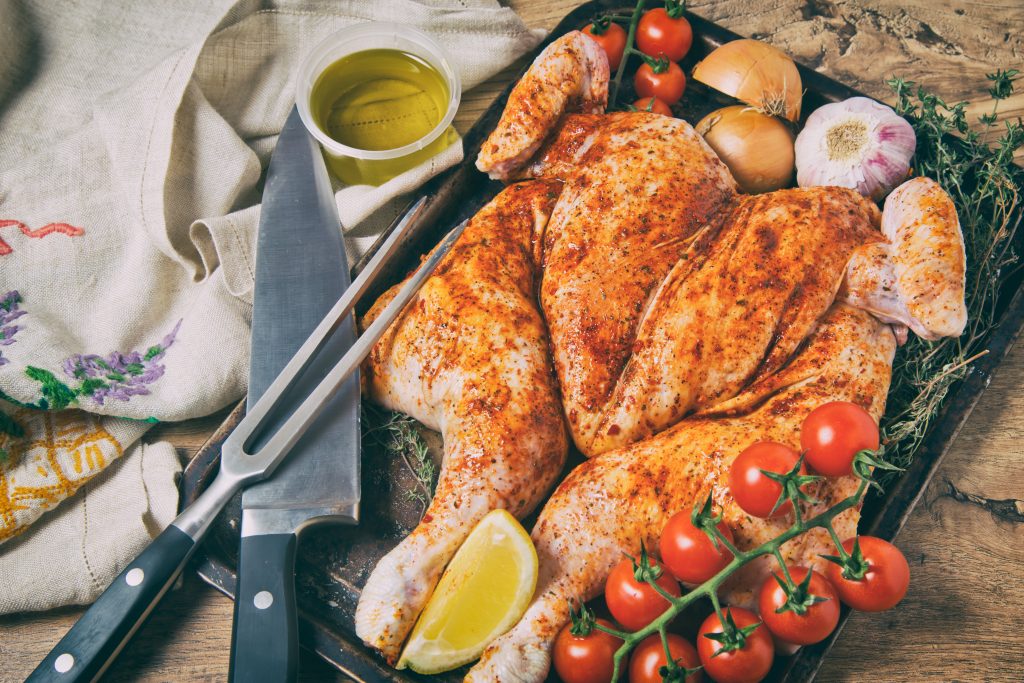 ---
GetJoyfull Everyday Spice Rub
Makes enough for 2 whole roast chickens!
INGREDIENTS:
¼ cup (60 mL) olive oil
¼ cup (60 mL) paprika
¼ cup (60 mL) No-Salt Seasoning Blend
¼ cup (60 mL) garlic powder
¼ cup (60 mL) onion powder
2 Tbsp (30 mL) pepper
Salt to taste, if desired
DIRECTIONS:
Combine all ingredients in a small bowl, or mason jar. Mix well.
Spoon ½ mixture into one chicken, and the other ½ onto the other chicken. Use a silicone brush and/or clean hands to massage spice mixture into spatchcock chicken before cooking; be sure to season both the top and underside.
Add some aromatics to your pan like lemon, garlic and shallot. Roast the chicken to a perfect 165F and allow it to rest for 15 minutes before devouring. If shredding cooked chicken for meal prep or other recipes, allow chicken to rest for 30 minutes.
Once your bird is finished – you can tear all that beautiful white and dark meat off the bone with two forks or even your fingers. Store it in a container in the fridge and add to your weekly soups, power bowls, wraps, or salads for extra protein power and keep hearts and tummies full!
Chicken Recipes – "Cook Once, Eat Twice!"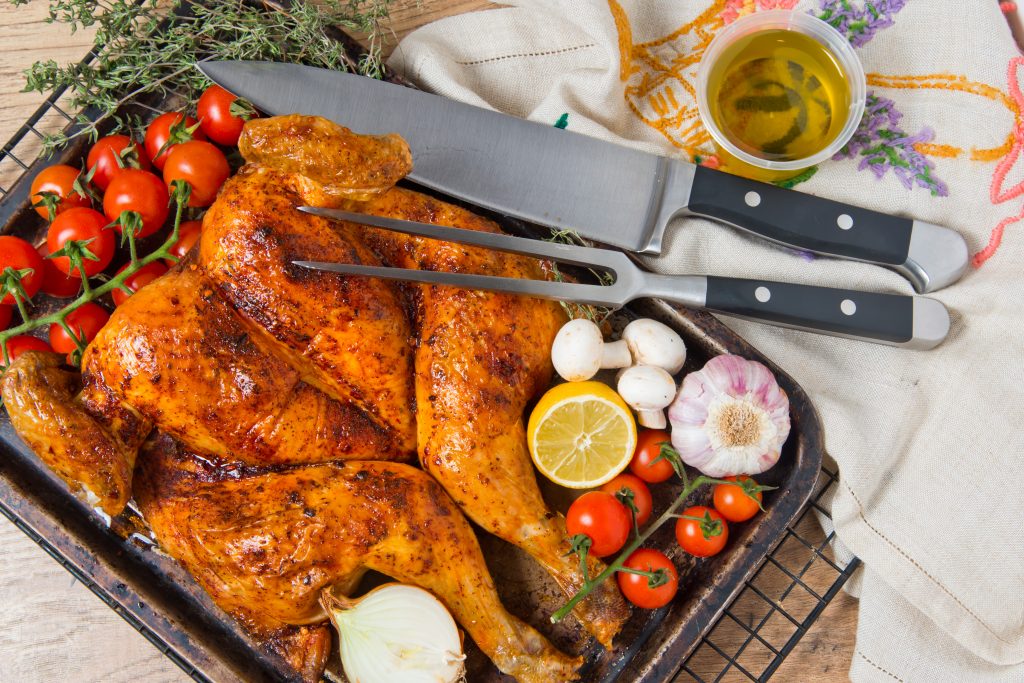 Anna loves dishes with a Santa Fe flavour vibe, so that was the only spark we needed to come up with her meal prep recipe for the week…"Santa Fe Chicken Power Bowls!" Yum! We whipped up 4 power bowls to help keep her fully energized for the busy week ahead, and for my crew the newest weeknight winning recipe, "Chicken Tortilla Soup!
---
Chicken Tortilla Soup
Serves 6-8
If you love tacos and you also enjoy a hearty bowl of soup, you're in the right place! Our Chicken Tortilla Soup is the easy weeknight meal you're craving. Bursting with the benefits of white & dark chicken meat and packed with pantry favourites diced tomatoes, black beans and fire-roasted chiles, this soup is equal parts comfort and pazazz!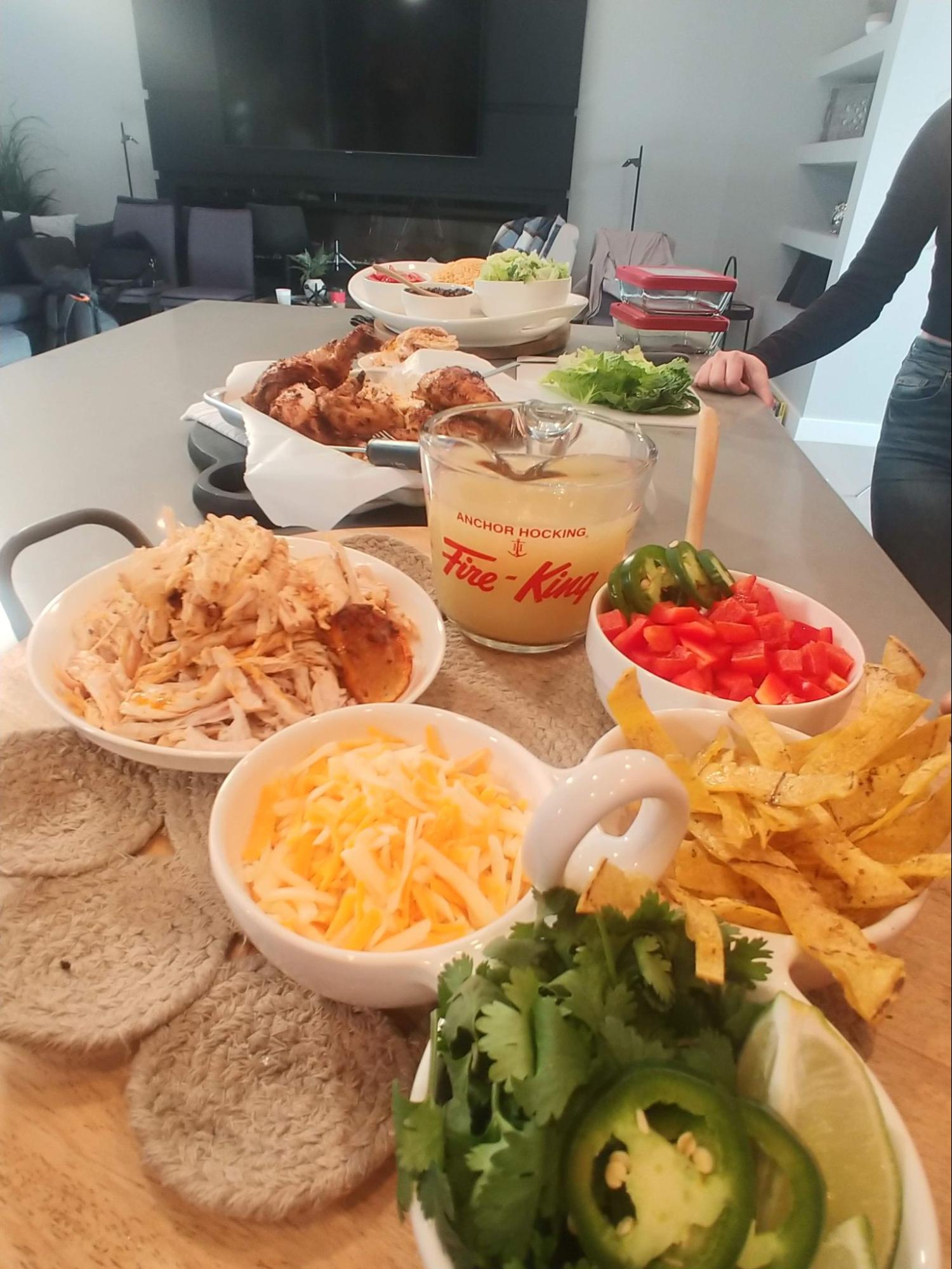 INGREDIENTS:
1 tbsp (15 mL) canola oil
1 medium onion, finely chopped
1 large red bell pepper, seeded and diced
2 tsp (10 mL) fennel seeds
1 Tbsp (15 mL) ground cumin
1 Tbsp (15 mL) chili powder
2 tsp (10 mL) garlic powder
1 tsp (5 mL) crushed red pepper flakes
1 (15 oz.) can black beans, drained and rinsed
1 (15 oz.) can diced tomatoes
½ cup (125 mL) fire-roasted green chili
4 cups (1 L) low-sodium chicken stock
2 lb (900 g) whole roasted chicken, deboned and shredded
½ cup (125 mL) grated cheddar (plus extra for garnish, if desired)
½ cup (125 mL) plain Greek yogurt
Salt and pepper to taste
TIPS:
Need to cook hands-free? This recipe is great for the slow cooker or instant pot; however, it also comes together nicely on the stove top in about 30 minutes. Whether you have just a few minutes on a busy weeknight, or a rest easy Sunday afternoon, this recipe is ready to deliver a great family dinner!
Super pressed for time? Grab a fully cooked, ready-to-shred rotisserie chicken on your way home. In a few short minutes, dinner is solved!
Have a little extra time on your hands? Try our "Peruvian-Inspired Whole Roasted Chicken" ahead of making this soup. It's yet another roasted chicken variation that we love from our recent Alberta Chicken Producers-GetJoyfull cookbook collaboration, "Recipes & Tips for Hungry, Happy Families." Download yours for free here! This version also tastes AMAZING in any leftover-savvy soup, salad or wrap and sure packs a flavour punch with its signature tangy green sauce. Yum!
DIRECTIONS:
Heat a medium skillet to medium-high, add canola oil, onion, pepper and spices. Sauté for 2-4 minutes until tender and fragrant.
Transfer spiced veggie mix to slow-cooker and add all remaining ingredients, except for cheese and yogurt.
Cook soup for 2 hours on high in a slow cooker on high, or 30 minutes on the stovetop.
Before serving, stir in yogurt, ½ cup cheddar and season to taste with salt and pepper.
Garnish and serve with extra grated cheddar, crispy tortilla pieces, chopped avocado, fresh cilantro, and lime wedges. Enjoy!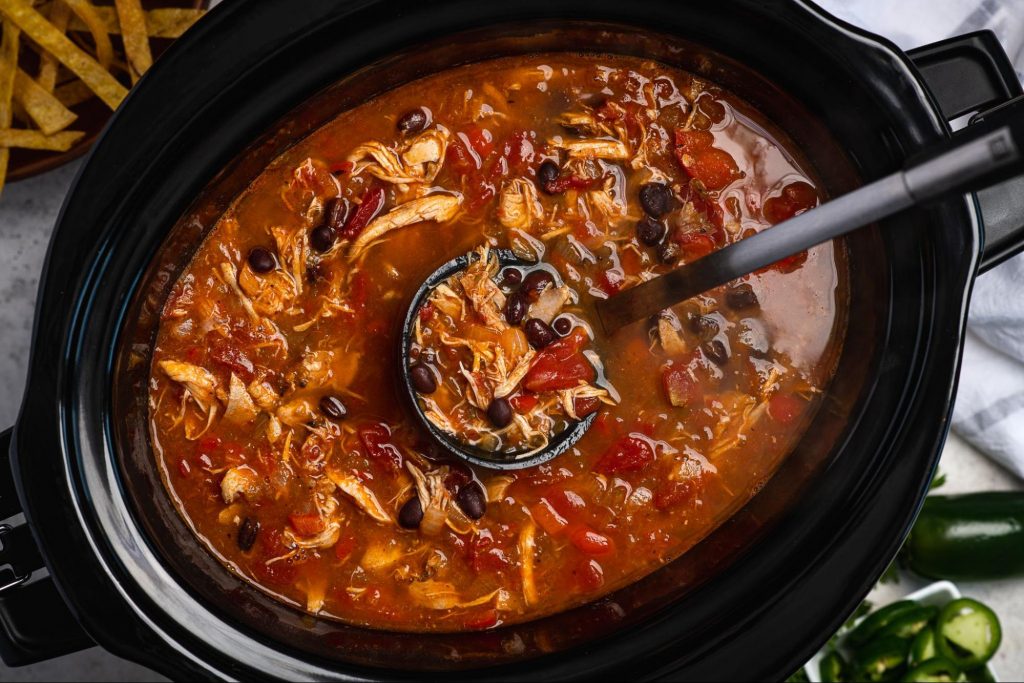 ---
Santa Fe Chicken Power Bowls
Yield: 4
INGREDIENTS:
2 cups cooked rice (½ cup per bowl)
6 cups (2 heads) romaine lettuce, washed and chopped (1½ cups (375 mL) per bowl)
2 cups shredded chicken (½ cup (125 mL) per bowl)
½, 19 oz can or 1 cup (250 mL) black beans, rinsed and drained (¼ cup (60 mL) per bowl)
½ cup (125 mL) fresh salsa or grape tomatoes, halved (2 Tbsp (30 mL) per bowl)
1 cup (250 mL) shredded cheese (¼ cup (60 mL) per bowl)
½ cup (125 mL) Greek yogurt (2 Tbsp (30 mL) per bowl)
½ cup (125 mL) guacamole or pumpkin seeds (2 Tbsp (30 mL) per bowl)
1 lime, quartered
2-6" corn tortillas, sliced, seasoned and baked (optional)
TIP:
Add extra crisp and crunch with the perfect garnish! Preheat the oven at 375 F. Slice 2, 6" corn tortillas, and add to a parchment-lined baking sheet. Toss with a drizzle of olive oil. Bake tortilla strips for 10-12 mins, flipping half-way through baking, until crispy and golden.
DIRECTIONS
Prep ingredients and ready 4 meal prep containers with airtight lids.
Layer ingredients in containers as desired. Top with garnishes like crispy tortilla strips, guacamole and lime just before being ready to eat!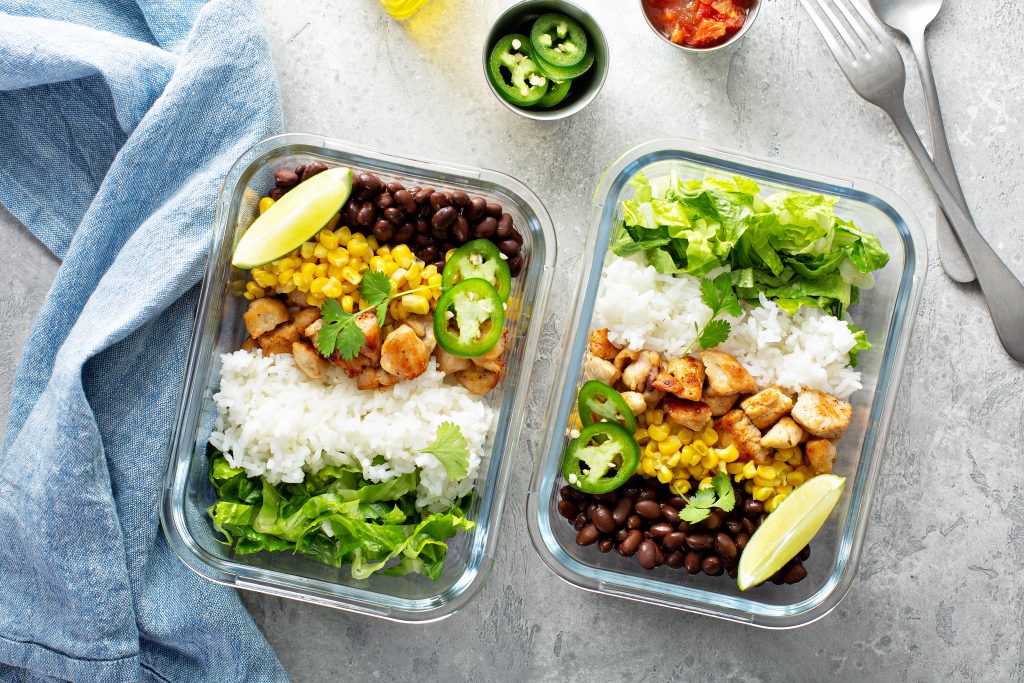 Nothing brings people together quite like food. That's easy to see in the smiles on our faces when my sister and I are cooking together.
Who are you missing lately? Is that someone you can have in your kitchen, maybe in real life, or virtually, or through a treasured family recipe? I encourage you to fill up on family time this December and find time to cook to connect, however you can safely and happily.
I'd like to thank our friends at Alberta Chicken Producers for inspiring this cooking time with my sister Anna and for reminding me what it really means to GetJoyfull.
Who do you miss cooking with the most? Leave me a comment. I'd love to hear your stories. Or visit me on social media @getjoyfull and share your cooking to connect stories.
Joyfully,
Emily
Emily Mardell is a Registered Dietitian, busy mama of three and proud Alberta foodie. Emily is passionate about quality ingredients and creating delicious, nourishing recipes that bring families together. Follow her on social media @GetJoyfull or GetJoyfull.com for nutrition advice and tips to grow food joy and fill up on family time.