In my book, there are no rules around holiday eats. All food is good food and worthy of celebration! Tradition, nostalgia and the magic of feel-good, happy memories certainly play a big role for my family when we're planning our holiday menu.
What special dish are you most looking forward to this holiday season, and why?
This holiday season our family is revisiting one of our most coveted comfort food dishes of all time— "Braised Alberta Beef Short-Ribs in Wild Mushroom Sauce." And oh yes, with all the fixings!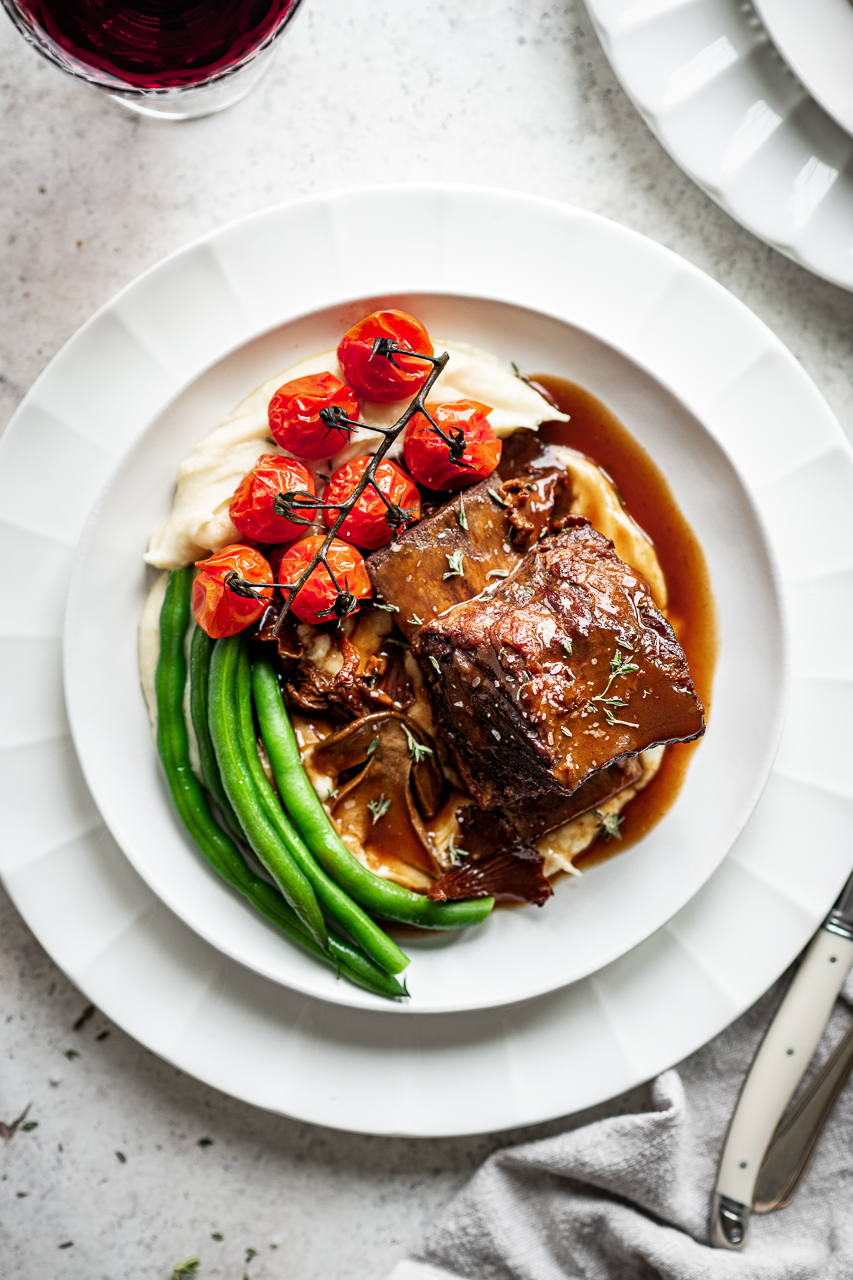 This centerpiece recipe really dishes up some kinda magic. It takes me back to my grandmother's Sunday dinner table when I was just a little girl. All the warm feelings of Christmases of old come flooding back and life is a little simpler for a few savored moments. For me, it doesn't get much better!
Christmas time is a call for all of us to slow down, to take stock of our blessings and appreciate the simple joys around us. And, of course, to enjoy making and reliving our happiest memories with family and friends.
Last Christmas was especially tough for everyone. The pandemic really put a pause on family gatherings, traditions and joys. Our ability to seek and find simple joys was challenged more than ever. I remember feeling so sad that I wouldn't get to enjoy Gigi's Christmas dinner or to spoil my family with some GetJoyfull love. Somewhere in the midst of this sadness, I decided to create my own unique celebration menu for my little family.
This is about the time I was introduced to Alberta Beef Short-Ribs! Timely, right!? Thank you, universe!
Partnering with Alberta Beef Producers and sourcing the absolute most amazing beef short-ribs from our neighborhood Freson Bros, turned out to be just the recipe inspiration I needed!
It all started when Cela and I took a food trip to Freson Brothers and got a real lesson in beef short-ribs from their Master Butcher. With a little pep talk, and some key tips, the Butcher gave me the confidence to tackle beef short-ribs for the first time, and just like he promised—they turned out heavenly! Warm tummies and happy hearts all around!
At the end of our food trip and a little GetJoyfull play in our home kitchen, a modern twist on Gigi's roast dinner Christmas menu was born. Braised Alberta Beef Short-Ribs in a Wild Mushrooms Sauce, alongside an epic winter salad and a warm chocolate dessert for my one and only Cela Joy.
Given the enthusiastic response at the Christmas dinner last year, I didn't have to think hard on what I wanted to make again this year. Alberta Beef short-ribs are the star of our Christmas dinner menu once again!
Alberta is renowned worldwide for exceptional quality and care of it's beef. Personally, I like knowing I'm supporting local farmers and also enjoying a dish made possible by amazing ingredients raised and grown so very close to home. From a nutrition standpoint, beef is a nutritious, energizing choice for hearty family meals and one-pot wonders like our short-ribs recipe!
The best part about this dish is it is as close to hands-free cooking as it gets, and with the help of an awesome butcher from the beginning – no carving or slicing required! Also a bonus, the aroma builds and tantalizes taste buds all day long. The longer you cook beef short-ribs, impossibly so, they just get better!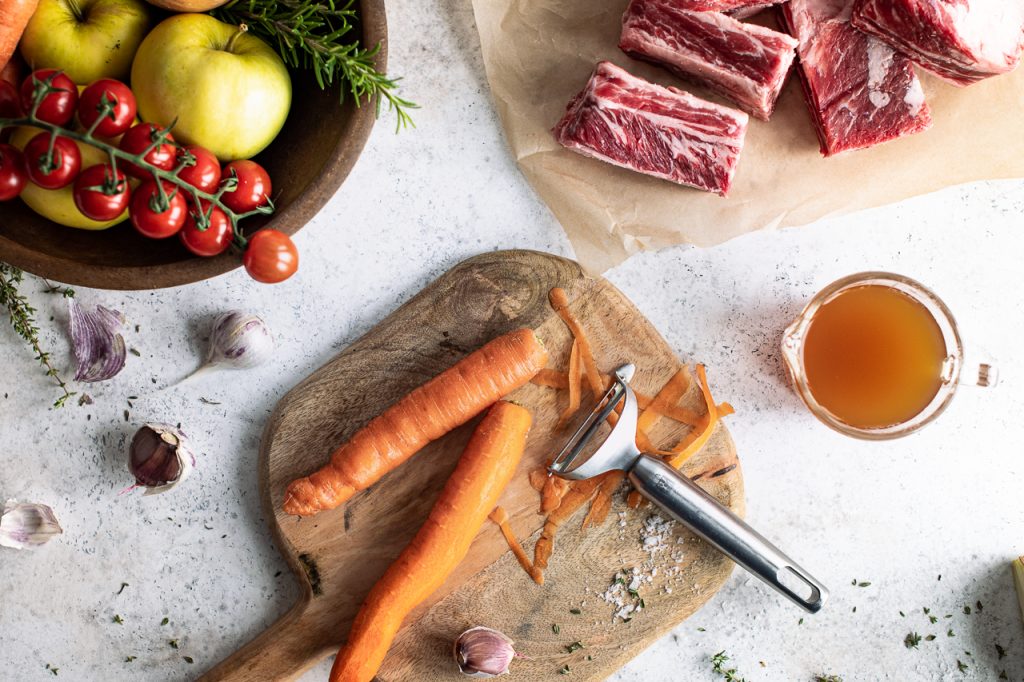 Overall beef is 50% leaner than it was 20 years ago. But, as always, beef still provides 12 essential nutrients like protein, niacin, vitamins B6 and B12, phosphorus and zinc etc. Short-ribs are not the leanest beef cut option, but for us, the flavour, texture and fall off the bone goodness is the hallmark of what an epic holiday entree! If you'd like to try a sirloin cut, or another leaner option in this recipe, you sure can! Pop over to Freson Bros and visit www.allforthebeef.com to get tips, tricks, and recipes to make the most of every beef meal you make!
Fall off the bone, melt in your mouth delicious. There is little possibility of leftovers, but if you're on the nice list, perhaps anything is possible with a little holiday magic!
Whatever you're making this holiday season, from an all day long celebration dinner, to 30 minutes or less pizza delivery, I hope your heart and belly both get their fill of all things festive and joyful.
Celebrating the Holidays with Alberta Beef
An epic holiday menu inspired by GetJoyfull tradition and created in partnership with Alberta Beef Producers.
---
Starter: Winter Beet & Citrus Salad with Herb-Vinaigrette
Roasted beets, Christmas oranges and toasted pine nuts make this salad as the perfect side to cozy winter stews, soups and casseroles.
Prep time: 15 minutes
Cook time: 5 minutes
Serves: 4-6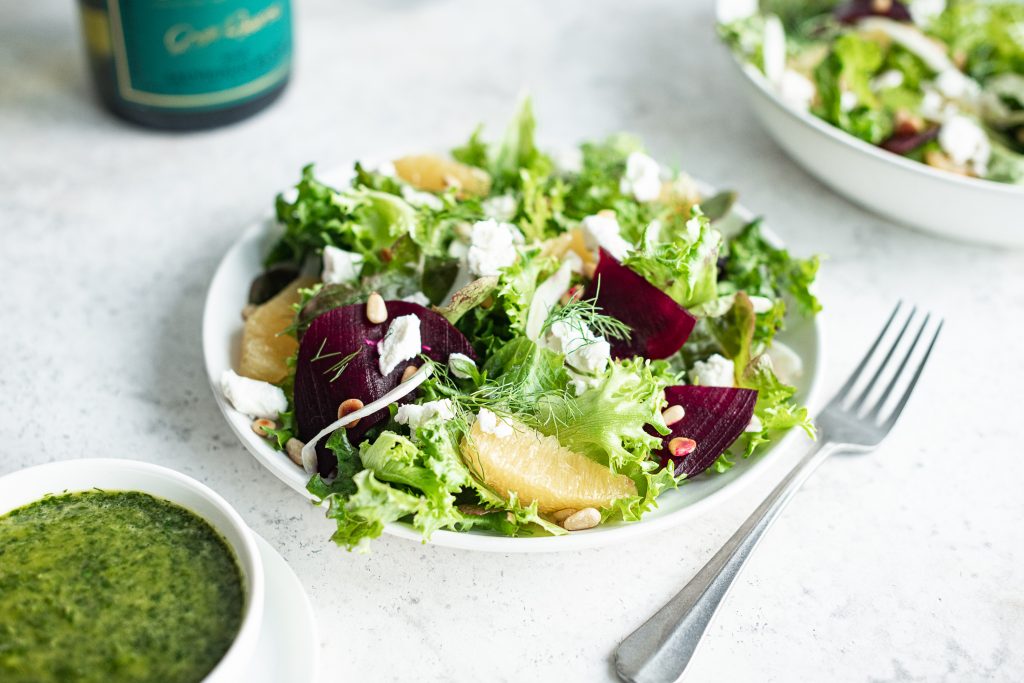 Ingredients:
⅓ cup (80 mL) pine nuts
6 handfuls mixed baby greens
2 oranges, seeded and sectioned
½ red onion, thinly sliced
2 medium roasted beets, peeled and sliced
⅓ cup (80 mL) crumbled goat cheese
½ fennel bulb, thinly sliced (Tip: Save the fronds)
Vinaigrette:
⅓ cup (80 mL) freshly squeezed orange juice
⅓ cup (80 mL) olive oil
2 Tbsp (30 mL) fresh herbs
1 Tbsp (15 mL) Alberta honey
Salt and pepper to taste
Directions:
In a non-stick skillet on medium heat, lightly toast the pine nuts until golden. Stir constantly so not to burn them. Set aside.
In a 500 mL mason jar, shake together vinaigrette ingredients until emulsified, about 1 minute.
Assemble salad ingredients on a large platter and garnish with fennel fronds and vinaigrette.
Main: Braised Alberta Beef Short-Ribs with Wild Mushroom Sauce
Fall off the bone tender Alberta beef, braised in wine and aromatics and served with a flavourful wild mushroom sauce.
Prep time: 10 minutes
Cook time: 4 hours
Serves: 4-6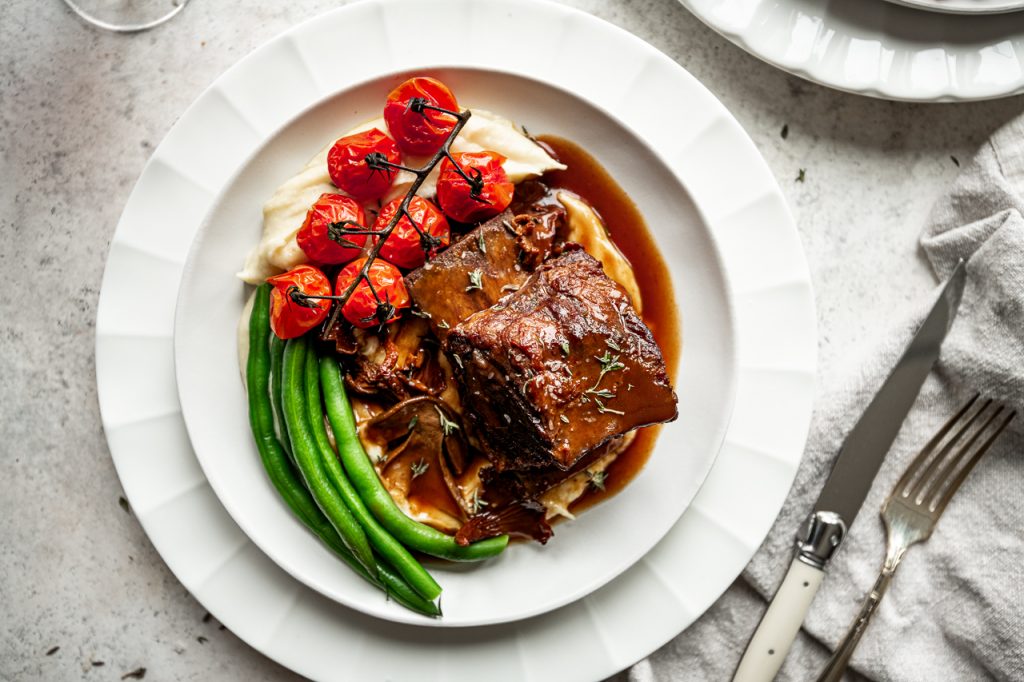 Short-Ribs
Ingredients:
1 Tbsp. (15 mL) canola oil
6 bone-in Alberta beef short ribs (6 lbs)
4 rashers of bacon, diced
1 yellow onion, sliced
4 garlic cloves, crushed
1 can (156 mL) tomato paste
1 apple, diced
2 medium carrot, peeled and chopped
2 sprigs of fresh thyme
2 sprigs of fresh rosemary
Salt and pepper to taste
4 cups (1 L) beef stock
1 cup (250 mL) red wine
Cinnamon stick
Directions:
Preheat the oven to 300 degrees.
Season short ribs generously with salt and pepper, sear in oil on medium-high heat on stove top in dutch oven. Brown all sides. 8-10 minutes
Remove short-ribs from pan, reduce heat to medium, add bacon. Cook until brown, 4 minutes. Add sliced onion and garlic. Saute until golden.
Add apple, carrot, thyme, rosemary, saute for 1 minute. Deglaze with red wine, cook for 10 minutes. Add beef stock, tomato paste, and cinnamon stick. Cover and cook for 4-5 hours.
While beef ribs are braising, boil water and follow directions to rehydrate mushrooms with 2 cups of boiled water. Set aside until you're ready to make the final sauce.
Remove short ribs from the pan, set aside. Pour one to two cups braising liquid over cooked short-ribs to keep them moist and happy while you reduce the braising liquid.
Remove vegetables from remaining braising liquid. Strain if desired. Simmer, uncovered, on medium-low until braising liquid is reduced by half. Reserve liquid to make wild mushroom sauce.
Recipe Tip #1:
If you're new to cooking with wine, I highly recommend the a red wine with a touch of spice & smoke, like this certified-sustainable Carmen Gran Reserva Carmenere. This rich red makes it the perfect pairing for braised beef & mushrooms. I don't often cook with wine, but when I do it's always with a blend I can savour in a glass too!
Wild Mushroom Sauce
Ingredients:
2 cups (500 mL) boiling water
40g dehydrated mushrooms (I love Untamed Feast's Porcini & Chanterelles)
2 cups (500 mL) short-rib braising liquid
1 Tbsp. (15 mL) brown sugar
1 Tbsp. (15 mL) balsamic vinegar
Directions:
In a small stockpot, combine rehydrated mushrooms and the liquid used to rehydrate them, reserved braising liquid, brown sugar, and balsamic vinegar.
Simmer on medium-low for 15 minutes, or until sauce is reduced by half and glossy. Serve with braised short-ribs, creamy parsnips and seasonal vegetables.
Recipe Tip #2:
For a thicker wild mushroom sauce, make a slurry of 1-2 teaspoons (5-10 mL) of cornstarch and 1 Tbsp (15 mL) cold water. Whisk till smooth and stir into the saucepan.
Chocolate & Peppermint Mini Bundt Cakes
Rich chocolate cake topped with decadent chocolate ganache and pops of peppermint candy! Makes ~10 mini bundt cakes or 1 large bundt cake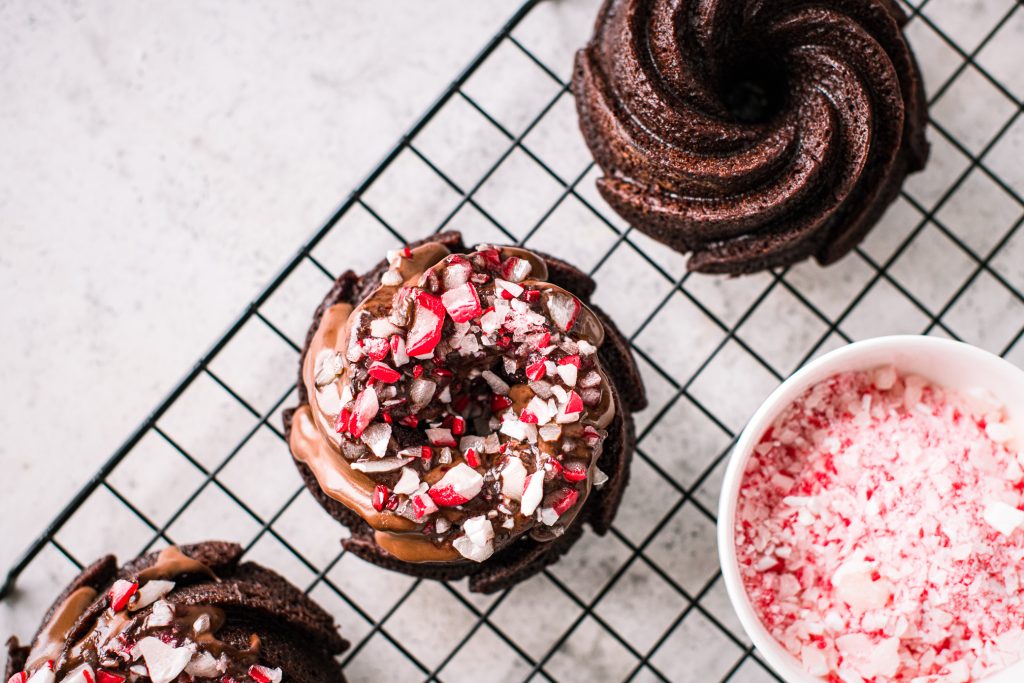 Ingredients:
Cake:
2 eggs
1 cup (250 mL) Greek yogurt
1 Tbsp (15 mL) vanilla
2 cups (500 mL) flour
2 cups (500 mL) sugar
1 tsp (5 mL) baking powder
¼ tsp baking soda
1 tsp (5 mL) salt
1 cup (250 mL) coffee
1 cup butter, melted
¾ cup cocoa powder
Ganache:
8 oz (230 g) semi-sweet Baker's chocolate, finely chopped
1 cup (250 mL) heavy cream
Garnish:
4 peppermint candy canes, crushed
Directions:
Preheat the oven to 350 degrees. Grease bundt cake molds with butter and add a light dusting of flour.
In a small bowl whisk together eggs, Greek yogurt and vanilla. Set aside.
In a medium bowl, sift together flour, sugar, baking powder, baking soda and salt.
In a large bowl combine coffee, melted butter and cocoa powder.
Add chocolate mixture to dry ingredients and stir well with a wooden spoon to combine. Fold in Greek yogurt mixture and stir well again until the batter is completely mixed and velvety. It will be a thick, decadent batter.
Divide batter into bundt molds. Bake for 15 to 20 minutes for minis and 40 to 55 minutes for large bundt cake. Be careful not to over bake. Remove cakes from the oven and allow to cool on the cooling rack.
In a heat safe clear measuring cup, or bowl microwave heavy cream on high in 20 second increments, stirring each time, until the cream is steaming hot, but not boiling. Add chopped chocolate to hot cream and allow it to melt on its own. After about 10 minutes, stir to mixture to form a ganache. Allow the mixture to cool to room temperature (Note: chilling the ganache in the fridge will cause it to harden) so it can be poured over cakes when ready to serve.
Drizzle ganache over each mini bundt cake, allowing it to drip down the sides. Sprinkle with crushed candy canes. Enjoy!
Recipe Tips:
The key to bundt cake success is good preparation! Use a non-stick pan and be sure to grease or spray the pan for extra insurance. When your bundt cake is finished baking, wait 5-10 minutes before inverting it onto a cooling rack. Flip with confidence. You got this!
High quality baking chocolate is the best chocolate to use when making a two ingredient ganache. Chocolate chips will not yield the velvety amazing ganache that we're looking for, so hit up Jack Chocolate Couture, or the baking aisle for the best semi sweet baking chocolate you can find.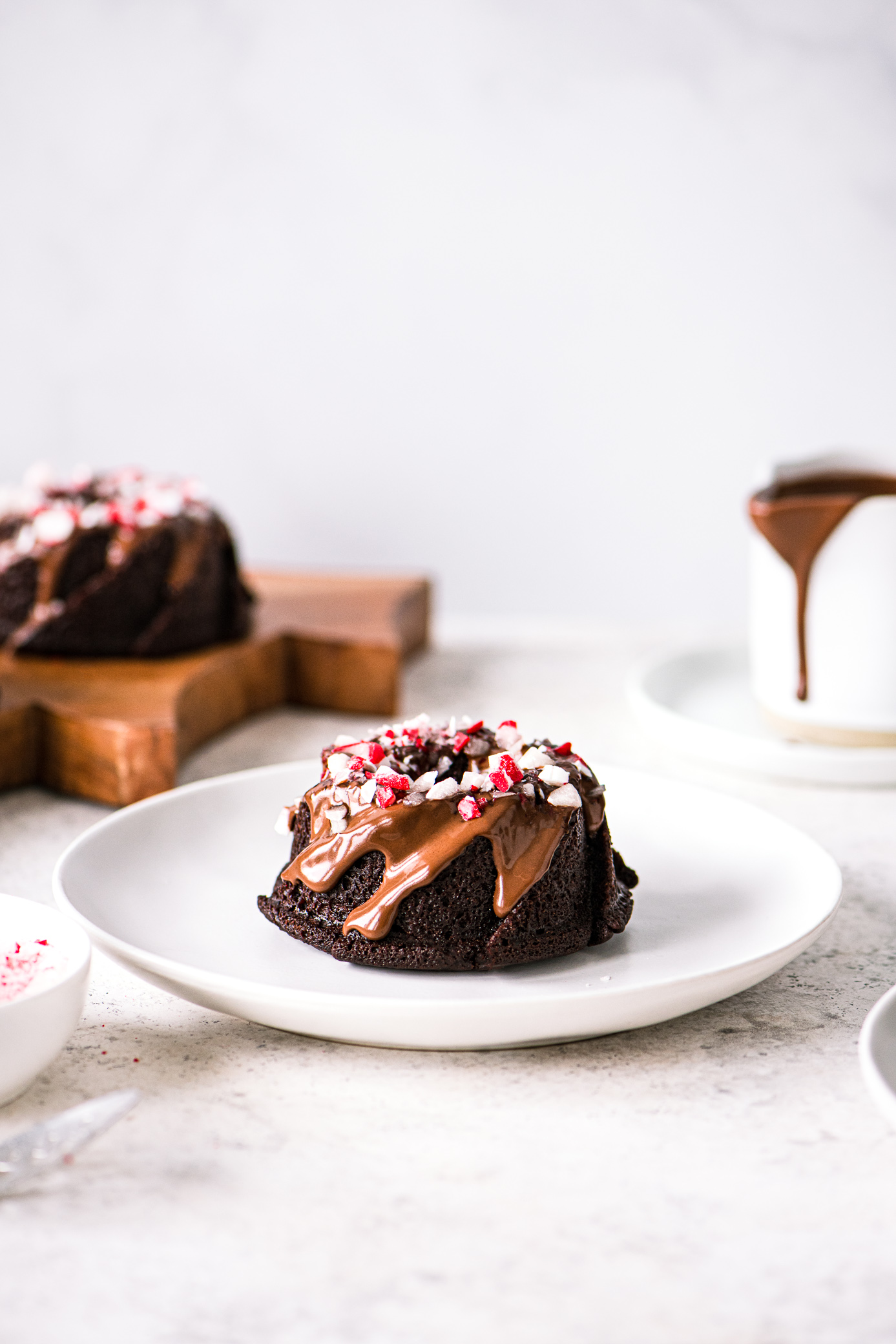 I would love to thank our partners, Alberta Beef Producers for inspiring this post and a new holiday family tradition. I love working closely with local Alberta producers, so please get out this holiday season and support your local growers, producers, ranchers and farmers. They produce incredible Alberta ingredients, sought after all over the world and we're pretty lucky to have it so fresh, and so close to home! For more information on Alberta beef and much more recipe inspiration visit www.allforthebeef.com
From my family to yours I wish you all the very best for a safe and healthy holiday season. Cuddle up with those closest to you and make those beautiful memories over a glorious shared meal together.
Happy Holidays.
Joyfully,
Emily
Emily Mardell is a Registered Dietitian, busy mama of three and proud Alberta foodie. Emily is passionate about quality ingredients and creating delicious, nourishing recipes that bring families together. Follow her on social media @GetJoyfull or GetJoyfull.com for nutrition advice and tips to grow food joy and fill up on family time.