Sunday evening is our favourite time for family dinner. Sunday's are usually busy with household chores and family activities. But for most of the day we're home, often watching football and getting ready for the week. It's the perfect day to slow cook a little extra GetJoyfull love!
It's easy to tell when our 'Veggie-Patch Beef Bolognese' is on the menu. Inevitably, all three kids have happy, saucy grins after supper and there's often a pile of extra "they can wait until morning" dishes in the sink.
All my kiddos love bolognese. I suspect it's because bolognese is equal parts yummy and messy, lol.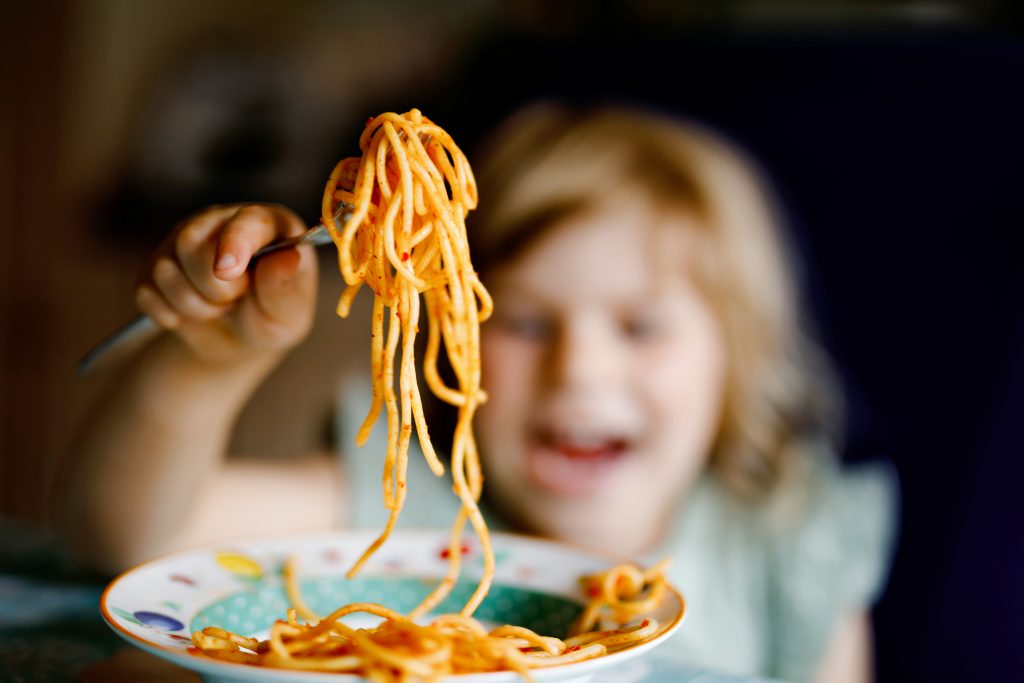 As a Dietitian and their mama, I definitely love how easy it is to boost the nutritional value of an already great sauce with a few budget-savvy options. Lean ground Alberta Beef [#partner], a few canned and dried pantry staples and no-waste, no fuss, frozen veggies are our go-to favourites.
I often buy 1 lb. Lean ground beef at the start of our grocery week and stretch this flavourful, robust protein into 3 different meals over the course of the week. Even breakfast! Pop back here tomorrow to see what we make with the rest of the lean ground beef we have cooked on hand! Catch all the kid-approved, budget-savvy recipes in "Nourishing Recipes on a Budget—Beef 3 Ways!"
What's your favourite Sunday family dinner? Comment below or share this blog and recipe with someone you'd love to have at your table ❤️
Happy Sunday, friends!
---
Veggie-Patch Beef Bolognese
INGREDIENTS:
⅓ lb. raw lean ground beef
1 Tbsp. (15 mL) oil, divided
1 tsp (5 mL) dried basil
1 tsp (5 mL) dried oregano
1 tsp (5 mL) garlic powder
1 large onion, finely diced
2 stalks celery, finely diced
200 g button mushrooms, finely diced
2 medium carrots, grated
2 medium zucchini, grated
1 tsp (5 mL) brown sugar

Save even more time and money…Look for frozen veggie medley's or "spaghetti mixes" in the freezer section. Combinations of diced onion, carrot, bell pepper and celery. Yay for healthy convenience! 

1 can (796 mL) diced no salt added tomatoes
1 jar (650 mL) favourite marinara
1 can (156 mL) tomato paste
2 cups (500 mL) water or broth*
2 cups (500 mL) frozen broccoli, chopped
Salt and pepper to taste
1 box (375 g) pasta
GetJoyfull Tip: In addition to ground beef, the pasta you choose can also provide an iron boost to this veggie-loaded recipe. Check the label and opt for pasta that has 15% DV of iron, or more!
DIRECTIONS:
Add 1 tsp. oil to a Dutch oven or large pot and heat to medium high. Add ground beef and saute for 8-10 minutes, until cooked and browned. Season with dried basil, dried oregano and garlic powder. Remove cooked beef mixture and set aside in a bowl.
Drizzle another 2 tsp. oil to skillet and saute onion, celery, mushroom, carrot, zucchini and brown sugar for 5 minutes, until veggies are tender and lightly caramelized.
Add seasoned cooked beef back into the pot, and stir to combine. Add all remaining ingredients, including water/broth and chopped frozen broccoli. Season with salt & pepper, if desired.
Reduce heat to low and simmer sauce for 1-2 hours. *Add more or less water/broth as needed. Simmer your sauce to the thickness and consistency preferred.
When the family starts circling the kitchen, cook the pasta as per directions. My kids are obsessed with thick noodles lately, so we love paradelle and fettuccine! Slice some seasonal fruit like navel oranges for a share plate and get ready to enjoy a great family dinner!
Serve and garnish with anything you like…we often like more herbs, shredded cheese, chili flakes or balsamic vinegar!
GetJoyfull Tip: Leftovers can be enjoyed within 3 days and extra sauce freezes really well, too. The kids love it reheated with lunchbox grilled cheese "fingers" that are perfect for dipping!
Happiness is Homemade
Alberta beef is recognized the world over for quality and taste. Most often, we opt for lean or extra lean ground beef when cooking with beef in our kitchen. It's versatile, economical and high in quality protein and iron, two nutrients I tend to prioritize a lot for my kids, and myself.
When choosing ground beef, you've got several options and can pick and choose based on your personal preferences and recipe needs. Extra lean ground beef has 10% fat or less, so for one-pot wonders or super flavourful recipes, like our "Veggie Patch Beef Bolognese" that don't need extra fat, or I simply don't want to fuss with draining any extra fat, I prefer this option. If you're into saucy meatballs, cabbage rolls, spaghetti sauces, soups and stews you might consider the leaner option your go-to choice, too!
For everything you could possibly learn about Alberta Beef, and specifically ground beef, I suggest you check out the Ground Beef Toolkit by Alberta Beef Producers.
I would like to send a heartfelt thank you to the Alberta Beef Producers for supporting GetJoyfull and for helping make this recipe and post possible.
Joyfully,
Emily
Emily Mardell is a Registered Dietitian, busy mama of three and proud Alberta foodie. Emily is passionate about quality ingredients and creating delicious, nourishing recipes that bring families together. Follow her on social media @GetJoyfull or GetJoyfull.com for nutrition advice and tips to grow food joy and fill up on family time.