Happy New Year, GetJoyfull friends! I don't know about you, but January for me, is a signal to get more organized, to feel more energized and to save more money. Luckily, a lot of these improvements can kick-start in my happy place, the kitchen!
Most everyone can benefit from a joyfully planned menu of nourishing meals, and a few clever strategies to help stretch food dollars. With the rising cost of groceries and with it the stress of feeding a healthy family, we're all looking for new ideas, creative recipes and practical solutions to help us all feel good about the food we serve our family.
What are your top food budgeting tips?
For our GetJoyfull family, our top food budgeting tips are:
Create a weekly menu plan
Planning ahead gives us all input into our menu and helps overall to increase food enjoyment and reduce food waste. It also helps streamline the grocery list to include only what's needed. Eating seasonally, catching sales, and using what we have already have on-hand is all part of our weekly food routine.
Make the most of preferred proteins
My kids enjoy a variety of proteins from both plant and animal sources. I'm lucky they're adventurous and varied eaters! But, I've noticed they definitely have a preference for soft-cooked meats or meat in a sauce. Sweet & sour meatballs, beef & veggie pasta sauce, and beef & bean taco salads are just a few of their favourites. To make the most of the beef we buy, you'll often catch me stretching a pound of ground beef over two, even three meals much like I did below in this "Beef 3 Ways" inspiration menu. Combining a few pantry and freezer staples, alongside ground beef…scores big mama points in both taste and cost-savings!
Enjoy freezer-friendly ingredients
Many foods found in the freezer section are minimally processed and frozen at the peak of freshness. This means they're packed with nutrition! Some of our freezer favourites that first come to mind are: Berries, edamame, broccoli florets and pieces, leafy greens like kale and spinach, riced cauliflower, avocado chunks, bean & grain medley's, and diced combos like the ultimate flavour team of celery, carrot, bell pepper and onion. Oh, and I almost forget about frozen butternut squash, a favourite easy-prep baby food and the secret ingredient in our homemade "Mac & Squeeze!"
---
Cost-savvy, high-nutrition meals ideas:
Make-ahead breakfast:" Peanut butter & banana overnight oats
Protein-packed breakfast-to-go: Mini beef & broccoli breakfast bites and fruit
Snack plate lunch: Tuna & apple salad with whole wheat pita wedges and cheddar cubes
Post-tobogganing weekend lunch: Minestrone soup with homemade biscuits
Sweet & sour meatballs made with frozen pineapple and a side of frozen green peas and steamed rice
What's your family's go-to cost-savvy, high-nutrition meal ideas?
As an active family with 3 growing kids, meals with big energy and big taste are a must. We love a variety of proteins, but once a week I make it a point to stretch a pound of extra lean ground beef to the nutritional max.
Packed with quality protein, iron and a satisfying taste my littles love…a little can go a long way towards a day of yummy meals! Boosting your beef with pantry staples and seasonal or frozen vegetables is a savvy way to stretch food dollars, even a little, all the while boosting the nutrition of most any meal!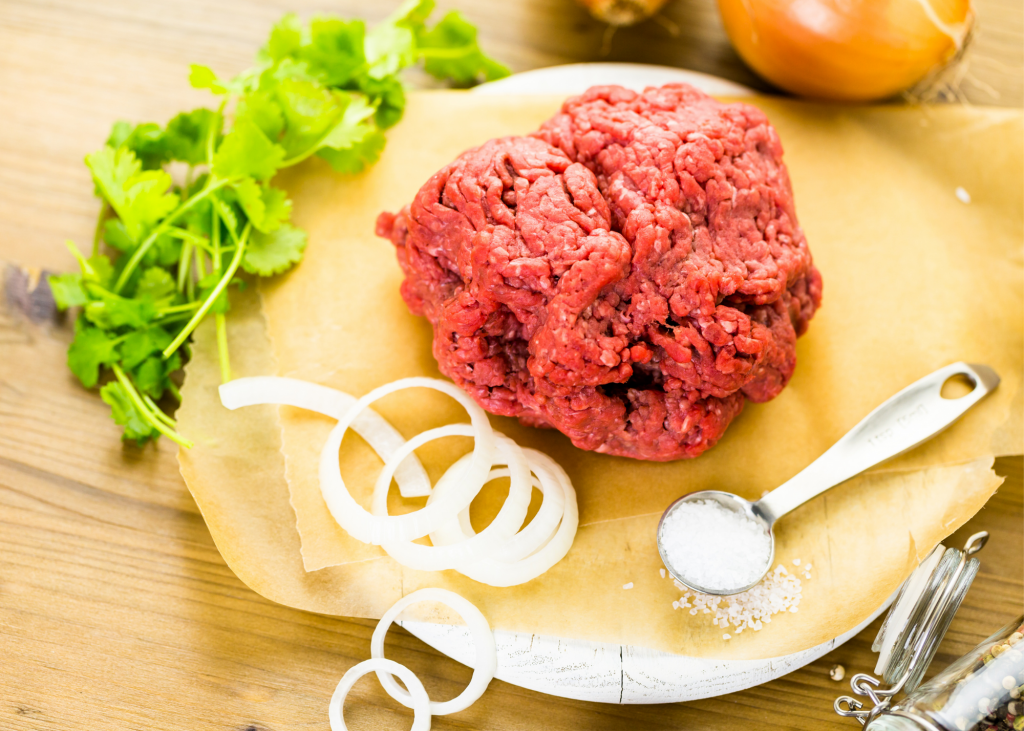 Here's a quick example of how 1 lb. of lean ground beef can be stretched to make a nutritional appearance in breakfast, lunch and dinner!
While there are many economical cuts of beef, ground beef for sure is one of the easiest on the pocket book and goes the furthest!
To give you an idea of just how far 1 pound (16 oz) of uncooked ground beef can stretch:
1lb uncooked ground beef yields about 12 oz cooked or 3 cups of cooked beef.
So I'm dividing those 3 cups into 3 recipes!
Breakfast:
Broccoli & Beef Snack Bites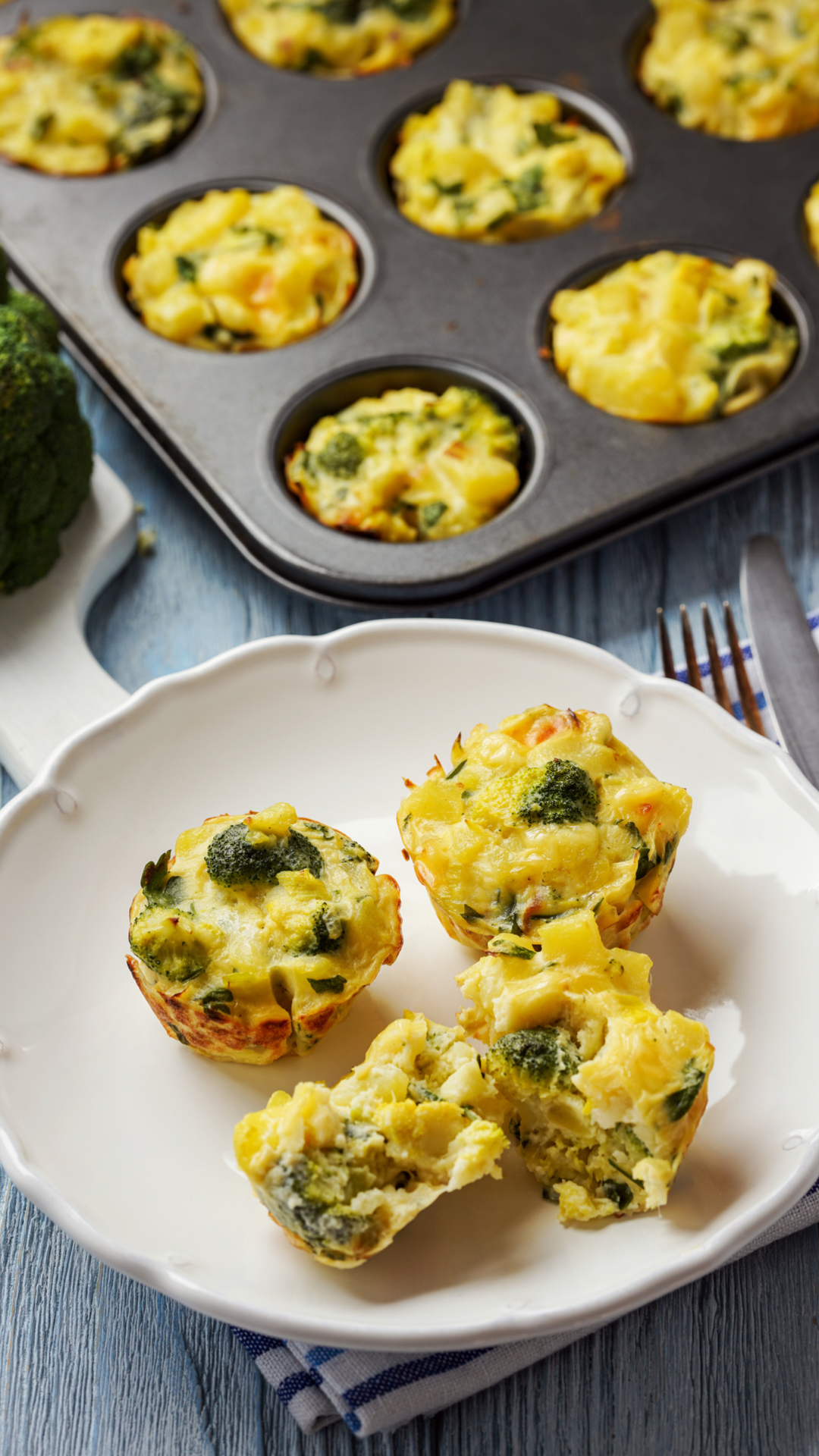 Makes 24 (minis) or 12 (full)
While you might not think of beef for breakfast right away, it's a great addition to any egg scramble, quiche or frittata. Leverage leftovers for breakfast win with this awesome recipe!
INGREDIENTS:
6 eggs, whisked
½ to 1 cup cooked extra lean ground beef
1 cup cooked finely chopped broccoli (Any leftover, or frozen veggie that you like will work great!)
1 cup cooked brown rice (Cooked oats work well, too!)
½ cup shredded cheese (Use an old cheddar, or something with a sharp, rich flavour. A little goes a long way)
DIRECTIONS:
Preheat the oven to 350 F and spray or line a muffin tin tray. We love our non-stick mini muffin tray that makes 24 muffins!
Divide ingredients beef, broccoli, brown rice into muffin tin. Pour whisked egg over filing and top with shredded cheese.
Bake at 350 F for 10-14 minutes, or until puffed and golden, it will depend on the size of bites that you're making.
Serve warm, or room temp with a side of lemony leafy greens and sliced fruit. Enjoy!
A protein-rich breakfast can really help keep you feeling full and satisfied longer and help you power through until your next snack or meal. These snack bites are simple to make, and a fast on-the-go breakfast you can make ahead and warm up! They'll even fit in a lunch kit and can be eaten any time of day!
Inspired by Taste of Home
---
Lunch:
Spiced-Beef Layered Hummus Dip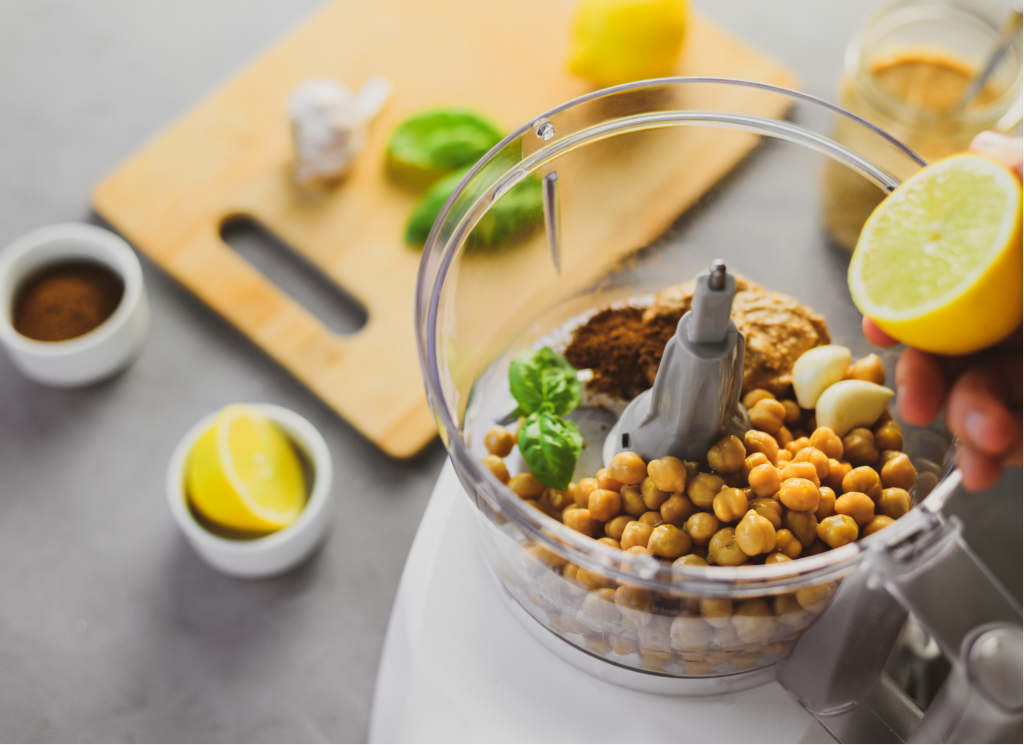 Who doesn't love a layered dip?! This dip is one of my favourites. Especially on game day, or when I'm feeling like I want to level-up a snack-plate lunch. Hummus is an excellent plant-based protein and pairs perfectly with spiced Alberta Beef. With Mediterranean vibes and wholeheartedly inspired by some amazing Lebanese recipes I've had the pleasure of eating — this recipe is a MUST TRY! Amplified by the warmth of allspice, sumac and cinnamon this ground beef dip packs the ultimate one-two protein punch and stretches the cooked beef we have on-hand this week, again, as far as it can go!
INGREDIENTS:
½ cup cooked extra lean ground beef
Green bell pepper, diced
1/2 tsp (2.5 mL) Ground allspice
1/4 tsp (1.25 mL) sumac (Smoked paprika or chilli powder are excellent options, too)
Pinch ground cinnamon
Salt and pepper to taste
1 cup (250 mL) chickpea hummus (Make your own or opt for a store-bought version!)
1 tomato, diced
1/4 red onion, diced
1/4 cup (60 mL) Fresh parsley, or greens of choice, chopped (optional)
GetJoyfull Tip: Make your own hummus by blending: 1 can chickpeas (rinsed and drained), with 2-4 cloves of garlic (or 1 tsp garlic powder), 1/2 tsp. ground cumin, juice of 1 lemon and 2 Tbsp of tahini or any nut or seed butter you have on-hand.
DIRECTIONS:
Cook ground beef as per usual method, or simply reheat cooked ground beef in a sauté pan with green pepper and spices until fragrant, about 5 minutes.
Add hummus to serving plate and top with warm beef, diced tomato, onion and parsley.
Enjoy with carrot sticks and whole wheat pita wedges!
Inspired by That Clean Life
---
Dinner
Veggie-Patch Beef Bolognese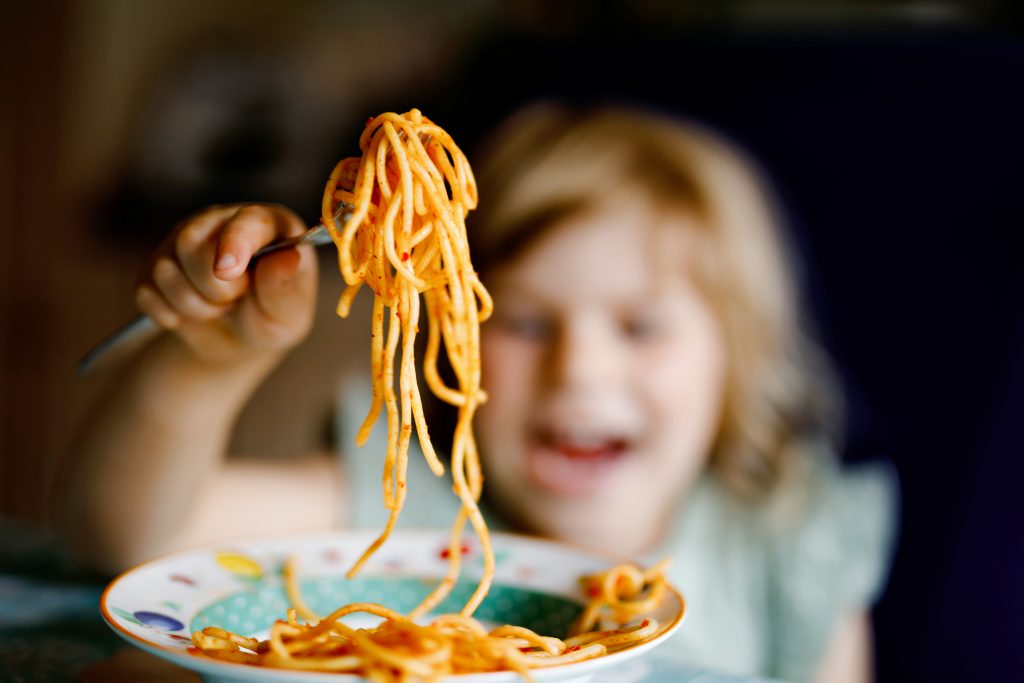 INGREDIENTS:
⅓ lb. raw lean ground beef
1 Tbsp. (15 mL) oil, divided
1 tsp (5 mL) dried basil
1 tsp (5 mL) dried oregano
1 tsp (5 mL) garlic powder
1 large onion, finely diced
2 stalks celery, finely diced
200 g button mushrooms, finely diced
2 medium carrots, grated
2 medium zucchini, grated
1 tsp (5 mL) brown sugar
1 can (796 mL) diced no salt added tomatoes
1 jar (650 mL) favourite marinara
1 can (156 mL) tomato paste
2 cups (500 mL) water or broth*
2 cups (500 mL) frozen broccoli, chopped
Salt and pepper to taste
1 box (375 g) pasta
GetJoyfull Tip: In addition to ground beef, the pasta you choose can also provide an iron boost to this veggie-loaded recipe. Check the label and opt for pasta that has 15% DV of iron, or more!
DIRECTIONS:
Add 1 tsp. oil to a Dutch oven or large pot and heat to medium high. Add ground beef and saute for 8-10 minutes, until cooked and browned. Season with dried basil, dried oregano and garlic powder. Remove cooked beef mixture and set aside in a bowl.
Drizzle another 2 tsp. oil to skillet and saute onion, celery, mushroom, carrot, zucchini and brown sugar for 5 minutes, until veggies are tender and lightly caramelized.
Add seasoned cooked beef back into the pot, and stir to combine. Add all remaining ingredients, including water/broth and chopped frozen broccoli. Season with salt & pepper, if desired.
Reduce heat to low and simmer sauce for 1-2 hours. *Add more or less water/broth as needed. Simmer your sauce to the thickness and consistency preferred.
When the family starts circling the kitchen, cook the pasta as per directions. My kids are obsessed with thick noodles lately, so we love paradelle and fettuccine! Slice some seasonal fruit like navel oranges for a share plate and get ready to enjoy a great family dinner!
Serve and garnish with anything you like…we often like more herbs, shredded cheese, chili flakes or balsamic vinegar!
GetJoyfull Tip: Leftovers can be enjoyed within 3 days and extra sauce freezes really well, too. The kids love it reheated with lunchbox grilled cheese "fingers" that are perfect for dipping!
---
At the end of a winter day, a piping hot bowl of pasta smothered in a rich sauce chalked full of beautiful canned tomatoes, vegetables and hearty ground beef is something my family will never turn down. Pasta dishes in general really stretch your food dollars and a hearty sauce can be double batched and frozen for another day!
Alberta Beef is world renowned for its quality and care. Plus…the protein, iron, zinc and endless flavour combinations, always keep us coming back. Try these recipes and experiment and boost your beef recipes with pantry staples, root or in season vegetables, you name it. Let me know what you come up with to stretch your food dollars in the comments!
I'd like to thank our friends and partners, Alberta Beef Producers, for inspiring this post. Be sure to check out their blog, Budget with Beef, for even more ways to stretch your beef budget!
Happy New Year from my family to yours!
Joyfully,
Emily
Emily Mardell is a Registered Dietitian, busy mama of three and proud Alberta foodie. Emily is passionate about quality ingredients and creating delicious, nourishing recipes that bring families together. Follow her on social media @GetJoyfull or GetJoyfull.com for nutrition advice and tips to grow food joy and fill up on family time.