It's super bowl weekend and whether you're a diehard football fan, or just watching the big game for the half-time show—epic, SATISFYING snacks are a must! 
Game day snacks are a big part of super bowl festivities. Consider this…over 1.3 Billion chicken wings will be consumed this weekend!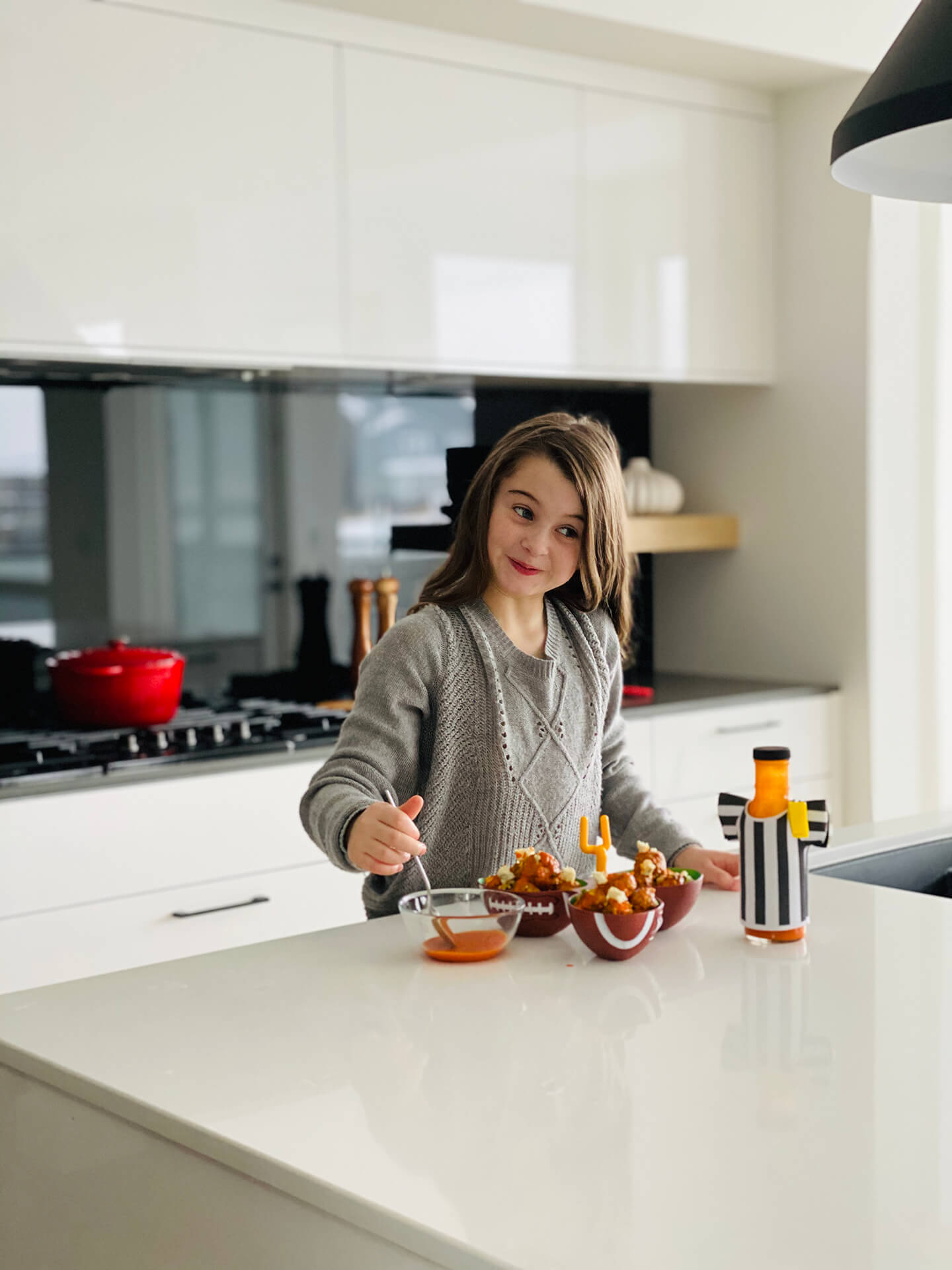 Now, I love chicken wings just as much as the next fan, but considering the energy they pack, I knew it might be a good idea to create a leaner, equally-flavourful alternative, so that both my family and athlete clients could enjoy this flavour combination more often. And, that's how my "Game Day Buffalo Chicken Meatballs" came to be! 
Perfectly poppable, shareable, and 100% touchdown-worthy. These yummy chicken meatballs are stacked with veggies, oats, and fresh herbs then slathered with the tangy heat of buffalo sauce. They're the winning recipe you need for your next game day gathering.
Game Day Buffalo Chicken Meatballs 
---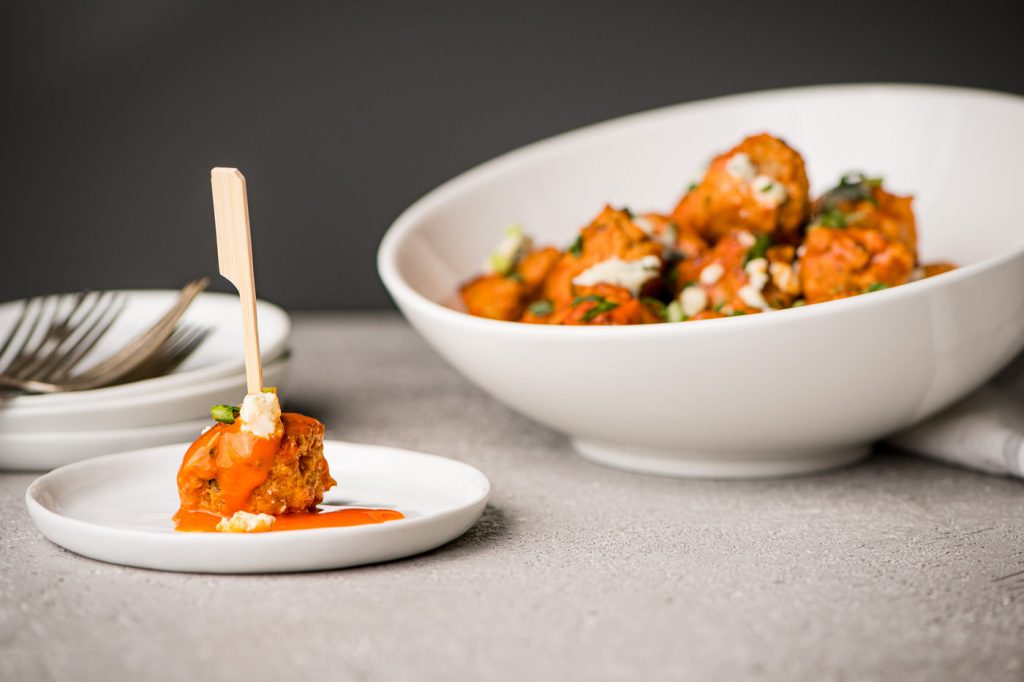 Ingredients:
1 lb (454 g) Ground chicken

2 celery stalks, finely minced

1 medium Carrot, finely minced

3 scallions, finely chopped and divided

¼ cup (60 ml) quick oats

1 egg, lightly beaten 

1 Tbsp (15 ml) fresh flat-leaf parsley, chopped

Black pepper to taste 

1 Tbsp (15 ml) vegetable oil

¼ cup (60 ml) Buffalo sauce plus extra for serving 

¼ cup (60 ml) blue cheese, crumbled (optional)
Directions:
Add chicken, celery, carrot, 2 chopped scallions, oats, egg, parsley and black pepper. Stir ingredients together with a wooden spoon and finish combining mixture with hands.

Take 2 tbsp of mixture and roll into meatballs. Repeat until 24 meatballs are prepared. 

Preheat oven to 375°F. Drizzle 1 tbsp vegetable oil into an oven safe skillet over medium-high heat. Add meatballs to skillet and sear for about 5 minutes, or until golden on all sides. Repeat until all meatballs are seared. Add all seared meatballs back to skillet and pour buffalo sauce into pan. Toss meatballs gently in sauce. 

Transfer skillet to oven and finish cooking meatballs for 15 minutes or until internal temperature reaches 165°F.

Garnish meatballs with 1 chopped scallion and crumbled blue cheese. Serve meatballs with a platter of crisp veggies and your favourite beverage.
---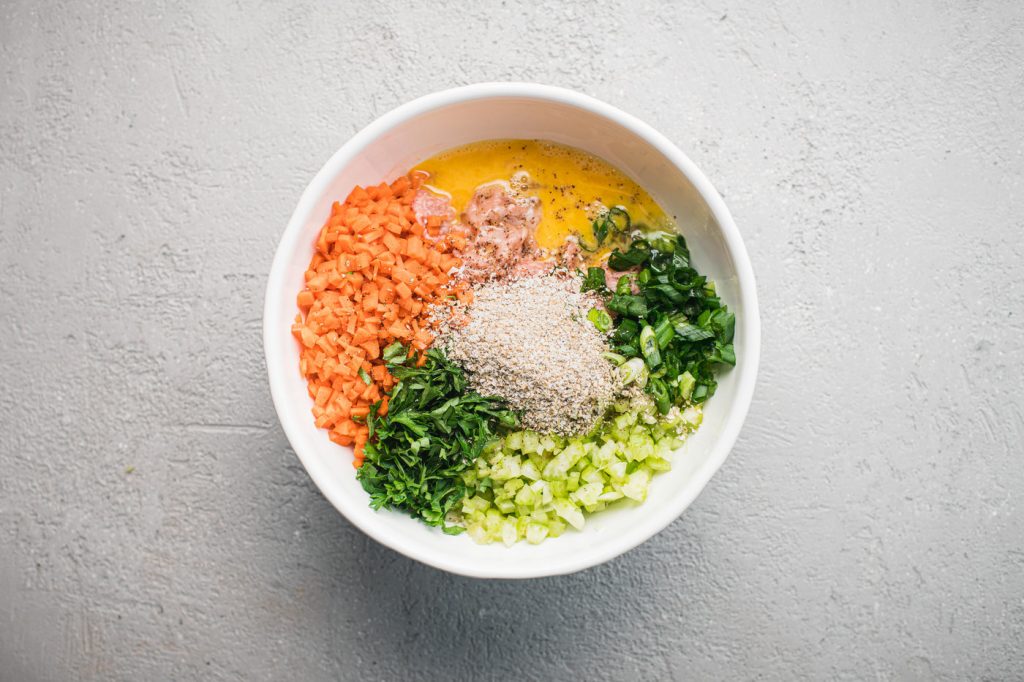 Well-planned, keenly-timed snacks can add more of the "key players" we need to improve our overall nutrition, mood and stamina. 
Snacks have a TON of potential to boost energy, protein, fibre, colour (i.e., micronutrients like iron, vitamin C, zinc, potassium and calcium etc…) and fun in our everyday eating! 
Without nourishing, snacks or "mini meals" energy levels can run low, mental fatigue can set in and our stamina to live an active, energized lifestyle may not be at your ideal level.
Most everyone can benefit from healthy, balanced snacks. Even arm-chair quarterbacks! 
Do you find yourself pushing through a 3pm slump?
Do you skip breakfast, or have trouble eating first thing in the morning?
Do you have trouble keeping your portions at dinner to a satisfying and sensible amount?
Do you struggle with low energy levels?
Do you exercise regularly, or have busier more active days of the week?
Do you want to improve your intake of protein, fibre and fruits & veggies?
If you answered yes to any of these questions, you may very well want to consider adding a balanced snack to your day! Consider planning snacks that pack protein, fibre and colour!
Key Players of an MVP Snack
Protein!

Quality proteins help us energize, build and repair muscle and to keep our immune system strong. For me, including a protein when the mid-morning snack attack hits is critical to a productive, happy morning. Greek yogurt, berries & hemp seeds has been my go-to lately. 

Fibre.

Fibre from whole grains or pulses like beans, peas, lentils and chickpeas, for example, really help us get the most satisfaction time out of our snacks. Sustainable energy, baby! 

I love to prioritize fibre at my 3pm snack, it always helps carry be through to dinner! Hummus & veggies is a staple! 

Colour!

The micronutrients that we all need like vitamin C, iron, and potassium are all packed in colourful fruits and veggies! So no matter what, get savvy or sneaky, but get them in! A simple shake of frozen banana, pineapple and spinach is a favourite! 
What are your go-to MVP snacks?
If you're like me, and you're already jonesing for both snack time and half time, I've got you covered with even more ideas. Check out a few more "Super Satisfying" Snack Ideas below, with recipe links!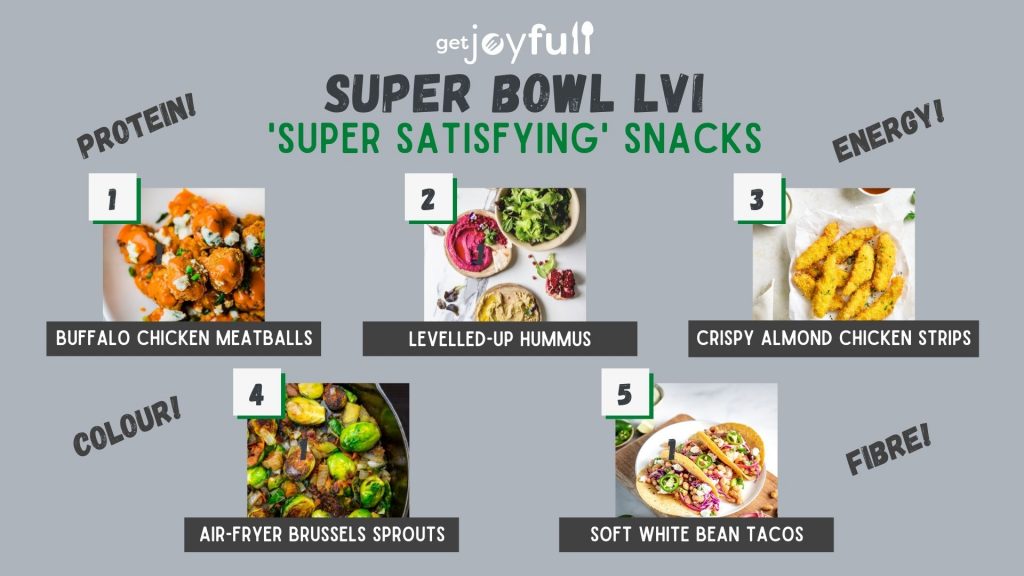 Super Bowl LVI
Top 5 "Super Satisfying" Snacks
Buffalo Chicken Meatballs

Levelled-Up Hummus

Crispy Almond Chicken Strips

Air-fryer Brussels Sprouts

Soft White Bean Tacos
Special thanks to our friends and partners at Alberta Chicken Producers for inspiring this recipe and for making a lot of sports fans super happy this weekend!
What are you making this Super Bowl weekend? Leave me a comment, or visit @GetJoyfull on social media to share your game day eats!
Joyfully,
Emily
Emily Mardell is a Registered Dietitian, busy mama of three and proud Alberta foodie. Emily is passionate about quality ingredients and creating delicious, nourishing recipes that bring families together. Follow her on social media @GetJoyfull or GetJoyfull.com for nutrition advice and tips to grow food joy and fill up on family time.