With kids at home over March break, many families are looking for fun, easy ways to keep kids happy, entertained and off the iPad. Here's an idea…turn down the screen time and turn up fun in the kitchen!
If you're a regular here you already know my GetJoyfull fam spends a fair bit of time in the kitchen, together. We love to try new recipes, discover new ingredients and create new memories. It's 100% time well spent!
Cooking has the power to spark confidence, creativity, problem-solving, independence, and ultimately a more positive relationship with food. It's also a great way to relax and grow mindfulness. Ever thought about cooking as a form of meditation? I didn't when I was younger, but I sure do now. Imagine being immersed in cooking decorating, salad roll assembly and bread kneading…somehow, magically, it becomes just a little bit harder to think about the negative side of things. You're just living in the moment! Cool beans, right?
Since cooking together is somewhat routine for us, I knew I had to think-outside-the-box if I was going to entice my kiddos into our kitchen over March break. Luckily, I came across two awesome articles from "Better Together BC" and it wasn't long before I had a full list of activities, recipes and experiments to try. Thank you, friends!
Here are links to the original articles. Highly recommend! Below that, you'll find unique links to our favourite highlights and more!
Here is the list of ideas we chose to help us "Cook Outside the Box" this March break!
What would your list look like?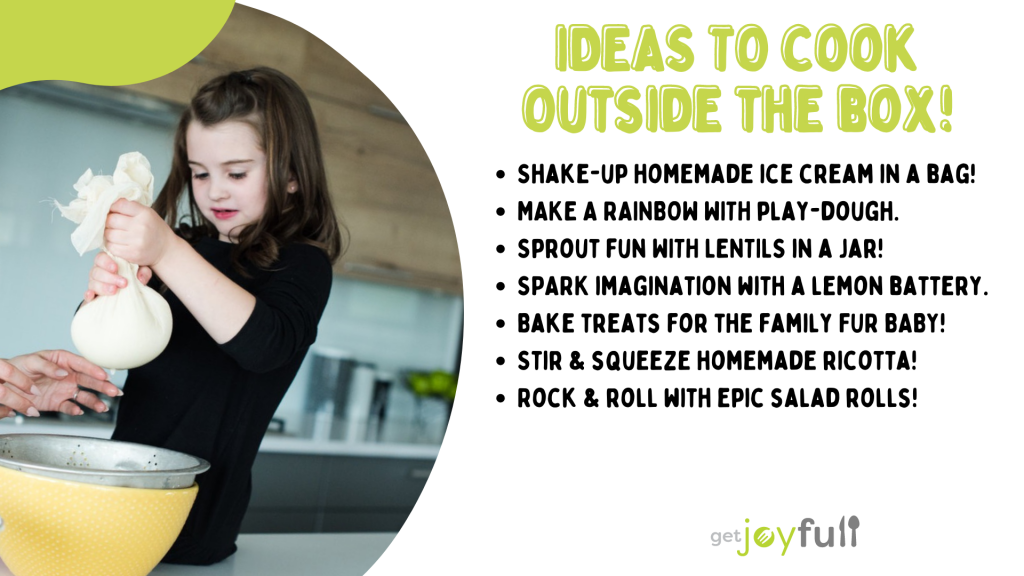 LINKS:
In addition to the above,  I knew we had to include a hands-on favourite GetJoyfull recipe, "Sesame Chicken Salad Rolls." My kids are obsessed! These rolls guarantee at least an hour of pure entertainment…time spent building fine-motor skills, creating an epic lunch and enjoying the moment!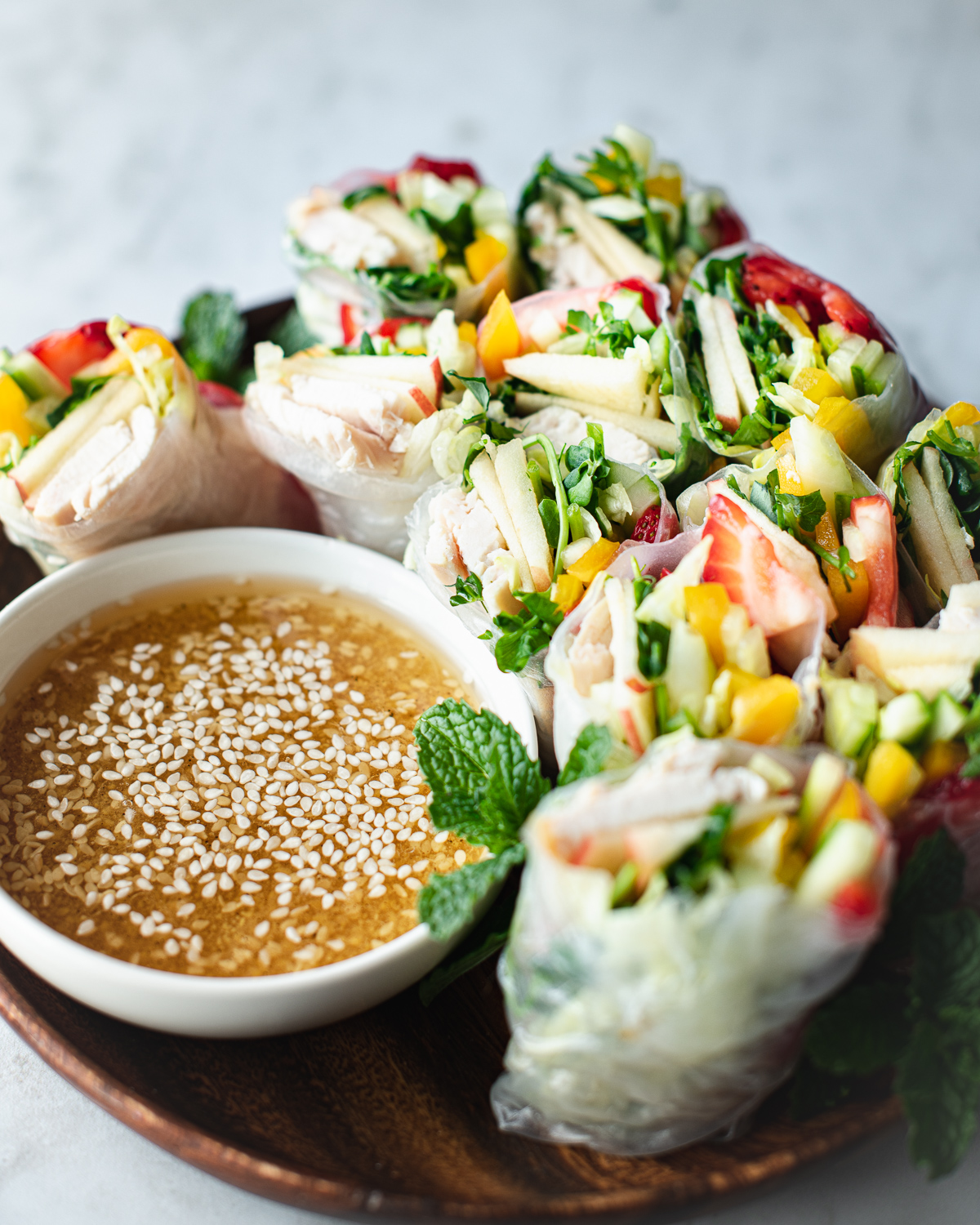 Sweet Sesame Salad Rolls
---
Tender yummy chicken layered with sweet strawberries, crisp veggies & pea shoots. 'Sweet Sesame Salad Rolls' are perfect for a backyard picnic, or road-trip lunch—they're delicious! 
Prep time: 20 minutes
Cooking time: 10 minutes
Yield: 10 wraps
Ingredients:
Salad Rolls:
2 cups (300 g) cooked chicken breast, thinly sliced

10, 8" sheets rice paper wrappers

½ head crisp lettuce, shredded 

1 yellow bell pepper, seeded and thinly sliced 

1 English cucumbers, julienned

1 tart apple, julienned 

10 medium strawberries, hulled and sliced

1 cup fresh pea shoots (Optional. Swap for any fresh herb, or omit!) 
Sweet Sesame Dressing:
2 Tbsp (30 ml) olive oil

4 Tbsp (60 ml) apple cider vinegar 

1 teaspoon (5 ml) sesame oil

1-2 Tbsp (15-30 ml) honey*

1 Tbsp (15 ml) Dijon mustard 

Salt and pepper to taste

1 Tbsp (15 ml) sesame seeds (garnish)
Directions:
Add dressing ingredients into a small mason jar. Add lid and shake well to combine. 

Chop cooked chicken, fruit and vegetables as needed. 

Add warm water to a dish that will fit an 8" rice paper wrapper. Soak each rice paper for 10-15 seconds, until translucent and ready for filling & rolling. 

Place softened rice paper on a clean damp surface. Layer fruit, veggies, chicken & pea shoots. Roll the bottom one-third of the paper towards the center, covering the filling. Tuck in both sides, and continue to roll until sealed. Repeat until all rolls are complete. 

Cut each roll in half and place on a platter. Keep rolls cool until ready to each and enjoy with sweet sesame dressing. 
* Sweeten to your liking. Honey is not recommended for children under 1 year of age. Consider using Maple syrup as an alternative if needed.
Hungry for more? Here are a few more GetJoyfull recipes that you might like to make over March break, too! 
Be sure to let us know what you're up to this March break and if any kitchen antics take place. Tag #GetJoyfull and share all the fun, mess and smiles. Oh, and special thanks to our friends at CTV Edmonton Morning Live for helping us share Nutrition Month joy, recipes and fun all March long. We'll see you soon!
Happy Spring break, everyone!
Joyfully, 
Emily 
Emily Mardell is a Registered Dietitian, busy mama of three and proud Alberta foodie. Emily is passionate about quality ingredients and creating delicious, nourishing recipes that bring families together. Follow her at GetJoyfull.com for nutrition advice and tips to grow food joy and fill up on family time.