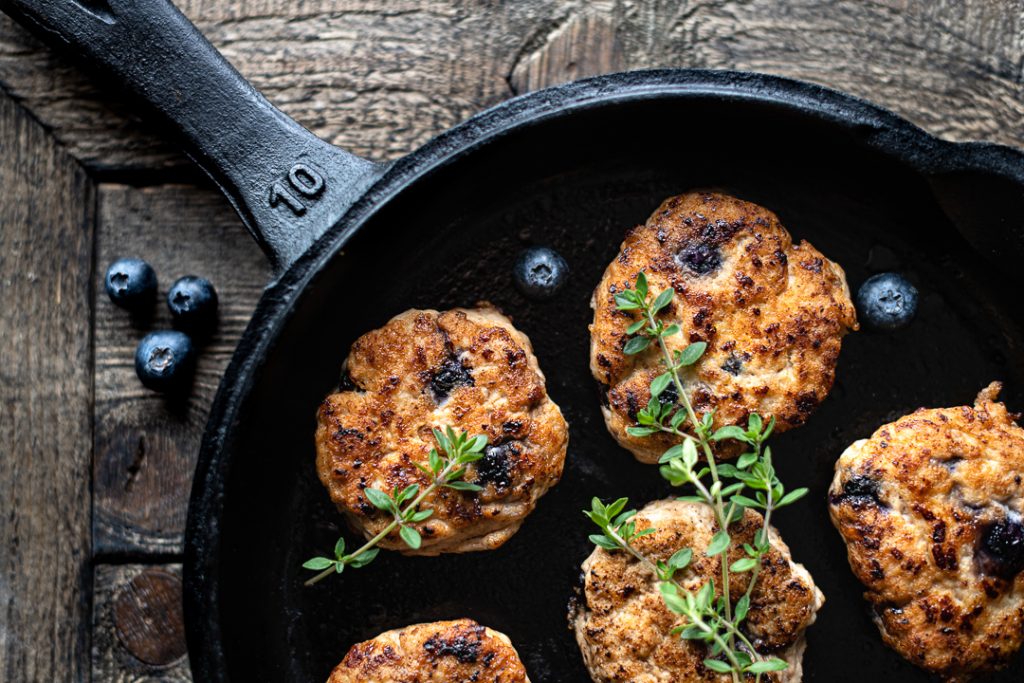 Blueberry Week continues on the GetJoyfull blog!
We're loving the joy that comes along with focusing on a special ingredient. So far this week we've made Blueberry-Pecan Baked Oatmeal Cups, Cherry-Blueberry Smoothies, and homemade Blueberry Chia Jam. Sure, it's a no-brainer to add blueberries to sweets, but they can really add something special to savoury dishes, too!
So, just in time for Canada Day we're combining three of our favourite Canadian ingredients: Fresh Canadian Chicken, Ripe BC Blueberries, and Pure Quebec Maple Syrup to make amazing, "Maple-Blueberry Breakfast Patties."
I love recipes that feature Canadian ingredients and support family farms. When reflecting on the things that I'm most grateful for, besides my three kiddos, it probably won't surprise you that Canadian-grown food is near top of my list.
What are you most thankful for this Canada Day?
These sausage rounds are flavourful, but lean. Savoury, yet sweet. They're truly the best of both worlds! Oh, and simply perfect for the BBQ, or campfire grill. You don't need a lot of ingredients, or special equipment to bring this recipe to life. A large bowl, clean hands, and a grill. You'll be good to go!
---
Maple-Blueberry Breakfast Patties 
Prep time: 15 minutes
Cook time: 10-15 minutes
Makes: 10, ⅓ cup patties 
Ingredients:
1 lb (454 g) ground chicken

2 shallots, finely chopped 

1 garlic clove, finely minced or 1 tsp (5ml) garlic powder

1 tsp (5 ml) cinnamon

1 Tbsp (15 ml) pure maple syrup 

Salt and pepper to taste

1 sprig of thyme, leaves only for meat mixture + 1 spring for garnish

½ cup (125 ml) fresh or frozen blueberries 

2 tsp (10 ml) canola oil

1 Tbsp (15 ml) thyme leaves, for sausage mixture + 1 thyme sprig for garnish
Directions:
In a large bowl, combine all ingredients except for blueberries and canola oil. 

When sausage mixture is well combined, fold in blueberries. 

Form mixture into sausage patties using ⅓ cup of mixture for each party.

Preheat the grill or non-stick pan to medium-high. Add oil and patties. Cook for 5-6 minutes per side, until golden and cooked through. 

Garnish with fresh thyme.

Enjoy with peppery greens like arugula and toasted sourdough. For extra joy, a little more maple syrup.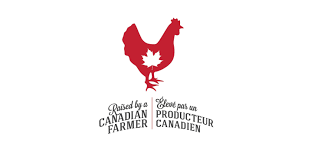 Tip: Spot Canadian Chicken in the grocery store by looking for this logo.
"These homemade chicken patties are a leaner, fresher alternative to traditional sausages. One patty (made with 1/3 cup mixture) provides 90 calories, 4 grams of fat, 3 grams of carbohydrate and 9 grams of protein." – EM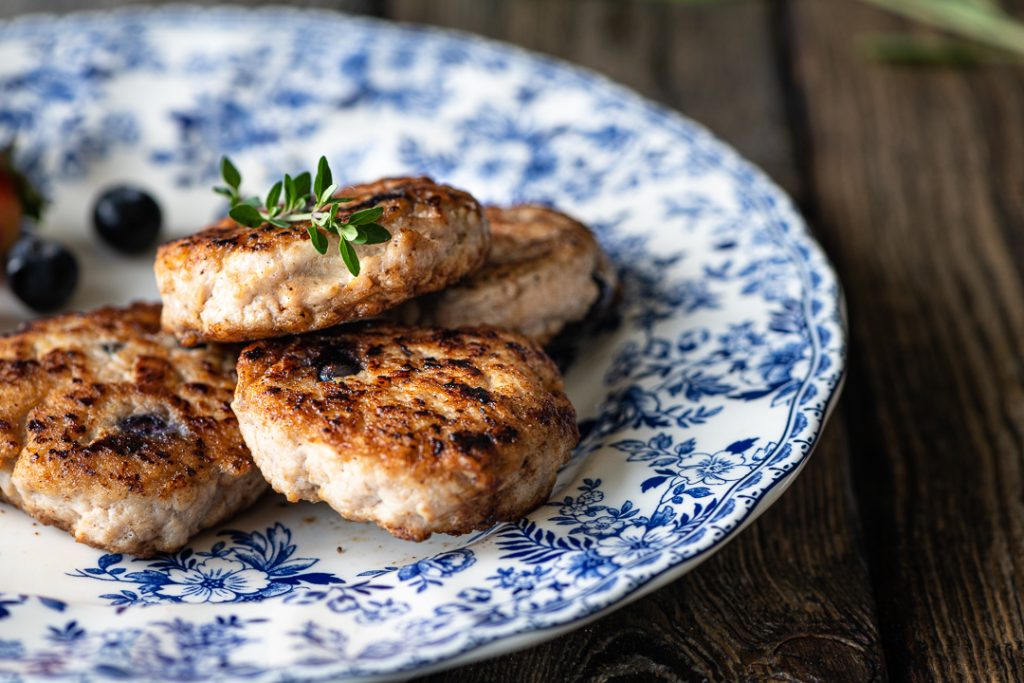 This Canada Day will no doubt be different than years past. Our family usually gathers with friends, or takes a trip to the Legislature grounds. What are your Canada Day traditions? My favourite Canada Day ever was actually my eight year olds first. We were visiting Kelowna, BC and taking in all the waterfront fun. Cela happily enjoyed her first taste of ice cream and was completely enamoured by the fireworks, flags and festivities.
What's your favourite Canada Day memory?
I sure hope the good old days come back soon. There's so much to see and do and miss. In the meantime, we can and must find creative ways to celebrate on a smaller, more intimate scale. Backyard BBQ, anyone? Yes, yes and yes! From the farm to your grill, it's easy to enjoy a whole lot of Canadiana right in your backyard.
If you're interested in backyard cooking fun, be sure to check out AMA's Backyard BBQ Facebook Group. This virtual backyard is full of grilling inspiration. Join for advice from Alberta's tops chefs and food writers, or tips on cooking with local ingredients. Ask the community your barbecue questions, and share what you're serving up this summer. We'll be sharing this recipe and next month's there for sure!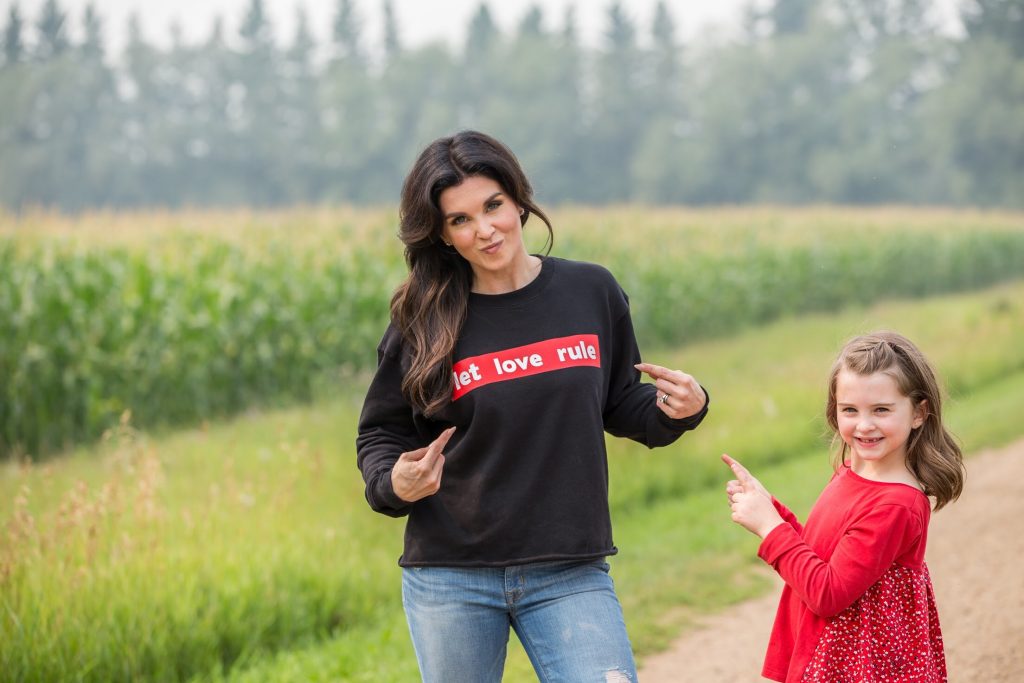 Give these patties and try and be sure to share your recipe photos and fun with us. We love to see your GetJoyfull moments on our feed. Heartfelt thanks to Alberta farmers and Alberta Chicken Producers for supporting the GetJoyfull movement, and for helping to make this post and recipe possible. 
Take care, everyone and happy Canada Day!
Joyfully,
Emily 
Emily Mardell is a Registered Dietitian, busy mama of three and proud Alberta foodie. Emily is passionate about quality ingredients and creating delicious, nourishing recipes that bring families together. Follow her at GetJoyfull.com for nutrition advice and tips to grow food joy and fill up on family time.