This past weekend I found myself looking back on photos from September 2019, specifically the first day of school, thinking to myself, "Wow, September 2020 sure feels different." 
Last year, on Remi's first day of daycare, my biggest worry was remembering to make sure he wore drawstring bottoms and that everything he owned was properly labelled. For Cela, her major dilemma was deciding between a panda or cheetah backpack. As you can see, the cheetah print won out. At the time, we had no idea the irony of Remi's t-shirt and just how messy things were about to become. No one did. But, wow, life can change in a blink, and man, kids grow up fast.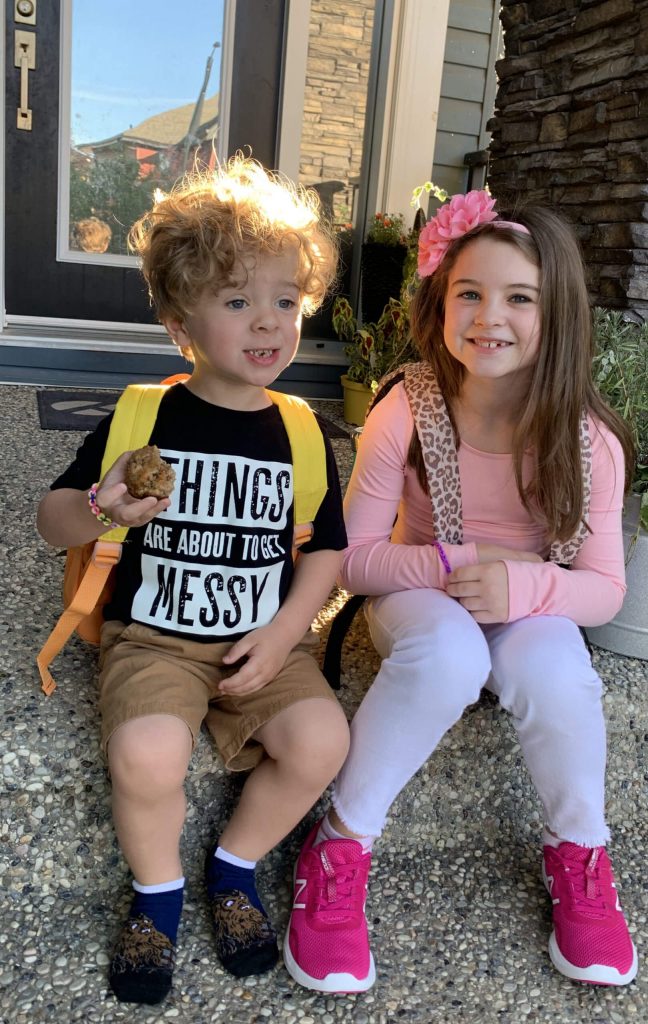 This year, I'm the teacher, name tags are non-essential, and backpacks are optional. It's our new normal. To help us find our rhythm living, working and learning from home, we're doing our best to keep up with some of our favourite September traditions. So, on the first day of school, banana chocolate-chip muffins are still hot and fresh from the oven and our favourite chicken soup is prepped for Nan's hand-me-down Dutch oven.
How are you navigating your new normal? What traditions are you keeping up for your kiddos?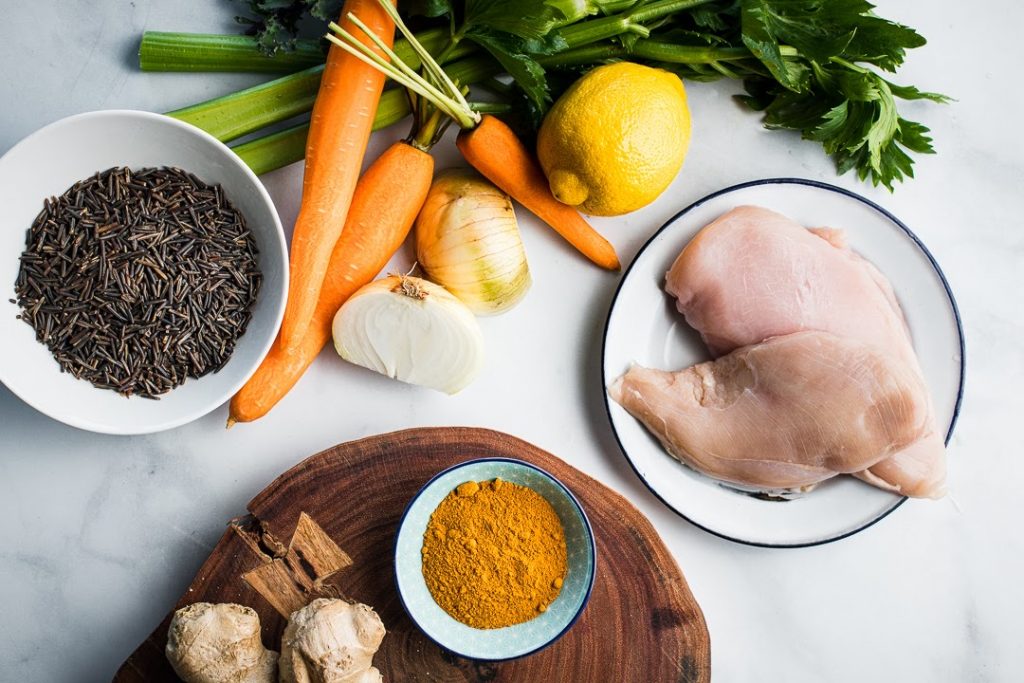 Cooking up one-pot wonders, like this "Golden Ginger & Garlic Chicken Soup," is just one way I plan to survive the back-to-school rush. When I figure out other ways, I'll let you know, lol. Recipes like this earn an A+ in the Mardell kitchen for bringing the comfort, protein and colour we all love.
What are your favourite one-pot wonders?
Whether your kiddos are learning online, or in the classroom this soup is the cozy 'welcome home' we all crave after a long, busy day. Grab a bowl, curl up and take a load off.
---
Golden Ginger & Garlic Chicken Soup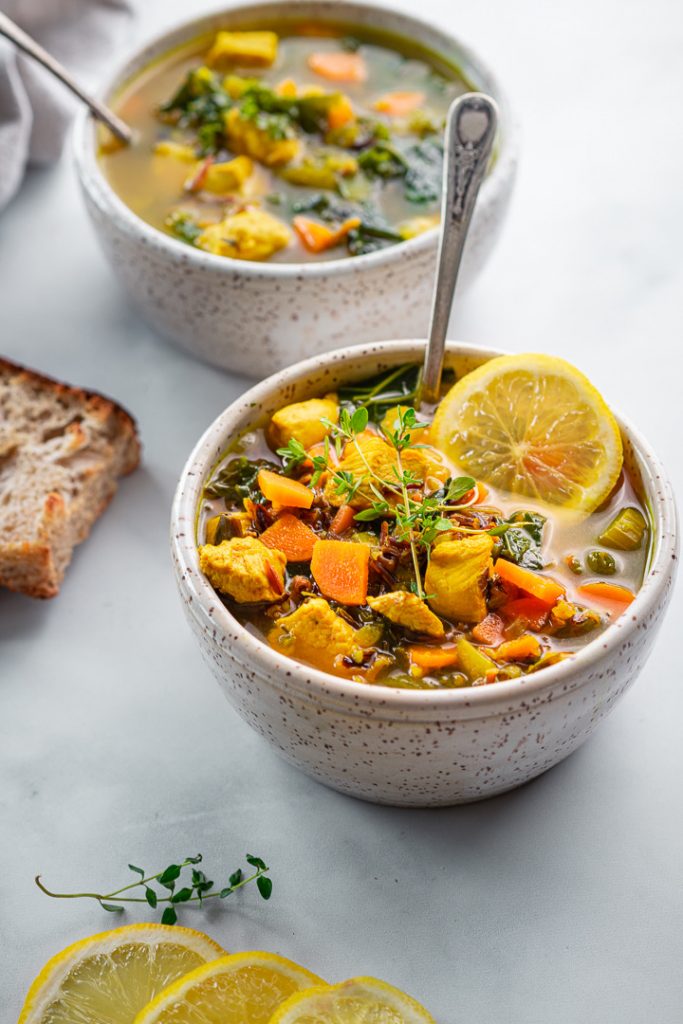 Prep Time: 10 minutes
Cook Time: 45 minutes
Servings: 6 servings
Ingredients:
1 tbsp (15 mL) olive oil 

4 cloves of garlic, minced

1 yellow onion, finely diced

2 large carrots, diced 

3 celery stalks, diced 

1 Tbsp (15 mL) fresh ginger, grated

2 tsp (10 mL) ground turmeric 

1 bay leaf

8 cups (2 L) low-sodium chicken broth

1 lb. (454g) boneless, skinless chicken breasts, cubed 

1 cup (250 mL) wild rice 

2 cups (500 mL) kale leaves, chopped 

1 teaspoon (5 mL) fresh thyme leaves 

Juice of ½ a lemon

Salt and pepper to taste
So, what gives this soup such a beautiful golden colour? You guessed it, turmeric! Did you know turmeric is a spice from the ginger family? It is! Turmeric is unique in that it contains curcumin, a phytochemical that imparts its trademark bold colour and anti-inflammatory properties. Turmeric's mild flavour and happy hue make it perfect for comfort food dishes like soups, stews, smoothies and even baked goods. We just love it! 
Directions:
In a large pot, over medium-high heat, saute garlic, onion, carrot, and celery in olive oil for 3-5 minutes. 

Next, add grated ginger, turmeric and cook for one minute. Add chicken saute for another 3-5 minutes. 

Add bay leaf, broth and wild rice. Stir well, reduce heat and cover. Simmer soup on the stovetop for 30 minutes. 

Just before serving add kale, thyme, lemon juice and season soup with salt and pepper. Kale will soften within 5 minutes and soup will be ready to serve. 

Enjoy a nourishing bowl with fresh sourdough or your favourite winter salad.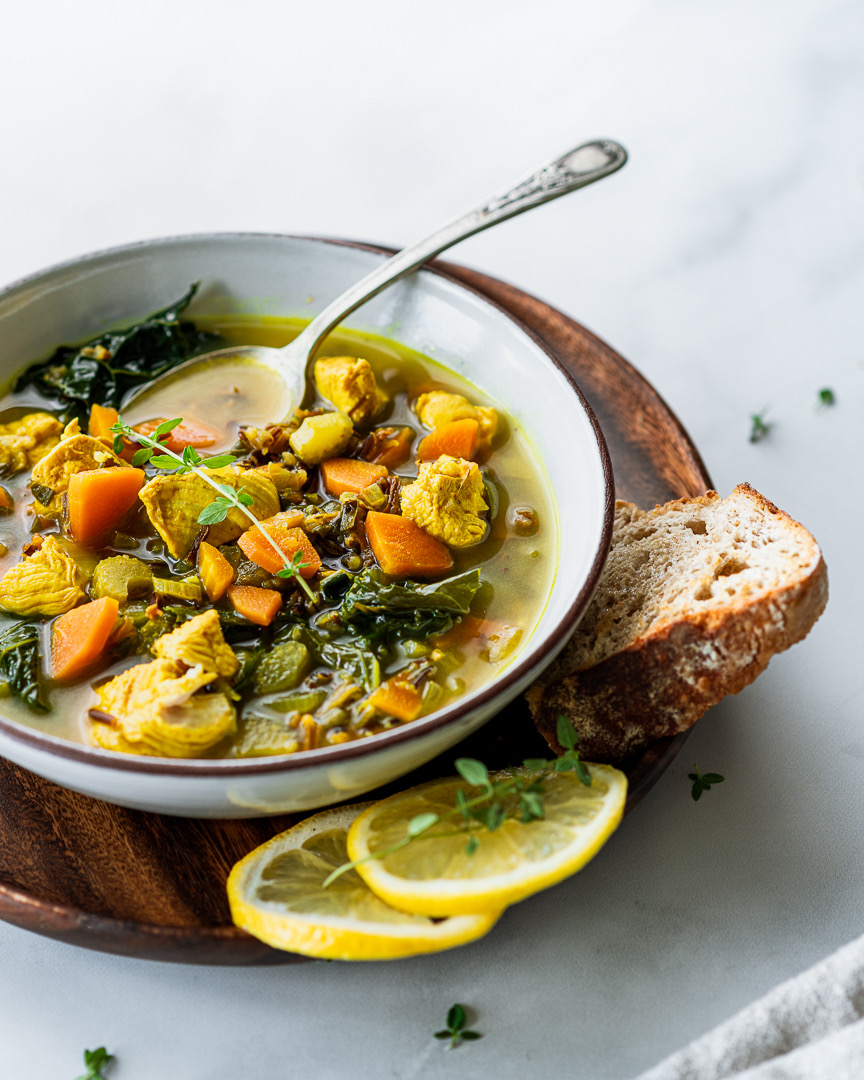 I opted to use fresh chicken breast in this recipe, mainly because I had extra on hand, but leftover whole roast chicken would be amazing. Yes, chicken breast can be finicky to prepare, but it works especially well in soups, stews and crockpot dishes. Low and slow cooking helps keep this super lean cut really tender and flavourful. My Esme, at just one year old, loves to eat this soup and happily enjoys every slurp. 
Give this yummy soup and try and be sure to share your recipe photos with us. We love to see your GetJoyfull moments on our feed. Heartfelt thanks to Alberta farmers and Alberta Chicken Producers for supporting the GetJoyfull movement, and for helping to make this post and recipe possible. 
Take care, everyone. 
Joyfully,
Emily 
Emily Mardell is a Registered Dietitian, busy mama of three and proud Alberta foodie. Emily is passionate about quality ingredients and creating delicious, nourishing recipes that bring families together. Follow her at GetJoyfull.com for nutrition advice and tips to grow food joy and fill up on family time.