In stressful times, cooking together as a family can be a great way to relax and escape worries of the day. Thankfully, my kids like to help out at mealtime and Papa can be enticed with snacks. Cela and Remi love food, just like their Mama. And, like me, when they're in the kitchen they can relax and forget about what's troubling them. It's a welcomed escape for everyone.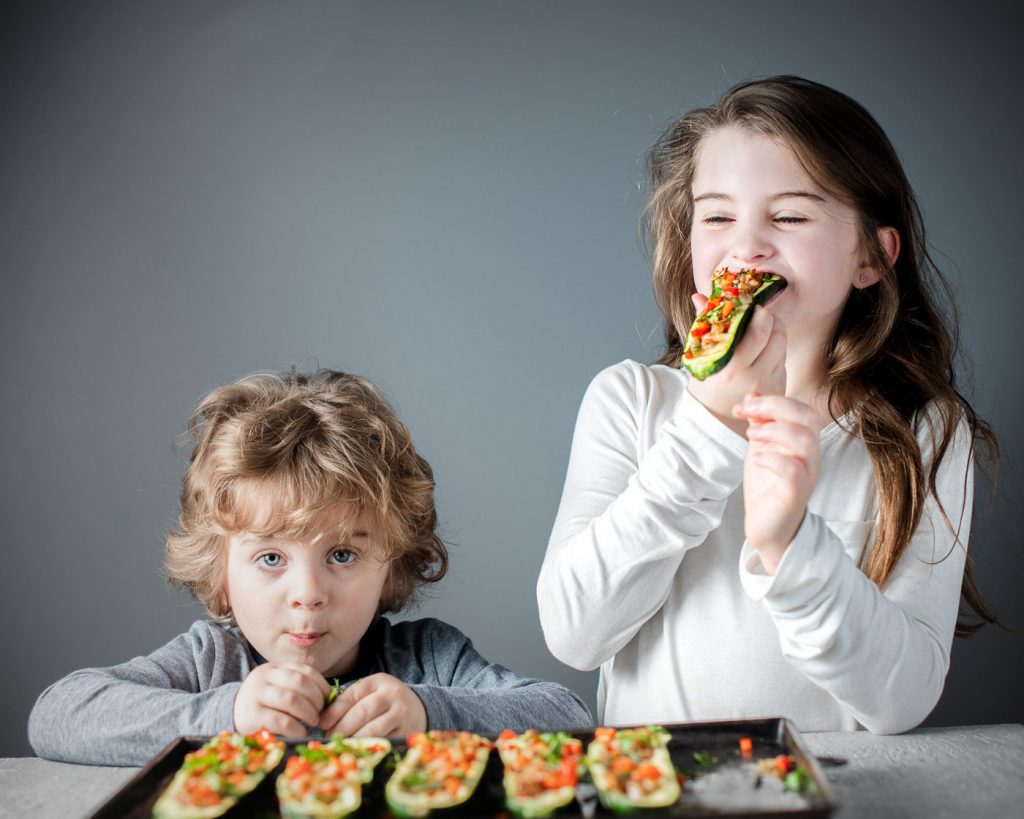 The kitchen is our happy place. A safe place. An indoor playground if you will. The kind of place where you can spill and make mistakes. Where you can share what's on your mind without hesitation. The kind of place where someone can make a pickle-maple syrup sandwich and no one will make them feel weird about it. Right, Remi?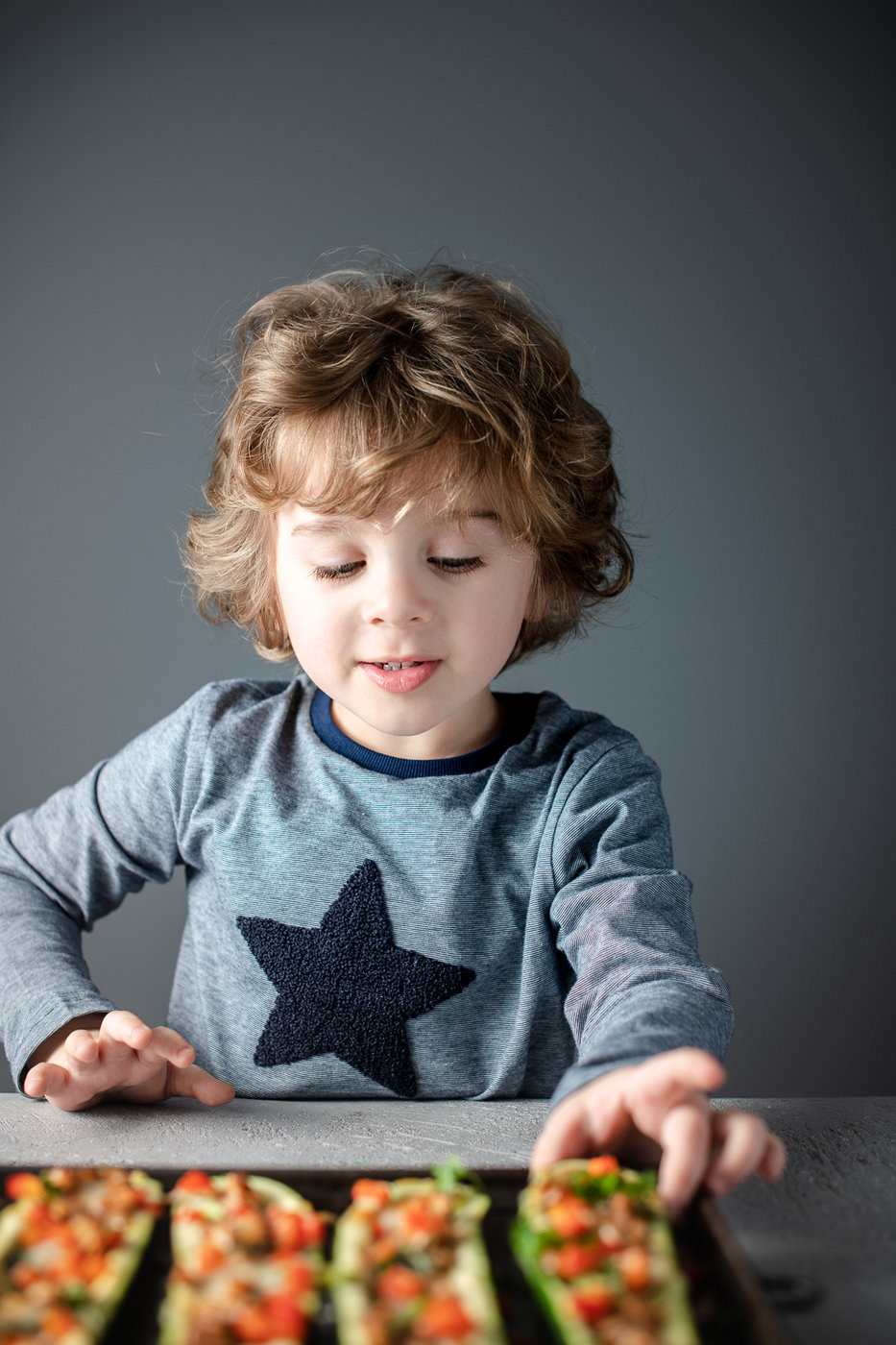 "The kitchen is our happy place. A safe place. An indoor playground if you will." – EM
Lately, I've been loving easy recipes that give my littles fun tasks in the kitchen. Jobs that actually help me out, and all the while boost their self-esteem and food skills. This month we created a delicious, kid-friendly recipe that checks all these boxes. Check out our "BBQ Chicken Zucchini Boats!" 
This recipe comes together in less than 30 minutes, leverages tasty leftovers, and brings familiar flavours to the table in a fun, approachable way. 
BBQ Chicken Zucchini Boats
Prep time: 15 minutes
Cooking time: 15 minutes
Yield: 6 boats
Ingredients:
3 medium zucchini, washed, cut lengthwise

1 1/2 cups (375 ml) cooked chicken breast, chopped 

1/4 cup (60 ml) BBQ sauce

1 Tbsp (15 ml) olive oil

Salt and pepper to taste

1 1/2 cups (375 ml) shredded aged white cheddar 

1 large red bell pepper, diced

2 green onions, sliced 
Directions:
Preheat the oven to 425 degrees F. Line the baking sheet with parchment paper. 

Use a small spoon to scoop out the inside of each zucchini piece to create six fillable veggie boats. 

In a small bowl combine chicken and BBQ sauce. Stir well to coat evenly.

Place zucchini on a baking sheet and brush inside with olive oil. Season with salt and pepper. 

Fill each boat with ¼ cup cooked chicken mixture. Top each boat with cheese, peppers and green onion.

Bake for 15 minutes until the cheese is golden and bubbly and zucchini is tender. 
"Each "boat" boasts 10 grams of protein, and 48% daily value for vitamin C!" – EM
It may be corny, but kids respond so positively to fun food names. I live it all the time. Is it a vegetable? Is it a boat? If you have the spunk and imagination of a four-year-old, it can be both. And when it is both, it gets a 10 out of 10 from Remi.
If you're new to cooking with kids, don't shy away. Embrace the mess, the extra time required, and all the fun hiccups along the way. Cooking together can be one thing families can do to feel happier, closer and more content, just when we need it most. 
Heartfelt thanks to Alberta farmers and Alberta Chicken Producers for supporting the GetJoyfull movement, and for helping to make this post and recipe possible. To the farmers who continue to farm so that we have food to feed our families, I am eternally grateful.
Take care, everyone. 
Joyfully,
Emily
Emily Mardell is a Registered Dietitian, busy mama of three and proud Alberta foodie. Emily is passionate about quality ingredients and creating delicious, nourishing recipes that bring families together. Follow her at GetJoyfull.com for nutrition advice and tips to grow food joy and fill up on family time.