With everything that's going on in the world, and at home right now, our family is hunkered down with a plan to make all our favourite comfort foods in the coming weeks. Our hearts need it. I stopped by CTV Edmonton this week, and boy it is a different place nowadays. It's not the normal hustle and bustle with employees and visitors. Many journalists are at home, and outside interviews are at a minimum. Not being able to greet and hug my friends upon entering and setting up the studio evoked an unsettling feeling. I can't help think of the simple joys I've taken for granted until now. Looking forward, when the day comes that we can be human again and seek connection in an unbridled way, it will be welcomed with open arms. I'm grateful to my CTV Edmonton family for having me, and inviting me to share a little food joy with the city I love so dear. I'll link the CTV Morning Live segments at 8:15/8:23 here in case you'd like to watch.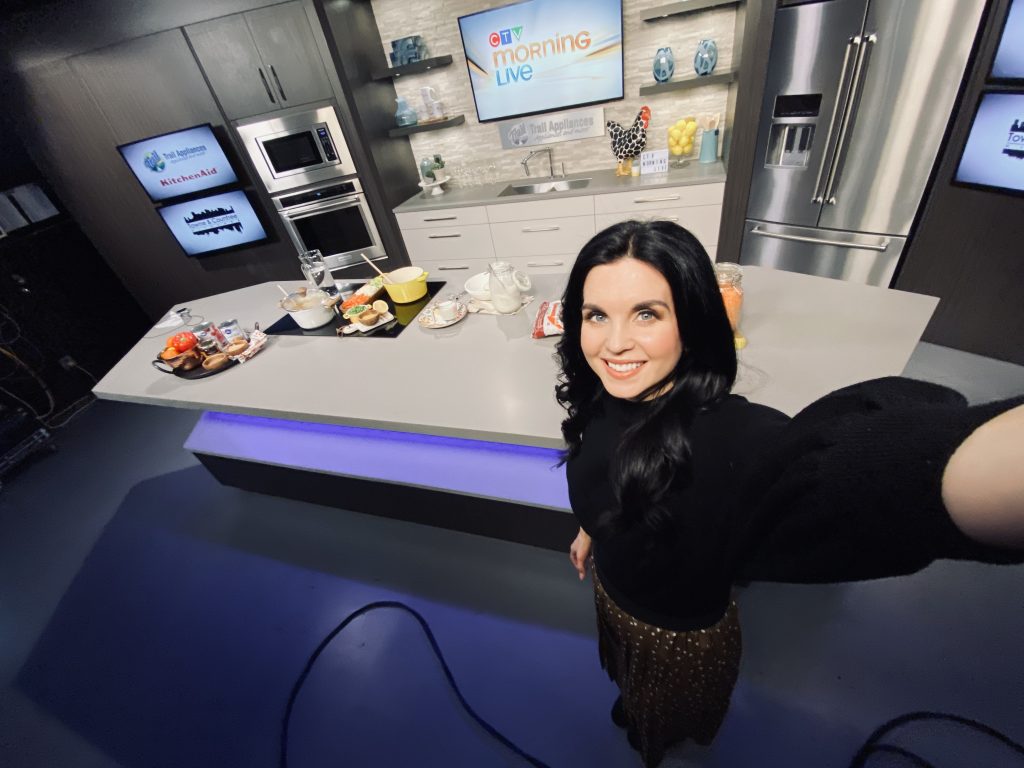 "Chicken Soup with Dumplings & Greens" is one of of my favourite childhood meals. For me, it brings comfort to the table and reminds me of much simpler times. This recipe is inspired by the good old days in my Grandmother's kitchen. GiGi loved, and savvily so, to add homemade dumplings to soups and stews. Dumplings bring a cozy comfort to any meal, and really stretch the recipe for a hungry family. I'd love to know what recipes you're making lately to bring comfort and joy to your family table.
Chicken Soup with Dumplings & Greens
INGREDIENTS
Soup:
1 Tbsp (15 ml) olive oil

4 boneless skinless chicken thighs, chopped

1 medium white onion, chopped 

3 medium carrots, chopped

3 stalks of celery, chopped

Salt and pepper to taste

1 tsp (5 ml) garlic powder 

8 cups (2 L) chicken stock 

1 cup (250 ml) chopped frozen kale, peas, or green beans

½ lemon, halved and juiced
Dumplings:
1 cup (250 ml) whole wheat flour

1 tsp (10 ml) baking powder

½ cup to 3/4 cup (125-180 ml) milk

1 egg, whisked 
DIRECTIONS
In a large stock pot, saute chicken in olive oil until lightly golden. About 5 minutes.

Add chopped onions, carrots, and celery. Saute for 2 minutes. Season chicken and vegetables with salt, pepper, garlic powder and stir. 

Add chicken stock and cook for 15-20 minutes, or until vegetables are tender. 

Add lemon juice and frozen kale. Cook for 2 minutes. 

In a small bowl, prepare dumpling batter. Combine milk, egg, flour and baking powder gently until dough forms. 

Bring soup to a gentle boil and add dollops (2 Tbsp (30 ml) each) of dumpling batter into soup. Cover and cook for 10 minutes until dumplings are fluffy and cooked through.
RECIPE TIP
Substitute fresh onion, carrot & celery with a frozen vegetable medley if fresh is not available, or cost effective. 
Fun Food Fact:

Dark chicken meat has 50% more zinc than white chicken meat. Next to it being super flavourful, this is one of the reasons I like to use whole chicken, or chicken thighs in cozy, winter soups. 
Putting my Dietitian hat on, I think it's important to note that no specific food, supplement or natural health product can prevent us from catching COVID-19. Truly, it's a cascade of healthy behaviours— including minimizing stress, getting enough sleep, practicing excellent hygiene, following health authority guidelines, and eating well that will ultimately give us the best chance of flattening the pandemic curve, and regaining our lives and livelihoods.
From the entire GetJoyfull crew, we wish you and yours safety, comfort and good health. Let's take care of one another, and look to find the simple joys in everyday life. In the kitchen is a good place to start.
Heartfelt thanks to Alberta farmers and Alberta Chicken Producers for supporting the GetJoyfull movement, and for helping to make this post and recipe possible. To the farmers who continue to farm so that we have food to feed our families, I am eternally grateful.
Take care and be well, everyone.
Joyfully,
Emily
Emily Mardell is a Registered Dietitian, busy mama of three and proud Alberta foodie. Emily is passionate about quality ingredients and creating delicious, nourishing recipes that bring families together. Follow her at GetJoyfull.com for nutrition advice and tips to grow food joy and fill up on family time.