It's hard to believe, but March is here. Did you know it's National Nutrition Month? This year's campaign is focusing on "More than Food," by encouraging all of us to consider not just WHAT we eat, but HOW we eat, too. It's a welcomed message, and that we try to live out in the GetJoyfull kitchen. For us, HOW we eat starts with creating time for cooking, learning, and sharing together.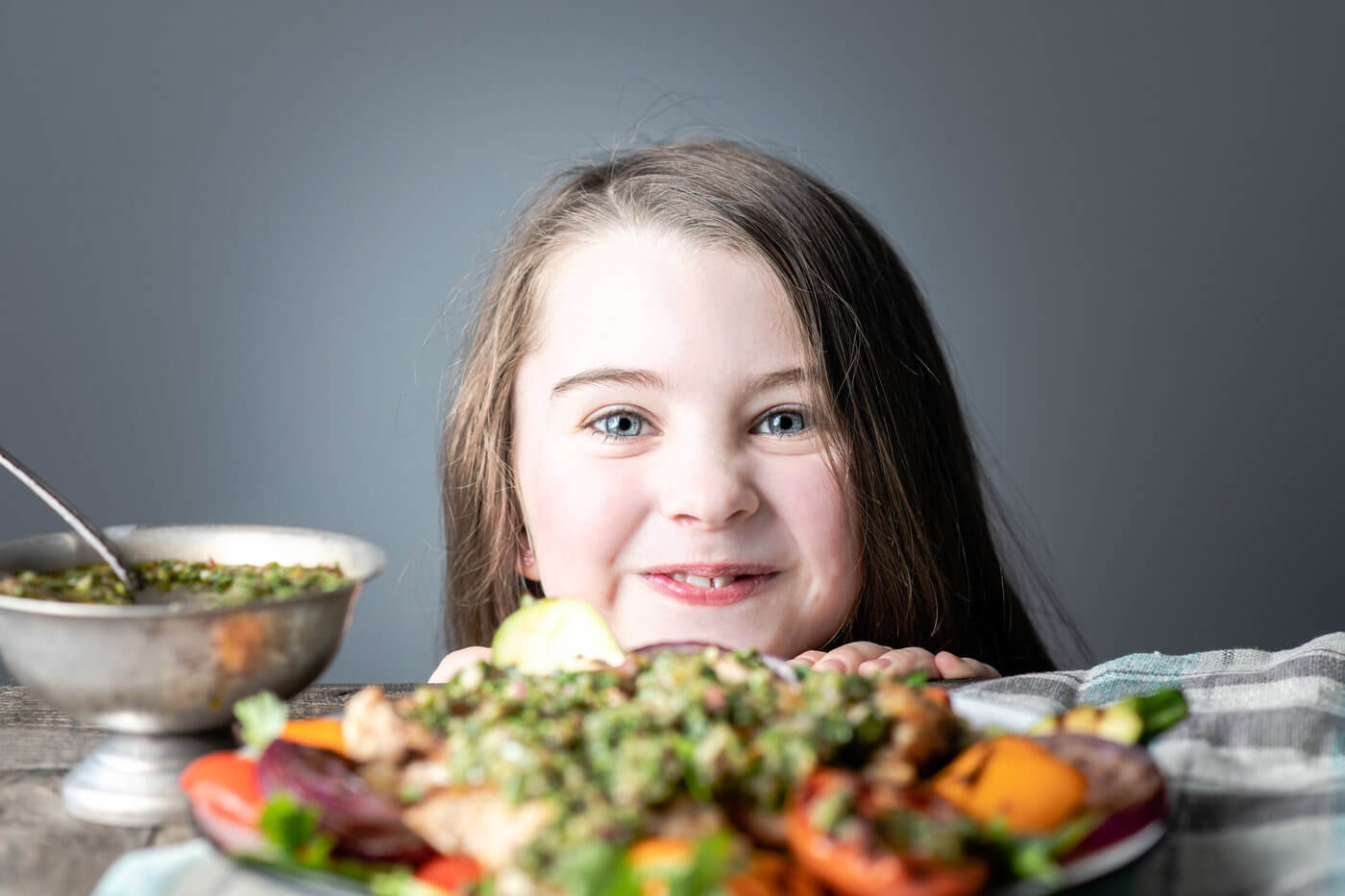 My kids love to be hands on with food. They enjoy dinner so much more when they're empowered to build their own plates. It's one of the reasons why we eat family-style almost all the time. They're big fans of what we like to call the family "share plate," and will often grapple to be the first one to to dive in. As the big sis, Cela Joy usually gets first dibs.
"Family-style eating empowers kids to build a plate they feel confident they can enjoy. It encourages sharing, role modelling, and being adventurous with food!"
– Registered Dietitian, Emily Mardell
We love to grill indoors all year round, and my go-to cast iron grill pan makes it impossibly easy, and extra yummy. In celebration of Nutrition Month, we're amping up our favourite grilled chicken and vegetables recipe with an amazingly fresh, flavourful chimichurri sauce. It is beyond delicious, and fair warning you'll want to put it on everything!
---
Chimichurri with Grilled Chicken & Veggies 
Serves 4-6 
Ingredients:
Chimichurri
1 ½ cups (375ml) fresh Italian parsley

1 cup (250ml) fresh cilantro

1/4 cup (60ml) fresh oregano or 1 tbsp (15ml) dried

1/2 medium red onion

4 garlic cloves

1/2 cup white wine vinegar

Juice of 1 fresh lemon 

salt and pepper to taste

2 tsp (10ml) red pepper flakes

1 cup extra virgin olive oil
Chimichurri sauce is packed with bright, fresh flavour and it is the most amazing topping for grilled meat and vegetables. Not only is this chimichurri delicious, but it's also packed with antioxidants, vitamin C and omega-3 fats as well. 
Chicken & Veggies
10 boneless, skinless chicken thighs

1 large red onion, sliced as rings

2 small zucchini, sliced lengthwise 

3 roma tomatoes, sliced in half

1 Tbsp vegetable oil

Salt and pepper to taste
Directions:
Prepare chimichurri sauce. In a large food processor, combine parsley, cilantro and oregano. Be sure to remove the woody stems beforehand. Pulse the herb mixture until finely chopped and uniform. Add the chopped herbs to a medium bowl. 

Add garlic and onion to the food processor, and pulse until finely minced. Add chopped onion and garlic to the herb mixture. 

Season herb mixture with salt, pepper and red pepper flakes. Squeeze lemon and add juice to the bowl. Add vinegar and olive oil. Stir to combine into a sauce. Refrigerate sauce and enjoy for up to one week. 

Preheat cast iron skillet on medium to high heat. Season chicken thighs with salt and pepper. Grill chicken until golden brown and fully cooked through, about 10-12 minutes. Set aside to rest.

Insert the thermometer in the thickest part of the meat; chicken pieces should be cooked to 74 degrees Celsius (165°F).

Coat vegetables with 1 Tbsp vegetable oil and salt and pepper. Add vegetables to a hot skillet and grill for 2-4 minutes until charred and tender. 

Serve chicken and vegetables with a side of chimichurri sauce and steamed brown rice. 
Boneless skinless chicken thighs are loaded with flavour and quickly grill in less than 15 minutes. Grilling is a time-savvy cooking method that helps keep protein lean, and maximize nutrition.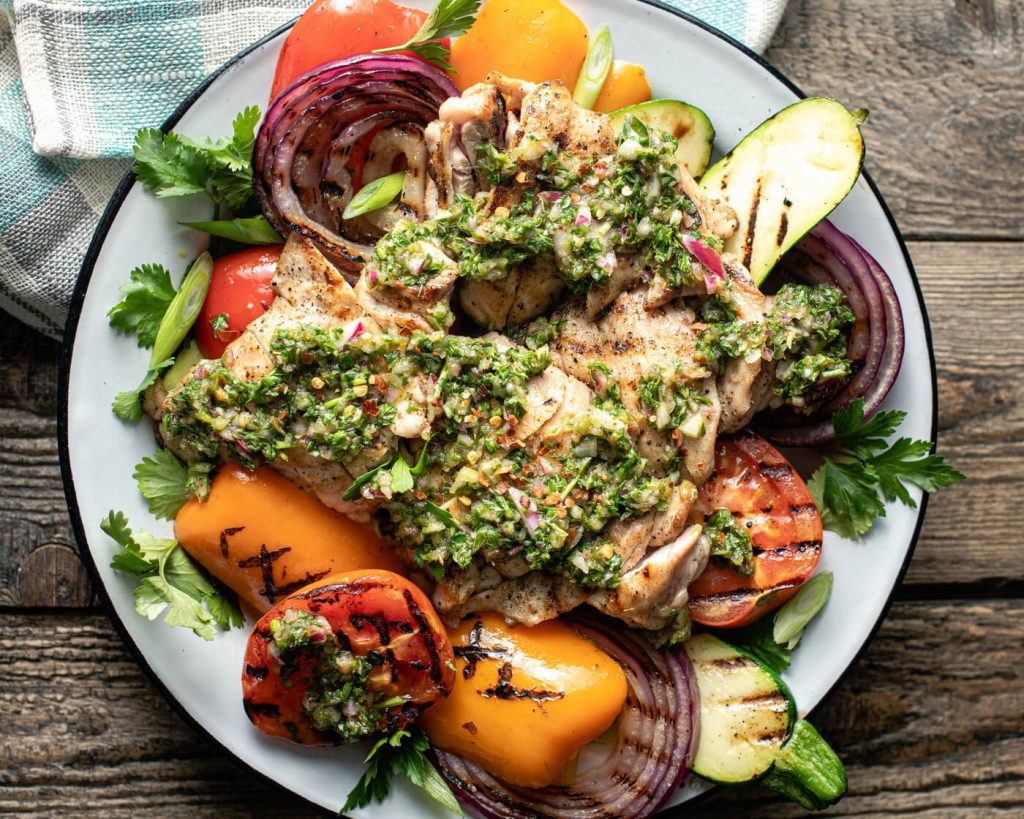 Heartfelt thanks to Alberta farmers and Alberta Chicken Producers for supporting the GetJoyfull movement, and for helping to make this post and recipe possible.
Joyfully,
Emily
Emily Mardell is a Registered Dietitian, busy mama of three and proud Alberta foodie. Emily is passionate about quality ingredients and creating delicious, nourishing recipes that bring families together. Follow her at GetJoyfull.com for nutrition advice and tips to grow food joy and fill up on family time.