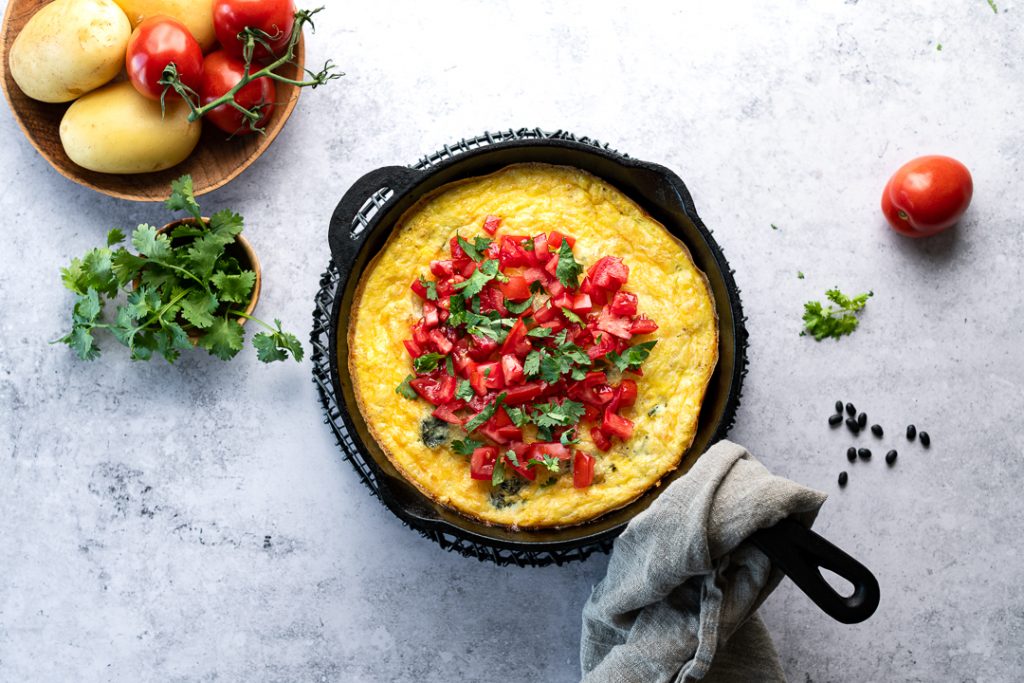 Ok, friends. Like, c'mon! How gorgeously delicious is this "Potato & Black Bean Casserole?!" Loaded with colour and the power of plant protein, it makes me 'Joyfull' just looking at it. And, absolutely blissful eating it! If you're tired of the same old boring breakfast, or want to impress your sweetie on the weekend, try this recipe!
Potato & Black Bean Casserole
Your new favourite make-ahead breakfast is truly a veggie patch in a casserole dish. Bursting with energizing potatoes, vibrant veggies and protein-rich pulses it's the one-pan wonder we all want to enjoy for breakfast!
Prep time: 15 minutes
Cook time: 15 minutes
Makes: 8 servings 
Ingredients:
2 Tbsp (30 mL) canola oil, divided

1 medium yellow onion, small diced

2-4 cloves garlic, minced

1 can (14 oz/398 mL) no salt added black beans, drained & rinsed (yields 1 1/4 cup/300 mL cooked beans) 

3/4 cup (175 mL) frozen corn, thawed

Large handful baby spinach

2 medium yellow potatoes, grated, rinsed and squeezed dry

8 large eggs

1 cup (250 mL) aged white cheddar, grated 

Salt & pepper to taste 
Toppings:
1 handful cilantro, chopped

1 cup (250 mL) roma tomatoes, finely chopped
Directions:
Preheat the oven to 350°F (180°C).

Heat a large cast iron skillet with half the oil over medium heat. Add onions and cook until soft, about 3 minutes and then add garlic and cook for 30 seconds. Add black beans and corn, and cook for 2 minutes. Finally add the spinach and cook for 1 minute until wilted, season with salt and pepper. Remove vegetables from the pan to a bowl and set aside.

Add remaining oil and grated potato to the skillet. Cook for 3 minutes until the potato is soft and begins to brown, then flatten and press the potatoes into the base of the skillet to make the bottom crust. Spread cooked vegetables evenly over the top of the potato crust.. 

In a bowl, scramble the eggs with a fork and pour over vegetables, tilting the pan to make sure the eggs spread all over. Season with salt and pepper to taste. Sprinkle grated cheese over the top and bake in a preheated oven for 10-15 minutes until eggs are cooked and cheese is browned. Top with tomatoes and cilantro, cut into portions and enjoy!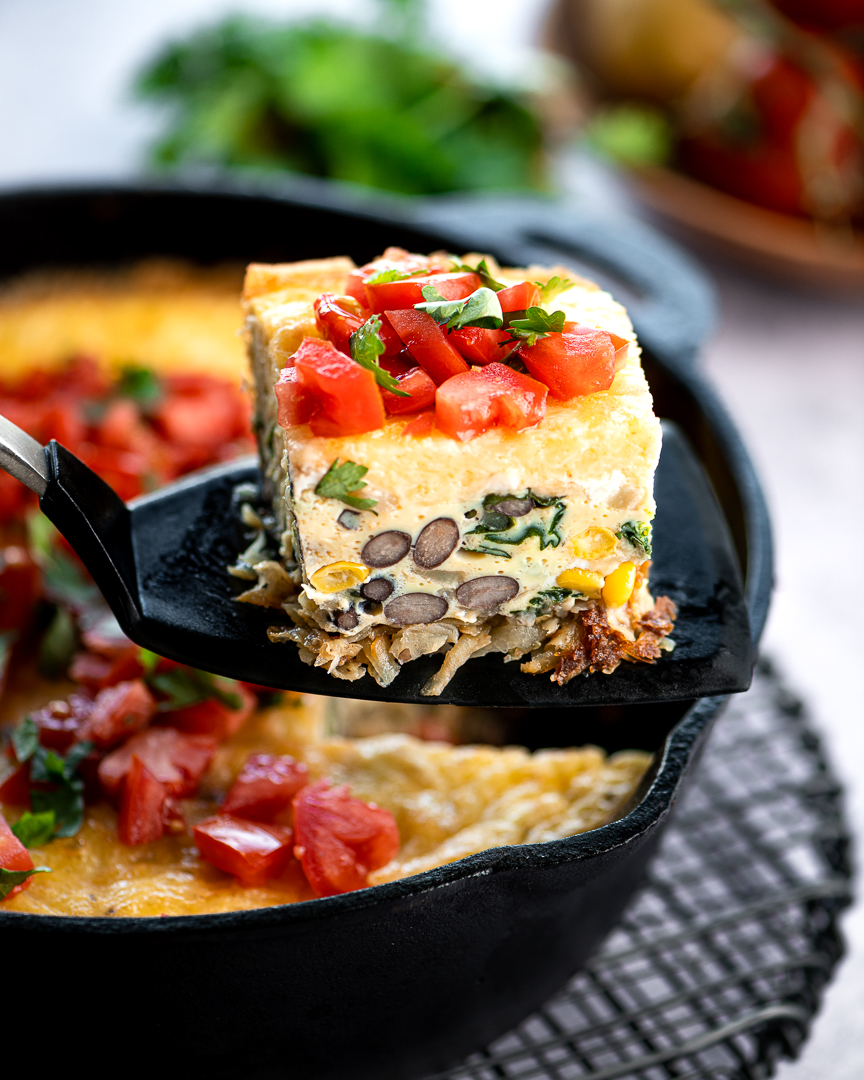 If you're sensitive to wheat, or for some reason following a grain-free eating pattern, pulses are a wonderful way to enrich the nutrition of your every day diet. Here are 3 reasons why we love to add black beans to our weekly GetJoyfull menu:
Pulses like black beans contain twice the amount of protein found in whole grain cereals like wheat, oats, barley and rice. This makes them an excellent addition to our breakfast or post-workout routine.
One serving of black beans contains more iron than a 3 oz. serving of flank steak. This makes them an excellent addition to vegetarian or flexitarian eating patterns. Besides, growing kids need iron, too!
Black beans are a source of prebiotic fibre – the preferred food of our gut bacteria – which contributes to good gut health. Who doesn't want a happy tummy? I know I do.
Heartfelt thanks to Chef Steven Brochu and Alberta Pulse Growers for supporting the GetJoyfull movement, and for helping to make this post and recipe possible.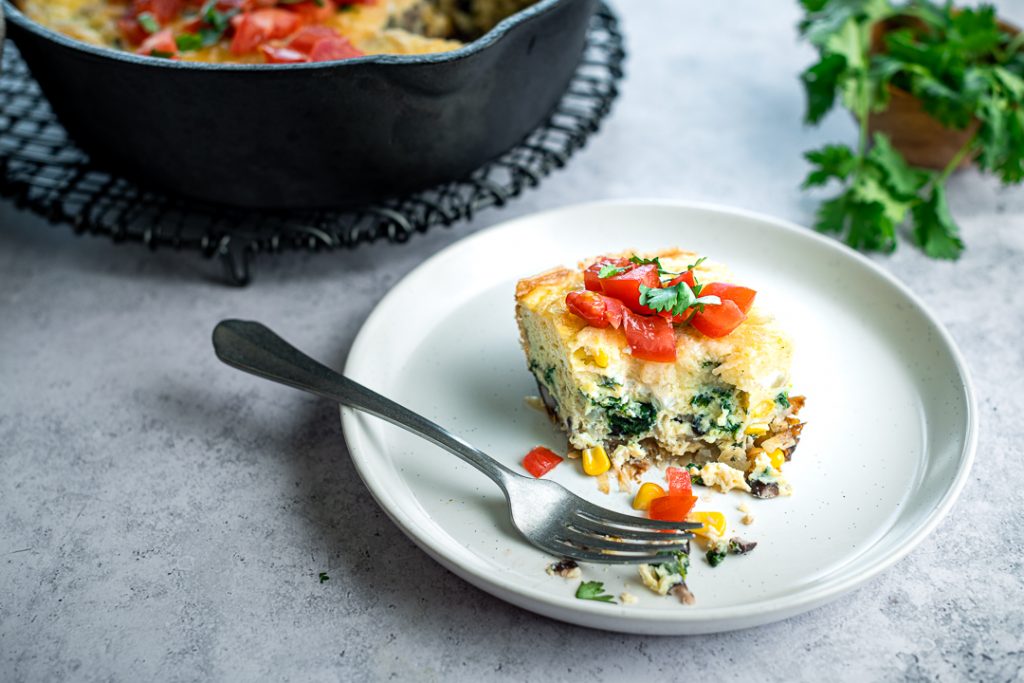 Take care, everyone.
Joyfully,
Emily 
Emily Mardell is a Registered Dietitian, busy mama of three and proud Alberta foodie. Emily is passionate about quality ingredients and creating delicious, nourishing recipes that bring families together. Follow her on social media @GetJoyfull or GetJoyfull.com for nutrition advice and tips to grow food joy and fill up on family time.