Our family runs on fast, fresh meals. Recipes that are healthy, fun and easy to make are always top picks. Whether we're prepping breakfast before online school, working out between zoom calls, or feeding hungry kiddos after Taekwondo—the goal is to feel nourished and satisfied! 
This week we're celebrating some of our go-to GetJoyfull recipes and recapping the reasons why they made our favourite list. Recipes that are appealing to everyone and timely for the energy and nutrients we need most. When I was putting this post together, I noticed a running theme, or should I say an "MVP ingredient" that kept popping up. Hint: It's creamy, protein-packed, bursting with calcium, and perfect for both savoury and sweet dishes. Any guesses? You got it! Greek yogurt. It's 100% a GetJoyfull kitchen staple.
Our friends at Alberta Milk [Partner] have done an amazing job summarizing the nutritional benefits of Greek yogurt and helpful tips to navigate the yogurt aisle at the grocery store! Check this out: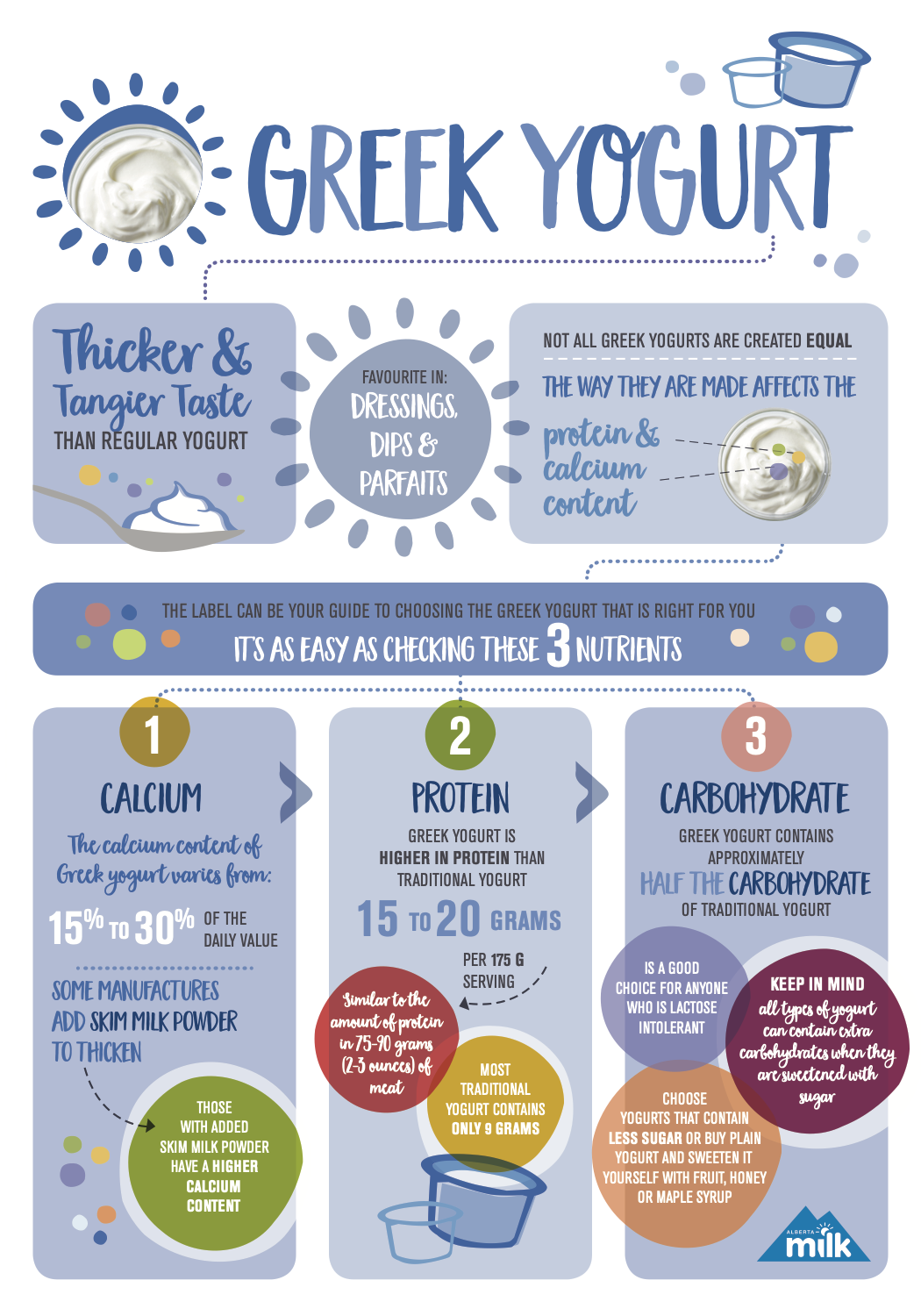 Let's circle back to the GetJoyfull household. Like many families we're doing our best to manage Rushed Mornings, On-the-Fly Workouts and Busy Family Meals. It's not always easy, but fast, fresh recipes sure help us out! 
---
Rushed Mornings
It's 830am and online school starts in 15 minutes. That means we have 10-ish minutes to make breakfast and eat together. Quick, what do we make?! On morning's like this, we often reach for overnight oats. Yup, we make breakfast the night before! Make-ahead breakfasts like overnight oats are on the table in a minute and easily personalized to the personalities around the table. Here's our fast, fresh recipe!
Easy & Energizing Overnight Oats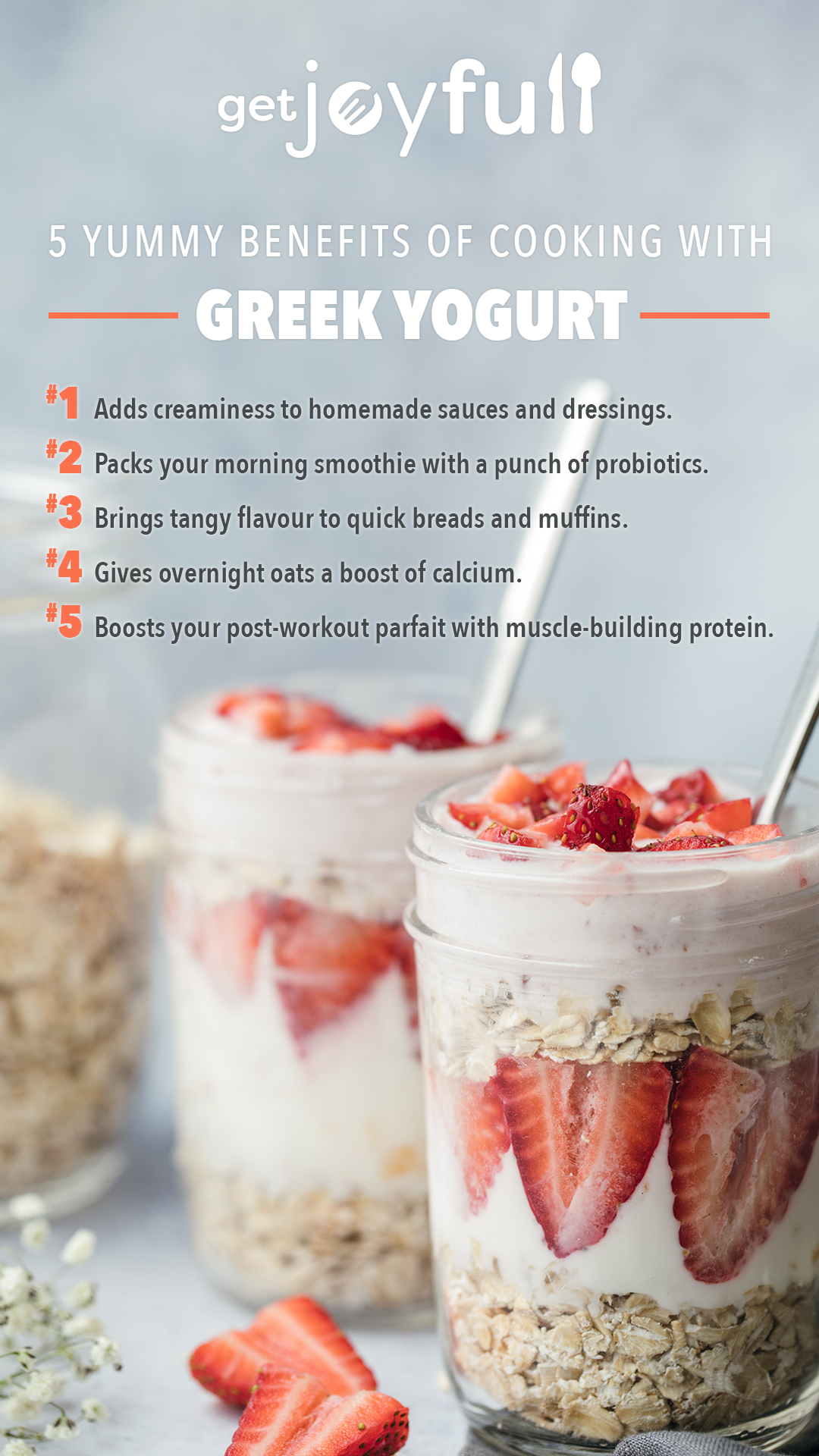 Wholesome, hearty oats team up with chia, Greek yogurt and fruit. 
Serves: 1
Base:
1/3 cup rolled oats 

1 Tbsp chia seeds  

¼ cup Greek yogurt 

1/3 cup milk 
Directions:
Combine all ingredients in a mason jar and shake to combine. Refrigerate overnight. 

Eat cold or remove the lid and microwave before serving. 

Garnish with your favourite toppings and enjoy! 
Suggested toppings:
Raspberries and mini chocolate chips

Chopped strawberries and peanut butter drizzle

Sliced banana and walnut pieces 
---
On-the-Fly Workouts
Since working from home this past year, I've had to switch gears and learn to exercise "on-the-fly," whenever time permits. For me, this usually means a short, but intense afternoon workout in between zoom calls. Afterwards, I'm hungry and even arm-chair athletes like myself, need protein to repair muscles, carbohydrate to refuel that energy tank and fluids to rehydrate tissues. So what do I reach for?
My go-to is usually a creamy pineapple-spinach shake. It's super refreshing, hence its name, and packed with the muscle-supporting amino acid leucine. And, it's green so I can't help feeling good when I drink it, lol. Here's my fast, fresh recipe!
"The Refresher"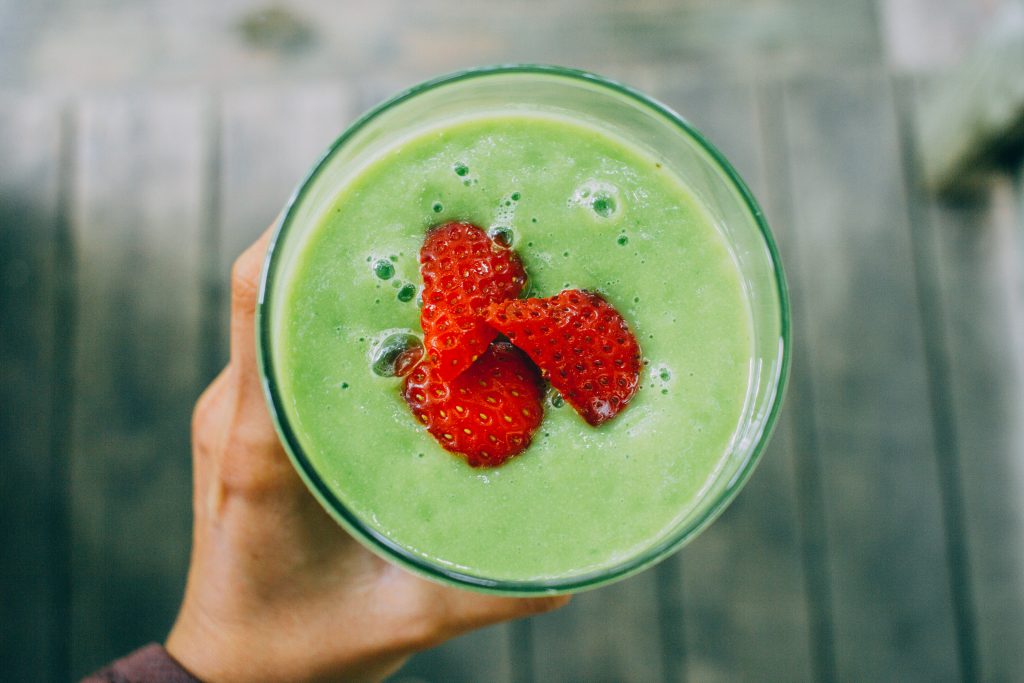 Yummy pineapple spinach shake made with creamy Greek yogurt and greens.
Ingredients:
1 ½ cups cold water

½ cup Greek yogurt

½ frozen banana

¾ cup frozen pineapple

2-3 handfuls baby spinach
Directions:
Add all ingredients to the blender and blend until smooth. 

Garnish with hemp hearts if desired. Enjoy!
---
Busy Family Meals
It's sometimes easy to forget, but the right recipe, at the right time, has the power to make the day a whole lot better. After a long day of work and school, everyone is hungry for sustenance and connection. But, growling tummies cannot wait, so our family meals have to be ready fast.
Believe it or not these GORGEOUS "Salmon Sliders with Homemade Greek Yogurt Buns" can be on the table in less than 30 minutes. 
This recipe looks fancy, but I promise it is super easy and fun to make. And, again, Greek yogurt shines as a feature ingredient. No wonder I go through so much of the stuff, lol! 
Did you know you can make delicious buns ever with just TWO INGREDIENTS? You better believe it. They're packed with protein, energy and calcium, too! Combine equal parts of Greek yogurt and self-rising flour (i.e., flour with baking powder already in it) and you'll have the yummiest, softest buns that you've ever tasted. 
"Salmon Sliders with Homemade Greek Yogurt Buns"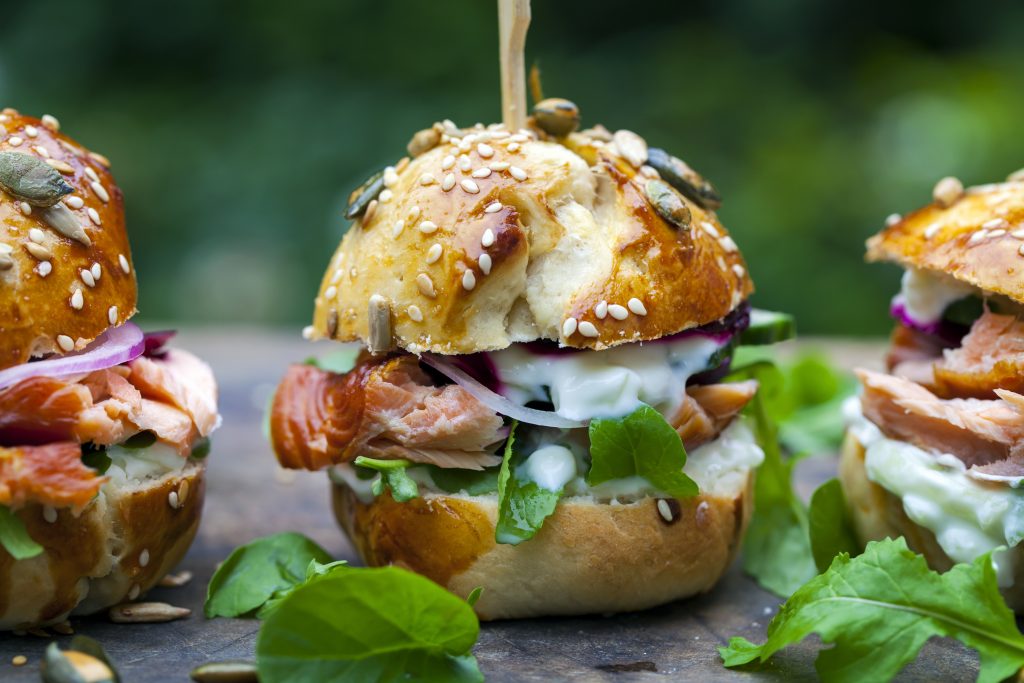 Soft tender, homemade Greek yogurt buns and flaky baked salmon. It's the burger you never knew you wanted and will forevermore be craving! 
Prep time: 15 minutes
Cook time: 20 minutes
Serves: 6 
Ingredients:
Salmon Pieces 
    

1 lb. boneless skinless salmon filet, cut into 6, 2"x2" pieces

   

1 Tbsp (15 ml) olive oil 

    

Salt and pepper to taste
Homemade Greek Yogurt Buns
   

1 cup (250 ml) flour + 1 Tbsp (15 ml) for rolling

   

1 tsp (5 ml) baking powder

   

1 cup (250 ml) plain Greek yogurt 

   

1 egg, for optional egg wash  

   

1 Tbsp (15 ml) sesame seeds, for optional topping 
Recipe Tip:
No baking powder on-hand? Replace both the flour and baking powder with 1 cup of self-rising flour. Find it in the baking aisle.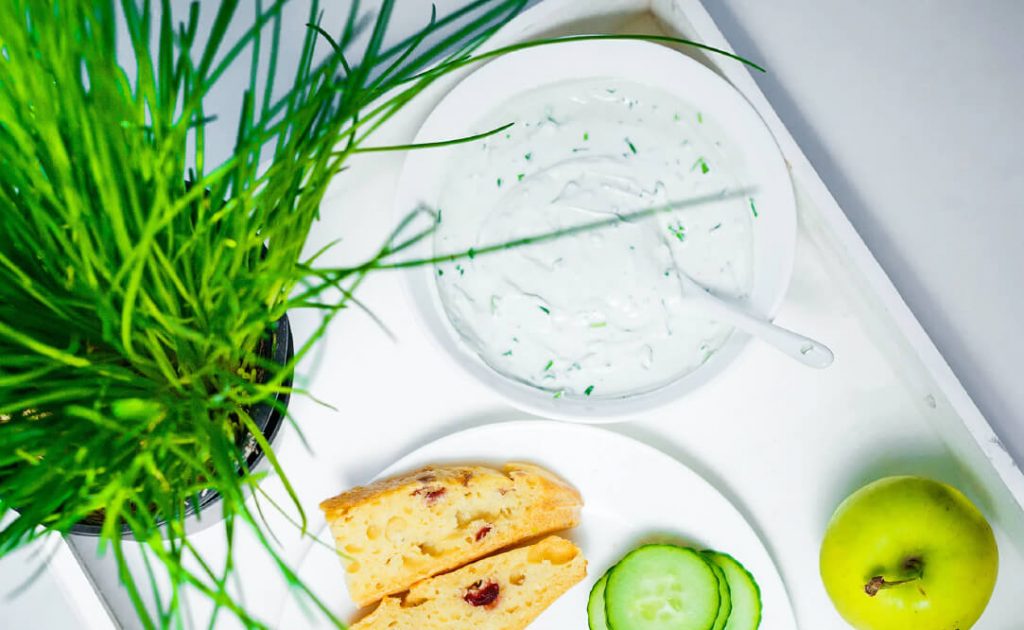 Lemon-Chive "Mayo"
 

½ cup (125 ml) plain Greek yogurt 

1 Tbsp. (15 ml) honey

1 Tbsp. (15 ml) grainy mustard

½ lemon, juiced

1 Tbsp. apple cider vinegar  

1 Tbsp (15 ml) chives, chopped

Salt and pepper to taste
Smart Swap:
"A ½ cup of real mayonnaise has over 700 calories and 80 grams of fat. Comparatively, a ½ cup of plain Greek yogurt has 60 calories and 0 grams of fat. Oh, and a bonus 9 grams of protein! When you want to make lighter homemade sauces and condiments try replacing mayo with plain Greek yogurt. It's no competition when it comes to flavour and definitely scores big-time nutrition points. 
Essential Equipment:
Baking sheet lined with silicone mat or parchment paper. 
Directions:
Preheat the oven to 375.

Make buns.

In a medium bowl, combine flour and baking powder with a fork. Add Greek yogurt. Stir ingredients with a wooden spoon until a ball of dough forms. Using clean hands, remove dough from bowl and sprinkle clean surface with 1 Tbsp of flour. Knead dough for 1 minute and separate into 6 even pieces. To give the buns a golden colour, use a pastry brush to add egg wash the buns, then sprinkle top with sesame seeds. Bake buns for 10-12 minutes until puffed and lightly golden. 

Cook salmon.

Place salmon pieces on a parchment lined baking tray. Season with oil, salt and pepper. Bake for 10 minutes, or until just cooked.

Mix sauce.

In a small bowl, stir together all "mayo" ingredients until smooth and creamy.

Assemble sliders.

Slice fresh buns in half with a serrated knife. Top buns with cooked salmon, lemon-chive "mayo" and garnish with favourite toppings like tender greens, crisp cabbage, or tangy pickles. 

Serve sliders

with your favourite seasonal salad.
Athletes really like this recipe, too. And for good reason! Loaded with protein, omega-3 fats and quick, wholesome energy, it's a joyful meal that helps fuel sport, life and play! We love it after weeknight Taekwondo or skating, but even pros can't get enough of this recipe!

Check out pro-footballer, Kareem Moses in the GetJoyfull kitchen, learning how to make this recipe for the first time. 
I hope these recipes inspire you to make the most of meal time and to plan ahead with fast, fresh recipes like the ones featured here. Heartfelt thanks to Alberta Milk and FC Edmonton for supporting the GetJoyfull movement and for helping to make this post and recipe possible. 
Joyfully,
Emily 
Emily Mardell is a Registered Dietitian, busy mama of three and proud Alberta foodie. Emily is passionate about quality ingredients and creating delicious, nourishing recipes that bring families together. Follow her at GetJoyfull.com for nutrition advice and tips to grow food joy and fill up on family time.
Disclaimer: This is a sponsored post. All content is genuinely created and shared with evidence and authenticity by Emily Mardell, Registered Dietitian.