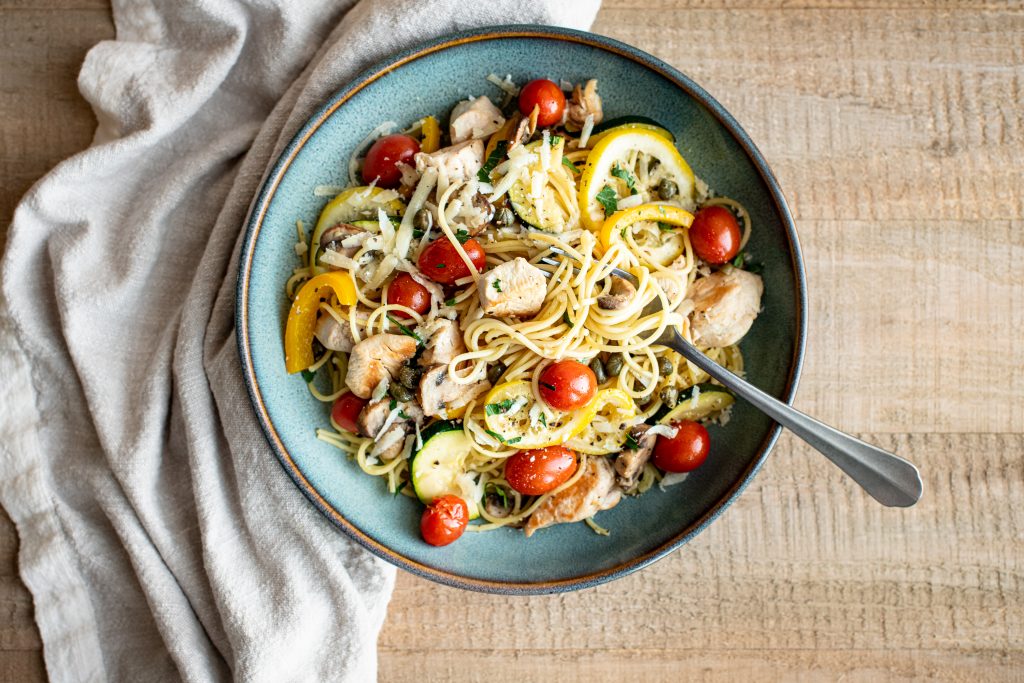 This Nutrition Month, Dietitians everywhere want everyone to know…there's no 'one-size-fits-all' approach to healthy eating. In fact, there's a whole campaign about it at NutritionMonth2021.ca if you're interested! 
Have you thought about what healthy eating means to you lately? Perhaps it's changed in recent years, or even the past few months, or weeks. I know it has for me! As a Dietitian and mama of three, I often reflect on what eating well means to me and how I share that view with myself, my family and the GetJoyfull community. I have to say, I 100% concur with my Dietitian colleagues, there's no one way to eat healthy!
Ask 5 people around you, "What does healthy eating mean to you?" Your bound to gain A LOT of insight into this no "one-size fits-all" reality of healthy eating. 
I did, and this is what I learned…
For my meat-and-potatoes-loving-husband, healthy eating means having protein on his plate three square meals a day. For my bestie, it's eating in colour, and enjoying a rainbow of fruits and vegetables every day of the week. For my client in eating disorder recovery, it's being able to eat as much as her body needs without hesitation or regret. For my neighbour, it's cooking treasured family recipes passed down from her Mother. For Sue, my Amazon delivery driver, it's planning a balanced lunch-to-go before a busy day of deliveries. 
For me, healthy eating most often centres around eating seasonally and cooking close to home. I grew up on an island, a locavore by necessity and fell in love with food in my Grandmother's kitchen. So, what I associate as "healthy eating" makes a lot of sense to me, personally. Even last week, as Winter moved over for Spring, I was reminded how much I love it when the seasons change. All because of a mushroom and lemon display at the grocery store. I'm not even joking. When new ingredients pop up at the market, I'm like a kid in a candy store! My food relationship is reinvigorated and healthy eating becomes, well, exciting again. 
Am I the only one this happens to, lol? 
If you're ready for a little mealtime inspiration too, check out the "GetJoyfull Spring Menu Planner," and put it to work in your family's kitchen.
Spring Menu Planner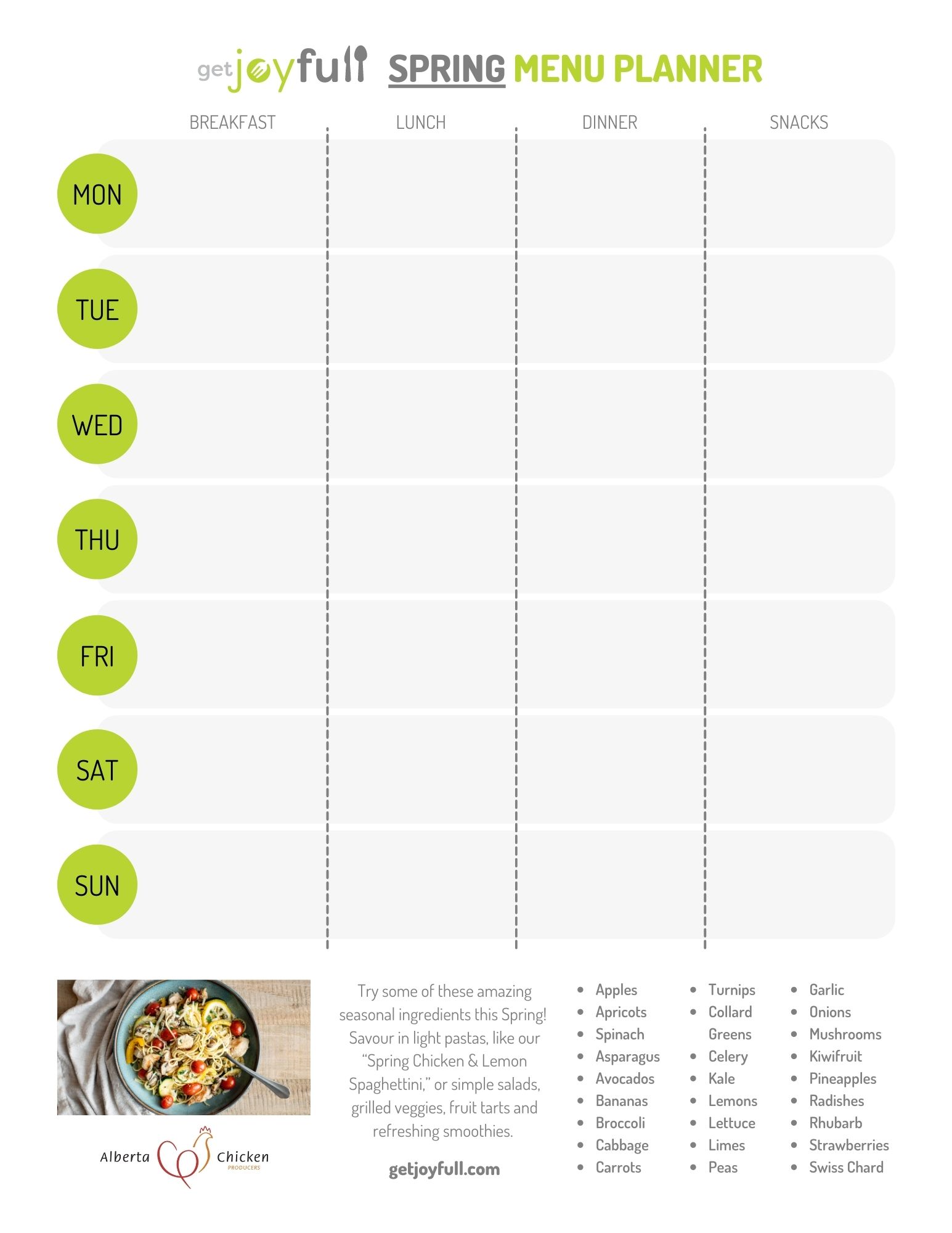 I used this simple planner and this is the result! Feast your eyes on this absolute bowl of edible sunshine. My  "Spring Chicken & Lemon Spaghettini" is bursting with bright, happy flavours of fresh lemon, tender chicken and capers. Oh, and yummy slurp-just-for-the-heck-of-it noodles, everybody loves. 
Sometimes you've just got to grab a fork and go all in on a bowl of perfect pasta. Get your forks ready, friends.
---
Spring Chicken & Lemon Spaghettini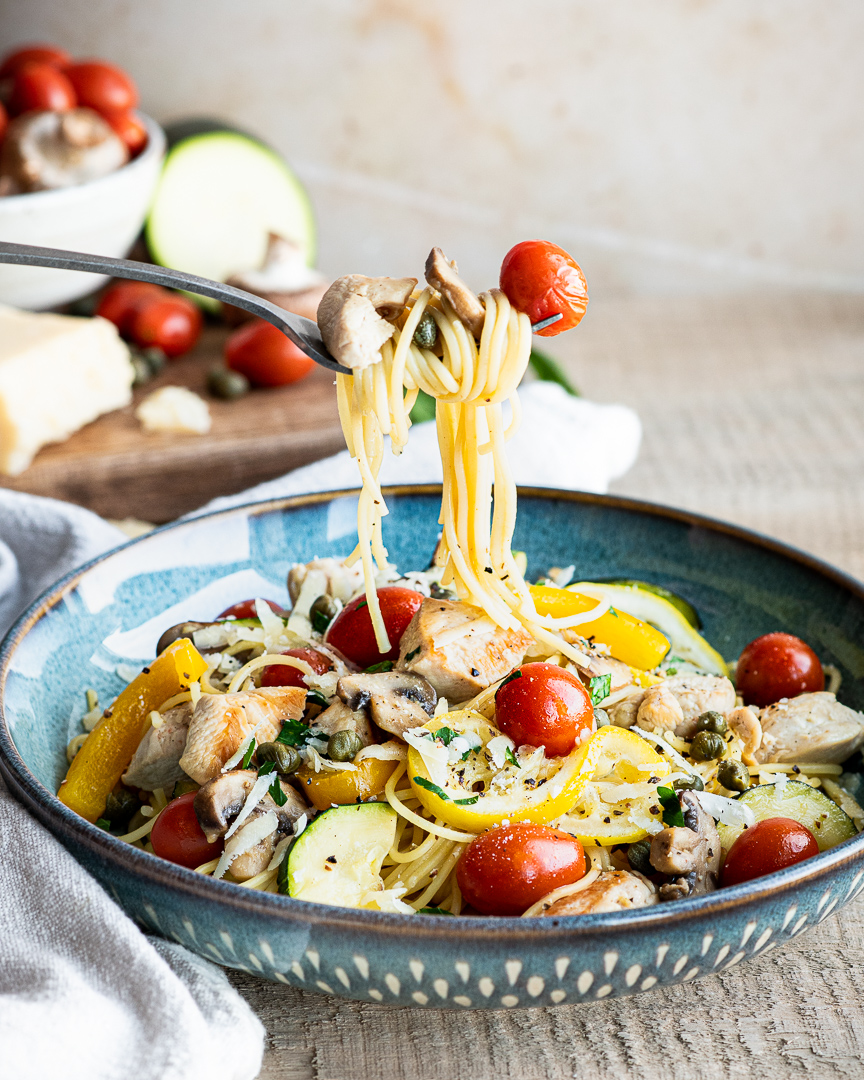 Ingredients:
1 Tbsp (15 mL) canola oil, divided
1 pound (454 g) boneless skinless chicken breast, cubed
Salt and pepper, to taste
8 ounces (227 g) cremini mushrooms, sliced
2 cups (500 mL) grape tomatoes
1 medium zucchini, sliced
1 large yellow bell pepper, sliced
1 1/2 cups (375 mL) low-sodium chicken broth
1 cup (250 mL) white wine
2 Tbsp (30 mL) butter
3 lemons, divided
¼ cup (60 mL) 10% cream
¼ cup (60 mL) capers, drained
1 pound (454g) spaghettini pasta
¼ cup (60 mL) chopped Italian parsley, for garnish
¼ cup (60 mL) shaved Parmesan cheese, for garnish
Prep Time: 10 minutes
Cook Time: 30 minutes
Total Time: 40 minutes
Serves 6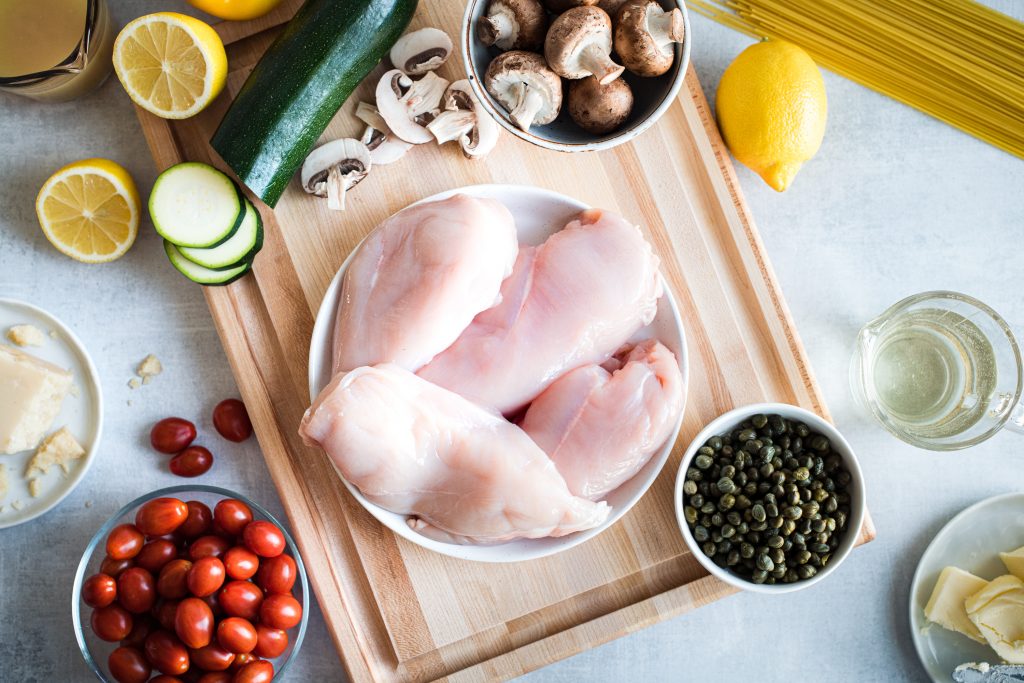 Directions:
Heat a large skillet over medium-high heat and add ½ tablespoon oil. Add chicken pieces and season with salt and pepper. Sauté chicken for 6-8 minutes until lightly browned. Reserve cooked chicken in a large clean bowl.
While the chicken is cooking, bring a large pot of water to a boil and cook the spaghettini 2 minutes less than the time on the package directions.
Add remaining ½ tablespoon of oil to the skillet. Add the mushrooms, zucchini, bell peppers, and cook for 3 minutes, then add the tomatoes and cook for another 1 minute. Transfer the vegetables to the large bowl with the browned chicken.
Add the chicken broth and wine to the skillet, bring to a simmer, and scrape the bottom of the pan with a wooden spoon. Whisk in 2 tablespoons butter. Juice 2 lemons and add juice to the sauce, also add capers. Cook for 6-8 minutes, until the sauce reduces by a half.
Reduce heat. Add cream. Stir and combine into sauce. Add the chicken and vegetables back into the sauce.
Drain spaghettini and add it in batches back to the skillet with the sauce, tossing to coat as the pasta continues cooking and absorbs some of the sauce, 2 mins.
To serve, sprinkle with chopped Italian parsley, grated Parmesan cheese, and additional sliced lemon.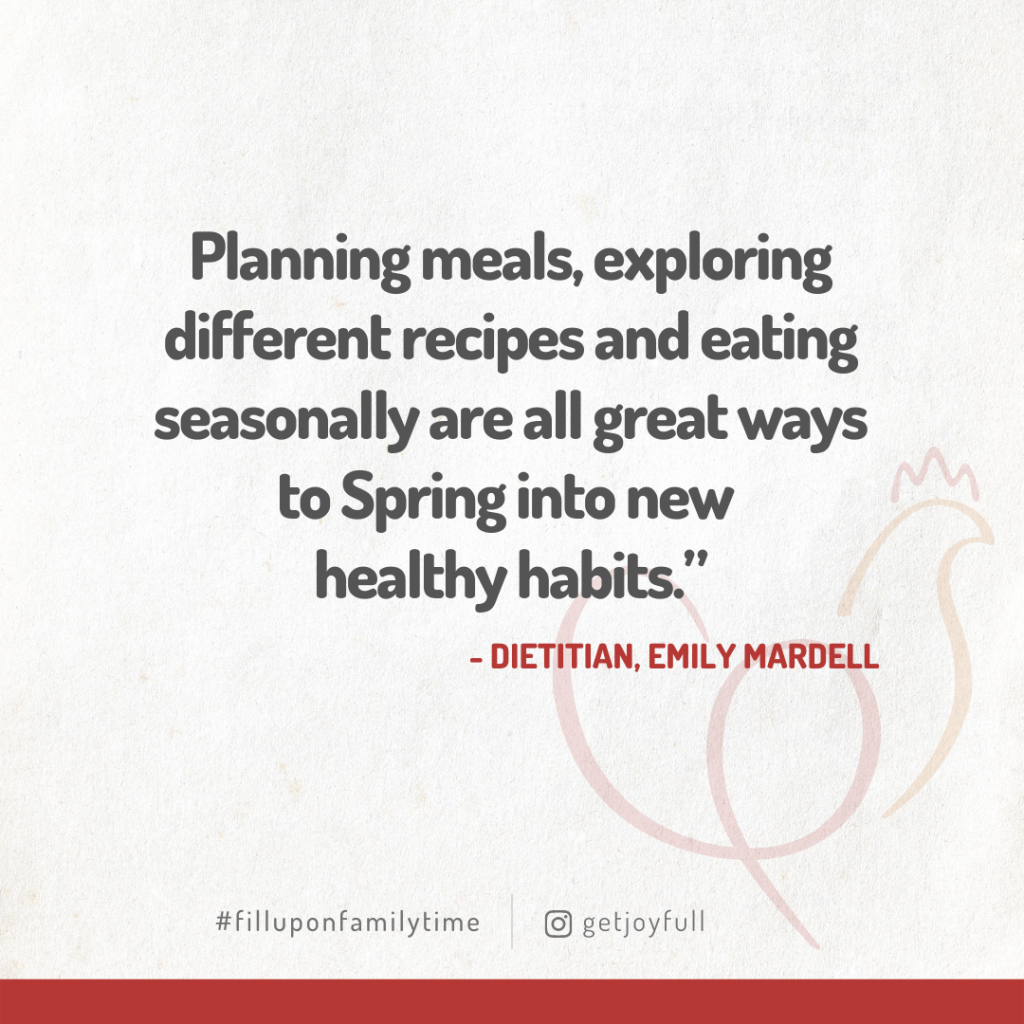 I hope this post helped you reflect on what healthy eating means to you, and perhaps, the simple steps you can take to tap back into that joyful feeling. Heartfelt thanks to Alberta Chicken Producers for supporting the GetJoyfull movement, and for making this recipe collaboration possible.
Take care, everyone.
Joyfully,
Emily
Emily Mardell is a Registered Dietitian, busy mama of three and proud Alberta foodie. Emily is passionate about quality ingredients and creating delicious, nourishing recipes that bring families together. Follow her on social media @GetJoyfull or GetJoyfull.com for nutrition advice and tips to grow food joy and fill up on family time.