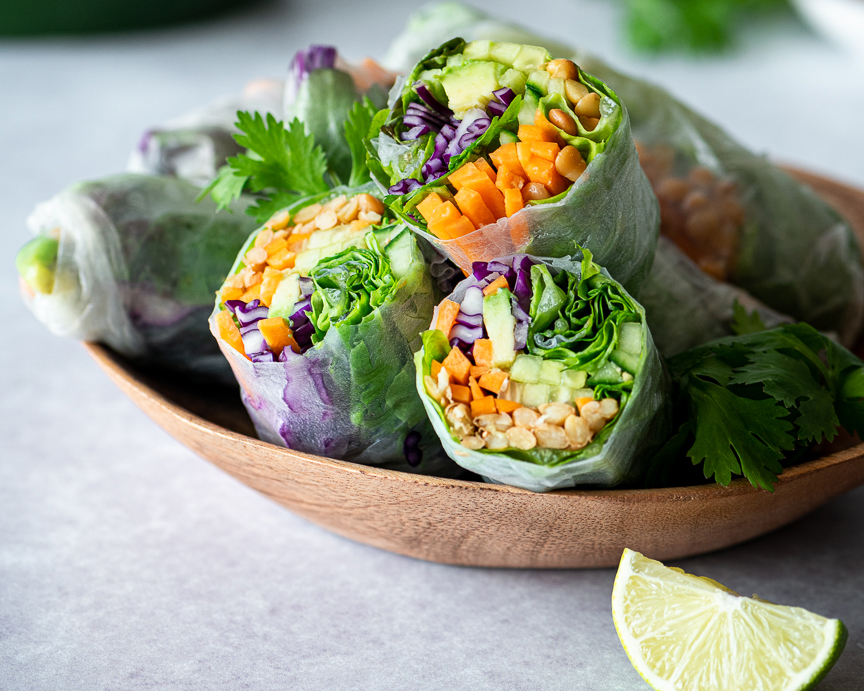 Lebron James is teasing an early return from injury and as an NBA and King James fan, I'm counting the days! When he's ready, the Mardell's will be waiting with our take on an epic game-day snack!
Our "Slam-Dunk Lentil Salad Rolls" are fresh, fun and ridiculously delicious. Packed with the plant-protein power of green lentils and a rainbow of inflammation fighters, such as anthocyanin-rich red cabbage, they're perfect for athletes and sports fans alike.
"Packed with sweet, super refreshing veggies AND the satisfaction factor of lean, protein-rich green lentils. It's a perfect combo!" – EM
Salad rolls boast a lot of vitamin C; an MVP antioxidant that can help prevent muscular breakdown and speed up recovery after training, or exercise. Our salad rolls have a bonus ingredient…green lentils!
Lentils are plant protein superstars! They're high in protein, fibre, and complex carbohydrates, while being low in fat and calories. They are also sources of other key minerals and nutrients including potassium, folate, iron, and manganese. All of these nutrients are not only protective to muscles, but they support the immune system, too!
"Get rolling! And, take the veggie patch anywhere you need to go." – EM
Team these beauties up with a spicy peanut sauce and dunk your way to a win.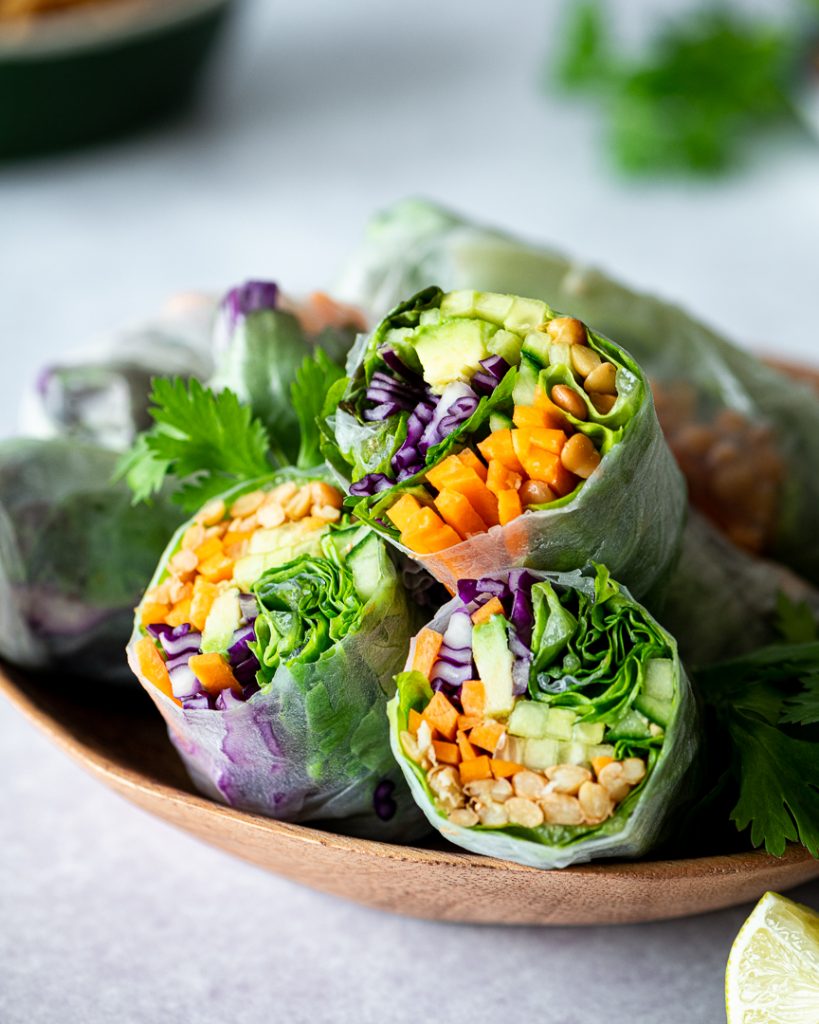 ---
Slam-Dunk Lentil Salad Rolls

Makes: 10 wraps & 3/4 cup (175 mL) sauce

Ingredients
10 rice paper sheets
1 small purple cabbage, thinly sliced
½ head red leaf lettuce, washed & pulled apart
½ English cucumber, julienned
2 medium carrots, peeled & julienned
1 can (19 oz/540 mL) green lentils, drained & rinsed (yields 2 cups/500 mL cooked lentils)
1 medium ripe avocado, pitted & sliced
Handful cilantro, chopped
Garlic-Peanut Sauce
1/2 cup (125 mL) peanut butter
1 Tbsp (15 mL) soy sauce
Juice of 1 lime
1 Tbsp (15 mL) chili garlic sauce
Water (to thin down sauce to desired thickness)
Directions
In a small bowl, make peanut sauce by mixing together peanut butter, soy sauce, lime juice, chili garlic sauce and water. Set aside.

Have all ingredients chopped and ready to go before beginning.

Fill a medium sized bowl with warm water. Take one rice paper, dip it in the water for 5 seconds and then place on a cutting board. In a line in the middle of the rice paper, add: cabbage, lettuce, cucumber, carrot, lentils, avocado, and cilantro. To fold, bring over the short ends on top of your filling, and then take the remaining wrap and roll it over, repeat with the rest of your wraps.

Enjoy immediately with peanut sauce, or refrigerate rolls for up to 3 days for an anytime veggie-packed snack.
Athlete's Challenge
Have colourful, fresh and ready for when hunger strikes! Recipes like these rice paper rolls, pack both fruits and vegetables into perfectly portable eats that you'll want to devour. Mix up this recipe with seasonal ingredients like sliced apple, strawberries or bell pepper. The possibilities are endless!"

–Dietitian, Emily Mardell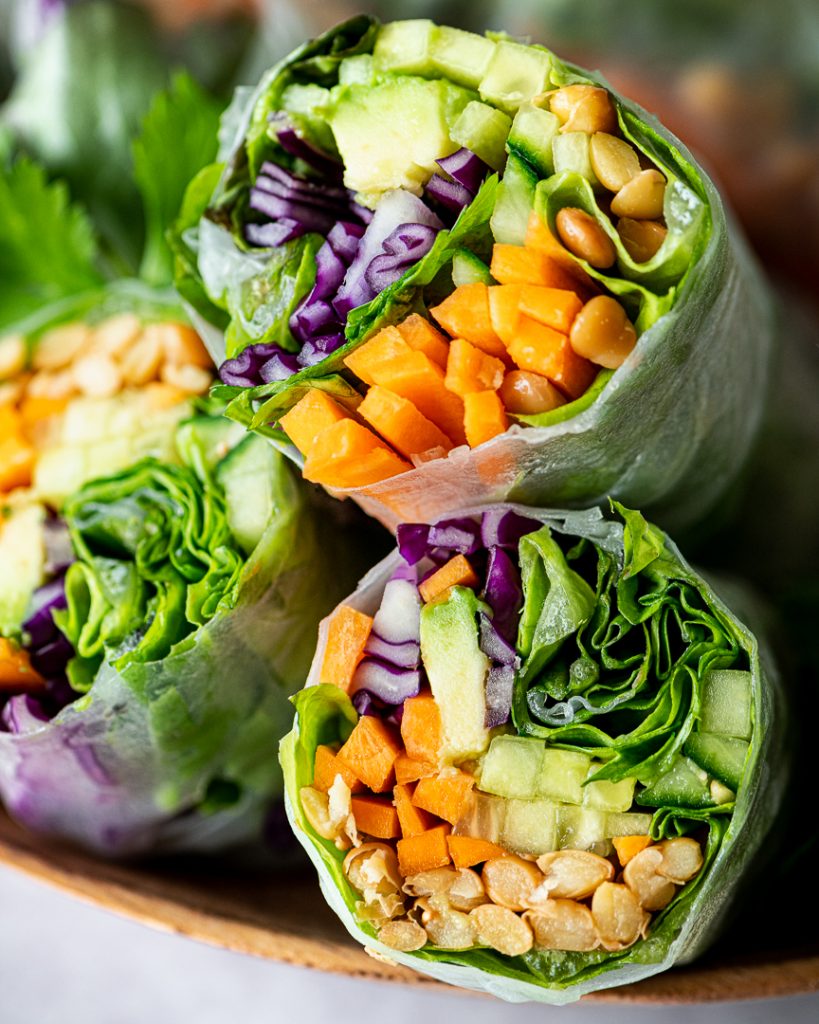 Heartfelt thanks to Chef Steven Brochu and Alberta Pulse Growers for supporting the GetJoyfull movement, and for helping to make this post and recipe possible. 
Take care, everyone.
Joyfully,
Emily 
Emily Mardell is a Registered Dietitian, busy mama of three and proud Alberta foodie. Emily is passionate about quality ingredients and creating delicious, nourishing recipes that bring families together. Follow her on social media @GetJoyfull or GetJoyfull.com for nutrition advice and tips to grow food joy and fill up on family time.