Wednesday's are extra wacky in the GetJoyfull household. The big kids have Taekwondo and I often work late. I could easily grab something on the drive, or make breakfast for dinner, BUT this gorgeous sunny day has me craving something more! So, tonight, I'm passing on cereal and cooking up a fast, fresh chicken recipe instead.
On the table in less than 20 minutes, and an absolute STUNNER of a dish, our "Caprese Chicken & Greens" is here to impress!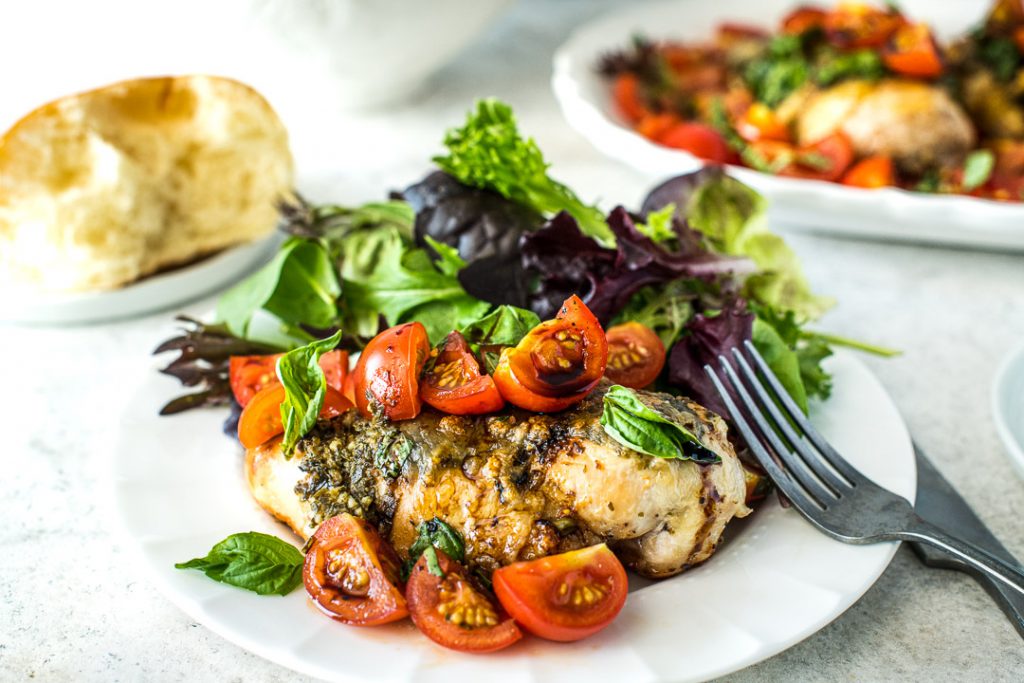 Pan-fried Canadian chicken breast, topped with basil pesto, fresh mozzarella, tomatoes and balsamic glaze. What's not to love!?
We all love chicken breast for its versatility and stellar nutrition, but it's true, they often need a little extra care to ensure they turn out juicy and fork tender. This month's GetJoyfull "Bite-by-Bite" feature is all about chicken and here to help! Read on for a few essential cooking tips for the ever popular, amazing chicken breast!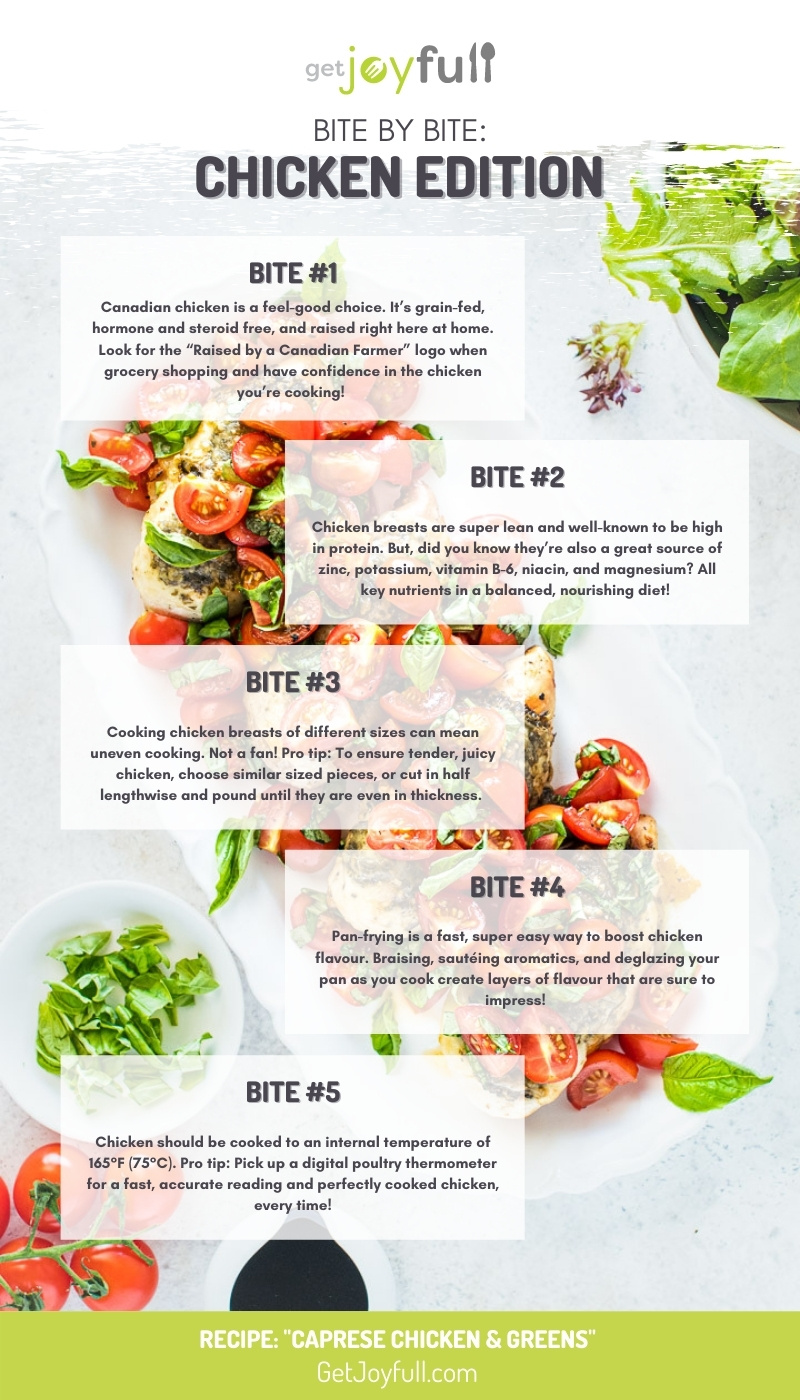 ---
Caprese Chicken & Greens
Pan-seared chicken breast topped with basil pesto, fresh mozzarella, grape tomatoes and balsamic glaze.
Prep time: 5 minutes
Cook time: 20 minutes
Serves: 4-6
Ingredients:
4 fresh, boneless skinless chicken breasts

1 tsp garlic powder

Salt and pepper to taste

1 tablespoon (15 ml) olive oil

½ cup (125 mL) basil pesto 

8 slices fresh mozzarella

2 cups (500 ml) grape tomatoes, quartered 

12 fresh basil leaves, chopped

¼ cup (60 ml) balsamic glaze 

6-8 cups fresh mixed greens 
Directions:
Preheat the oven to broil. 

Lightly oil

an oven-proof

pan and heat to medium-high on the stovetop.

Season chicken with garlic powder, salt and pepper.

Cook

chicken until cooked through, 6-8 mins per side. 

Reduce heat, and top each chicken with 2 Tbsp pesto and fresh mozzarella.

Broil chicken in the oven

for another 2-3 mins  until the cheese is bubbling and melted.

In a small bowl, combine tomatoes, salt, pepper and half fresh basil. 

Remove chicken breast from pan and plate. Top with tomatoes, balsamic glaze and basil garnish. Serve warm with crusty garlic bread and fresh, mixed greens. 
Heartfelt thanks to Alberta Chicken Producers for supporting the GetJoyfull movement, and for making this recipe collaboration possible.
Take care, everyone.
Joyfully,
Emily
Emily Mardell is a Registered Dietitian, busy mama of three and proud Alberta foodie. Emily is passionate about quality ingredients and creating delicious, nourishing recipes that bring families together. Follow her on social media @GetJoyfull or GetJoyfull.com for nutrition advice and tips to grow food joy and fill up on family time.