We started GetJoyfull with the intention of getting families back to the dinner table. It has been our mission to connect with local businesses, growers and farming families to help spread the joy that comes with sharing a family meal. We have met some incredible food warriors along the way and our latest GetJoyfull adventure is no exception. Our family recently made a trip out to Grey Arrow Farms to get down in the soil with the family of seven behind this 35-acre vegetable farm.
Denis & Andrea Forstbauer purchased the farm in 2016, and along with their five kids, began the journey of growing veggies with care. "My husband grew up on a big organic farm in BC, and when we were dating we spent a lot of time on that farm," says Andrea. "I would go and work alongside him so I kind of developed that love for the farm from him … then we moved out here and got our own operation going." The smile on Andrea's face shows the true meaning of this endeavour. Grey Arrow Farm is the culmination of a life-long dream, and now full-on family adventure.
The farm operates it's very own CSA program, providing weekly veggie delivery to members. CSA stands for Community Supported Agriculture, and their 12-week program boasts the most delicious veggies you can imagine. A unique element of the Grey Arrow Farm CSA is that it offers members the option of "garden time." "Often members will bring their kids out (to the farm) with them, and it's really fun to see the kids experience it for the first time. Seeing where their food comes from, and to learn that it doesn't just come from a plastic bag, " says Andrea.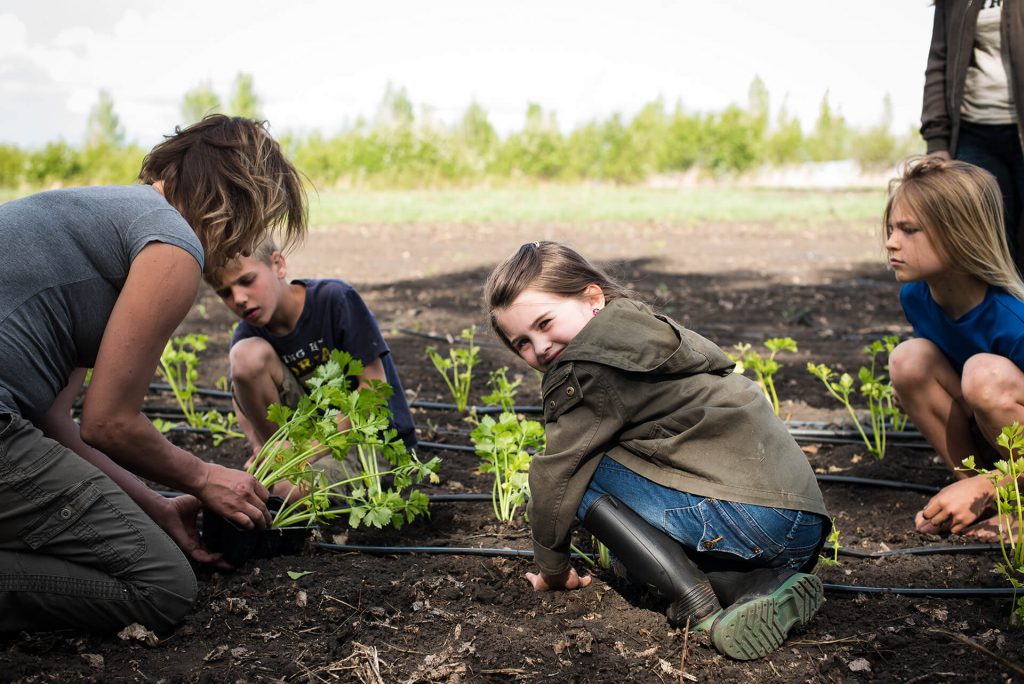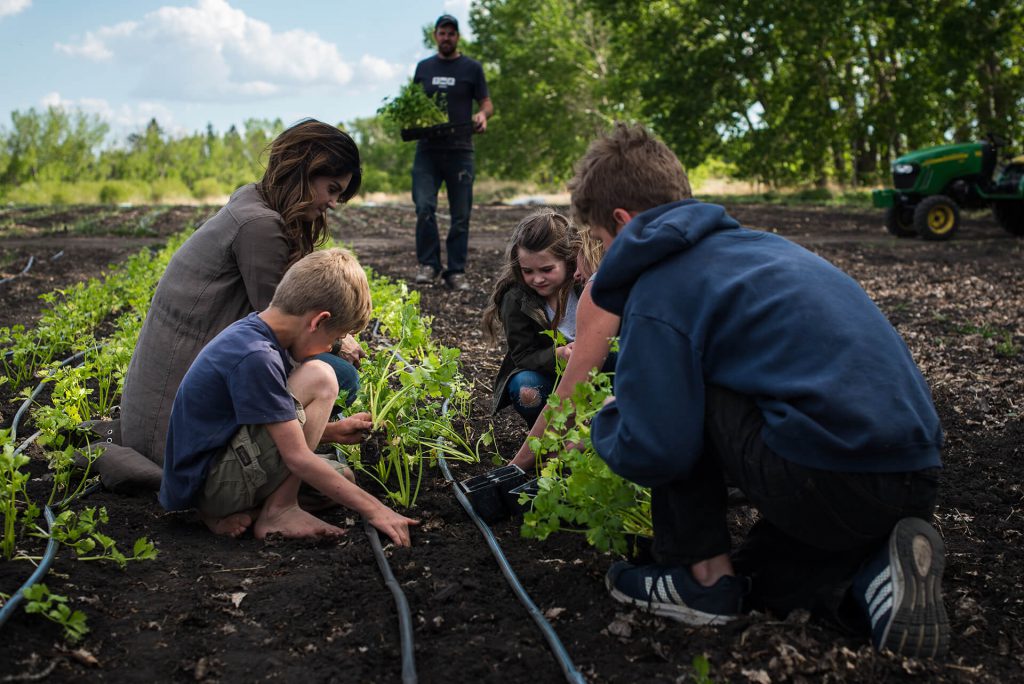 As we visit, and get to know the Forstbauer crew better I am so touched by the way they wholeheartedly embrace, and create togetherness, teamwork, and quality time. Food isn't just fuel for this family, it's a way of life, a way to make a living, and a tool they use to bring their family closer together.
Matriarch, Andrea Forstbauer is a food warrior of intention. She makes every effort to be well-planned, and mindful when it comes to the food being served up to her family. Feeding a family of seven, thoughtfully, and well, no doubt takes a lot of energy, and I would argue courage, lol.
Andrea shares, "The kids will get home from school, and I've got something ready, often fresh made or fresh baked. They come in and they know right away that the snack is there; it's like unload time, they drop their backpacks they come, and sit down around the table, and eat something delicious to re-energize." For Andrea she finds success in commiting to a few simple, but meaningful strategies instead of being overwhelmed by trying to do it all – all of the time.
Andrea's favourite 'intentional' moments include family fun nights, and cooking with the kids. Andrea's love of food, and cooking stems from being in the kitchen with her own mother growing up, and she's now passing those traditions on to her kids – even getting the oldest two to cook up family meals on their own. We got to witness the eldest Forstbauer kids do a "kitchen takeover" when we visited, and it was AWESOME! What better way to share the workload, and cultivate a love of food then by empowering everyone — big, and small — to roll up their sleeves, and help in the kitchen. During our trip to Grey Arrow Andrea's boys whipped-up a batch of the families favourite veggie soup with a side of flakey and delicious biscuits. Cela was especially impressed! My girl, like her Mama, has mad love for fresh bread, and butter.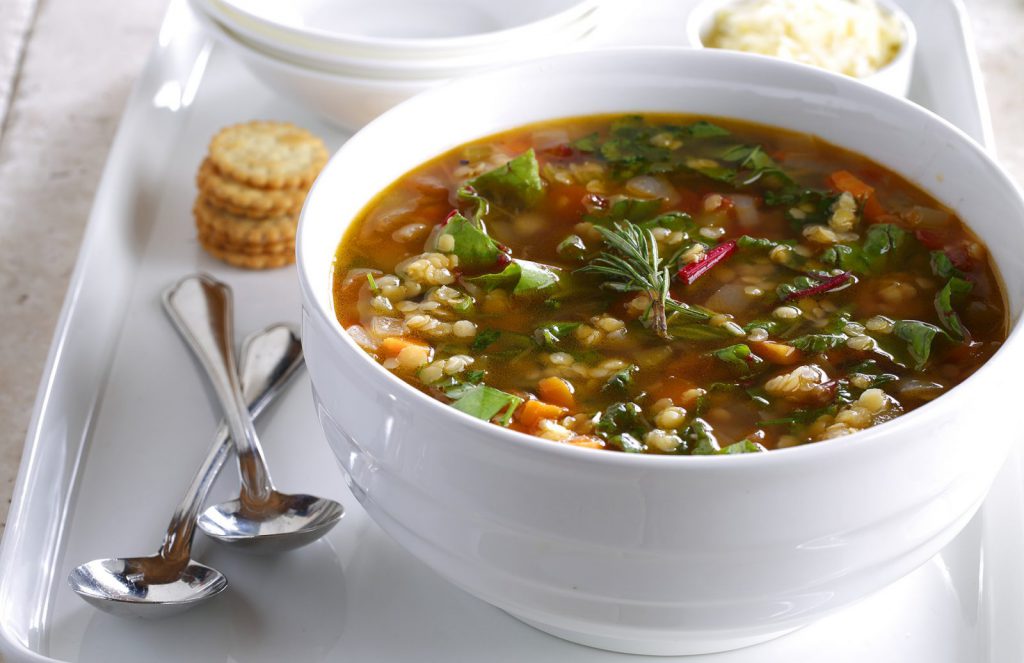 Ingredients
2 Tbsp (30 mL) canola oil

1 onion, diced

2 carrots, chopped

2 celery stalks, chopped

1 cup (250 mL) diced tomatoes

3 garlic cloves, minced

1/2 tsp (2 mL) salt

1/4 tsp (1 mL) red pepper flakes

1/4 tsp (1 mL) pepper

8 cups (2 L) low-sodium vegetable or chicken broth

1 cup (250 mL) split red lentils

1 bay leaf

3 cups (750 mL) chopped fresh kale, Swiss chard, spinach, or beet greens

2 Tbsp (30 mL) fresh lemon juice

½ cup (125 mL) chopped fresh basil

½ cup (125 mL) chopped fresh parsley

2 tsp (10 mL) finely chopped fresh rosemary

½ cup (125 mL) grated Parmesan, for serving
Directions
Heat oil in a large saucepan over medium-high heat. Stir in onions, carrots, and celery. Cook for 5 minutes, until the onions are translucent. Stir in tomatoes, garlic, salt, red pepper flakes, and pepper. Cook for 2 minutes, then add broth, lentils, and bay leaf.
Cover, increase heat to high and bring to a boil. Reduce heat to medium-low and simmer until the vegetables and lentils are tender, about 15 minutes.
Stir in greens, lemon juice, basil, parsley, and rosemary. Season to taste with salt and pepper.
Ladle soup into bowls and garnish with grated Parmesan.
---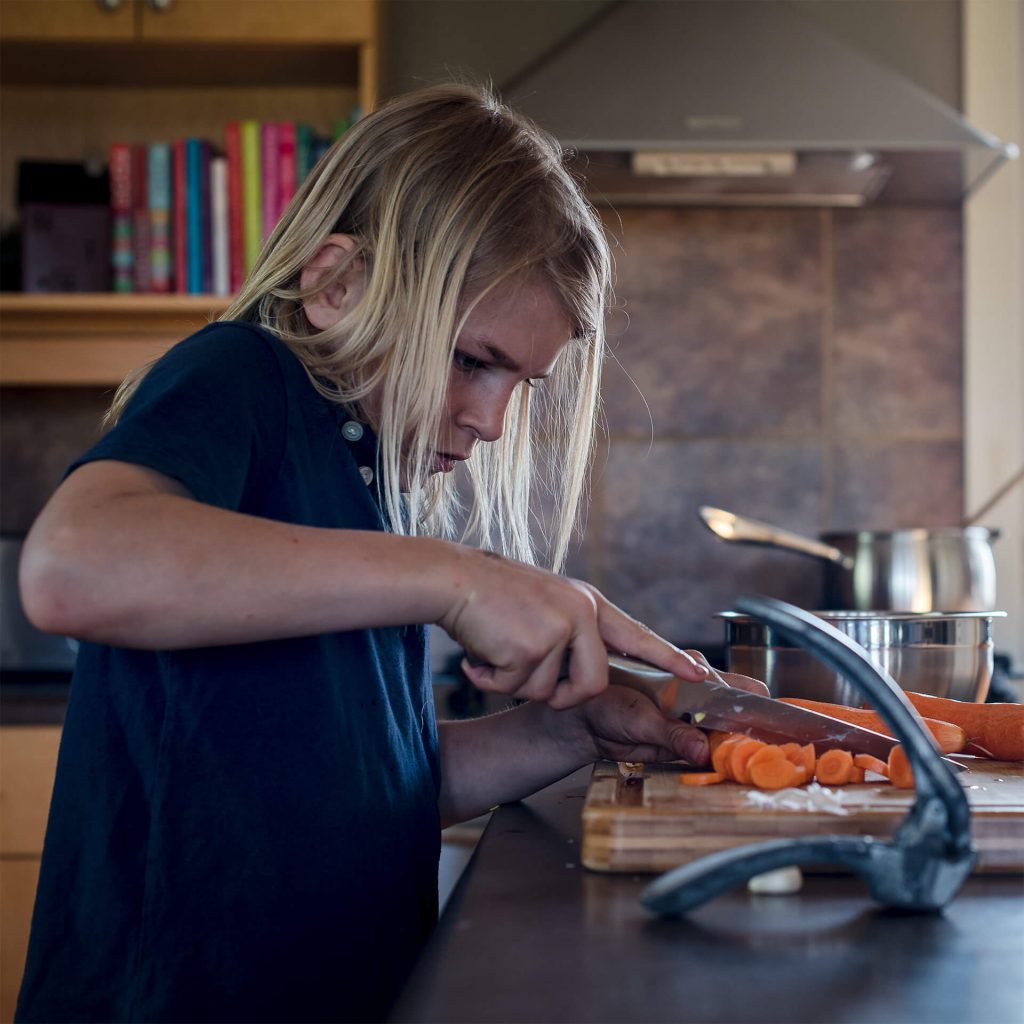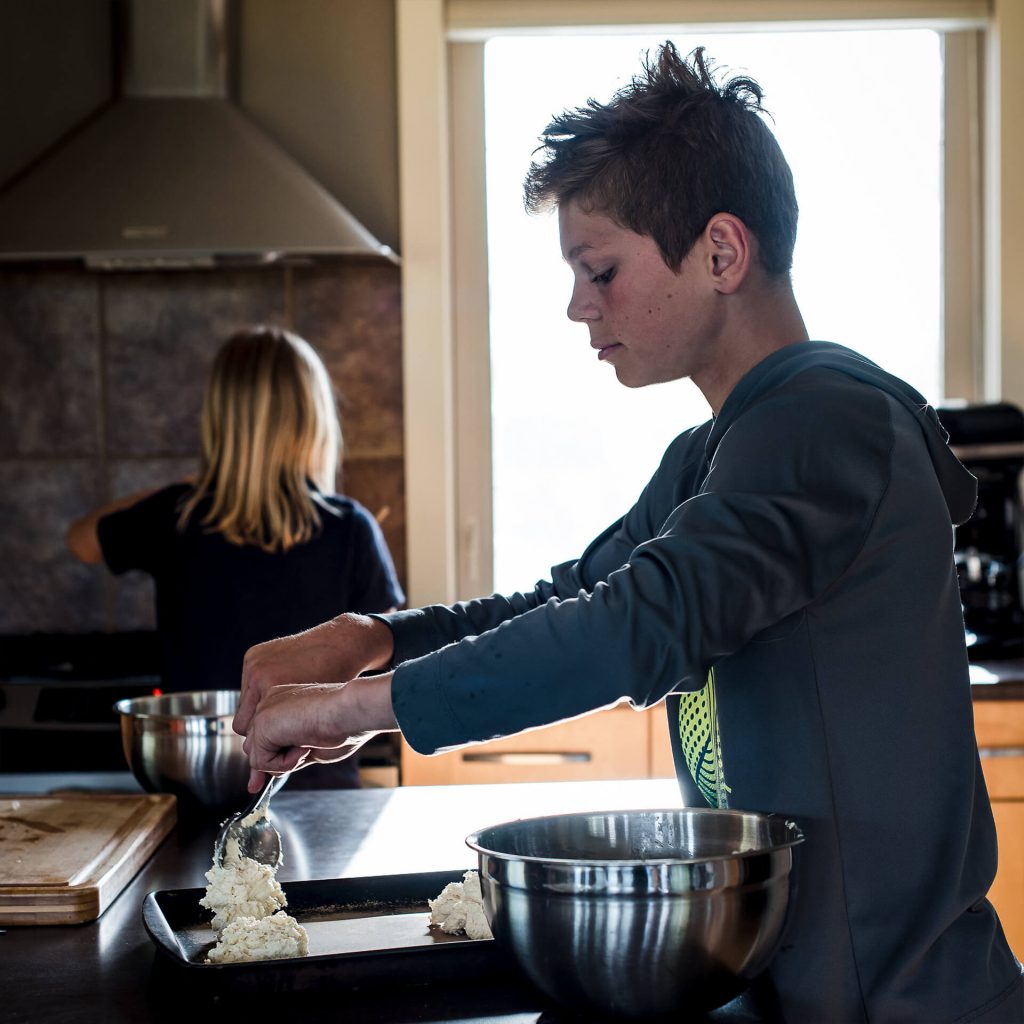 Patriarch Denis is a proud vegetarian, and veggie love. The entire family enjoys plant-based eats right alongside him at least five days a week. If you need to reaffirm your love of vegetables, spend five minutes with a Forstbauer. They're enthusiasm will re-energize a love of broccoli, beets, and beans in no time flat!
Grey Arrow has started the process to become certified organic, and already implements many organic growing practices on the farm. For this family it's all about wellness, and supplying their family, and members of their CSA with delicious food they can feel good about eating.
We would like to extend a big thank-you to Grey Arrow Farm for participating in this latest GetJoyfull adventure. It was truly a pleasure to see this family of seven in action, and we couldn't think of a better bunch to help introduce us to the world of CSAs.
We're inspired to try our own weekly family night, and to revitalize meatless Monday's. We hope you've found inspiration, too, and in your own happy way, with intention, Fill up on Family Time!