The perfect salad for the "cheese monsters" in your life!
As Canada Day approaches so many reasons I love this beautiful land are top of mind. Natural wonders, amazing cultures, and homegrown eats. Oh… and unrelenting politeness. Sorry, I know it's cheesy, but I'm a sucker for manners. I've had the joy of living in many Canadian cities, and I can say I have a true affection for the coast-to-coast awesomeness of this great Country. Now, Edmonton is home, and festival city has my heart. River valley bike rides, day trips to the Rockies, restaurant patio parties, and neighbourhood BBQs top our list of summer faves. You can bet that on July 1st we'll be donning red and white, and celebrating with family, friends, and food. Seriously, yummy food.
This year our Canada Day menu is inspired by what's local, fresh, and fun. My kids, Cela & Remi, are self-proclaimed "cheese monsters." So for sure we'll make a cheese dish, or two. They love ooey, gooey flatbread dippers, zucchini boats, and black bean quesadillas. Cela is an old soul, and fittingly loves aged cheddar. Remi, at two, excitedly explores food through mess and play. He prefers grated cheese. So does our dog, Booboo, who's happy to pick-up the extras that hit the floor.
Grilled Halloumi & Strawberry Salad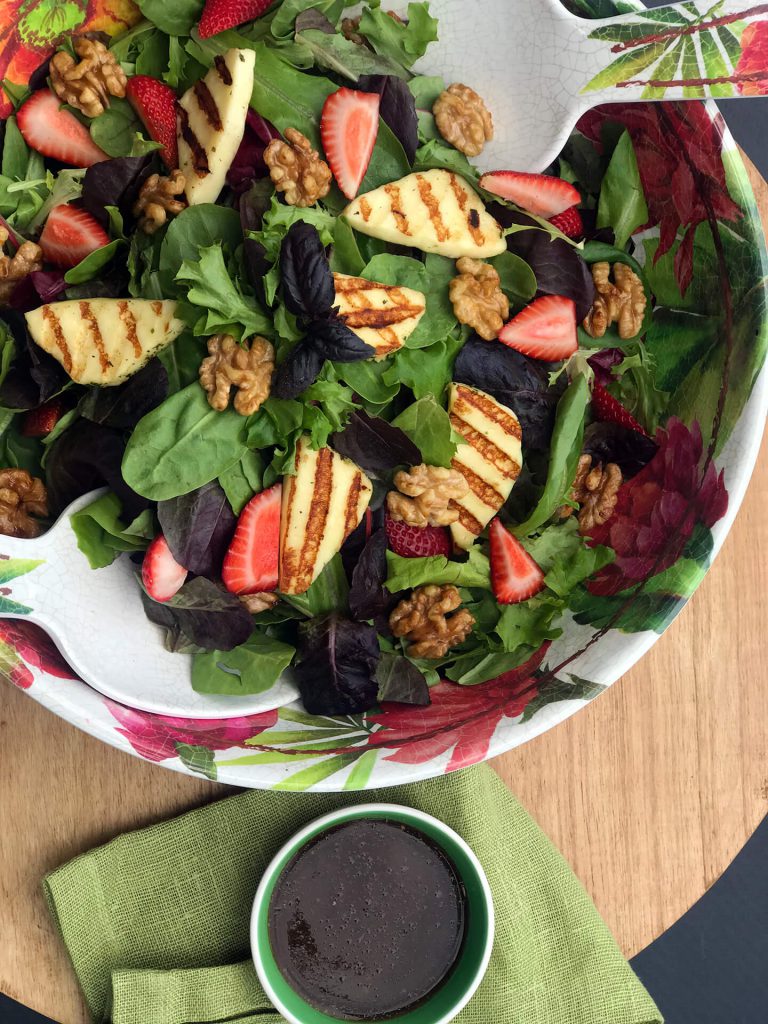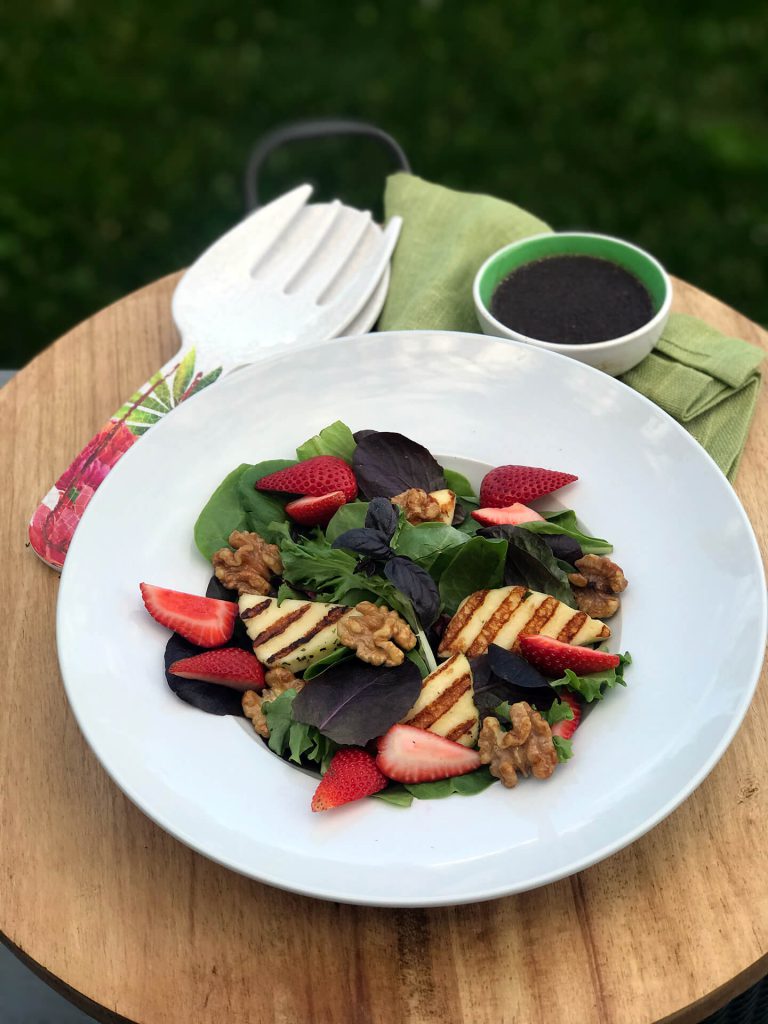 Children are often reluctant, or even afraid to try new foods. But when a familiar food is paired with the unfamiliar they're more likely to positively approach mealtime, and bravely taste something new. As a Dietitian, and mom this is one of the reasons why you'll always find cheese in my fridge. It's my go-to to add friendly, and familiar deliciousness to new foods. As a bonus, we all get the added boost of calcium, magnesium, and protein!
While they accept and enjoy most vegetables and fruits, my kids are not big fans of leafy greens. To help them gain more exposure and appreciation for these nutritional powerhouses, this Canada Day we're reinventing grilled cheese. I'm adding the warm, melty morsels they love to a bright, delicious summer salad. Grilled halloumi cheese served warm on a bed of farm fresh greens, topped with local strawberries, and maple-glazed walnuts. Hungry yet? I know I am! Special thanks to GetJoyfull friend Alberta Milk, and dairy farmers for constant recipe inspiration, and food joy.
Whatever you're up to this Canada Day I sure hope you're with the ones you love, in a place that makes you happy. For us we'll be chilling out in our backyard, fresh off the Canada Day parade, filling up on family time, and (hopefully) all tucking into this delicious salad.
Emily Mardell, RD