Picnic season is here, friends!
I cannot tell you how excited the GetJoyfull family is to get outside for a summer of fun picnicking & playing on repeat. The season is short, so we're determined to make the most of it by trying a variety of new picnic-inspired recipes.
If your kids are like mine, they love a change of scenery when it comes to meal, or snack time. Outdoor eating tends to feel more relaxed, less pressurized and just overall more fun! This is true for big and little kids alike! A picnic blanket, or table is a great "shared space" to learn healthy eating habits, to share food joy and to inspire littles to try something new. 
Something new like a picnic-perfect dish made with the goodness of pulses a.k.a beans, peas, lentils or chickpeas, perhaps? These plant-powerhouses are perfect for picnic season because they're versatile, economical and easy to include in just about any recipe from savoury to sweet [#Partner].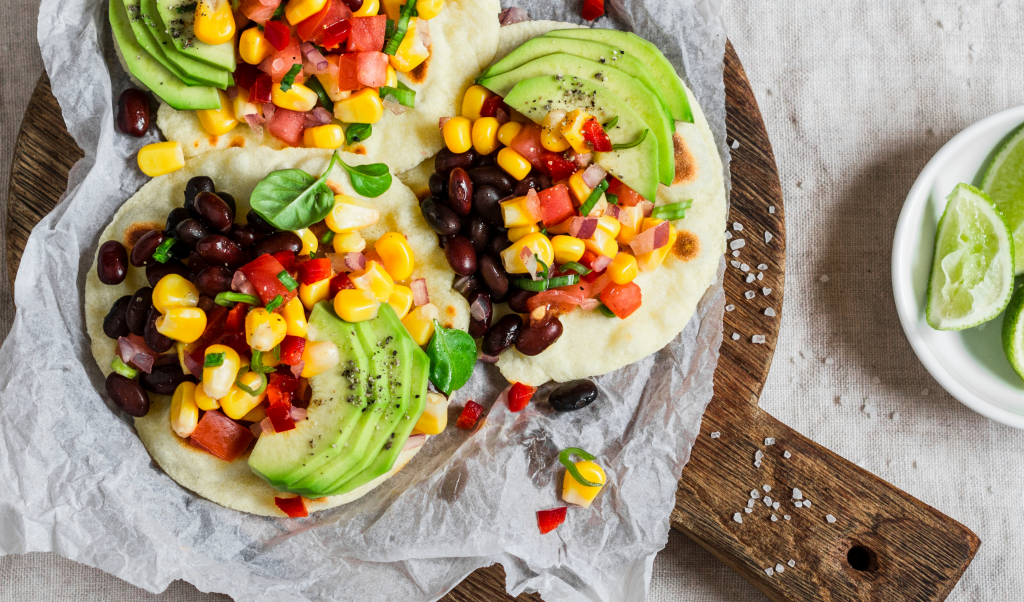 As a Dietitian and mama, I love how easy it is to boost the nutrition of any family picnic with the simple, savvy addition of pulses. Did you know? Beans, peas, lentils and chickpeas have 9 grams of protein and 8 grams of fibre per 1/2 cup (125 mL) cooked serving!
Here are a few of my favourite ways to include them:
Black Bean Brownies. After dinner we often like to take a family walk to the park or a bike ride to the soccer field. My kids LOVE the picnic combo of mini black bean brownies, fruit and yogurt. Something sweet always brings smiles to the picnic blanket and it's one of our favourite ways to slow down, and catch up.
Pulse-Powered Salsa. Toss together some ready to enjoy canned beans, peas or lentils with some finely chopped crunchy veggies, a little citrus and fresh herbs and you've got a filling, tangy sweet salsa that's perfect for dipping or topping your favourite grilled meat, or fish.
Chickpea Hummus. My kids love fresh vegetables like celery, carrots and bell peppers. So, naturally I try to pair them up with new dips and spreads that bring a little protein to the rainbow plate they already want to devour. Over time they've grown to love all kinds of hummus and ask for it on the regular in lunches and during picnic season.
What's your favourite picnic snack? Comment below or share this post and tag @GetJoyfull to let us know!
---
Black Bean & Sweet Corn Salsa
INGREDIENTS:
1 med red bell pepper, finely diced
1 English cucumber, seeded and finely diced
1/2 small red onion, finely diced
1 cob of corn, steamed and grilled
1/2 can, 1 cup black beans, rinsed and drained
1 small handful fresh cilantro, finely chopped
1-2 lime, juiced and zested
1 tsp tsp. (5 mL) canola oil
Salt and pepper to taste
Recipe Tips: 1. Choose "no salt added" canned black beans if a lower sodium option is best for you. 2. When corn is out of season, use thawed frozen kernels instead 3. If you'd like your salsa to have more of a kick, kick…a pinch or two of red pepper flakes!
DIRECTIONS:
On a safe, flat surface, cut kernels of cooked, grilled corn off the cob, and add to medium bowl.
Add remaining ingredients, and gently toss together salsa.
Season to taste and add optional spice such as red pepper flakes, or cumin if desired.
Store in mason jar in refrigerator for up to 3 days.
Serving Suggestions: Enjoy this fresh salsa with pita chips, grilled corn tortillas, or as a topper for grilled fish, chicken, or beef.
Don't forget! For everything you could possibly want to learn about pulses and the power of plant proteins, along with inspiring recipes with black beans, split peas, chickpeas and lentils…download a copy of "Picnic Perfect Pulses" created by fellow Dietitian Debra McLennan of Alberta Pulse Growers.
Heartfelt thanks to APG for supporting GetJoyfull and for helping make this recipe and post possible!
Joyfully,
Emily
Emily Mardell is a Registered Dietitian, busy mama of three and proud Alberta foodie. Emily is passionate about quality ingredients and creating delicious, nourishing recipes that bring families together. Follow her on social media @GetJoyfull or GetJoyfull.com for nutrition advice and tips to grow food joy and fill up on family time.