It was meatless Monday in the GetJoyfull kitchen tonight and one of our favourite plant proteins made a memorable debut on the grill! Anyone else excited for backyard burger season.
Did you know yellow split peas are one of the most plentiful plant-proteins grown on the prairies? It's true! They're amazingly nutritious and the perfect base for homemade veggie burgers.
Cooked yellow split peas, beets, and mushrooms all combine to make an amazing, protein and fibre packed patty. Grilled and garnished with butter lettuce, pickle, red onion, sriracha mayo and crumbled feta it quickly becomes not just a great veggie burger, but one of the best burgers, ever.
Give this recipe a try and be sure to tag us, @GetJoyfull.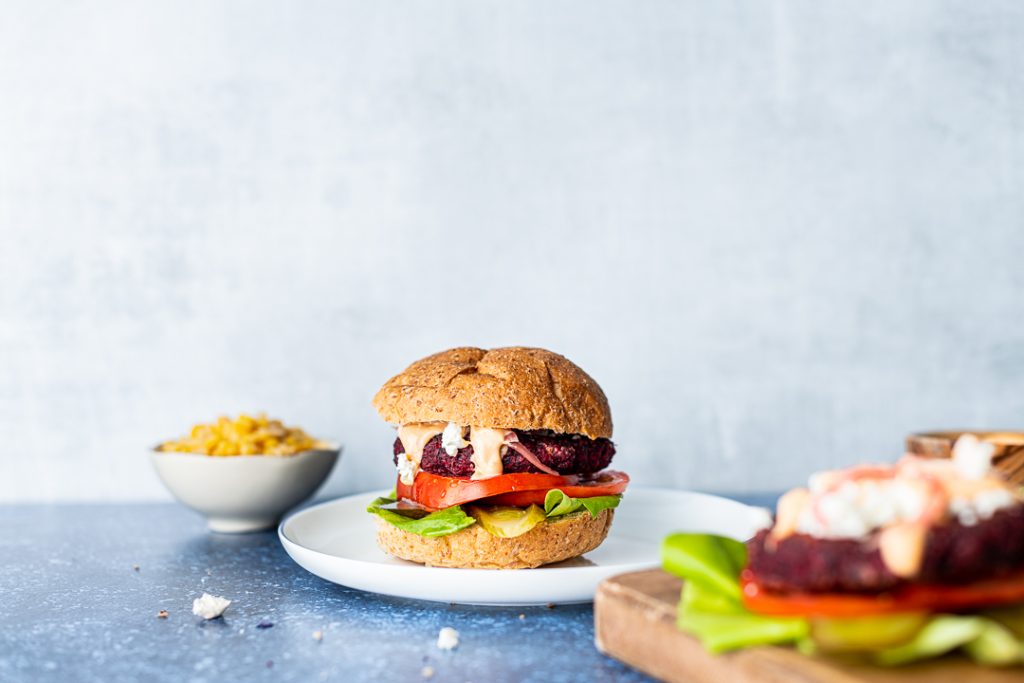 The humble yellow split pea is the unsung hero on the pulse squad. It's mild, nutty and earthy flavour make it an amazing addition to plant-based burgers. Go beyond the ordinary and 'beet' the competition with this extraordinary recipe! 
---
Split Pea & Beet Garden Burger
Ingredients
3 tsp (15 mL) canola oil, divided

1 cup (250 mL) mushrooms, finely chopped 

1 cup (250 mL) beets, scrubbed and finely chopped

1 cup (250 mL) cooked yellow split peas

2 Tbsp (30 mL) yellow mustard

1 tsp (5 mL) smoked paprika

1 ½ cups (375 mL) quick oats

2 eggs, beaten 

Salt & pepper to taste 
Directions
Heat skillet on medium high, add 1 tsp (5 mL) oil as well as mushrooms and beets. Sauté for 3-5 minutes. Season with salt and pepper to taste. Remove from heat.

In a medium bowl, combine cooked yellow peas and sautéed beet and mushroom mixture. Add mustard, paprika, oats and eggs. Stir to combine well into a uniform mixture. Cover and refrigerate for 30 minutes, or up to 24 hours. Mixture will set up and easily form into patties after chilling.

Using clean hands, make 6 burger patties. 

Heat skillet on medium high, add remaining 2 tsp (10 mL) oil and cook burgers until golden and heated all the way through, about 4-5 minutes per side. 

Garnish with fresh lettuce and your favourite condiments!
Garnish with butter lettuce, pickle, red onion, sriracha mayo and crumbled feta. Enjoy with or without whole wheat buns.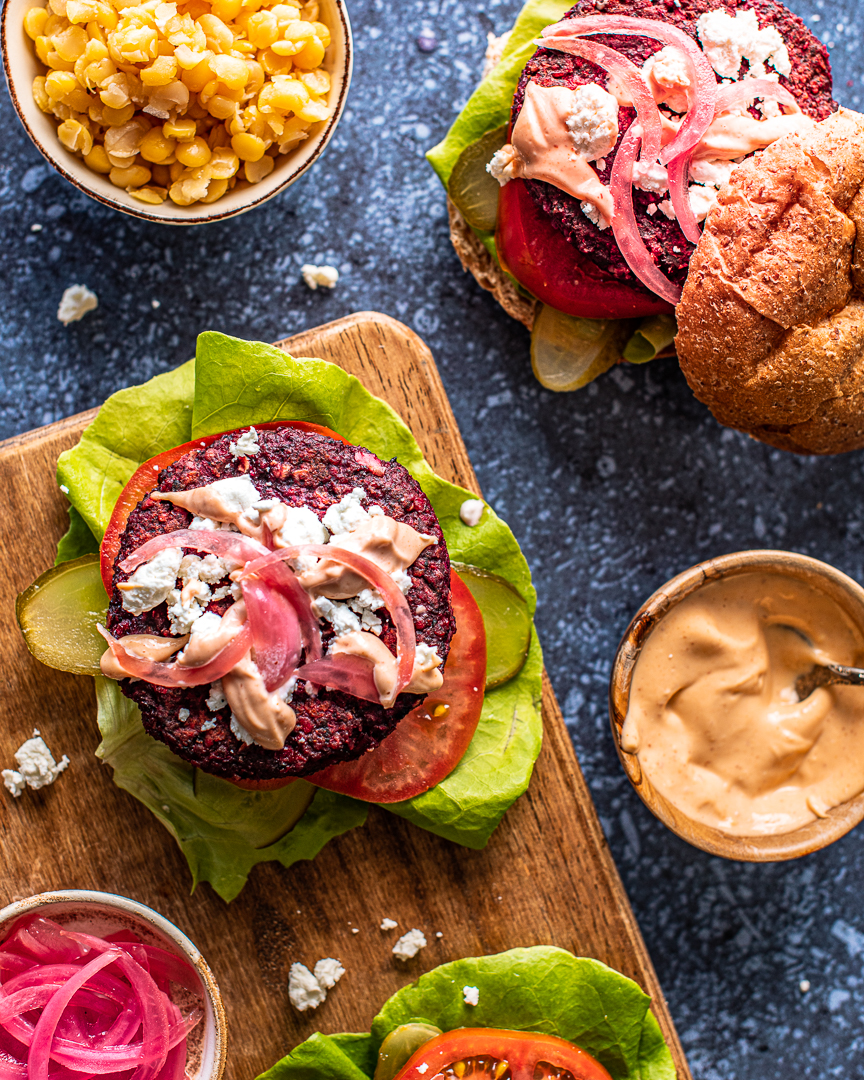 Chef's Tip
"You can often buy cooked beets at the grocery store, which is super convenient. Gloves are a must, if you don't want purple hands. Oh, and your split peas should be cooked a bit further than al dente. For this recipe, soft and mushy is best!" – Chef, Steven Brochu
Did you know? Split peas are packed with important micronutrients. Calcium, iron, magnesium, copper, selenium, folate and choline just to name a few.
1 cup cooked yellow split peas provides 16 grams of protein, zero to no fat and low glycemic carbohydrates that will help you feel energized for a weekend of fun– gardening, playing or swimming at the lake. Whatever activity you most enjoy!
Kitchen Hack: How to cook yellow split peas?
For 1 cup (250 mL) cooked yellow split peas:
Rinse and drain 6 Tbsp (90 mL) dry yellow split peas.

Combine split peas and 1 cup (250 mL) water in a medium size pot.

Bring to a boil and simmer for 30 minutes or until peas are very soft and mushy.

Drain any excess water and gently rinse.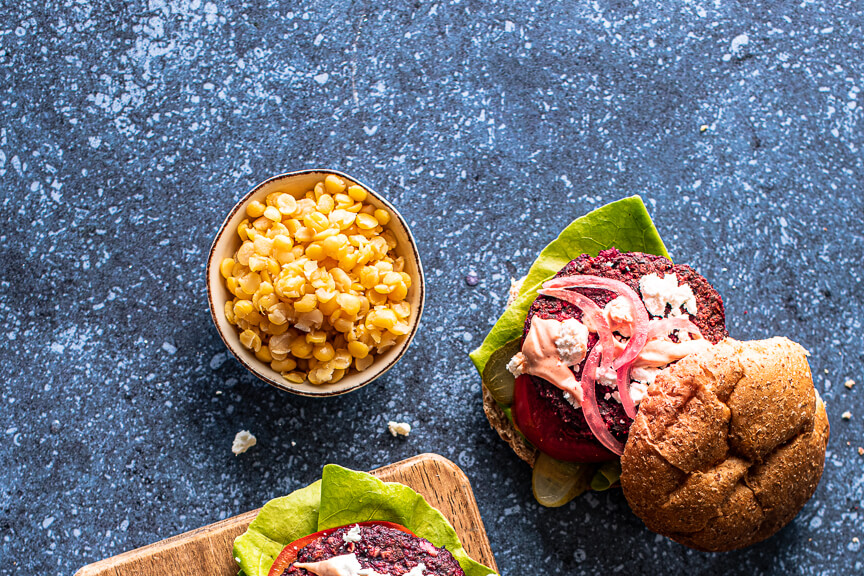 Heartfelt thanks to Chef Steven Brochu and Alberta Pulse Growers for supporting the GetJoyfull movement, and for helping to make this post and recipe possible.
Take care, everyone.
Joyfully,
Emily 
Emily Mardell is a Registered Dietitian, busy mama of three and proud Alberta foodie. Emily is passionate about quality ingredients and creating delicious, nourishing recipes that bring families together. Follow her on social media @GetJoyfull or GetJoyfull.com for nutrition advice and tips to grow food joy and fill up on family time.