Vacations might be looking a little different these days. When we start to miss the beach views and ocean side cooking this recipe is the perfect comfort food for those vacation cravings. Our last family getaway was a long time ago, Esme was just an infant, now her 2nd birthday is approaching in August.
Anywhere there's water is a recharge for me. Whether it's the islander in me, or the Aquarius. I need a regular water fix or I'm just not me. This recipe can be enjoyed in your backyard, at the campsite or at your favourite local picnic spot. 
Alright, let's get down to business. Any cut of chicken will do, but for this recipe, I love a bone-in cut. It's less expensive, fun to eat, and already super flavourful. If you are in planning mode for Father's Day this recipe is sure to be a winner!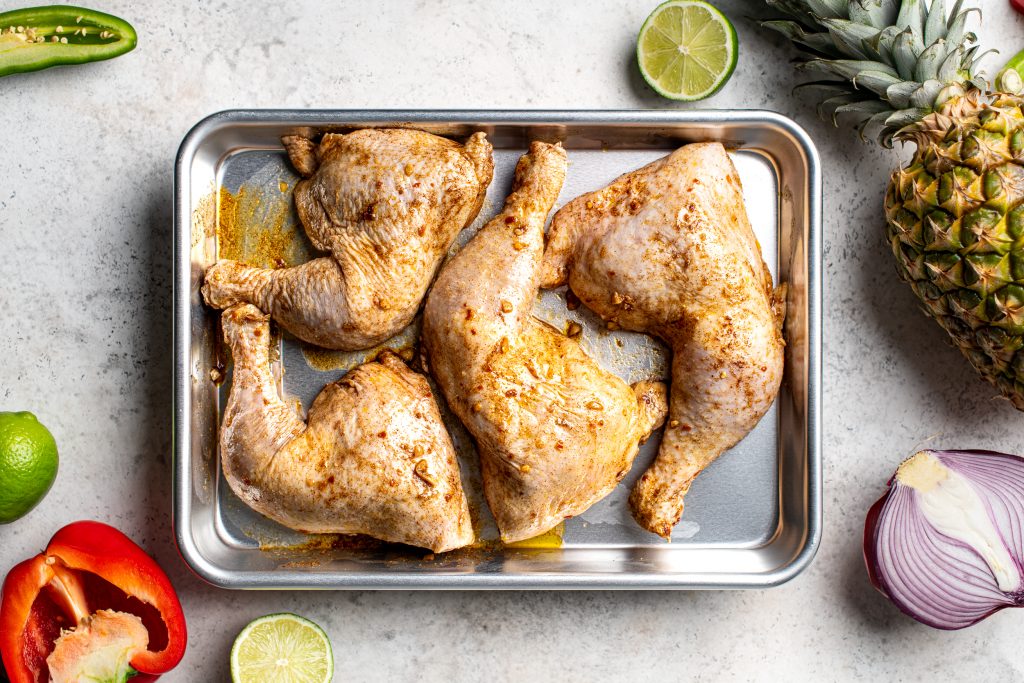 Before you get started here are some air-fryer and grilling tips:
An air-fryer requires little to no cooking oil, but when adding oil make sure it has a high-smoke point such as canola oil.

The circulating hot air in the air-fryer needs room to move. So, be careful not to overcrowd the air-fryer basket and everything will cook evenly. For my family of 6, I made sure to buy the biggest one I could find, lol.

When grilling, try a silicone grill liner, it really helps with even cooking, and easy clean-up!

For perfect results, invest in a quick-read thermometer. Before serving, test to make sure your chicken is cooked to an internal temp of 165°F before serving. Also allow your chicken to rest for 5 minutes before digging in! 
---
Air-Fryer Tropical-Inspired Chicken & Fixins
Crispy, juicy tropical-inspired chicken with coconut-lime rice & fresh pineapple salsa.
 Serves 4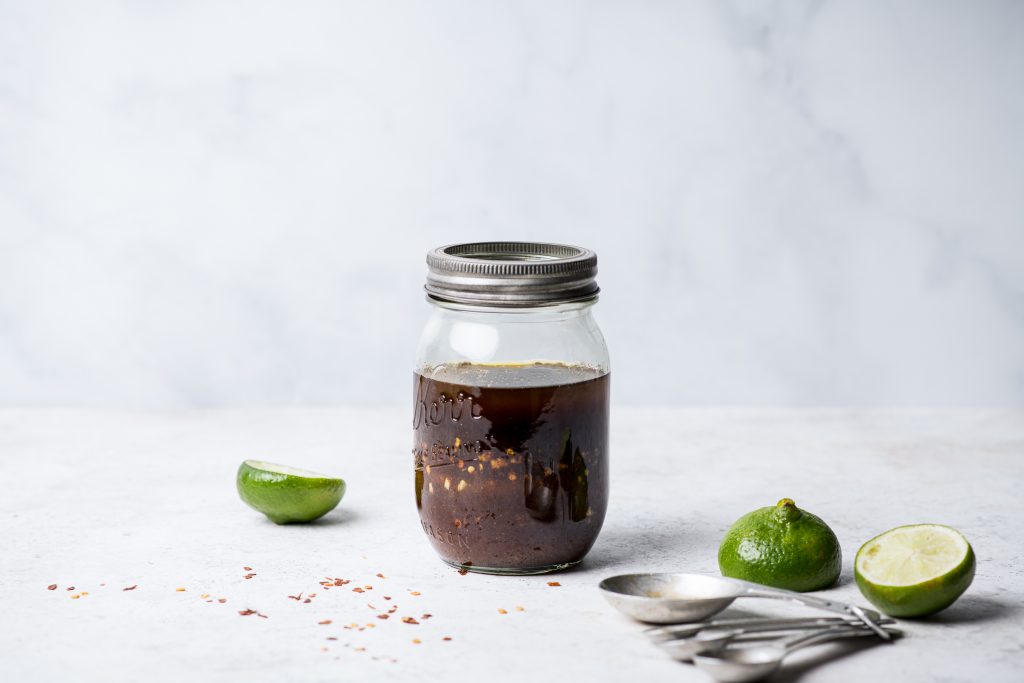 Chicken and Tropical-Inspired Marinade
Ingredients:
Chicken:
4 bone-in chicken leg & thigh combo pieces
Marinade:
¼ cup (60 mL) cold-pressed canola oil 

Juice of 2 fresh limes

2 Tbsp (30 mL) tamari

1 Tbsp (15 mL) Alberta honey 

3 garlic cloves, minced

1 Tbsp (15 mL) allspice

1 tsp (5 mL) onion powder

½ tsp (2.5 mL) ground nutmeg

½ tsp (2.5 mL) red pepper flakes
Directions: 
Add all ingredients into a medium bowl, or large ziploc bag. Mix thoroughly.

Add chicken, cover and refrigerate to marinate for 2-24 hours. 

Preheat the air-fryer to 400°F. Add chicken and set cooking time to 20-25 minutes. 
Tip: If you're more of a BBQ fan, this recipe is amazing on the grill. Preheat your grill to 375°F, and grill chicken for 12-15 minutes per side, or until it's fully cooked to an internal temp of 165°F.
---
Coconut-Lime Rice
Ingredients:
2 cups (500 mL) Jasmine rice, rinsed

1 ¼ cups (310 mL) low-sodium chicken broth, or water 

1 cup (250 mL) light coconut milk (canned)

Juice and zest 1 fresh lime
Directions:
Prepare rice as per directions. Replace water with a combination of broth and coconut milk. 

Add juice and zest when cooked and right before serving.
---
Fresh Pineapple Salsa
Ingredients:
1 cup (125 mL) fresh pineapple, finely diced

1 red pepper, finely diced 

½ medium red onion, finely diced

1 handful, ~½ cup (125 mL) fresh cilantro, chopped

1 jalapeno pepper, seeded and finely diced

Juice of 1 fresh lime

1 tsp (5 mL) Alberta honey

Salt and pepper to taste
Directions
Add all ingredients to a medium bowl. Stir gently to combine. Cover and refrigerate Refrigerate Allow fresh salsa to enhance in flavour for 30 minutes or up to 2 hours. 
Heartfelt thanks to Alberta Chicken Producers for supporting the GetJoyfull movement and inspiring joy in our kitchen and beyond.
Take care, everyone.
Joyfully,
Emily
Emily Mardell is a Registered Dietitian, busy mama of three and proud Alberta foodie. Emily is passionate about quality ingredients and creating delicious, nourishing recipes that bring families together. Follow her on social media @GetJoyfull or GetJoyfull.com for nutrition advice and tips to grow food joy and fill up on family time.