The outdoor soccer officially kicked-off this week, and my Cela could not be more thrilled to get her cleats dirty, and reconnect with grass stains, and her lively group of friends. Donning cool jet black uniforms they're better known as the "Night Furies!" Our weeknights are definitely about to get a little more wonderful, and a little more wacky. Soccer parents, you know what I mean, lol. The true sporting event is making supper, packing snack, finding clean socks, and loading everyone in the car in 30-minutes, or less! 
For our family, rushing home from school, and work without a supper plan has proved to be a recipe for disaster on several occasions. And, trust me, the Mardell's are not a happy crew when over-hungry, and under-fuelled. Thankfully, we've discovered the function, and food joy of sheet pan suppers.
"By leveraging leftovers, and adding seasonal colour crunch, these one-pan wonders come together super quick, and create a few moments of family time before we need to bolt out the door."
One of our favourite combinations is the "Sunny Sheet Pan Supper." I typically layer leftover roasted potatoes, or sweet potatoes with quick cooking favourites like eggs, tomatoes, and asparagus. Paired with sourdough toast fingers, and apple slices everyone is happy, fuelled, and ready to cheer.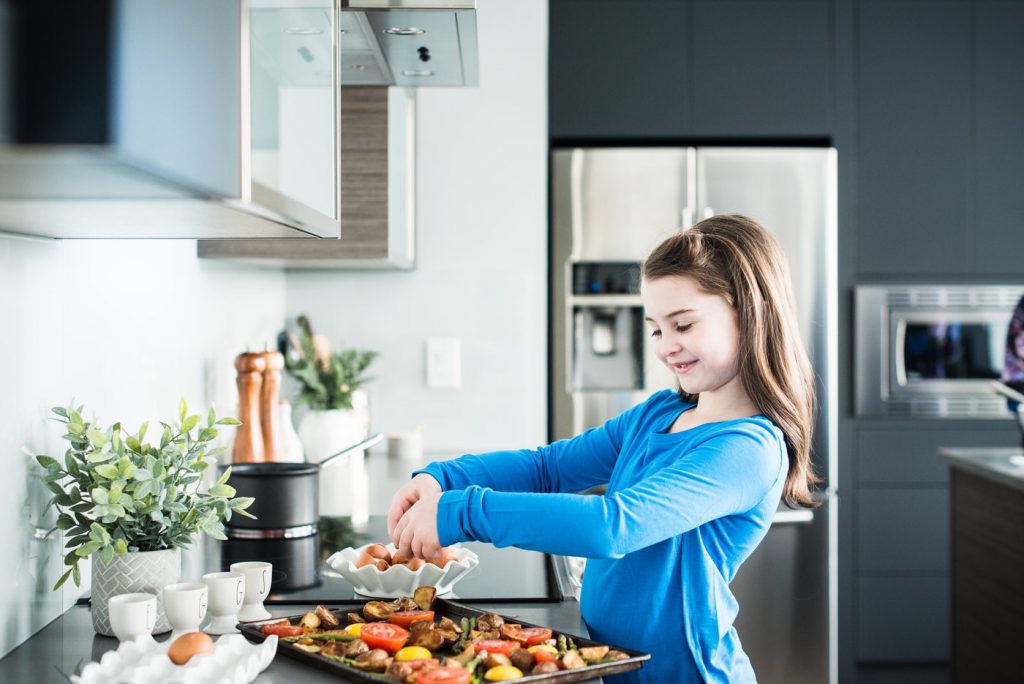 "Our little ray of sunshine likes to crack the eggs. That proud smile is what happens when you bet your Papa $5 bucks you won't break a yolk, and win."
INGREDIENTS
Serves 4-6
4-6 free range eggs

2 cups leftover roasted potatoes, quartered

1 bushel asparagus, about 20 spears, stems removed, and halved

20 grape tomatoes

2 spring onions, chopped

2 Tbsp. Italian parsley, chopped

Salt and pepper to taste

Balsamic glaze, optional
DIRECTIONS
Preheat oven to 400 degrees.

Evenly coat non-stick pan with oil, or cover with parchment paper
Layer potatoes, asparagus, and tomatoes on pan.
Crack fresh eggs onto pan, and season with salt and pepper.
Bake for 12-15 minutes, or until eggs reach desired doneness.
Serve family-style with toasted sourdough bread.
Garnish:
Garnish with spring onions, and balsamic glaze, if desired.
What's your favourite way to enjoy breakfast for supper? 
There's something about breakfast, or brunch fare that simply makes us all feel a little happier. Cela is convinced it's the work of the "sunny yolks" made deliciously possible by happy free range hens. And, I have to agree with my little foodie. After all, how gorgeous are these eggs!?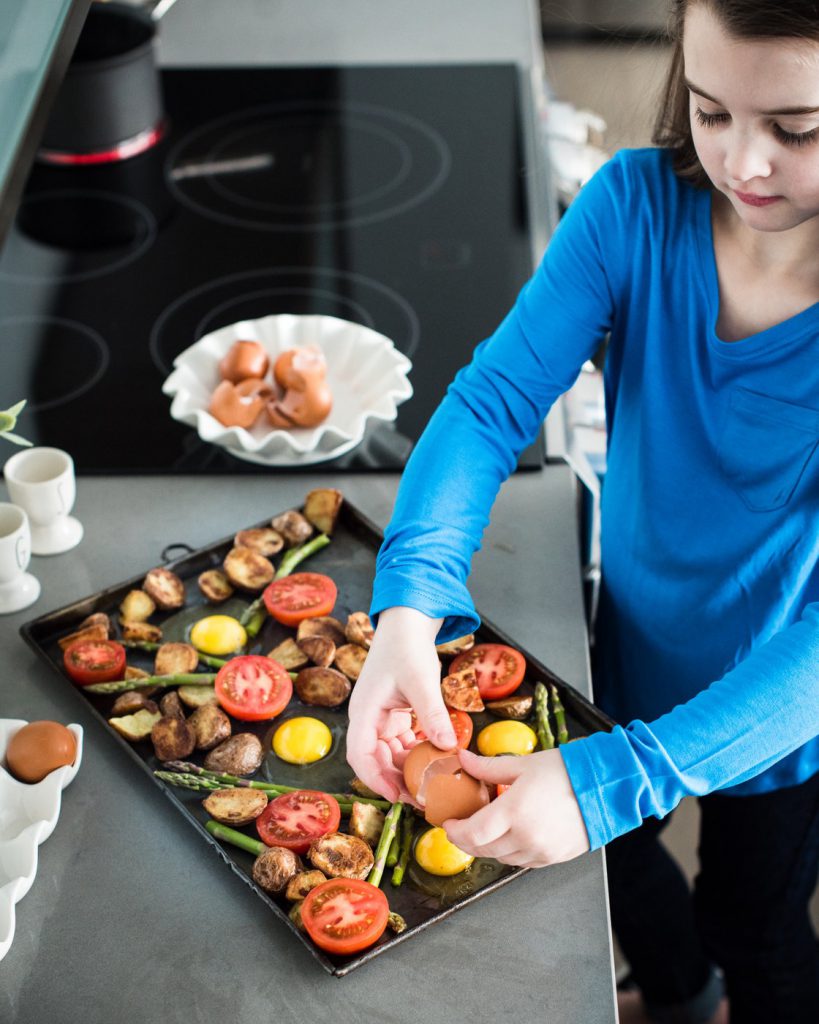 But seriously, as a Mama, and Dietitian there are so many reasons to appreciate eggs. Eggs are one of few foods considered to be a complete protein boasting all 9 essential amino acids. They also contain lutein, as well as vitamins A, D, E, B12, folate, choline, zinc, and iron. They're practical, economical, and quite literally one of the most versatile, busy-parent-friendly foods around.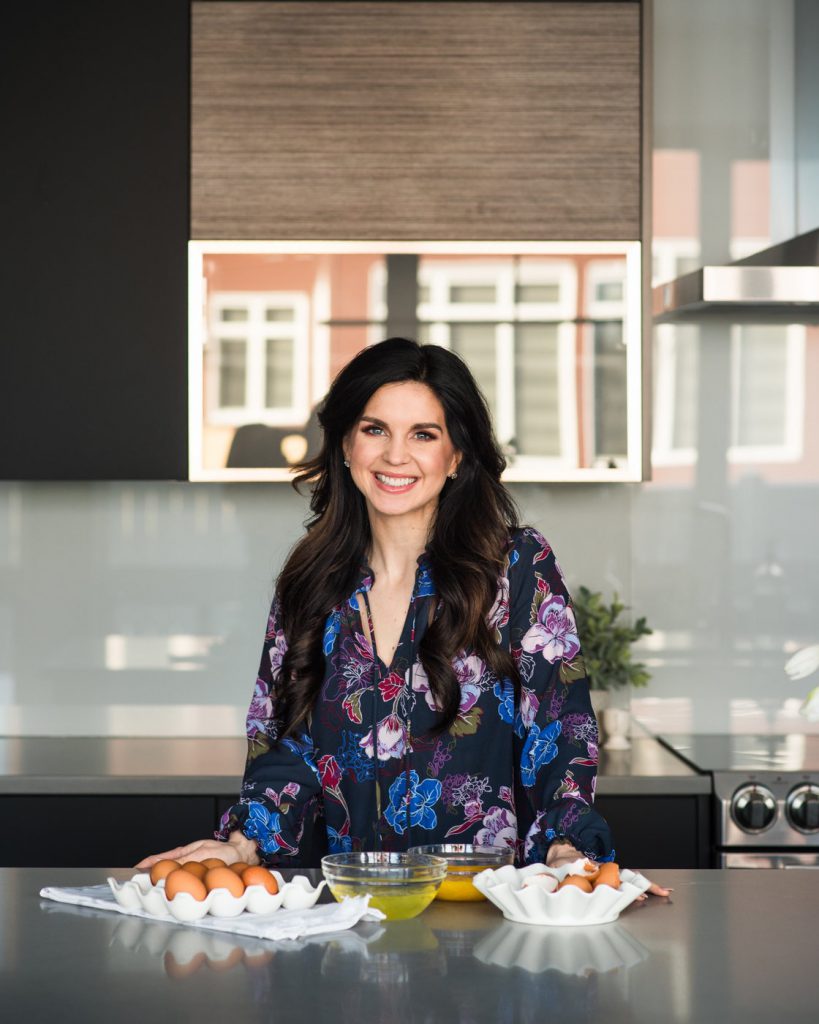 Thanks to our friends at Egg Farmers of Alberta for supporting GetJoyfull and helping to make this post, and recipe possible. We are so thankful to Alberta farmers for the foods they produce, and the colour, quality, and joy they bring to our family table.
Joyfully,
Emily