GetJoyfull "Saves" for picky eating "Parent Traps."
Picky eating is a challenge that nearly all parents face. From kids who are so distracted with the promise of dessert they rush through dinner, to those who flat-out refuse certain foods — every single time. Dealing with picky eating can make even the most relaxed parent feel, well, a little nuts.
There's good news! A lot of what we perceive as picky eating is simply normal. For kids, food, especially new foods, can be intimidating, even scary. A friendly broccoli floret is actually seen as a mean green villain. A tender piece of chicken, a hard-to-chew sock. A garden soup, with all ingredients "touching", is just evil in a bowl. Is this at all familiar?
But how do we cope? How do we coach kids through picky eating, without falling into "parent traps" that catapult picky eating into routine mealtime mayhem? Thankfully, we parents — we're all in this together! Let's explore some common picky eating "parents traps" with recipes and tips to help you take the heat off, empower healthy eaters, and bring joy back to family mealtime.
---
Scenario #1 – GRAZING
The Grazer — This is the kid who is hungry, or "peckish" all day long. He prefers to eat on-the-go, or while playing or screen watching. It's nearly impossible for him to sit still during a meal, and he raids the pantry every chance he gets!
Parent Trap: Relying on processed foods.
When your kid is constantly hungry and expects a 24-hour kitchen, it can be pretty overwhelming for the "head chef." Unfortunately, in this situation, it can be easy to fall victim to the "parent trap" of relying on processed foods that lack quality to fill tiny tummies with the energy, satisfaction and nutrients they need. No wonder they're hungry in ten minutes?! 
GetJoyfull Saves:
Plan and prep ahead. Create a weekly "top 5" snack list. Have them at the ready.
Use the clock! Offer routine, and scheduled meals and snacks.
Focus on quality! Provide snacks with protein, healthy fat, and fibre.
In our house we love this recipe for Roasted Chickpeas. It's bursting with fibre and protein! They are also super inexpensive (you can buy them for just ~$1 a can!), make a great peanut free-alternative for school and are versatile to please all tastes. We spice-up these crunchy morsels with all different flavours including Cela's favourite "Pizzalicious!"
Roasted Chickpeas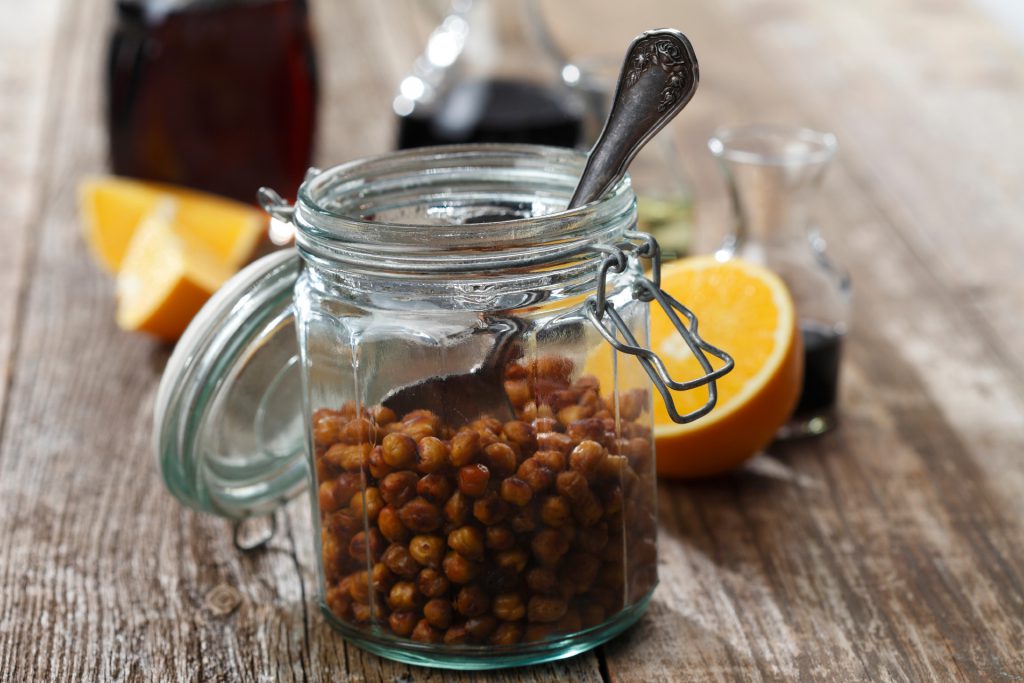 Ingredients:
2 x (540 mL) cans no salt added chickpeas, drained and rinsed

3 Tbsp canola oil

1/4-1/2 cup preferred spices (cajun, curry, garlic powder, chili powder…etc.)
Directions:
Preheat oven to 400 ̊F (200 ̊C).

Combine all ingredients in medium bowl and spread on parchment paper or greased cookie sheet.

Bake for 30 minutes. Stir.

Bake another 20 minutes, stirring every 5 min.

Let cool and enjoy!

Once cooled, store in an airtight container.
Variations:
Pizzalicious:

Italian seasoning blend and finely grated parmesan cheese.

Sea Salt & Vinegar:

Sea salt to taste and apple cider vinegar.

Cinnamon Sugar:

Ground cinnamon, coconut sugar & shredded unsweetened coconut. (Tip: Add sugar and coconut during last 5 minutes of cooking so not to burn chickpeas)
---
Scenario #2 – REFUSING
The Refuser — This is the kid who is reluctant to try new things, and outright says, "I'm not eating that, or "I don't like that." Even though they may have never tried it before!
Parent Trap: Becoming a short-order cook.
All out refusal to eat can be super frustrating. You've taken the time and energy to prepare a great meal, and the first thing you hear is, "Yuck, I am not eating that." Ouch! It is genuinely concerning because as parents we all want our kids to eat and grow well. Refusing to eat can make us fearful, and jump head first into the second parent trap – becoming a short order cook!
Remember, a refused meal here or there is not going to impede healthy growth. Luckily kids are born "regulators," and intuitively know how much food they need to eat to grow the way they're bodies are meant to grow. Next time you hear "I don't like that" stop, take a deep breath, and reset with the following GetJoyfull tips.
GetJoyfull Saves:
Offer balanced meals. A healthy eating pattern develops occurs over time — balance fuels variety!
Empower "brave bites" with the "icky napkin" technique.
Role-model healthy eating.
For my Cela, leafy greens are definitely the enemy, but instead of avoiding it we embrace it and do our best to still serve it up for dinner whenever we can. By seeing others eat leafy greens and still offering them to her on a regular basis the hope is over time she will overcome her distaste, and in the meantime we implement the 'icky napkin' strategy just in case. The 'icky napkin' is just a regular table napkin that encourages kids to still try whatever is on their plate with the option of politely discarding it in the 'icky napkin' if they don't want to swallow. It has worked wonders to help our kids overcome their fears of trying new flavours – truly a mealtime lifesaver!
Furthermore, by adding more plant-based proteins to your recipe repertoire you're offering up quality protein, and iron that is easy to incorporate into many of the meals kids are already loving. My favourite plant-based protein is currently the humble lentil. I fell in love with lentils while on a farm to table tour in Radisson, Saskatchewan, and have been cooking with them, weekly, every since.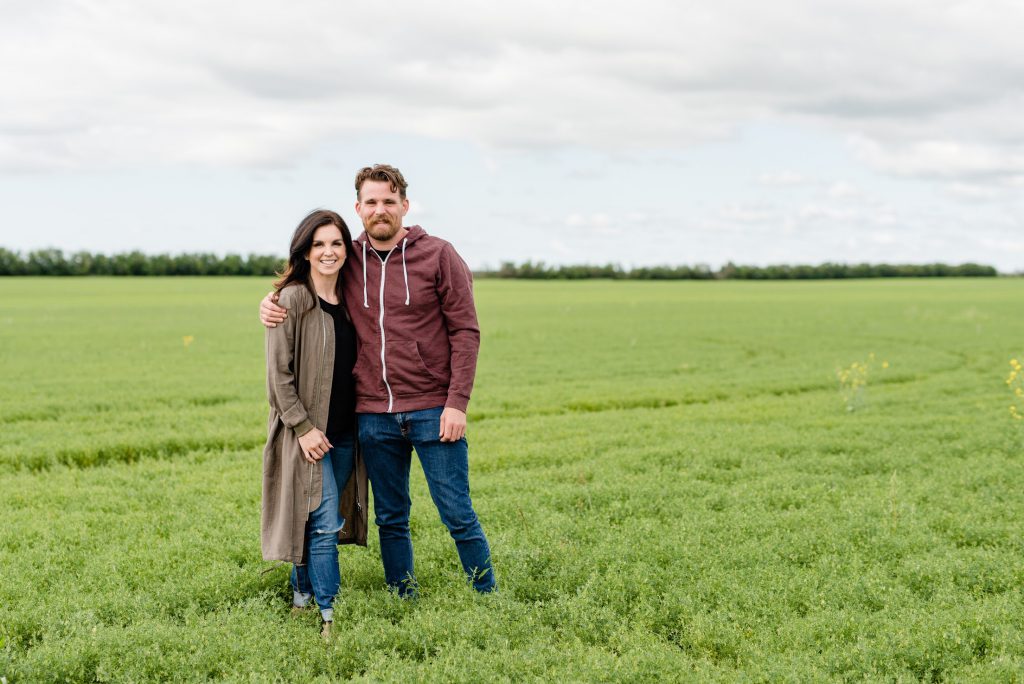 Farmer Corey Loessin shared his knowledge through an amazing hands-on tour, and Top Chef, Dale Mackay (pictured) crafted too many beautiful lentil dishes to count! This next recipe for Hoisin Turkey & Lentil Lettuce Wraps being on of them. Easy, family-friendly and delicious!
Hoisin Turkey & Lentil Lettuce Wraps
Ingredients:
Canola oil, for cooking

1 lb (500 g) ground turkey

1 red bell pepper, cored & diced

2 garlic cloves, minced

1 Tbsp fresh ginger, grated

1/4 cup cilantro stems, chopped

1/4 cup dry red lentils

1/3 cup water

1/3 cup hoisin sauce

1 Tbsp soy sauce (or tamari)

2-3 green onions, chopped

1 head butter, romaine, or leaf lettuce
Directions:
Heat a drizzle of oil over medium-high heat in a large, heavy skillet.

Add the ground turkey and red pepper and cook, breaking up with a spoon until the meat is no longer pink.

Add the garlic, ginger, cilantro and lentils and cook, stirring, for one minute.

Add water and simmer for 10 minutes until the lentils are tender, any excess moisture has evaporated and the meat has started to brown.

Add hoisin sauce, soy sauce and green onions. Cook for another minute or two, stirring to coat well and heat through.

Core head of lettuce, separating leaves. Serve turkey-lentil mixture in bowl with lettuce leaves for lling. Top with chopped peanuts and fresh cilantro if desired.
---
Scenario #3 – "DESSERT-ING"
The Sweet Tooth — This is the kid who rushes through dinner to get to dessert, or is distracted or motivated by sweets. So — almost every kid, lol.
Parent Trap: Bribing, pressuring and rewarding.
"Eat your dinner, and then you can have dessert." Is that a familiar phrase in your house? Or was it for you as a child? Dessert has long been used as a negotiating tool to get kids to eat their "main meal." Instead we're flipping the whole thing on its head and recommending when serving dessert serve it with dinner! I know crazy right, but hear me out this strategy can work like magic! 
GetJoyfull Saves: 
Serve sensible, "kid-size" portions.
Avoid food rewards, and punishments.
Teach children to honour their hunger & fullness.
If you're a dinner guest at our home it might surprise you that if dessert is on the menu it is served alongside the main meal. This means Cela & Remi's plates can look a little funny at times — spaghetti, meatballs and ice cream, anyone? My friend, and super mama colleague, Sarah Remmer, shared her thoughts on this in a recent article for CBC, and it's too good on to share! Kids tend to rush through meals — they undereat, overeat, get distracted or prioritize dessert when it's served after dinner. You can change that by making dessert part of the main meal. It will calm the dinner hour, help kids tune into their natural hunger cues and teach them that all foods can fit, not just green and orange ones. I love this dessert recipe for Hiker's Bars, in the GetJoyfull kitchen we reduce the sugar by half, and still this scratch-made recipe never fails! 
Hiker's Bars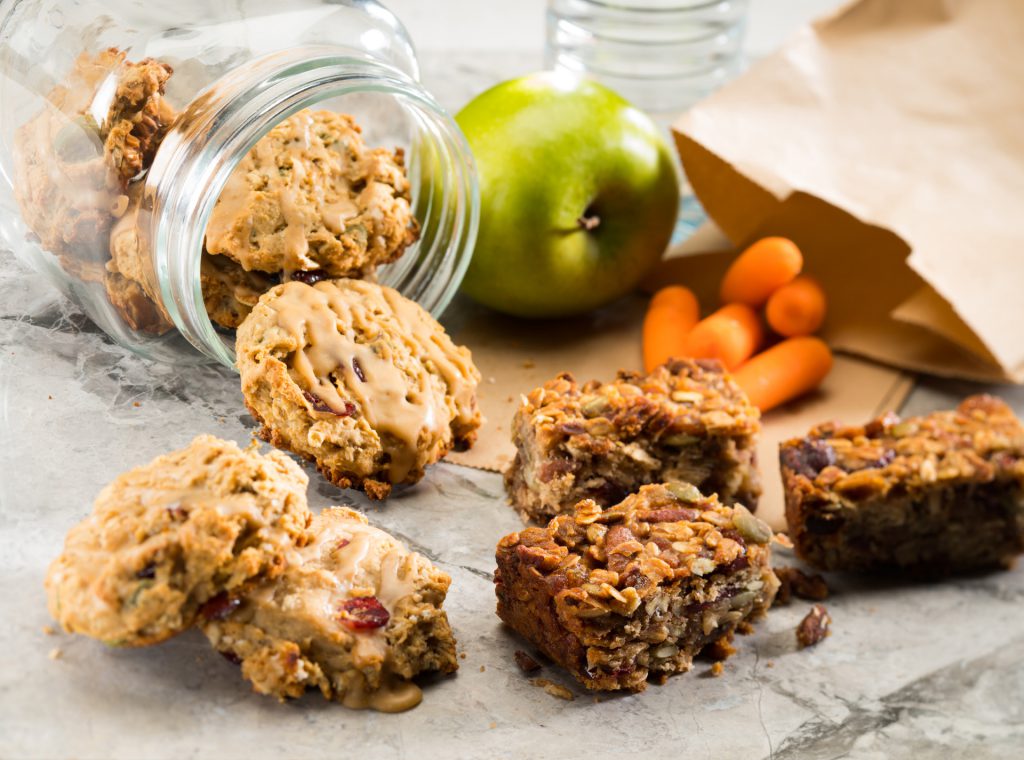 Ingredients:
1 (540 mL) can no added salt white beans, drained & rinsed

1/4 cup pea butter or nut butter

1 egg

3 Tbsp canola oil

1/2 cup brown sugar*

1 cup whole-grain flour

1 cup oatmeal

1 ½ cups mixed nuts, seeds and dried fruit of choice

1 tsp cinnamon

½ tsp baking powder

½ tsp baking soda

½ tsp salt
Glaze:
2 Tbsp maple syrup

¼ cup icing sugar
Directions:
Stir bean mixture into dry ingredients until well combined. Mixture will be sticky.

For Cookies: Spoon 2 Tbsp (30 mL) batter, spaced evenly on the cookie sheets. Bake for 15 -18 minutes, until bottom of bar is browned and top is firm to the touch. Careful not over bake.

For Bars: With moist hands or a large spoon dipped in water, press the mixture firmly into prepared pan to compact. Bake for 35 – 40 minutes until lightly browned on top and edges have pulled slightly from the sides. Cool completely in pan. Use the sides of the parchment paper to lift out. Cut into bars.

Maple Glaze: In a small bowl, stir maple syrup and icing sugar until smooth. Drizzle lightly over cookies or bars. Allow glaze to harden prior to storing in an airtight container.
I hope these recipes and "saves" give you some inspiration, and help to take the heat off meal time. After all, if we can reduce the pressure, both on ourselves, and our children,  we're bound to add joy back to the family meal. And, here at GetJoyfull – that's our favourite ingredient.
We'd like to extend a big thanks to Alberta Pulse Growers for partnering with GetJoyfull to help make this edition of "Take the Heat Off" possible. Especially to fellow RD Debra McLennan for her mentorship, and guidance. For more great pulse recipes – download their digital recipe booklet below.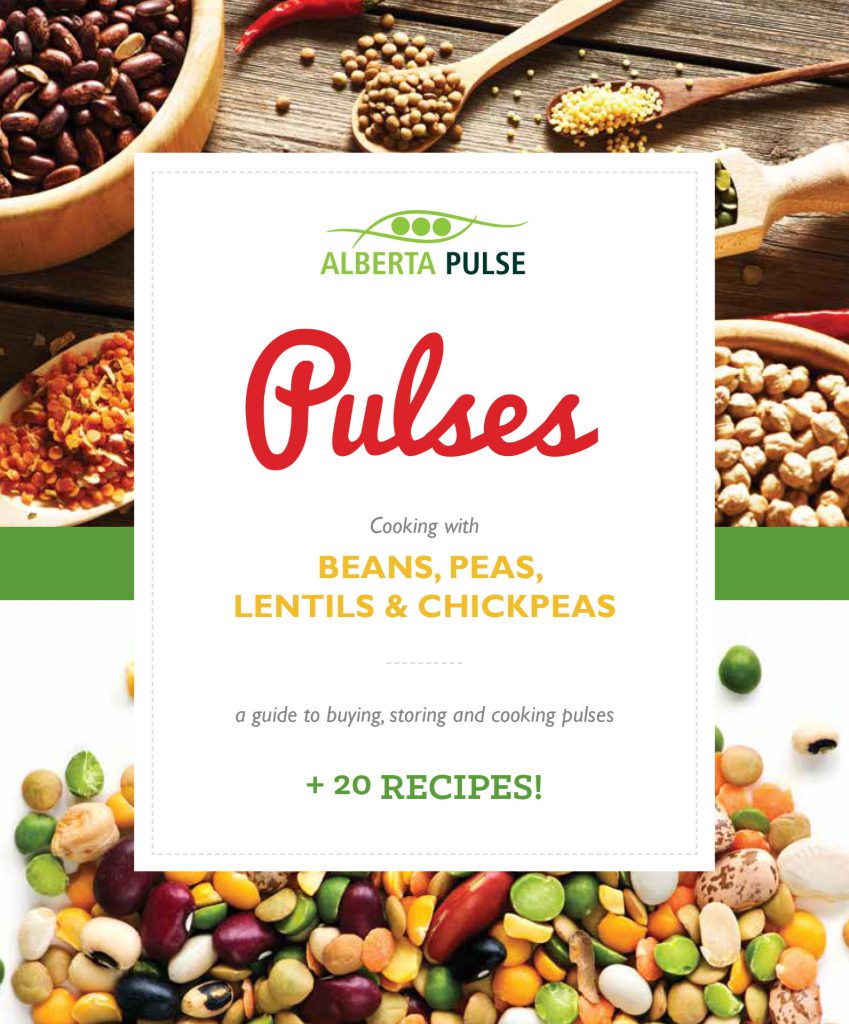 Happy Nutrition Month everyone! And of course don't forget to Fill Up On Family Time.