It's starting to feel like my favourite time of year again. Fall is in the air! Are you into it, too? Ankle boots, flannel knits, and cozy one-pan wonders are all making a comeback in the GetJoyfull household. Friends, I'm so here for it!
This week, our Tandoori-style chicken, prepped with one of my go-to cooking hacks "Spatchcocking," is on our menu. "Spatchcocking," or "butterflying" whole chicken is super simple to do, makes everything crispy and golden, and cuts the roasting time in half. Need I say more?
"Spatchcocking is the ultimate busy weeknight time-saving technique! Flattened chicken is fast and fabulous. Give it a try!"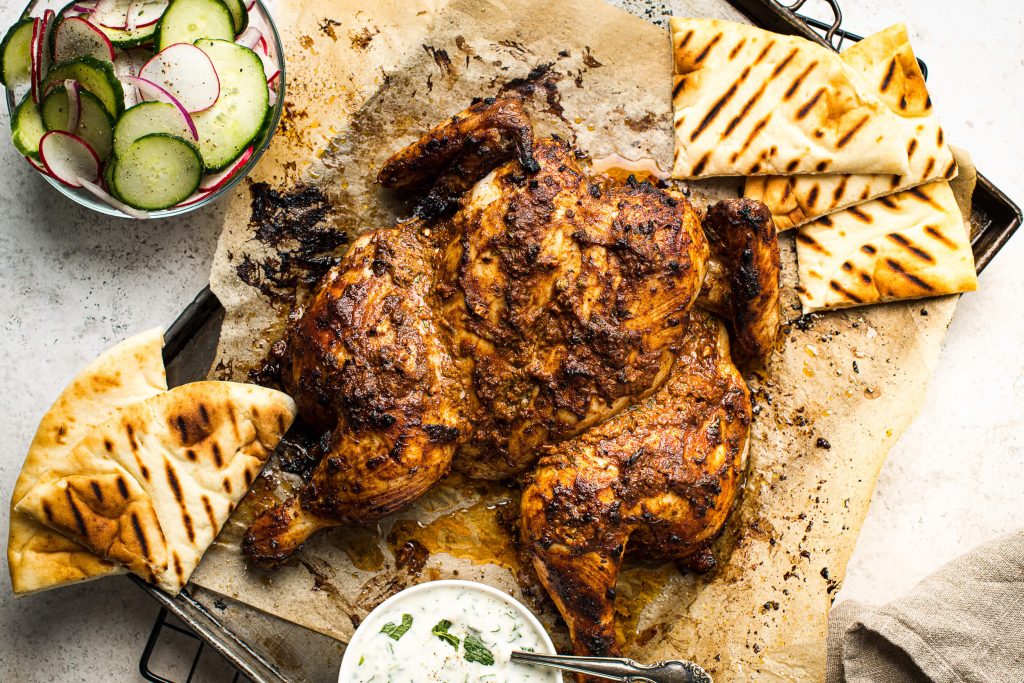 Crispy, golden and perfectly spiced. This one-pan wonder is sure to be your new weeknight family favourite recipe!
Get a head start on this and other family recipes for the week with a handy grocery list app. We love the FREE "Grocery List app by Chicken Farmers of Canada, available for both Apple and Android.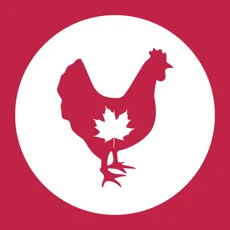 Grocery List by Chicken.ca
Chicken Farmers of Canada
Apple | Android
---
Tandoori-Style Chicken with Cucumber Salad & Naan
---
Serves: 6
Prep time: 15 minutes
Cook time: 45 to 60 minutes
Ingredients:
Spiced Spatchcocked Whole Chicken
3/4 cup (175 g) plain Greek yogurt

1 Tbsp (15 mL) vegetable oil

Juice 1/2 lemon 

1 Tbsp (15 mL) fresh ginger, grated

1 Tbsp (15 mL) fresh garlic, minced (3-4 cloves) 

2 tsp (10 mL) paprika

2 tsp (10 mL) ground cumin

1 tsp (5 mL) ground coriander 

1 tsp (5 mL) cinnamon

1 tsp (5 mL) cayenne pepper

Salt and black pepper to taste

¼ cup (60 mL) fresh cilantro, finely chopped (plus extra for garnish)

1, 4 lb whole chicken, spatchcocked 

6 individual naan bread
Pop over to our Instagram reels to see how quick & easy it is to master this time-saving technique!
Cucumber-Radish Salad
1 English cucumber, thinly sliced 

10 radishes, trimmed and thinly sliced 

½ red onion, thinly sliced

¼ cup white vinegar 

1 tsp (5 mL) honey

Salt and black pepper to taste
Yogurt-Mint Sauce
½ cup (115 g) plain Greek yogurt

Juice ½ lemon 

1 tsp (5 mL) honey

1 tsp (5 mL) vegetable oil

2 tbsp (30 mL) fresh mint, finely chopped

1 spring onion, finely chopped (optional)

Salt and black pepper to taste
Directions:
In a small bowl combine ¾ cup yogurt, oil. lemon juice, spices and cilantro. Set aside.

Spatchcock chicken by carefully removing backbone with a pair of kitchen shears. Firmly press the breastbone to flatten. 

Use a pastry brush (or the back of a spoon) to evenly coat the chicken in the spiced yogurt mixture. Cover with plastic wrap (or add whole chicken to a large 'ziplock' baggie) and allow to marinate in the refrigerator for 4, up to 24 hours.

Preheat the oven to 400 F. Place marinated chicken on a parchment lined baking sheet and roast for approximately 45 minutes, or until the internal temperature reaches 165 F.

While chicken is roasting, prepare cucumber salad and yogurt-mint sauce. In a medium bowl combine all ingredients for salad. Refrigerate and serve when chicken is ready.

In a small bowl combine ingredients for yogurt-mint sauce.

Remove from the oven and allow the chicken to rest for 10 minutes before carving to serve.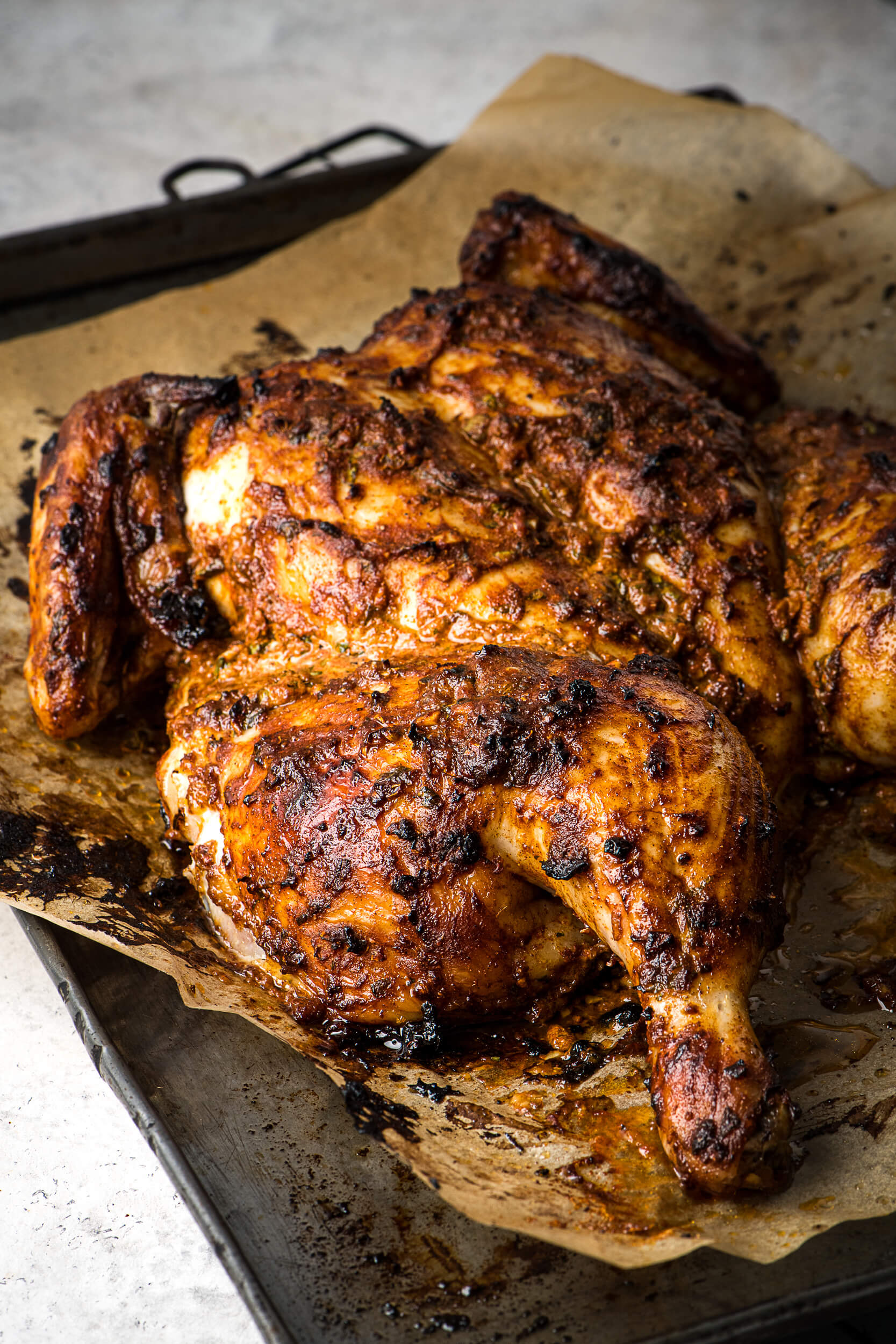 Served family-style right from the tray, with warm bread and cool cucumber salad—it's simply made, and simply delish! We sure hope you give this recipe a try, too.
Let us know if you do by sharing your comments here, or tagging @GetJoyfull on Facebook, Twitter or Instagram.
Heartfelt thanks to our partner Alberta Chicken Producers for supporting the GetJoyfull movement and for making this recipe collaboration possible.
Happy fall, everyone.
Joyfully,
Emily
Emily Mardell is a Registered Dietitian, busy mama of three and proud Alberta foodie. Emily is passionate about quality ingredients and creating delicious, nourishing recipes that bring families together. Follow her on social media @GetJoyfull or GetJoyfull.com for nutrition advice and tips to grow food joy and fill up on family time.