Wow, it's already September, friends. (How is that possible?!) Beeping alarm clocks, sleepy teenagers, growling tummies, last-minute homework tasks, early bus schedules and busy commutes. Sound familiar? Yup, school is back and our already busy mornings are about to get busier! 
Brush your teeth, pack your agenda, grab your lunch box, fill-up a water bottle, find your homework. Sound familiar? (And, "Yes, Remi, you have to wear socks. Two socks!)
Streamlining our family's school-day morning routine so we can still enjoy a balanced, energizing breakfast is a MUST for us. Otherwise, we're all sure to end up at work and school, late, over hungry and just out of sorts. (It's no wonder we have sticker charts upon charts!)
Thankfully, breakfast doesn't have to be complicated and with the help of a few simple strategies, families can enjoy breaking-the-fast, and beating-the-morning-rush, together!
How does your family tackle busy mornings?
Besides general prep like making lunches the night before, and picking out just the right outfit, our fam jam really tries to prioritize a balanced breakfast. After all, there are SO many benefits!
This is a great graphic, courtesy of the Breakfast Club of Canada, which shares not just the nutritional benefits, but the lasting physical, mental and educational benefits of breakfast.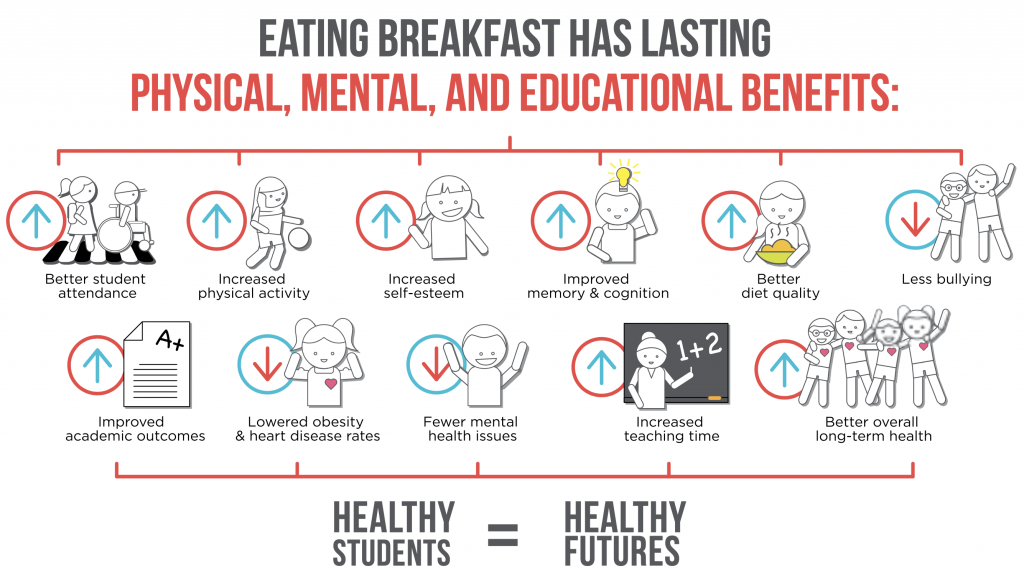 In striving to prioritize breakfast, we've had our fair share of trial and error. But, soon enough, we settled on a few simple strategies that helped us beat the morning rush:
Strategy #1 – Create a plan. At the start of each month, we sit down together as a family and brainstorm 5 breakfasts that are balanced, enjoyable, and that can be made or prepped in less than 5 minutes.
Strategy #2 – Delegate a breakfast leader. At the same time we make a plan, we delegate a breakfast leader who is responsible for getting up 10 minutes early to help prep the breakfast that's planned for the day. This person may just end up putting the cereal, bowls and milk on the table ahead of everyone piling down the stairs, but every little bit helps during rushed mornings!
Strategy #3 – Embrace the grab & go! Smoothies, PB & banana roll-ups, pre-cooked homemade chicken breakfast patties, and make-ahead breakfast bento boxes are staples in the GetJoyfull household.
What simple strategies are working for your family?
Breakfast is Brain Power!
Balanced breakfasts that provide wholesome grains, cool colours, and powerful proteins really do contribute the energy and nutrients kids need learn, play and grow!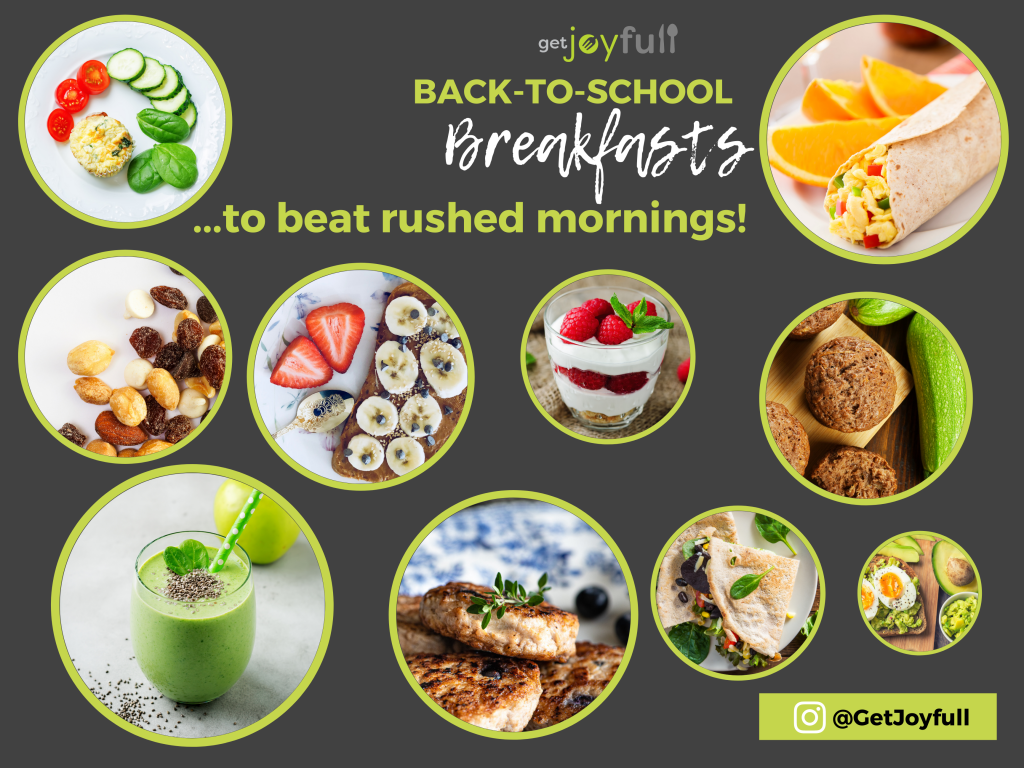 What are your go-to back-to-school breakfasts?
Breakfast doesn't have to be traditional. Building a healthy habit of breaking the fast should be with the foods you enjoy and can easily make with the time you have. Leftovers anyone? Trail-mix and a banana to-go? Cold pizza? Yum!
Our family loves all kinds of breakfast fare. Remi is an oatmeal and cold cereal fan. The day he managed to pour from the milk jug without spilling was a very happy day for us both! Cela and Esme are smoothie and berry fanatics. They love shakes and parfaits, best. Papa and myself like a bit of savoury goodness at breakfast, so we LOVE homemade sausage patties, frittatas and wraps.
Here are a few of our school day-ready breakfast favourites! 
Oatmeal with sliced banana, cinnamon and pecans.

Grab-and-go green smoothie made with an ultra-filtered high-protein milk.

Make-ahead mini-frittatas made with whole eggs and veggies.

Mini carrot-lentil muffins and a cinnamon-oat milk steamer. 

Overnight oats made with apple jam, soy milk and chia seeds.

Make-ahead Greek yogurt parfaits made with strawberries and hemp seeds or granola.

Peanut butter banana wraps made with a pulse-powered tortilla.

Freezer-friendly "Maple-Blueberry Breakfast Patties" wrapped-up to grab & go with butter lettuce, tomato and avocado.
September is not only back-to-school month, but it's National Chicken Month, too! It's no wonder we're enjoying homemade chicken sausage patties as part of our back-to-school menu! [#Partner]. These gorgeous rounds are flavourful, but lean. Savoury, yet sweet. They're truly the best of both worlds!
To make this recipe school-friendly, we plan ahead. Chicken patties are perfect for batch cooking and can be easily cooked, frozen, and quickly reheated in the microwave.
Lately, we've been wrapping-up our favourite breakfast patties (Thanks, TicTok) with yummy toppings, like: cheddar, butter lettuce, tomato and avocado! It's an epic breakfast. Made in less than 5 minutes. And, no, you won't miss the bus!
---
Maple-Blueberry Breakfast Patties 
Prep time: 15 minutes
Cook time: 10-15 minutes
Makes: 8-10 patties 
Ingredients:
1 lb (454 g) ground chicken

2 shallots, finely chopped 

1 garlic clove, finely minced or 1 tsp (5ml) garlic powder

1 tsp (5 ml) cinnamon

1 Tbsp (15 ml) pure maple syrup 

Salt and pepper to taste

1 sprig of thyme, leaves only for meat mixture + 1 spring for garnish

½ cup (125 ml) fresh or frozen blueberries 

2 tsp (10 ml) canola oil

1 Tbsp (15 ml) thyme leaves, for sausage mixture + 1 thyme sprig for garnish
Directions:
In a large bowl, combine all ingredients except for blueberries and canola oil. 

When sausage mixture is well combined, fold in blueberries. 

Form mixture into sausage patties using ⅓ cup of mixture for each party.

Preheat the grill or non-stick pan to medium-high. Add oil and patties. Cook for 5-6 minutes per side, until golden and cooked through. 

Garnish with fresh thyme.

Enjoy as a wrap or with peppery greens like arugula and toasted sourdough. For extra joy, a little more maple syrup.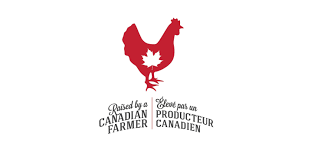 Recipe Tip: Choose Canadian Chicken
Be on the lookout for the "Raised by a Canadian" Farmer logo when grocery shopping. This symbol means that the chicken you're buying was raised by Canadian farmers who are dedicated to producing quality chicken, with the highest possible nutrient, food safety and animal care standards. It's a sign of feel-good food!
Food for Thought
Did you know? 1 in 4 Canadian children are attending school on an empty stomach? And, that doesn't account for kids who perhaps have a long commute, or might not hungry in the morning etc. That's over 1.5 million children, everyday. Enough kiddos to fill 31,000+ school buses.
For more information on the impact and initiatives of Breakfast Club of Canada PLUS how we all can flight childhood hunger, visit: BreakfastClubCanada.org. Be sure to check out their resource collection, including their "Build them Up" Guide and "Simple. Healthy. Delicious" breakfast recipe collection.
Heartfelt thanks to our partner Alberta Chicken Producers for supporting the GetJoyfull movement and for making this recipe and post possible.
Joyfully,
Emily
Emily Mardell is a Registered Dietitian, busy mama of three and proud Alberta foodie. Emily is passionate about quality ingredients and creating delicious, nourishing recipes that bring families together. Follow her on social media @GetJoyfull or GetJoyfull.com for nutrition advice and tips to grow food joy and fill up on family time.