The start of a new school year is a great time plan ahead and get set for lunchtime success. Lunchbox-friendly recipes along with helpful strategies that get kids involved AND actually eat what is packed is the A+ grade we're all aiming for this year! 

Loading ...
Before we get set to pack lunch, let's unpack what a healthy, energizing lunch can look like.
A Grain and Protein Combo is an awesome start. This combo will give kids sustainable energy to burn. Think: mini cheddar & black bean quesadillas or Greek yogurt & granola cups or egg & veggie fried rice. The possibilities are endless! 
Next up….Colour! Everyone eats with their eyes and kids are no different. Nature's candy gives bonus energy and extra water to power through the day. Easy peel oranges, grapes, and cucumber slices are my kiddos faves!
Lastly, a dash of Fun! Lunch doesn't have to be fancy, but it shouldn't be boring either. Simply adding an unexpected treat, or cutting a regular wrap into pinwheels can make something familiar, fresh and exciting! 
Lunchbox-friendly recipes can be sandwiches, soups, wraps and beyond. Anything goes as long as we can make it portable, yummy and food safe!
Today, I prepped a couple extra batches of our "Crispy Chicken Poppers" as they were a special request from my kids when we did our lunchbox plan earlier this week. This recipe is an awesome "poppable" protein and grain combo and has a few extra special ingredients that make it great brain food.
Crispy Chicken Poppers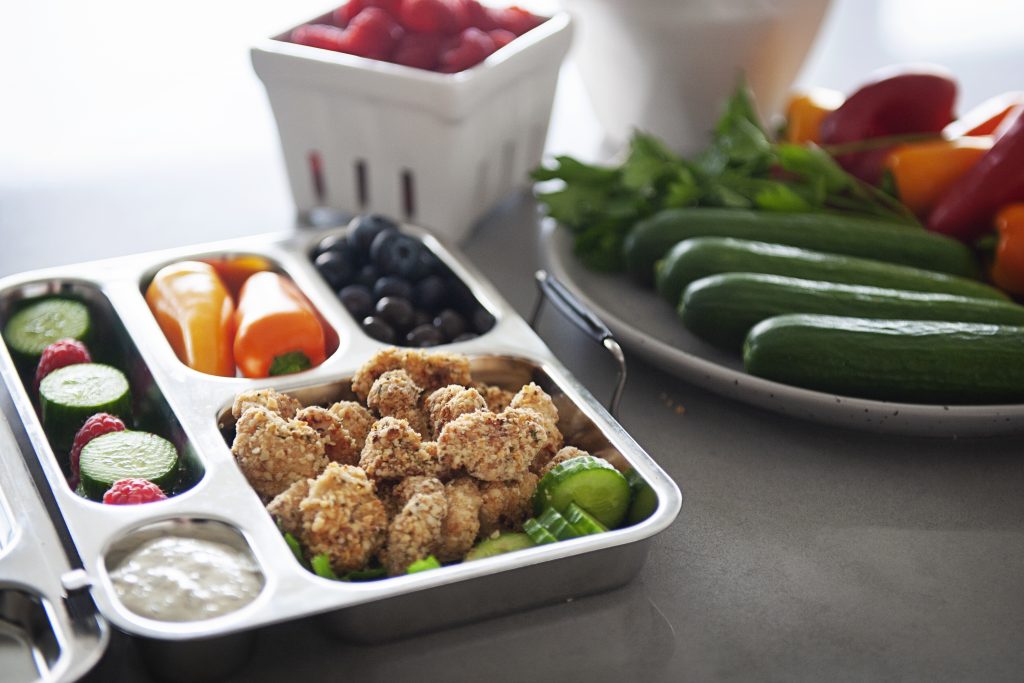 Ingredients:
2 Tbsp (30 mL) vegetable oil

1 fresh lime, juiced, and zested 

1 Tbsp (15 mL) honey

1 tsp (5 mL) garlic powder

1 tsp (5 mL) onion powder

1 tsp (5 mL) ground cumin (optional)

2 lbs (900 g) fresh Canadian chicken tenders, or breast

1 cup Panko-style breadcrumbs or quick oats

1/2 cup (125 mL) hemp seeds 

1/4 cup (60 mL) whole wheat flour 

Salt and pepper to taste

1 Tbsp (15 mL) fresh parsley, finely chopped 
Directions:
Preheat oven to 400°F (200°C). Line large baking tray with parchment paper. 

In a large bowl, whisk together oil, lime juice, garlic powder, onion powder, and ground cumin.

Chop chicken tenders into bite-sized or "popcorn" pieces, and add oil mixture. Gently stir, and to evenly coat chicken. Set aside for 5 minutes.

In a separate bowl, or large freezer bag combine Panko, hemp seeds, flour, salt, and pepper to make coating mixture. 

In batches, add chicken pieces to the coating mixture, and shake or stir to evenly coat. Transfer coated chicken onto baking tray, and repeat until all chicken is coated, and spaced evenly on tray.

Bake for 10 minutes. Flip and bake for an extra 5 minutes, or until golden, crispy and cooked through. 

Garnish with freshly grated lime zest, and finely chopped parsley. 
School lunches can be stressful for a number of reasons. Parents and kids have to navigate school food rules and policies, allergies and food safety concerns, rushed mealtimes, food budgets, picky eating etc.
To help manage some of the stress, I'm enlisting all the help I can get to manage our back-to-school transition. Involving kids, even preschoolers, can greatly increase their chances of enjoying and eating what's packed. Like most, my kids love VARIETY and lunches that feel more like a fun snack plate than a traditional meal.  So, we're huge Bento Box fans in the GetJoyfull household.
Bento boxes are approachable, colourful and portioned for success!  – EM
When kids have choice, even as you decide what options they're choosing from, you empower healthy eating with AUTONOMY & CONNECTION. 
That's why I created the GetJoyfull "Bento Box Builder," with a kick-start list of Filling Fruits & Vibrant Veggies, Great Grains, Power-Up Proteins and Energizing Extras.
How it works: Every couple weeks, I'll sit down with the kids to pick their favourite combinations, this will help me with grocery shopping, and also create the plan for what WE pack. As seasons change, and new foods become available, I'll update the builder with new options! For example, fall will bring air-fryer sweet potato fries, mini carrot-raisin muffins, apple-cinnamon pancakes and creamy chicken pumpkin pasta to the builder.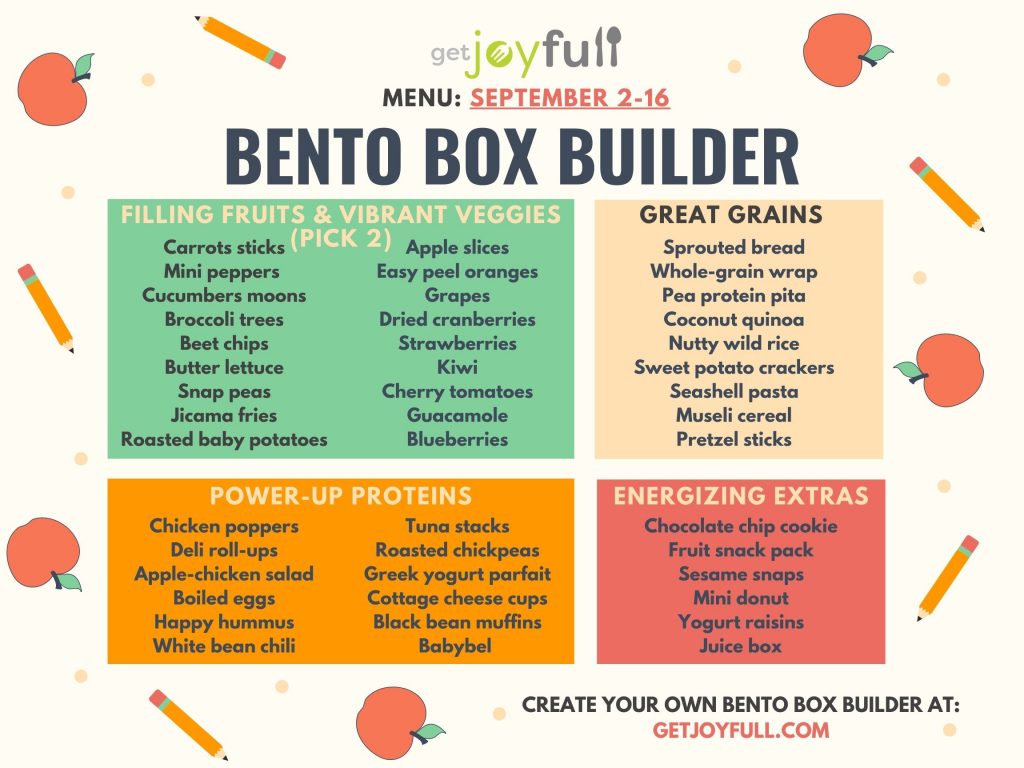 The GetJoyfull BENTO BOX BUILDER is FREE to download!
There's also a customizable version, so you can better create a plan that reflects your family and the foods you have on hand!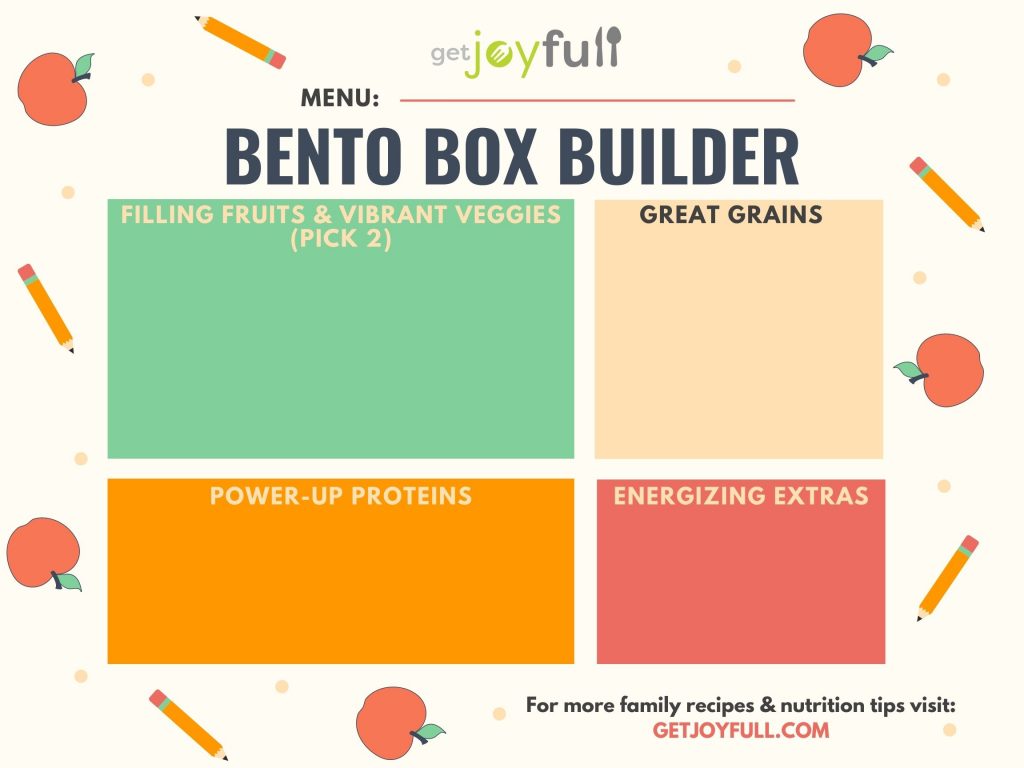 As parents we'll plan, pack and guide our kids through over 2400 school lunches during their academic years. It's a big job, often daunting. But on the other side of the responsibility, there's a lot of opportunity packed in those 2400 lunch boxes, too. Opportunity to role model, build healthy habits and create a positive food routine. They're gonna learn, grow and play all the better because we did our very best. We got this!
I'd love to know your tips for lunchbox success and to see your Bento Box Builders come to life! Follow along and share with the GetJoyfull community on Instagram, Facebook or Twitter.
Happy packing everyone!
Joyfully,
Emily
Emily Mardell is a Registered Dietitian, busy mama of three and proud Alberta foodie. Emily is passionate about quality ingredients and creating delicious, nourishing recipes that bring families together. Follow her on social media @GetJoyfull or GetJoyfull.com for nutrition advice and tips to grow food joy and fill up on family time.