I've been seriously jonesing for cozy, comfort foods lately. You know, all the meals that fill you up and make you feel warm and happy on the inside.
My "top of the top" comfort food list definitely starts with my Grandmother's Sunday dinner and all the fixings. In at a close second, ravioli warmed in brown butter & sage. Coming in strong at third, leafy greens with roasted beets and creamy goat cheese. Yes, a salad can be comforting too! Oh, and cake. Yes, definitely, chocolaty, chocolate cake.
I should also clarify…the cake is not in fourth spot. It's more of a standing essential to be eaten with all of the above, lol!
What foods make your "top of the top" comfort food list?
Comfort foods don't have to be fussy, in fact, if you ask my hubby he'll tell you his faves are 1) Spaghetti & meatballs 2) Kettle-cooked potato chips and 3) Cookie dough ice cream. Gotta give it to him, that's a solid list, too.
For me, true comfort foods are wrapped up in happy memories. Vivid memories of people and places. Occasions and celebrations. Anniversaries and birthdays. I love the way food brings you back in time, and bite-by-bite connects you to moments worth reliving.
This past month, I decided I wanted to emulate GiGi and master my own, "Sunday dinner." I wasn't sure exactly what to make, but I knew I wanted to create a recipe that reflected my love of of family and Alberta ingredients. Eventually I settled on a cut of beef that I've never cooked with before, short-ribs, and set out to learn how to make the most amazing Alberta Beef short-ribs, ever! No offence, spaghetti and meatballs, but I'm coming for you.
---
My first stop was local grocer Freson Bros. for a little girls' day outing with my girl, Cela Joy. I found out from my friend's instagram page that Freson Bros. has an in-house "Master Butcher" and a serious selection of foodie gifts & gadgets. Needless to say, I didn't need any arm twisting to make the drive to Fort Saskatchewan. Here's a little behind video, by the Freson Bros. team, of our mini GetJoyfull Food Trip. We had a great time and gained a ton of inspiration!
As you can see this place is a food lovers haven of Alberta-raised meats as well as locally-grown vegetables, grains and hand-made goods. I definitely got side tracked by the root cellar, bakery and kitchenwares, but somehow Cela kept me on task, lol. Special thanks to Master Butcher, Marcel for custom cutting our order of Alberta beef short-ribs and giving me the knowledge and confidence to braise them with abandon. I can't believe how amazing they turned out!
Luckily for everyone in Southwest Edmonton, Freson Bros. is opening up a third location in the Rabbit Hill area this spring. Yay! But, between now and then, if you haven't been to their locations in Fort Saskatchewan or Stony Plain, you should go!
If you're curious how things turned out. Keep on scrolling.
After a little planning and preparation, and a dash of love and luck, it's safe to say my new take on Sunday dinner made everyone's heart a little warmer and bellies a little happier, too.
---
Braised Alberta Beef Short-Ribs with Wild Mushroom Sauce
Fall off the bone tender Alberta beef, braised in wine and aromatics and served with a flavourful wild mushroom sauce.
Prep time: 10 minutes
Cook time: 4 hours
Serves: 4-6
Short-Ribs
Ingredients:
1 Tbsp. (15 mL) canola oil

6 bone-in Alberta beef short ribs (6 lbs) 

4 rashers of bacon, diced

1 yellow onion, sliced

4 garlic cloves, crushed

1 can (156 mL) tomato paste

1 apple, diced 

2 medium carrot, peeled and chopped

2 sprigs of fresh thyme

2 sprigs of fresh rosemary

Salt and pepper to taste 

4 cups (1 L) beef stock

1 cup (250 mL) red wine

Cinnamon stick 
Directions:
Preheat the oven to 300 degrees.

Season short ribs generously with salt and pepper, sear in oil on medium-high heat on stove top in dutch oven. Brown all sides. 8-10 minutes

Remove short-ribs from pan, reduce heat to medium, add bacon. Cook until brown, 4 minutes. Add sliced onion and garlic. Saute until golden. 

Add apple, carrot, thyme, rosemary, saute for 1 minute. Deglaze with red wine, cook for 10 minutes. Add beef stock, tomato paste, and cinnamon stick. 

Cover and cook for 4-5 hours. 

While beef ribs are braising, boil water and follow directions to rehydrate mushrooms with 2 cups of boiled water. Set aside until you're ready to make the final sauce.

Remove short ribs from the pan, set aside. Pour one to two cups braising liquid over cooked short-ribs to keep them moist and happy while you reduce the braising liquid. 

Remove vegetables from remaining braising liquid. Strain if desired. Simmer, uncovered, on medium-low until braising liquid is reduced by half. Reserve liquid to make wild mushroom sauce.
Recipe Tip #1: 
If you're new to cooking with wine, I highly recommend the certified-sustainable Carmen Gran Resreva Carmenere. This rich red has a touch of spice & smoke, which makes it the perfect pairing for braised beef & mushrooms. I don't often cook with wine, but when I do it's always with a blend I can savour in a glass too!
Wild Mushroom Sauce 
Ingredients:
2 cups (500 mL) boiling water 

40g dehydrated mushrooms (I love Untamed Feast's Porcini & Chanterelles) 

2 cups (500 mL) short-rib braising liquid 

1 Tbsp. (15 mL) brown sugar

1 Tbsp. (15 mL) balsamic vinegar 
Directions:
In a small stockpot, combine rehydrated mushrooms and the liquid used to rehydrate them, reserved braising liquid, brown sugar, and balsamic vinegar.
Simmer on medium-low for 15 minutes, or until sauce is reduced by half and glossy. Serve with braised short-ribs, creamy parsnips and seasonal vegetables.
Recipe Tip #2: 
For a thicker wild mushroom sauce, make a slurry of 1-2 teaspoons (5-10 mL) of cornstarch and 1 Tbsp (15 mL) cold water. Whisk till smooth and stir into the saucepan.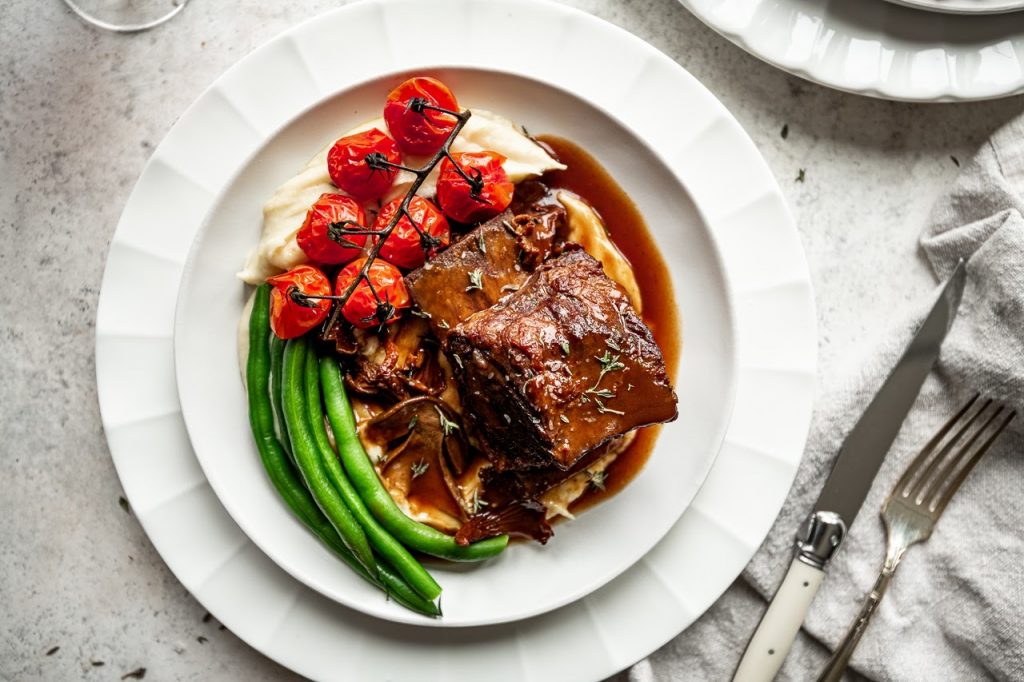 If you're jonesing for comfort food like me, give this incredible recipe a try. Need a little encouragement, or extra help before you get started? Join the GetJoyfull Comfort Food Cook-Along next weekend! I'll be streaming LIVE from the GetJoyfull kitchen along with virtual guests Chef Steven Brochu and Linda Hoang! We'll be sharing delicious comfort food tips, food stories and kitchen hacks. You can count on prizes and surprises, too!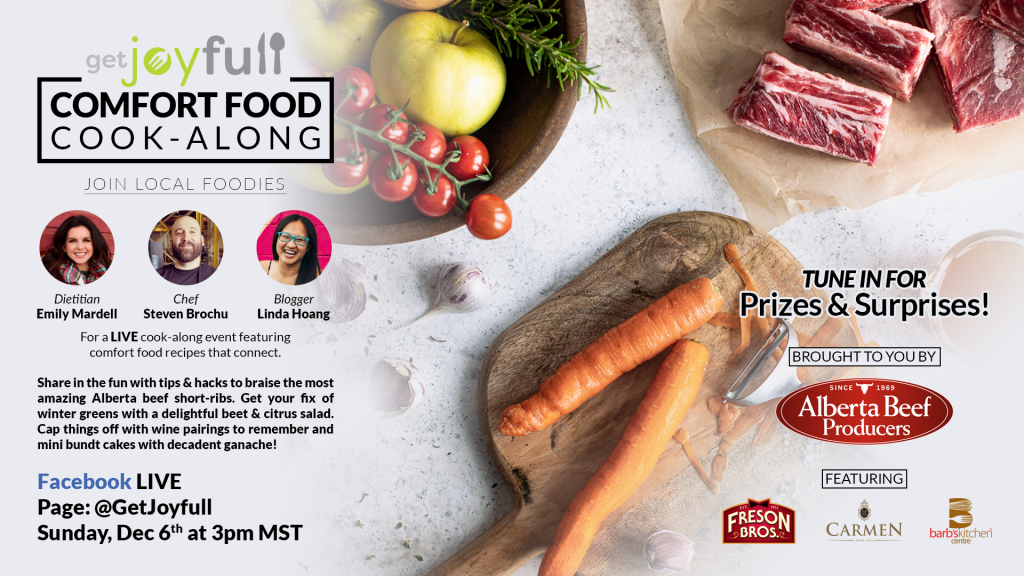 Heartfelt thanks Alberta Beef Producers and Freson Bros for supporting the GetJoyfull movement, and for helping to make this post, recipe and cook-along possible. 
Take care, everyone.
Joyfully,
Emily 
Emily Mardell is a Registered Dietitian, busy mama of three and proud Alberta foodie. Emily is passionate about quality ingredients and creating delicious, nourishing recipes that bring families together. Follow her on social media @GetJoyfull or GetJoyfull.com for nutrition advice and tips to grow food joy and fill up on family time.