Friday is pasta and salad night in the GetJoyfull household and the one evening everyone agrees on dinner. They love it! Is your family pasta fanatical, too? If you're saying yes, well, I have the perfect fall pasta recipe for you and your crew.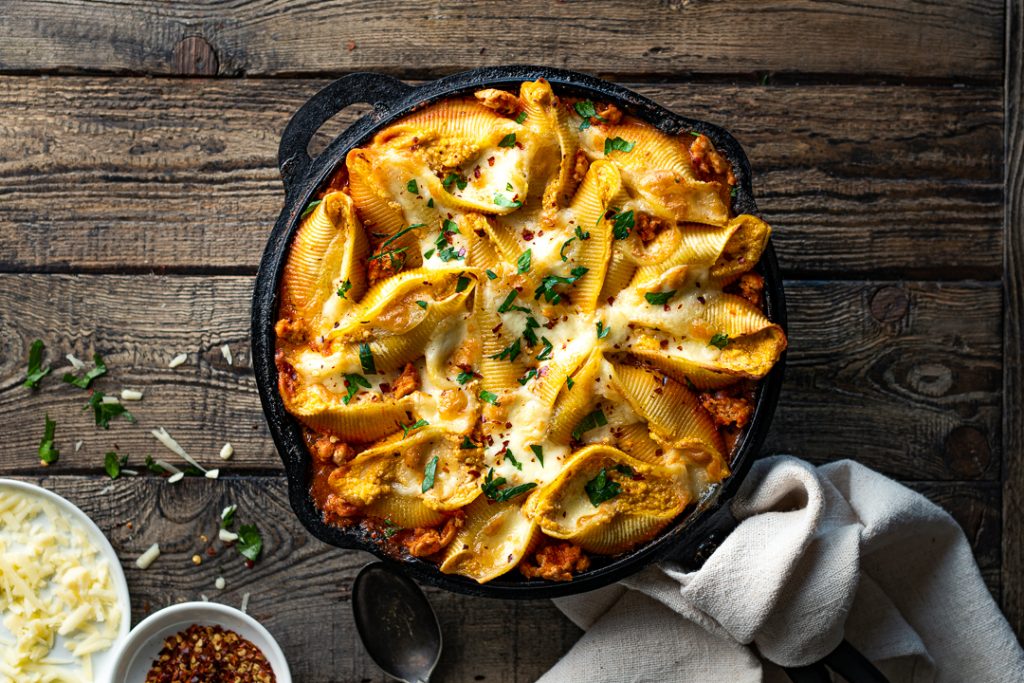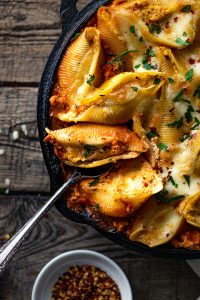 This week I added a little seasonal panache to our go-to chicken casserole, and the result? Well, it was everything you crave in the fall, stuffed into a cast-iron skillet and baked to golden perfection. This "Creamy Chicken & Pumpkin Pasta Bake" is ridiculously good. Trust me. You'll have to hold yourself back from eating this dish straight from the serving spoon. But if it comes to that, it's ok. It's that cozy. It's that comforting. It's that creamy good!
Popping on my dietitian hat, I like to think a great casserole has three key elements. A yummy wholesome grain, a satisfying protein and a seasonal vegetable. This recipe checks all these boxes, and then some. 
Jumbo pasta shells are a pantry essential. Kids love them, and they're made for easy filling. I check pasta labels and choose the variety with the most protein, fibre and iron, whenever possible.
For the quality protein, our go-to is ground Canadian chicken. It's fresh, versatile and browns to perfection in less than 10 minutes. I will often buy 4 lbs at a time, and then cook, chill and freeze the cooked crumble for even quicker weeknight meal prep. It's a great time saver.
Seasonal veggies vary, but they keep family favourites vibrant and interesting. Fresh veggies are best complemented by the convenience of pre-cut, ready-to-go freezer veggies, too.
---
Creamy Chicken & Pumpkin Pasta Bake
Recipe created by Registered Dietitian Emily Mardell in partnership with Alberta Chicken Producers
Ingredients:
Pasta & Filling:
1 pkg. (250 g) jumbo pasta shells

1 cup (250 mL) ricotta cheese

¼ cup (60 mL) grated asiago cheese 

½ cup (125 mL) pumpkin puree

1 large egg, beaten

¼ tsp (1 ml) ground nutmeg

Salt and pepper to taste
Sauce & Garnish:
1 Tbsp. (15 mL) canola oil

1 lb. (454 g) fresh ground chicken

1 red bell pepper, chopped

½ yellow onion, finely diced

1 tsp (5 mL) oregano

1 tsp (5 mL) fennel seeds 

2 cups (500 mL) tomato sauce 

1 cup (250 mL) milk

1 tsp (5 mL) oregano

Salt and pepper to taste

½ cup (125 mL) mini bocconcini 

½ tsp (2 mL) red pepper flakes 
Prep time: 15 minutes
Cook time: 30 minutes
Serves: 8
Directions:
Bring a large stockpot of water to boil. Cook pasta shells to al dente. Drain and rinse well with cold water to stop the cooking process and prevent pasta shells from sticking together. 

In a medium bowl, mix all filling ingredients together until well combined. Stuff cooked pasta shells with filling and set aside. 

In an oven-safe skillet on medium-high heat, cook chicken with olive oil, onion, bell peppers, oregano and fennel seeds, until crumbled and golden, about 5 minutes. 

Preheat the oven to 400 F. Add tomato sauce, milk, oregano to skillet. Season with salt and pepper to taste. Add stuffed pasta to skillet in an even layer and top with mini bocconcini and red pepper flakes. 

Bake in the oven for 15 minutes until bubbling and golden. Remove the skillet from the oven and allow pasta to rest for 5 minutes before plating. Enjoy with mixed greens. 
---
If you're inspired to get the most out of the pumpkins this season there are so many awesome GetJoyfull activities that you can try with your littles. Here's a few ideas: 
1. Make a gratitude pumpkin for your front step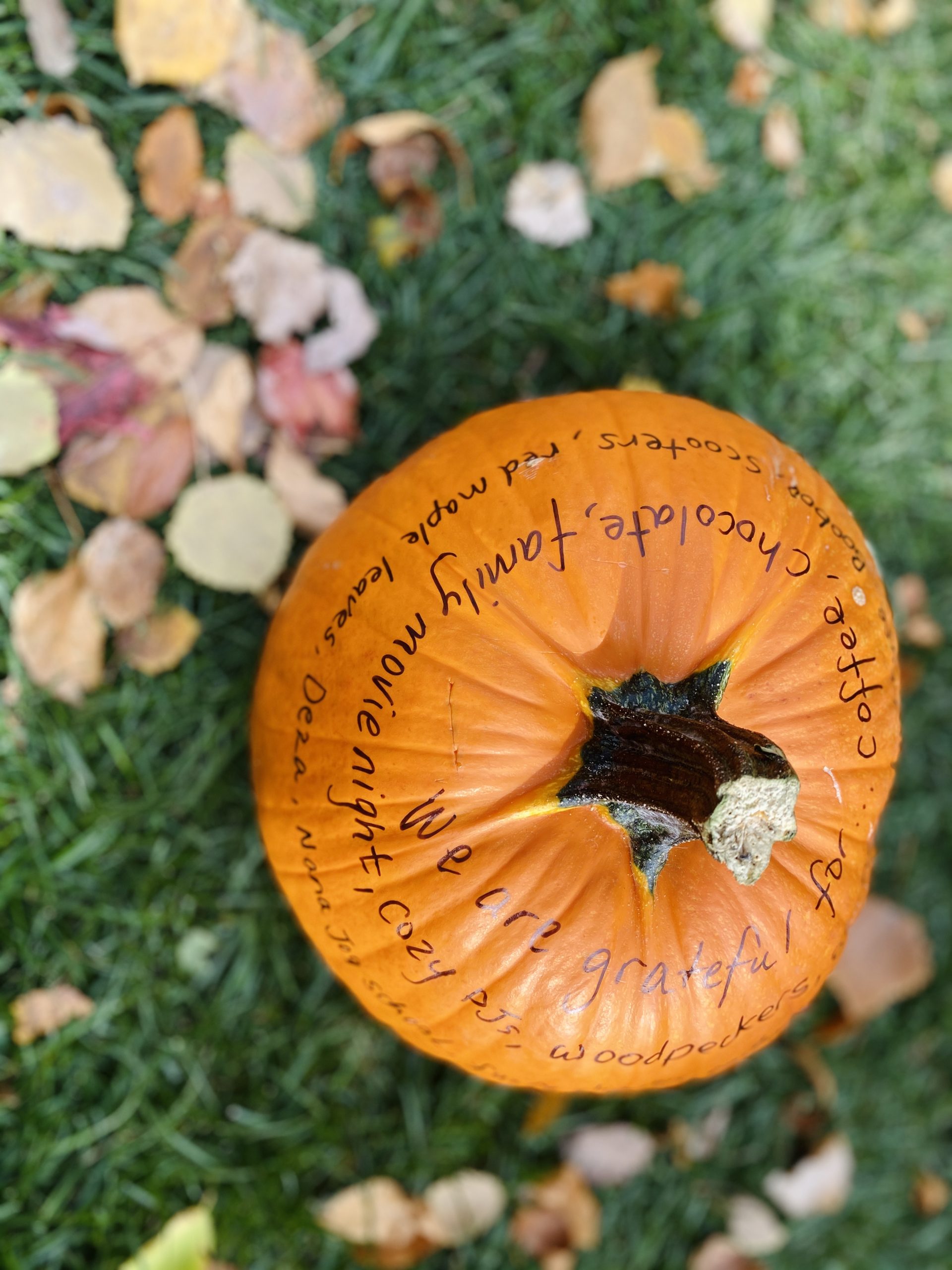 Grab a sharpie and every night before dinner take a few minutes to write down something you're feeling grateful for. My favourite part of this activity is what the kids have to say. Cela's grateful for cozy PJs this week, and Remi is grateful for his "stay cold pillow." Kids sure have a way of reminding you that it's the little things that matter most.  
2. Roast pumpkin seeds for a family movie night snack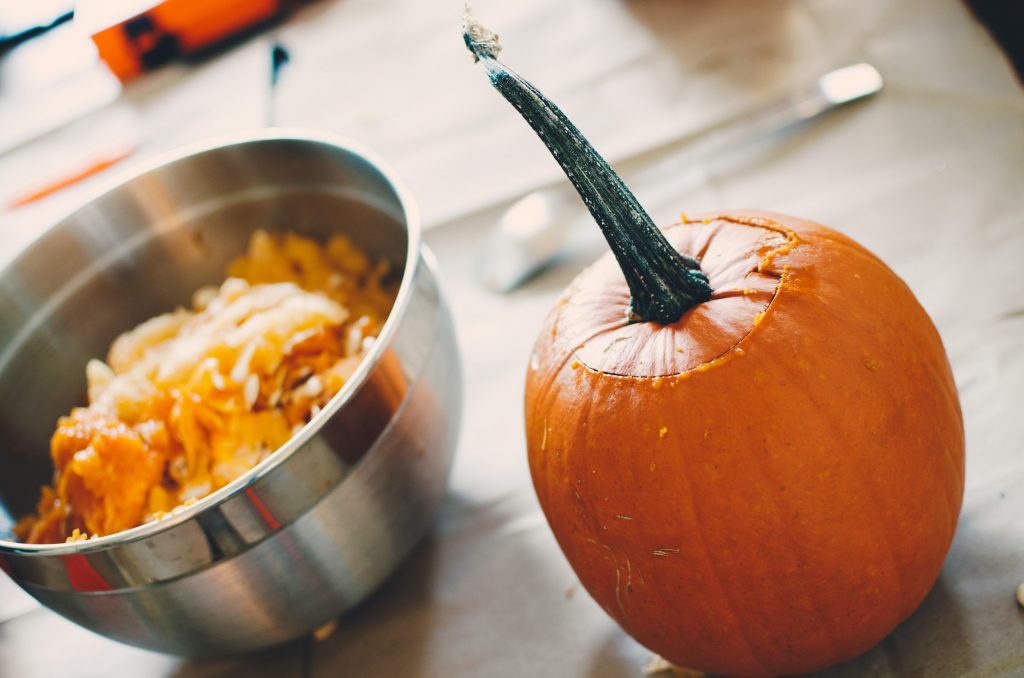 Ok, so my friend Mel is the master at pumpkin seed roasting. She insists there's no major secret, but I think I've cracked her code! The trick is to boil the seeds, for about 10 minutes, before baking. Drain, dry and coat with a drizzle of canola oil and seasonings of choice. Roast at 375 for 15-30 minutes, depending on how golden you like them, and enjoy as a stand alone snack, or sprinkle on top of salad and soup throughout the week. Delicious! 
3. Try your hand at making easy, delicious homemade pumpkin puree 
I have to admit, this is new to me. I have a few cans of pumpkin puree in my pantry all the time. I never realized how easy it was to make my own until my friend and farmer, Andrea Forstbauer, showed me how. Check out her how-to recipe here!
4. Bake a double batch of pumpkin patch muffins 
Pumpkin muffins are a favourite morning snack around here. Esme is obsessed. Here's my quick no-recipe, recipe:
Combine 2 ripe mashed bananas, ½ cup pumpkin puree, ¼ cup pure maple syrup, 1 tsp vanilla, 2 tsp ground cinnamon, ½ tsp ground ginger, 2 tsp baking powder, 2 cups quick oats, and 1 Tbsp chia seeds to make a quick batter. Add ½ cup mini chocolate chips, or sultana raisins if you like. Divide batter into lined muffins and bake at 350 for 15-18 minutes until golden and baked through. So good! 
5. Veggie-up a yummy weeknight pasta dish with pumpkin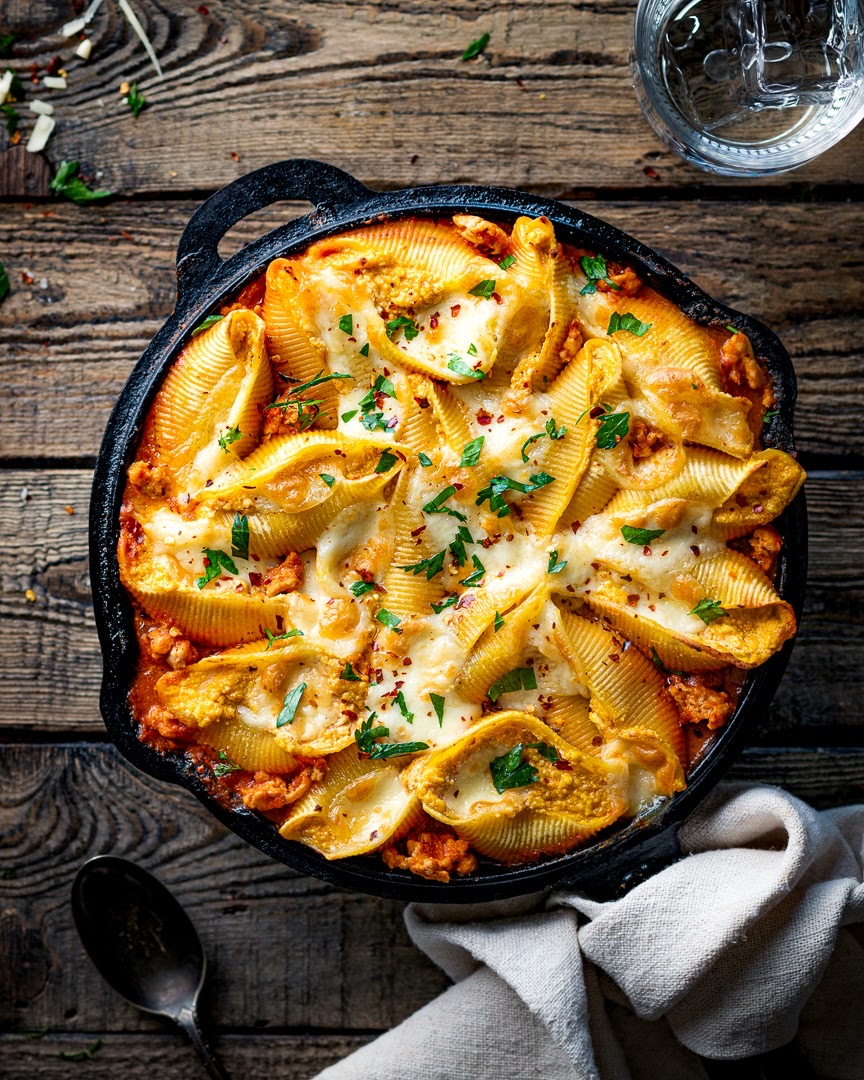 Last but not least, give our "Creamy Chicken & Pumpkin Pasta Bake" a try. Heck, make a double batch and surprise a neighbour with dinner!
We love to see your GetJoyfull moments on our feed. Heartfelt thanks to Alberta farmers and Alberta Chicken Producers for supporting the GetJoyfull movement, and for helping to make this post and recipe possible. 
Take care, everyone. 
Joyfully,
Emily
Emily Mardell is a Registered Dietitian, busy mama of three and proud Alberta foodie. Emily is passionate about quality ingredients and creating delicious, nourishing recipes that bring families together. Follow her on social media @GetJoyfull for nutrition advice and tips to grow food joy and fill up on family time.