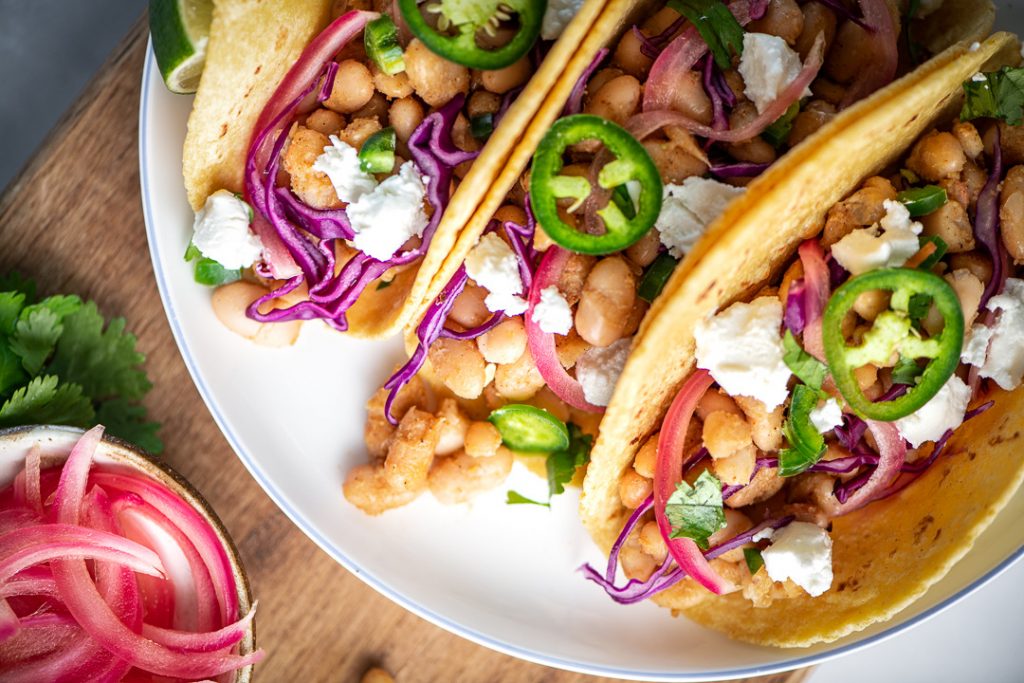 One of my favourite recipes from my sports nutrition collaboration with Alberta Pulse Growers and the amazing Chef Steven Brochu has to be these White Bean Tacos.
When I share this recipe with my athletes, I like to call them "Hat-Trick Tacos." Why, you ask?
Well, these tacos score 3 big points with busy athletes and families alike. They are 1) Super tasty 2) Budget-friendly and 3) Ridiculously easy to make!
If you haven't cooked with white beans before, here are a few reasons why you should!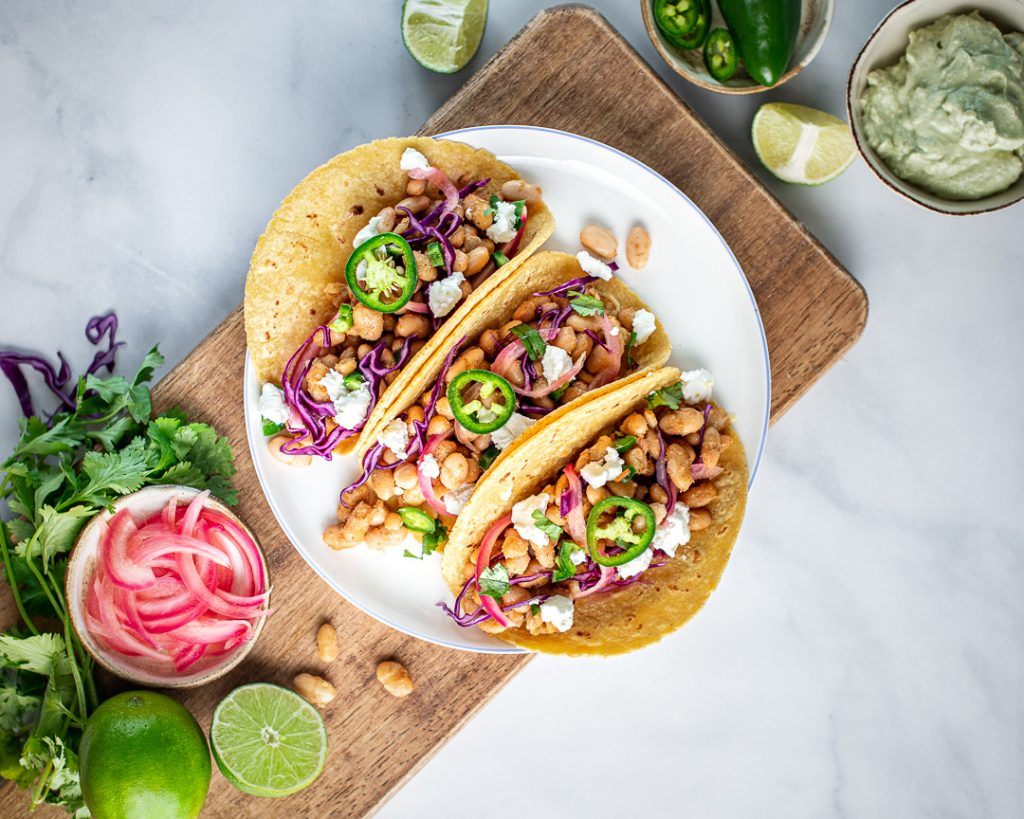 White beans, a.k.a Great Northern, white kidney, cannellini or navy beans deliver high levels of protein, fibre, magnesium, zinc, B vitamins and iron. One serving of white beans has three times the folate (an essential B vitamin) as kale, and as much potassium as a banana.
White beans boast 9 grams of protein per 1/2 cup, which make them a great complement or meat alternative in your favourite recipes. Try adding them to tacos, quesadillas, burritos, salads and soups. You can't really go wrong.
Powered by plant-protein, creamy avocado and tangy pickled onion, these tacos are perfect for families and the weeknight rush.
This recipe is super kid-friendly, too. My 4 year old son, Remi loves to rinse the beans and add the seasonings. He loves hands-on food and meals that require fun assembly. It's no wonder we make so many wraps, tacos, and burritos. They're a hit.
Here's the recipe, taco fans!
---
'Hat-Trick' White Bean Tacos
Beyond delicious, satisfying and ready in minutes.
Pulse: White beans like Great Northern, white kidney, cannellini or navy beans
Prep time: 20 minutes
Cook time: 10 minutes
Makes: 6
Ingredients
6 whole grain wheat or corn tortillas
1/2 cup (125 mL) goat cheese, crumbled
Handful fresh cilantro, chopped for garnish
Pickled red onions
1 red onion, thinly sliced

1 cup (250 mL) vinegar 

1 cup (250 mL) water

1 Tbsp (15 mL) salt 

1 Tbsp (15 mL) honey 
Seasoned beans
1 can (19 oz/540 mL) Great Northern Beans (white beans), drained & rinsed (yields 2 cups/500 mL cooked beans)

1 Tbsp (15 mL) canola oil

1 tsp (5 mL) garlic powder

1 tsp (5 mL) onion powder

2 tsp (10 mL) cumin

2 tsp (10 mL) chili powder

1 tsp (5 mL) black pepper

2 Tbsp (30 mL) water
Avocado crema
1 ripe avocado, pitted and halved

1/2 cup (125 mL) plain Greek yogurt 

Juice of 1 lime

Salt & pepper to taste
Directions
Get pickling!

This can be done anytime ahead, even the day before to save time. Place sliced onion in a medium plastic container or bowl. Bring the remaining pickling ingredients to a boil and pour over raw red onions, cover, transfer to the fridge and allow to sit for 2 hours. Luckily, I have a beautiful supply of red onions from Grey Arrow Farm that will be perfect for this dish. Let the pickling begin!

Prepare the seasoned beans.

Heat oil over medium heat, add beans, cook for 2 minutes, add seasonings, cook for another 2 minutes, turn off heat and deglaze the pan with the water.

Make avocado crema.

Blend all crema ingredients together in a blender or food processor until creamy and smooth. 

Heat tortillas

in a low frying pan or wrap in a paper towel and microwave until soft and warm. Assemble tacos with whole grain tortillas, or corn tortillas for a gluten free option.

Garnish tacos

with chopped cilantro, goat cheese, pickles and crema. Enjoy!
Recipe Tips
"If you're following a gluten free diet pulses can be a great addition to your eating plan. Pulses naturally pack a lot of the nutrients that are often lacking in many gluten free products & grains like fibre, protein and iron. Oh, and they're economical and delicious. It's a win, win." –Dietitian, Emily Mardell
---
Powered by Pulses: Challenge #2
This month's challenge is all about making savvy substitutions. The challenge: Add a little plant-power to your favourite weekday dishes by adding cooked beans to the recipe. Sprinkle black beans onto homemade pizza. Thicken soups and stews with yummy split red lentils. Switch-up Taco Tuesday with our white bean tacos with a selection of fresh veggies, cheese and yes, salsa!
Give these yummy tacos s a try and be sure to share your kitchen antics and sports adventures with us. Better yet. Stop by MilkCrate in the Epcor Tower this week to see chef Brochu and try these tacos for lunch. That's right. Chef is making these beauties, 3 for $12 and they're just about the most perfect grab and go lunch we can think of!
Buy local. Eat Local. Support local.
Heartfelt thanks to Chef Steven Brochu, Grey Arrow Farm and Alberta Pulse Growers for supporting the GetJoyfull movement, and for helping to make this post and recipe possible. 
Take care, everyone.
Joyfully,
Emily 
Emily Mardell is a Registered Dietitian, busy mama of three and proud Alberta foodie. Emily is passionate about quality ingredients and creating delicious, nourishing recipes that bring families together. Follow her on social media @GetJoyfull or GetJoyfull.com for nutrition advice and tips to grow food joy and fill up on family time.