On Sunday's we keep calm and bake on. Cookies, cakes, muffins, rolls. You name it, we make it.
Over the years, I've discovered baking to be very calming to my body and mind. I love to immerse myself in a recipe and escape, even if it's just for a few minutes. When measuring and messing, mixing and scooping, it's nearly impossible for me to dwell on other things.
And, I'm not alone. The benefits of baking, and in particular baking for others, have been widely touted. This article touches on some of the benefits, including: reducing stress, expressing creativity and building mindfulness. Here's a snippet:
"Baking is thinking step-by-step and following the specifics of the here and now, but it's also thinking about recipes as a whole, the dish as a whole, what are going to do with it, who it's going to, what time are you sharing it, so baking is a really good way of developing that balance of the moment and the bigger picture." ~Julie Ohana, Social Worker & Culinary Art Therapist
What mindful practice helps you relax?
Are you a "bake-it-til-you-make-it" person, like me? If you're saying "yes!," or at least willing to give it a go, I've got the perfect recipe to try. "GetJoyfull Carrot-Lentil Granola."
Loaded with locally-grown Grey Arrow Farm carrots, cooked split-red lentils, dried fruits, seeds, oats & spices, this granola is proof happiness is homemade. Enjoy, friends!
GetJoyfull Carrot-Lentil Granola
---
Directions
Preheat the oven to 350°F (180°C).

Combine cooked lentils with uncooked oats in a medium sized bowl.

Add carrot, sugar, honey, salt, and spices.

Line a baking sheet with parchment paper and spread oat mixture evenly over the surface.

Bake for 15 minutes. Stir and bake for another 10 minutes. Mixture will be golden and slightly soft, but as it cools it will become crunchy. 

Sprinkle raisins and pumpkin seeds over the cooled granola. Stir to combine. Store finished granola in an air-tight container for up to one week.
Recipe Tip:
"Not a fan of raisins? Try adding dried strawberries or dried bananas—they're my favourite!" – Chef, Steven Brochu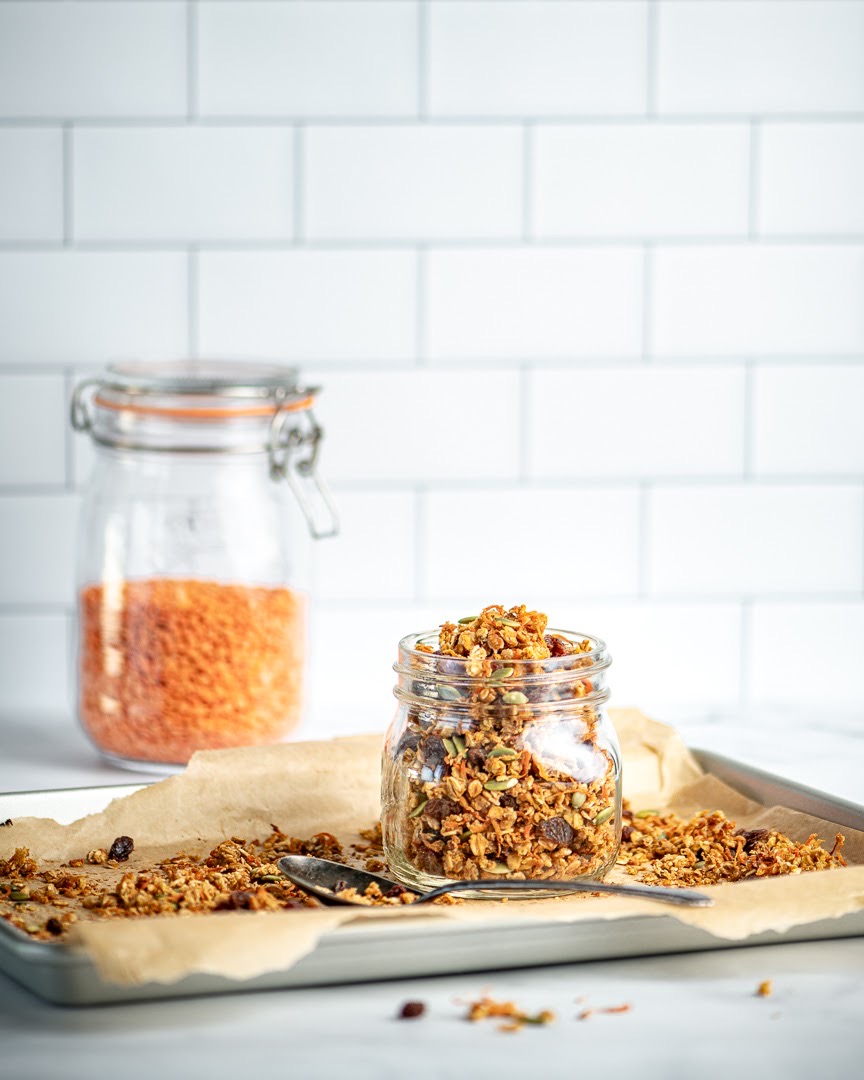 Kitchen Hack: How to cook split red lentils?
For 1 cup (250 mL) cooked red split lentils:
Rinse and drain 6 Tbsp (90 mL) dry red split lentils

Combine split lentils and 1 1/4 cup (300 mL) water in a medium size pot

Bring to a boil and simmer for 5-7 minutes. Do not overcook or lentils will be mushy and break down.

Drain any excess water and gently rinse.
Nutritionally, I love the goodness that's packed into this granola recipe.
Heartfelt thanks to Chef Steven Brochu, Grey Arrow Farm and Alberta Pulse Growers for supporting the GetJoyfull movement, and for helping to make this post and recipe possible. 
Take care, everyone.
Joyfully,
Emily 
Emily Mardell is a Registered Dietitian, busy mama of three and proud Alberta foodie. Emily is passionate about quality ingredients and creating delicious, nourishing recipes that bring families together. Follow her on social media @GetJoyfull or GetJoyfull.com for nutrition advice and tips to grow food joy and fill up on family time.