You're invited! Hey friends, this Thursday, November 19th at 7:30 MST, I have the pleasure of connecting with my dear friend, Kari Skelton for an Instagram LIVE, "Relationships & Recipes – Pandemic Edition." It's a long overdue get together for us girls, and I cannot tell you how excited I am just to hang out with this beauty and all of you who tune in!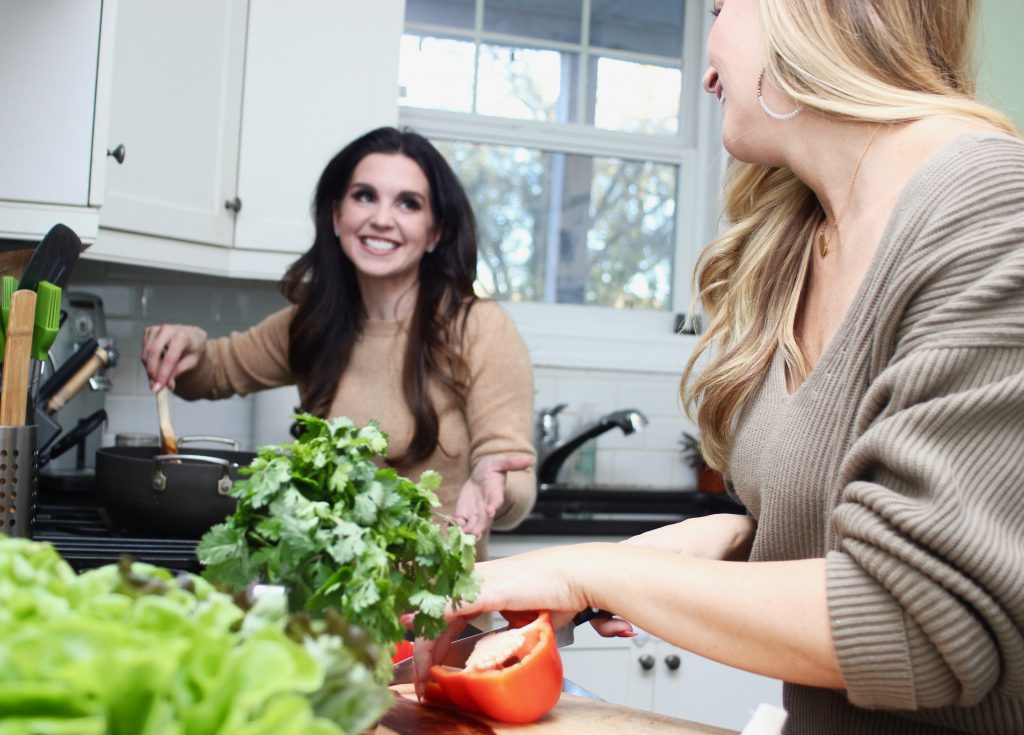 We're living in a crazy time. Things are constantly changing and the stresses and strains of life are impacting our most treasured, intimate relationships. Sometimes for the better, and sometimes for the worse. We want to talk about it. We need to talk about. And we need to lean on one another. Join us. We want to hear from you, too!
Kari and I are ready to dish and share personal stories, tips and reflections on how the pandemic has impacted our relationships and what has helped us stay connected to our significant others. Most of you who know me, know, that food is my love language. So, when I was deciding what recipe to share with you on the LIVE, I knew it had to be one of my favourite date night recipes.
---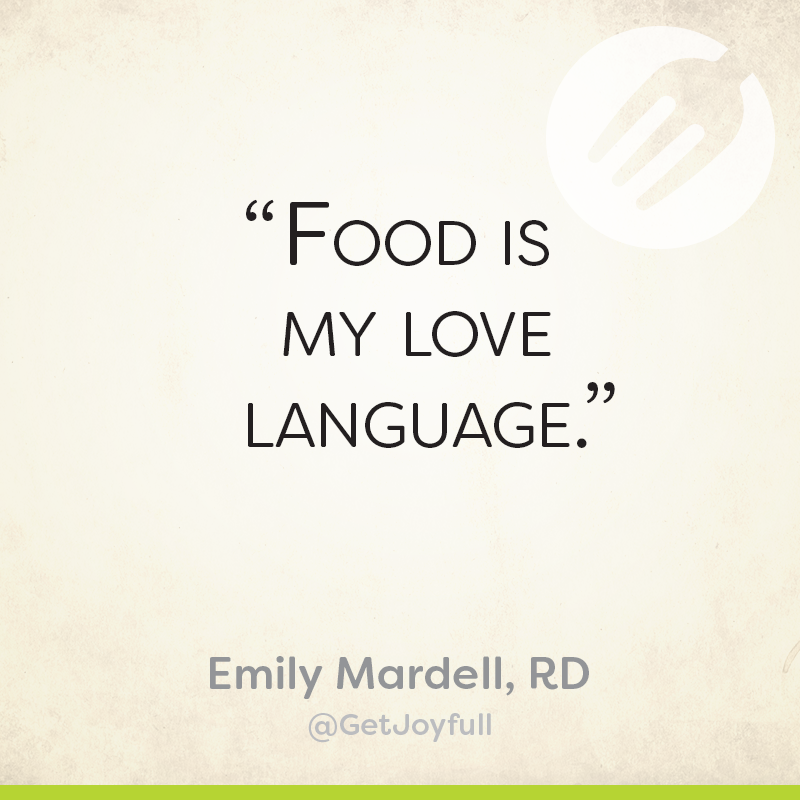 ---
A few years back, my hubby and I went to Jasper Park Lodge for a getaway. It was New Years Eve and there was a huge Gatsby-themed gala happening. It's a memory that gives me the warm and fuzzies because it was just us in a much simpler, carefree time.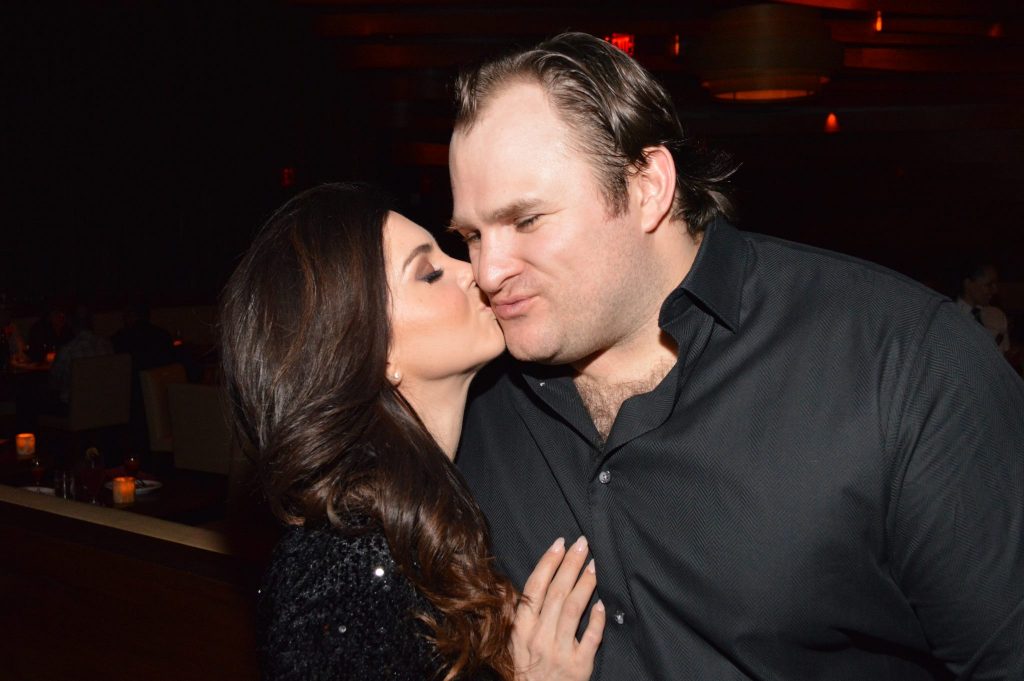 I'll always remember walking into the ballroom and seeing an ocean of food, dish after dish after dish. Every specialty and dessert you could imagine. Anyway, long story short, the first dish I tried was Alberta beef short-rib ravioli simmered in brown butter sauce. Needless to say, I had four more plates, and literally ate nothing else that night. It was heaven! So, for our anniversary this year, not being able to have time away, I decided to master Alberta beef short-rib ravioli in the comfort of our own home. The result? A heart-warming, memory-inducing meal that we won't soon forget. If you're jonesing for a date night in, it's the perfect recipe to reconnect with the one you love. Enjoy, friends!
---
Alberta Beef Short-Rib Ravioli with Brown Butter & Crispy Sage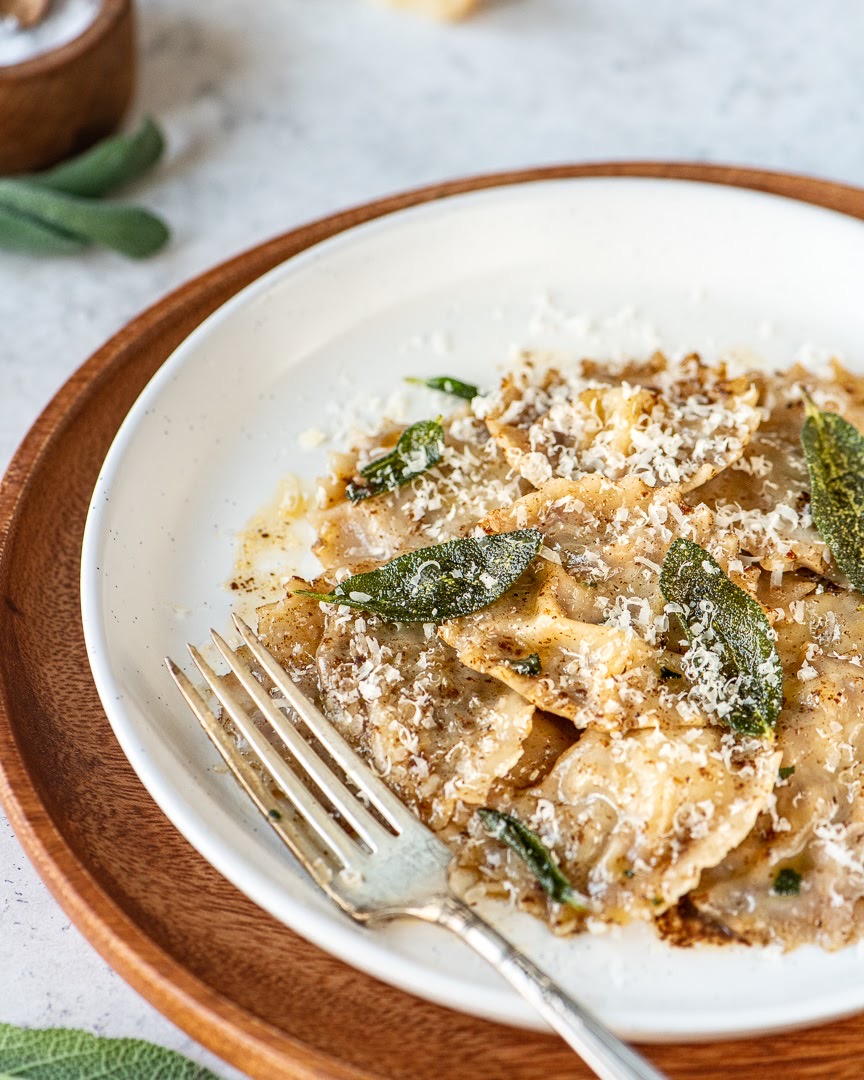 Tender Alberta beef, smoked cheddar, brown butter and crispy sage create the perfect date-night dish for celebrating love and what matters most. 
Prep time: 5 min
Cook time: 10 min
Serves: 4-6 
Ingredients:
½ cup (125 mL)  butter

12 fresh sage leaves 

12 wonton wrappers or 4 sheets fresh lasagna noodles (~2.5 x 2.5 inch square)

1 cup (250 mL) Leftover braised beef short-rib meat, shredded 

½ cup (125 mL) smoked cheddar cheese, grated

Salt and pepper to taste
Directions:
Layer ~ 1 Tbsp shredded beef onto wonton wrapper. Top with ~1 teaspoon of cheddar.

Brush edges of wonton wrapper with water. Seal with another wrapper on top, making sure no air pockets or ingredients along the edge. Cut with a pasta cutter, or use a fork to pinch edges. 

Bring a pot of water to boil. Heat butter in a pan on medium low heat. Add sage until crispy. Remove sage, set aside. Continue cooking butter until it starts to turn golden brown, stirring constantly. You'll know it's ready when you see brown specks and it starts to smell nutty. 

Add prepared ravioli to a pot of boiling water for 2-3 minutes. Remove when ravioli start to float. Add ravioli to the brown butter pan to cook for another 1-2 minutes. This will infuse the ravioli with delicious nutty, rich, earthy flavours. 

Plate ravioli and garnish with crispy sage, grated parmesan and black pepper.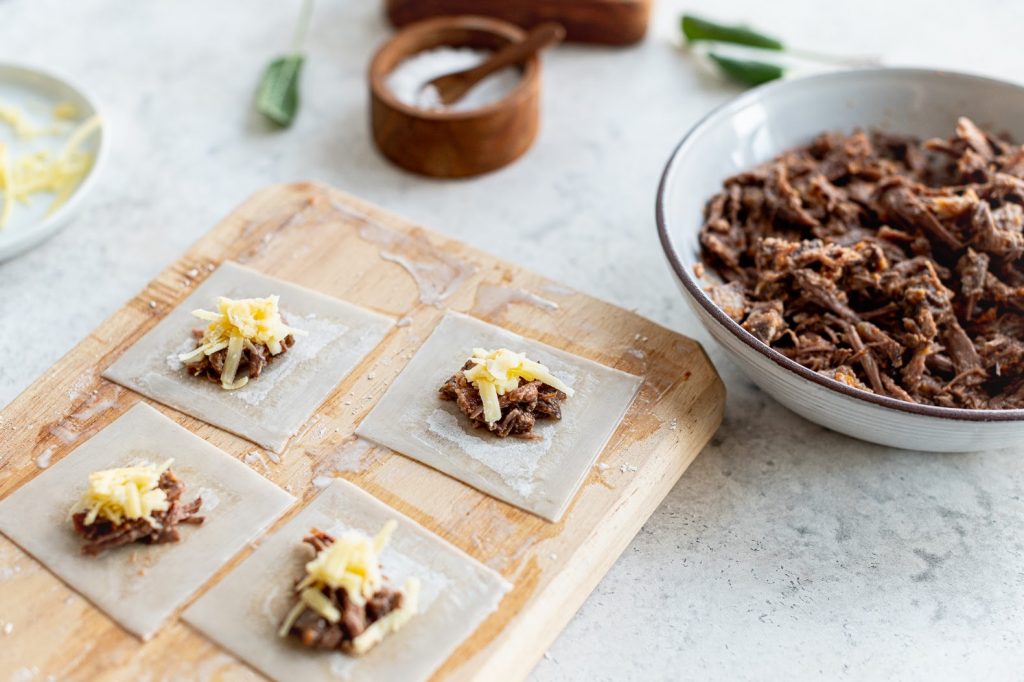 Recipe Tip:
Wonton wrappers or fresh, packaged lasagne sheets make quick, amazing homemade ravioli. The filling possibilities are endless. Enjoy! 
Food is just one way we can connect with the ones we love. For more ideas, or to share your own insights, please tune in to "Relationships & Recipes – Pandemic Edition," on Kari's Instagram page, LIVE Nov 19th at 7:30pm MST.
Let's dish, share and laugh, together!
Heartfelt thanks to including Alberta Beef Producers and Freson Bros for supporting the GetJoyfull movement, and for helping to make this post and recipe possible.
Take care, everyone.
Joyfully,
Emily 
Emily Mardell is a Registered Dietitian, busy mama of three and proud Alberta foodie. Emily is passionate about quality ingredients and creating delicious, nourishing recipes that bring families together. Follow her on social media @GetJoyfull or GetJoyfull.com for nutrition advice and tips to grow food joy and fill up on family time.