With Thanksgiving less than a week away, it's the perfect time to THINK TURKEY @AlbertaTurkey [#partner] and plan a scrumptious, comforting spread of family favourites.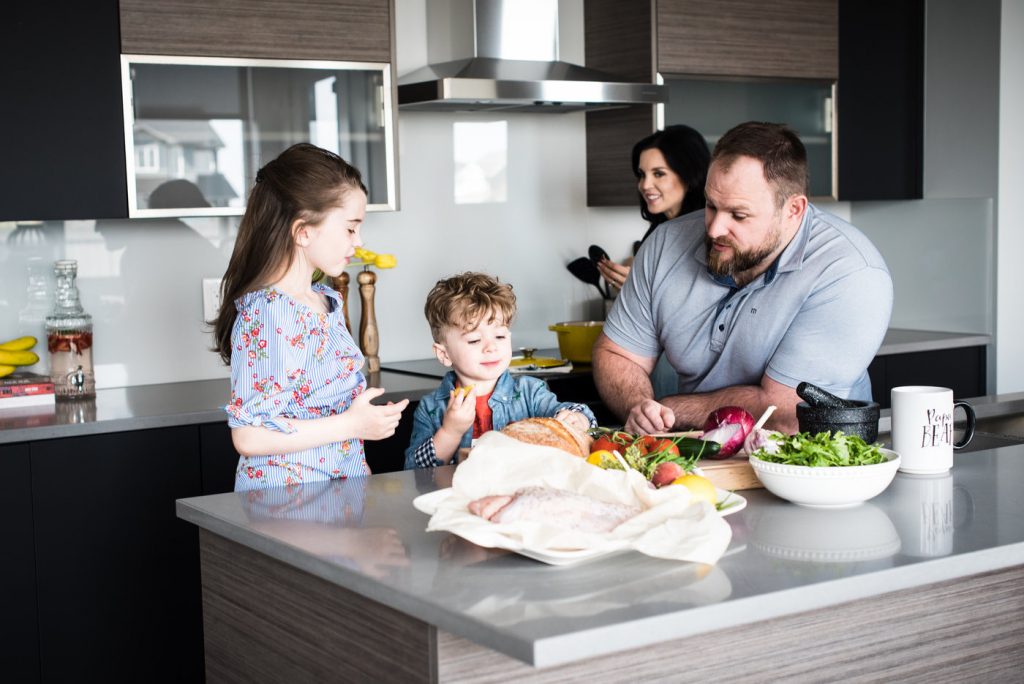 As a kid, Sunday dinner was a treasured tradition in my Grandmother's kitchen. I have countless wonderful memories of our family packed around her little round table, scooping potatoes, pouring gravy and negotiating for the last of the figgy duff pudding. But, roast turkey wasn't something reserved just for the festive season, it was a regular on Gigi's menu and a staple that surely helped keep us hungry grandchildren, happy and healthy.
I learned to cook by watching Gigi. She's the queen of homemade sauces and biscuits. With a wink and a whistle, she can reinvent leftovers into something really, really special. It's basically her superpower. So, in a lot of ways she's the inspiration behind my "Turkey & Thyme Mini Pies," after all, they're yummy, comforting and kid-friendly. Everything a Gigi recipe is to me. 
What's your family's favourite way to leverage Thanksgiving leftovers?
We're fans of turkey stew, turkey tetrazzini and turkey-brie quesadilla; however, this year we're most looking forward to turkey pot pies.
Kids learn to cook, share and enjoy food simply by observing others. And, thankfully, at every age they can get more and more involved in the kitchen. My eight year old daughter, Cela, has been honing her knife skills lately so this year she'll definitely help chop the cooked roast turkey and veggies. She'll make the cornstarch-cream slurry, too. My four year old son, Remi, loves to
bake, so he'll be in charge of the almond biscuit topping. I'll do my best to keep an eye on him, he tends to sneak in a "quality control" taste test or two while mixing, lol.
Turkey & Thyme Mini Pies
---
Serves: 6
Prep-time: 15 minutes
Cook-time: 30 minutes
Ingredients:
Turkey Filling:
1 tsp (5 mL) canola oil

1 small onion, finely chopped

1 medium carrot, finely chopped 

1 celery stalk, finely chopped

2 cups (500 mL) low-sodium broth 

1 ½ cups (375 mL) cooked roast turkey, chopped

½ cup (125 mL) frozen corn 

½ cup (125 mL) frozen, shelled edamame 

1 Tbsp (15 mL) fresh thyme leaves 

¼ cup (60 mL) 10% cream

1 Tbsp (15 mL) cornstarch 

Salt and pepper to taste 

½ cup (125 mL) cranberry sauce, for garnish
Biscuit Topping:
1 ½ cups (375 mL) almond flour 

2 tsp (10 mL) baking powder

2 large eggs, whisked 

1 Tbsp (15 mL) plain Greek yogurt 

1 Tbsp (15 mL) fresh chives, finely chopped 

¼ cup aged cheddar, finely grated 
Directions: 
In a Dutch oven, sauté onion, carrot and celery with oil on medium-high for 5 minutes. 

Add stock and turkey to Dutch oven. Stir. Cover and reduce heat to medium-low. Simmer mixture for 15 minutes.

Preheat the oven to 375F. Place 6 ramekins on a baking tray. Set aside.

Add corn and edamame beans to Dutch oven, stir and continue simmering.

In a small bowl, mix together cream and cornstarch to make a slurry. Add slurry to Dutch oven and stir well. Cook for another 5 minutes until turkey-veggie mixture becomes thick and creamy. Season with salt, pepper and thyme. Reduce heat to low and prepare biscuit dough.

In a medium bowl, combine biscuit ingredients. Be mindful not to over mix the dough. 

Fill ramekins with turkey mixture and top with a large dollop biscuit dough. Gently spread evenly with the back of a spoon. 

Bake filled ramekins in the oven for 10-15 minutes until biscuits are fluffy and golden. 

Serve mini turkey pies with your favourite winter salad, and a dollop cranberry sauce! 
Recipe Tips:
Ramekins typically range in size from from 6 to 12 oz. I used 8 oz ramekins for this recipe. Any small, oven-safe dish will work great. I've even made these pies in mini cast iron skillets! 

Dark meat from turkey thighs and drumsticks is extra flavourful, so mix it up and add both leftover white and dark turkey meat in this recipe! 
These "Turkey & Thyme Mini Pies" are not only creamy and delicious, but they boast over 20 grams of protein per serving, thanks to the lean, crave-worthy turkey we love. Add in a boost of colourful fresh and frozen veggies, along with an amazing gluten-free almond biscuit topping, and you'll have a new family favourite on your hands.
Thanksgiving is the perfect time to celebrate the little things and to take stock of what truly fills us up and makes us happy. Whether it's a mini pie, a mini celebration, or a mini moment — take the time to find joy, it's everywhere. 
Heartfelt thanks to farmers and Alberta Turkey for supporting the GetJoyfull movement, and for helping to make this post and recipe possible. 
From our family to yours, Happy Thanksgiving, friends.
Take care, everyone. 
Joyfully,
Emily
Emily Mardell is a Registered Dietitian, busy mama of three and proud Alberta foodie. Emily is passionate about quality ingredients and creating delicious, nourishing recipes that bring families together. Follow her on social media @GetJoyfull and GetJoyfull.com for nutrition advice and tips to grow food joy and fill up on family time.