It's the most wonderful time of the year.
The GetJoyfull countdown to Christmas is on and our family is excitedly planning a spread of yummy dishes for the festive season. For us, the holidays are a treasured time to share the foods we love best with the people we love the most. There's truly nothing quite like food to bring people together.
"What are the 'must haves' on your holiday menu?"
We love to gather with friends and family—especially in December. So when snowflakes start falling and Mariah Carrey is singing you can bet we're cozied up around the kitchen table sharing good food, and creating happy memories.
Every year we cook family favourites like partridgeberry-apple salad, aged cheddar-bacon pinwheels, and brown butter date pudding. It just wouldn't feel like the holidays without them. But, each year we try to up our "gathering game," and create new recipes that will stand the test of time as true crowd-pleasers.
In the GetJoyfull kitchen, we find the best crowd-pleasing recipes to be shareable, seasonal and a little savory and a little sweet. So this year's crowd-pleasing front-runner is without a doubt our sticky, sweet with a hint of heat 'Orange-Chicken Lollipops.' They're our new favourite appetizer, and we're betting soon to be yours, too!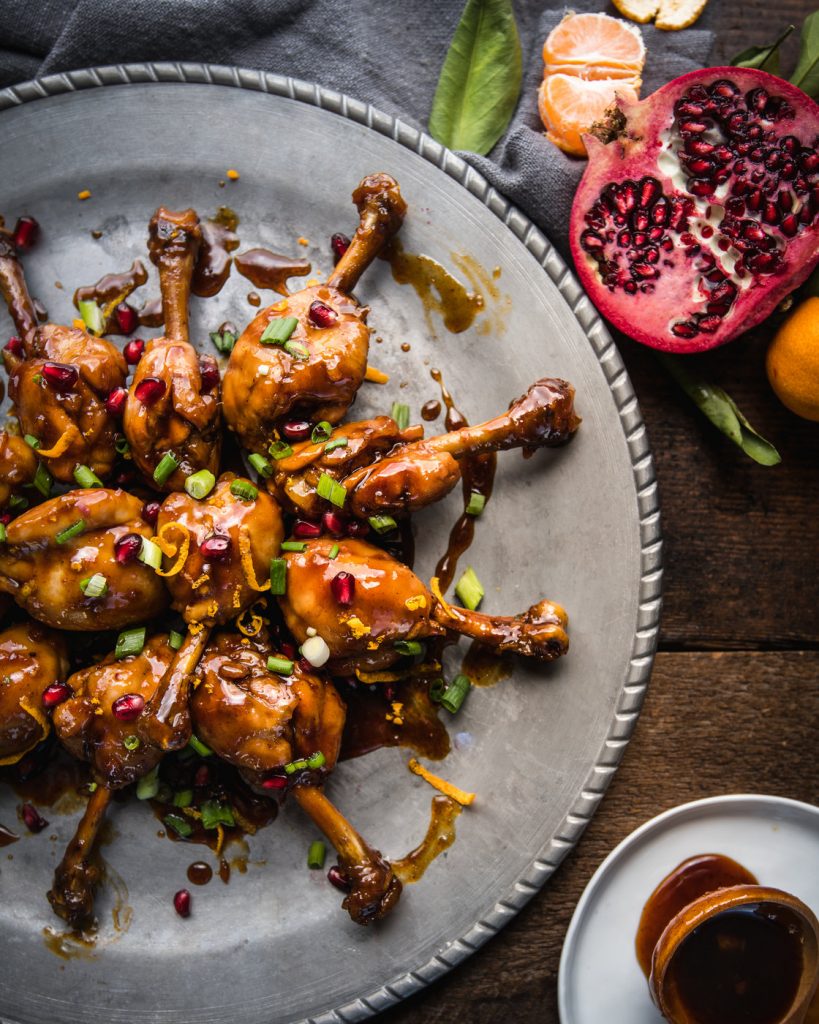 "Bursting with festive flavours of orange, molasses and pomegranate these chicken lollipops are perfect for a holiday potluck, or New Year's Eve house party." 
Our 'Orange-Chicken Lollipops' give new meaning to the term family-style, and will surely have your guests asking for a second platter. As a hostess, I love to find delicious recipes that are both pantry and pocketbook-friendly. Not to mention easy to make. This recipe checks all those boxes.
---
Orange-Chicken Lollipops 
Sticky, sweet with a hint of heat, and quite possibly your new favourite holiday appetizer. Grab your friends, and napkins. Lots of napkins. 
INGREDIENTS:
Main:
2 lbs (900 g) skinless chicken drumsticks, prepared 'lollipop-style.' (See GetJoyfull Tip below)

1 Tbsp (15 mL) vegetable oil 

Salt and pepper to taste
Sauce:
2 cups (500 mL) 100% orange juice 

¾ cup (180 mL) apple cider vinegar 

1/2 cup (125 mL) brown sugar, packed 

1/2 cup (125 mL) prepared orange marmalade

1 Tbsp (15 mL) molasses

1 Tbsp (15 mL) cornstarch 

1 Tbsp (15 mL) Chili powder 

1 tsp (5 mL) garlic powder

1 tsp (5 mL) onion powder

1-2 tsp (5-10 mL) red pepper flakes
Garnish:
1 Tbsp (15 mL) fresh orange, zest

2 green onions, finely chopped

¼ cup pomegranate arils
DIRECTIONS:
Preheat oven to 425 degrees.

Prepare chicken drumsticks 'lollipop-style.' [

GetJoyfull Tip: Use a sharp paring knife to carefully cut around the top of the drumstick. Cut all the way around through the skin and meat until you reach the bone. Use side of the knife to remove tendons. Then push the meat down towards the bottom of the drumstick forming lollipop "handle" for easy eating.] 

Layer chicken lollipops in a Dutch oven, drizzle with vegetable oil and season with salt and pepper. 

Add sauce ingredients into a medium bowl and stir to combine with a whisk or fork. 

Pour sauce mixture over chicken and cover with lid. Bake chicken for 45 minutes. 

Remove Dutch oven lid and bast chicken with thickened sauce from pan. Cook chicken uncovered for another 15 minutes, until chicken lollipops are shiny and caramelized. Chicken should be cooked to an internal temperature of 165°F (74°C).

Plate lollipops family style and garnish with extra sauce from pan, chopped green onion, orange zest curls and pomegranate arils.
---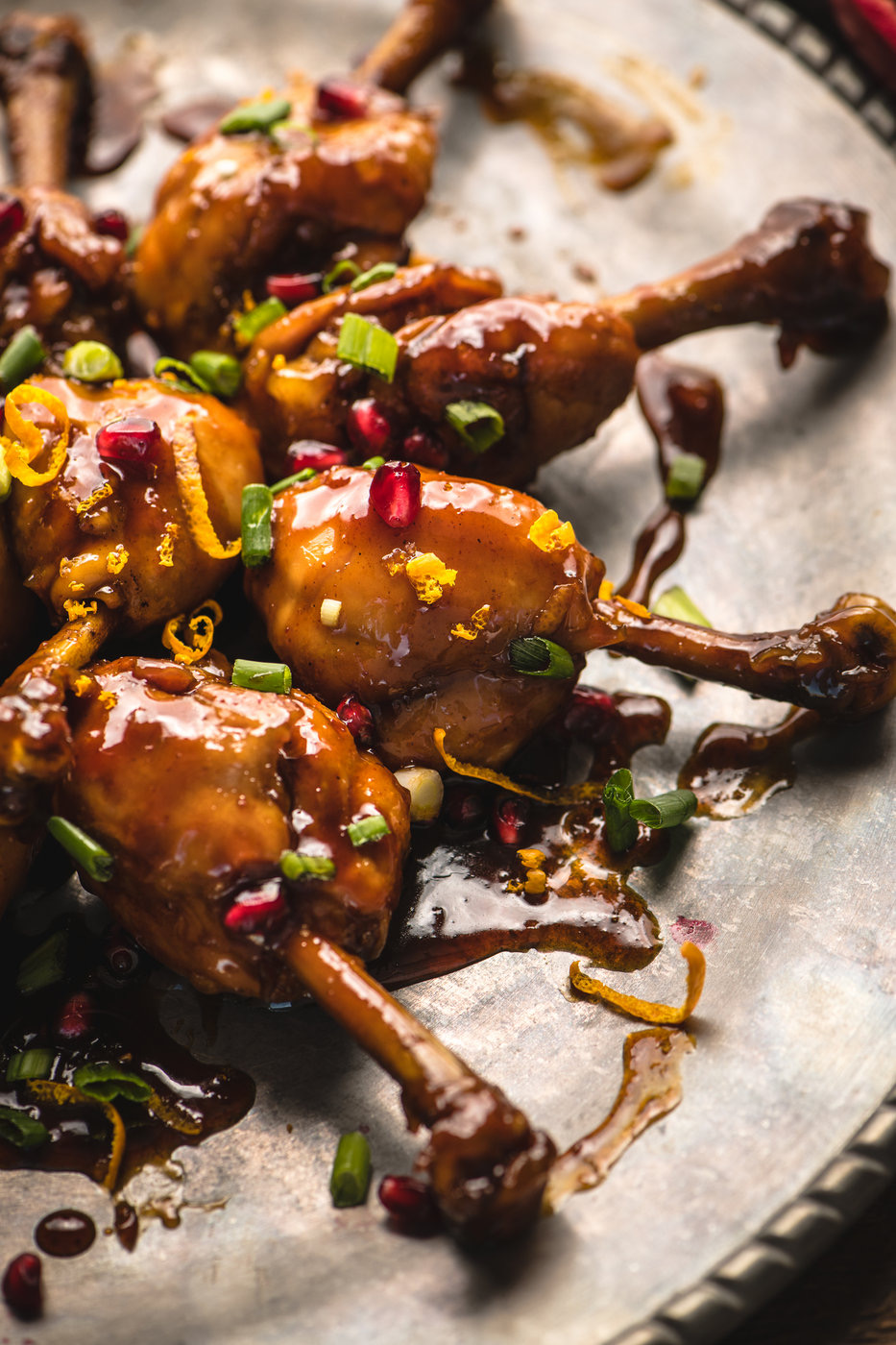 As a Dietitian and Mama, I love to find recipes that pack quality protein and keep my kids smiling. One (1) chicken drumstick boasts 12 grams of satisfying protein and 75 calories. True, this recipe requires a serious napkin supply, but isn't a little mess half the fun anyway? My son Remi sure thinks so, lol.
"Prepared 'lollipop-style' drumsticks are even more fun to eat, and perfectly portable when you feel like jingling and mingling."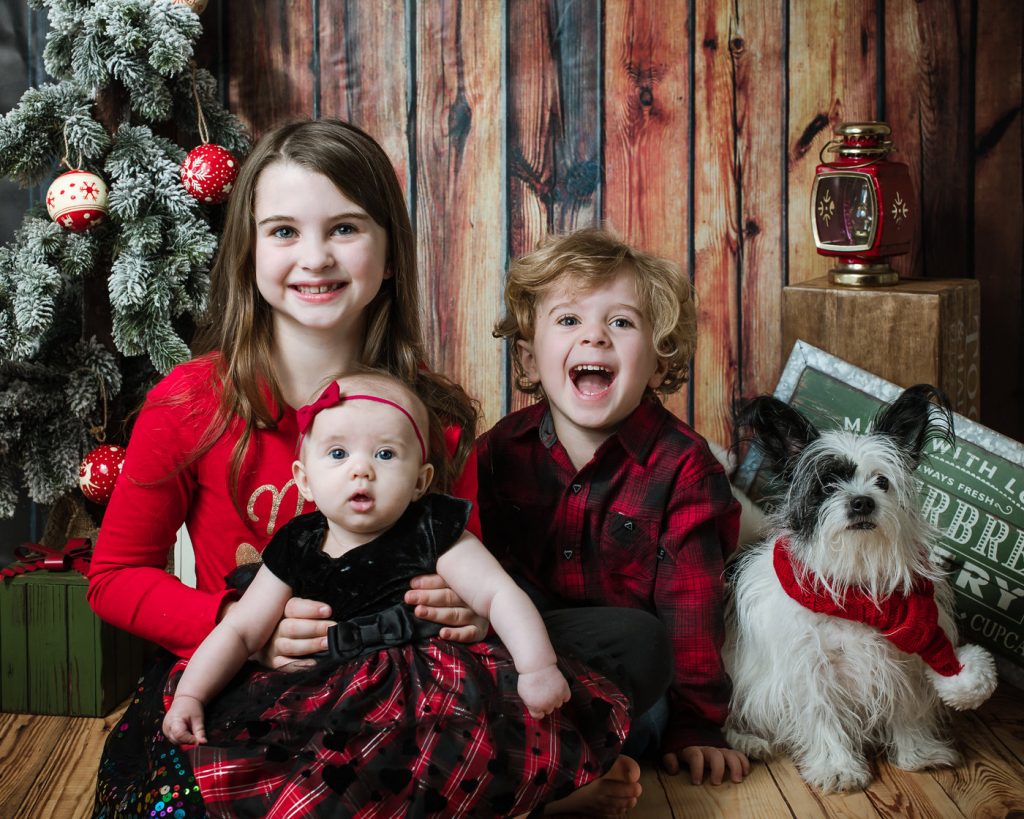 Heartfelt thanks to Alberta farmers and Alberta Chicken Producers for supporting the GetJoyfull movement, and for helping to make this post and recipe possible.
Joyfully,
Emily
Emily Mardell is a Registered Dietitian, busy mama of three and proud Alberta foodie. Emily is passionate about quality ingredients and creating delicious, nourishing recipes that bring families together. Follow her at GetJoyfull.com for nutrition advice and tips to grow food joy and fill up on family time.