Tender, juicy, perfectly roasted chicken has always been a GetJoyfull favourite. My family enjoys it so much that I often roast two at a time to ensure enough leftovers for soup and sandwiches. As a busy mama of three, I'm a big fan of the cook once eat twice philosophy. In fact, it just might be my mealtime mantra for 2020. 
Roasting is a no fuss, time-savvy cooking method that adds irresistible flavour and texture. When I need a lot of meals in a hurry I'll roast a couple whole chickens and leverage the leftovers for a week of yummy dishes. My go-to has always been a sticky lemon & thyme version, but recently I switched things up by infusing a little extra spice, and green goodness. And, I am so glad I did!
Peruvian-Inspired Whole Roast Chicken with Creamy Herb Sauce 
Splendidly spiced with a hint of smoky sweetness this recipe is the one-pot wonder you've been craving to help you kick off a New Year of simple, healthy family meals.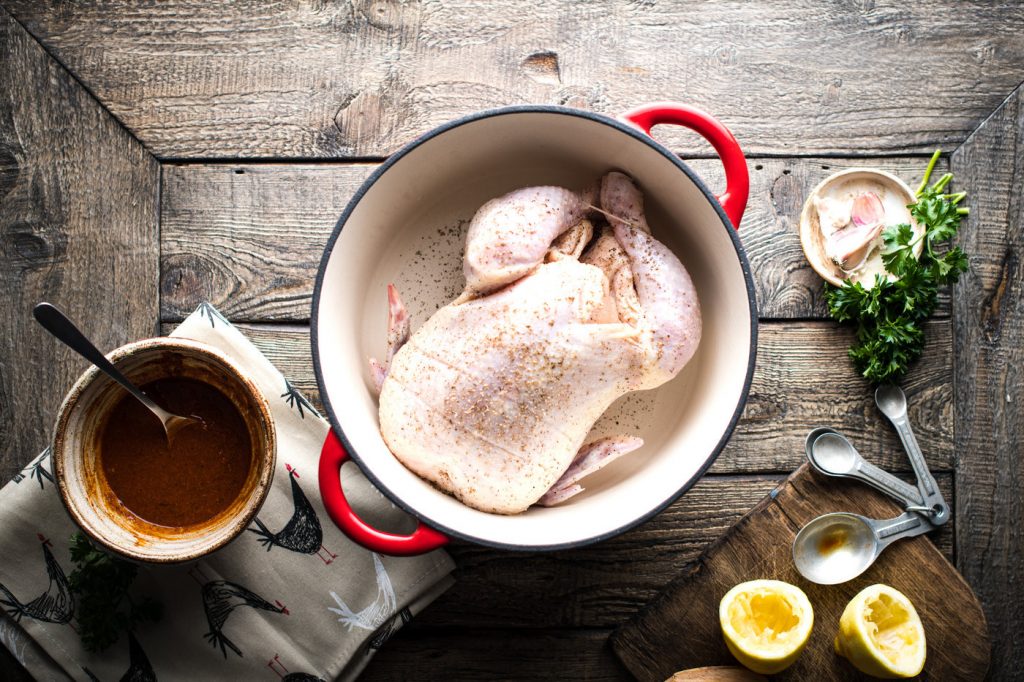 Ingredients
---
Main: Chicken & Spice Mix
2 garlic cloves, finely chopped

1 tablespoon (15 ml) ground cumin

1 tablespoon (15 ml) sweet paprika

1 tablespoon (15 ml) vegetable oil 

2 teaspoon (10 ml) dried oregano

Salt and pepper to taste

1 fresh lemon, zested and juiced

1 (4 lb) whole fresh chicken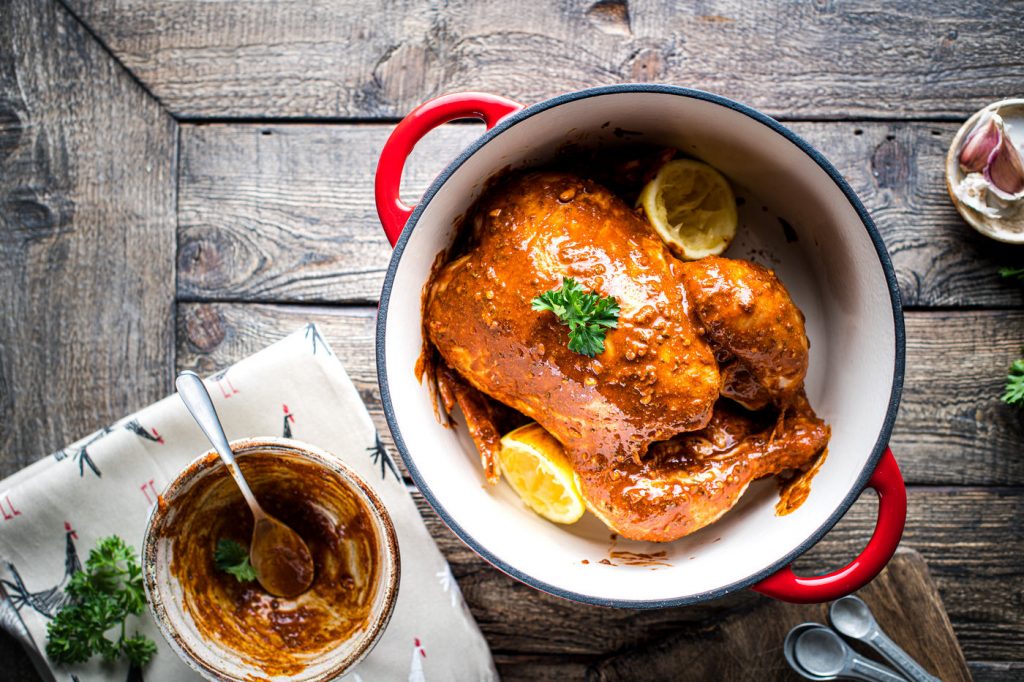 ---
Garnish: Creamy Herb Sauce
1 cup (250 ml) fresh cilantro leaves

¼ cup (60 ml) fresh flat-leaf parsley 

1 jalapeño, seeded and chopped

2 garlic cloves, finely chopped

1 tablespoon (15 ml) fresh lime juice

¼ cup Greek yogurt

¼ cup mayonnaise

Salt and pepper to taste
Directions:
Preheat oven to 375°F. 

Prepare spice blend. Add garlic, cumin, paprika, oil, oregano, salt, pepper, lemon zest and lemon juice to a small bowl and whisk together with fork.

Transfer chicken to a Dutch oven or roasting pan. Pour spice mix all over chicken and rub into skin until evenly coated. 

Roast chicken for 25 minutes then baste with pan juices. Cook for another 20-30 minutes, basting every ten minutes, or until chicken reaches an internal temperature of 165ºF.

Transfer chicken to a cutting board and let rest 15 minutes before carving. 

Prepare creamy herb sauce. In a blender or food processor, pulse cilantro, parsley, jalapeño, garlic, lime juice, and salt. Add Greek yogurt and mayonnaise then puree until well blended.

Carve chicken and serve family-style with creamy herb sauce. Try sides of cooked quinoa, fresh cucumber and steamed Lima beans, or roasted tomatoes. 
---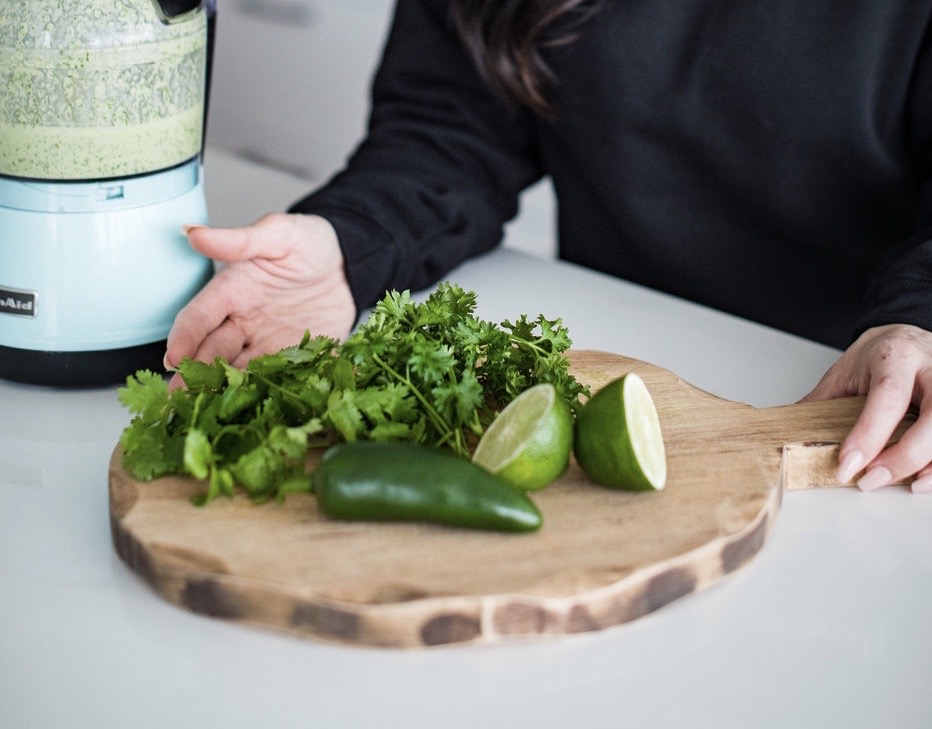 GetJoyfull Tip: Try your hand at spatchcocking. Use kitchen shears to safely and easily remove the chicken backbone. Roasting the chicken flat on a baking sheet we'll seriously save on cooking time, and make carving a snap.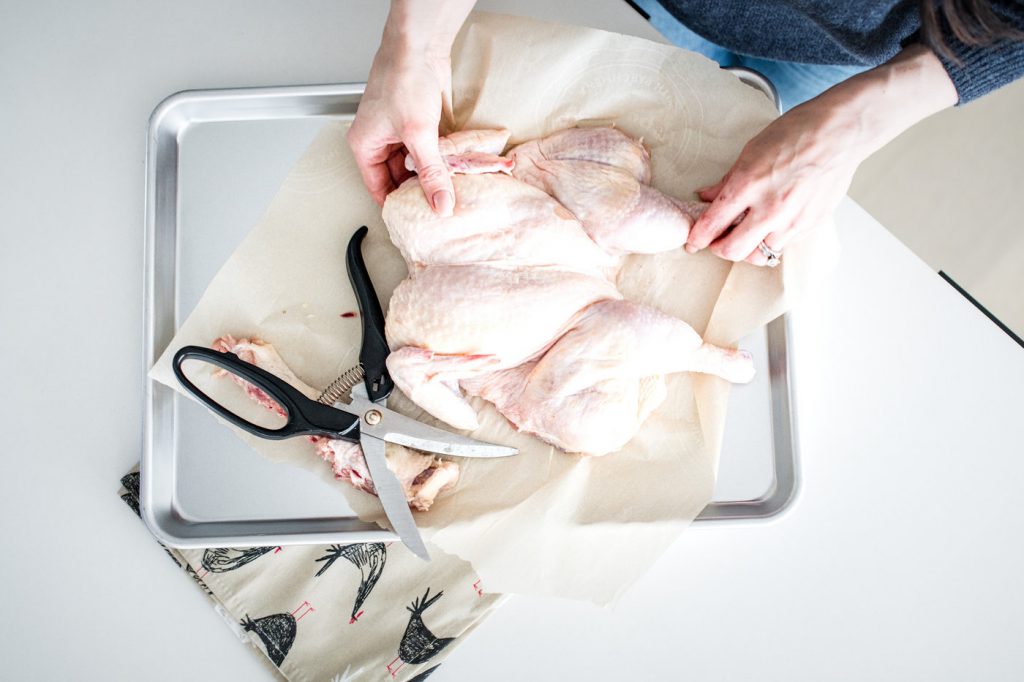 My Peruvian-inspired whole roast chicken has seriously elevated my family's expectations of chicken. We serve it family-style with creamy herb sauce and a spread of simple sides. Cela and Remi are first to reach for the drumsticks and thighs. My kiddos are dark meat fans like their Mama, and luckily I don't mind sharing. The Dietitian in me appreciates that whole chicken is a great source of iron, an essential nutrient for the healthy growth and development of kids, but it's the dark meat that really anchors iron to the dinner table. Dark meat actually has 50% more iron than white meat. Cool, hey? A helpful tidbit that influences how I meal plan for tiny tummies.  
So, if you're looking for a delicious, nutritious twist on a family favourite this Peruvian-Inspired Whole Roast Chicken with Creamy Herb Sauce is for you. We love it with fluffy quinoa, and steamed lima beans. If I have them on hand I'll quickly roast a few mini tomatoes, too. The creamy herb sauce is sure to be your new favourite garnish. It's so yummy that we keep the extra to enjoy on salads, pita chips, and raw veggies throughout the week. Consider making a double batch.
Heartfelt thanks to Alberta farmers and Alberta Chicken Producers for supporting the GetJoyfull movement, and for helping to make this post and recipe possible. Happy New Year, everyone.
Joyfully, 
Emily 
Emily Mardell is a Registered Dietitian, busy mama of three and proud Alberta foodie. Emily is passionate about quality ingredients and creating delicious, nourishing recipes that bring families together. Follow her at GetJoyfull.com for nutrition advice and tips to grow food joy and fill up on family time.