Family road trips are always an adventure. Often before leaving the driveway! Gathering essentials and just packing the vehicle can sometimes feel like an all-out endurance challenge. If you've played Tetris before, you might have a leg up, lol. Between clothes, toys, car crafts and snacks its a survival of the fittest race to the starting line. 
As a mom and Dietitian, road trip eats or "fuel plan" as I like to call it, is always top of mind when preparing for the road. For our family, especially those members who are predisposed to hangry episodes and tummy sensitivities, food plays a huge role in keeping sibling squabbles to a simmer and ensuring we all arrive with spirits high and energy in the tank. 
What are your road trip tips, hacks and essentials?
Our favourite road trip eats tend to share three common traits…they're EASY, ENERGIZING and ENTICING!
Sure, we hit the drive thru and gas station from time to time, but for the most part we have a thoughtful plan as to what our main meals and snacks will be along the way. Make-ahead recipes, build-a-better-snack boxes and car-friendly easy-to-assemble meals make road-tripping positive and possible experiences.
Dietitian Quick Road-Trip Tips:
Plan your road trip menu keeping balance and colour in mind. 

Don't forget to mix in a little freshness, fun and spontaneity, too! 

Empower kids to choose 2-3 foods to pack and/or purchase for or on the trip. The goal? To encourage them to be more intentional about their food choices and agreeable to the pre-planned fuel plan. 

Use road-trip time as an opportunity to squash diet culture. Try to avoid talking about food with descriptors like healthy, unhealthy, good, or bad. Instead focus on keeping a solid routine around meal timing and enjoy eating together!

Keep protein top of mind. One of the main nutrients that can fall off the radar when traveling is often protein. It's not always easy to find quality protein on-the-road, so planning, preparing and packing protein ahead is pivotal if you want to enjoy the daily benefits protein provides. Protein offers a satisfaction factor that helps stabilize energy, blood sugar and hunger levels at every turn. It's a must-have macronutrient at every meal and snack. 
Ready to roll? Check-out the GetJoyfull road-trip eats we've been enjoying lately when commuting to and from the lake and camping excursions. These ideas all prioritize protein, whole-grains and colour. We hope you enjoy them as much as we do! 
Too-Cool-for-School Chicken & Veggie Pitas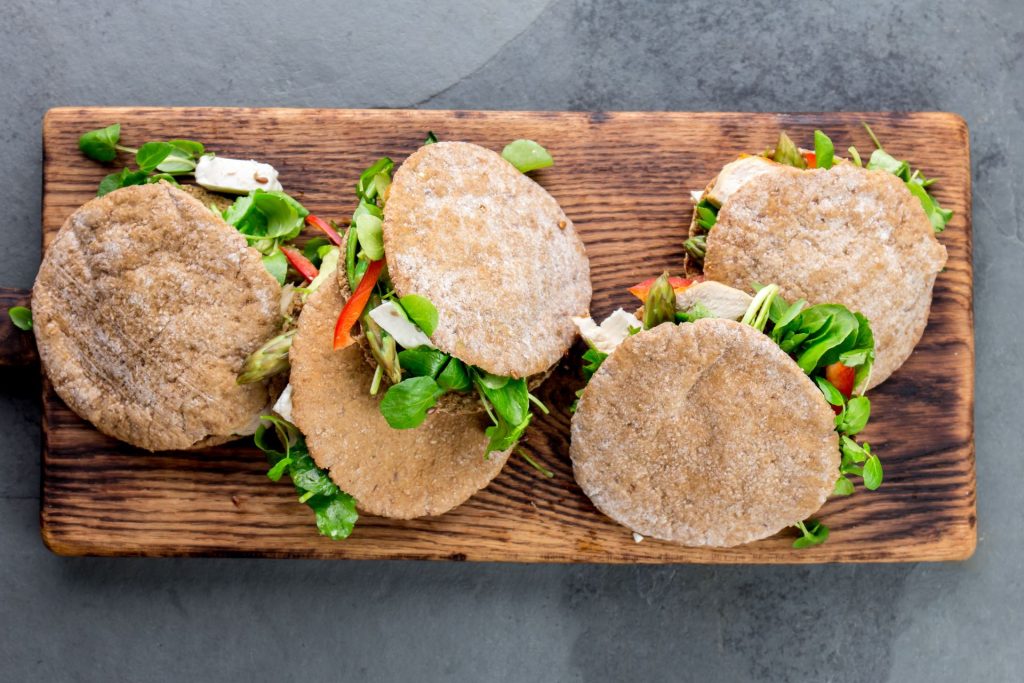 Make a home-cooked meal to go! Marinate chunks of fresh Canadian chicken breast in a blend of olive oil, lemon juice, and herbs. Thread the chicken onto skewers and air-fry or grill ahead of time. Chill and store in an airtight container in a portable, road-trip ready cooler! When hunger strikes, pull cooked chicken off the skewers into whole-grain pita along with hummus and crisp chopped veggies. This fun, protein-packed mini meal is a road-trip favourite! 
On-the-go Greek Yogurt Parfaits
Create layers of creamy Greek yogurt, fresh berries, and a sprinkle of crunchy granola or crushed whole grain cereal in individual mason jars or cups. This snack is not only versatile and delicious but also a great source of protein, fiber, and vitamins. Prepare parfaits ahead of time and store them in the cooler for safe keeping. These parfaits make the perfect light lunch, early morning breakfast-on-the-go or an anytime happy snack! 
Blaze-a-Trail Snack Mix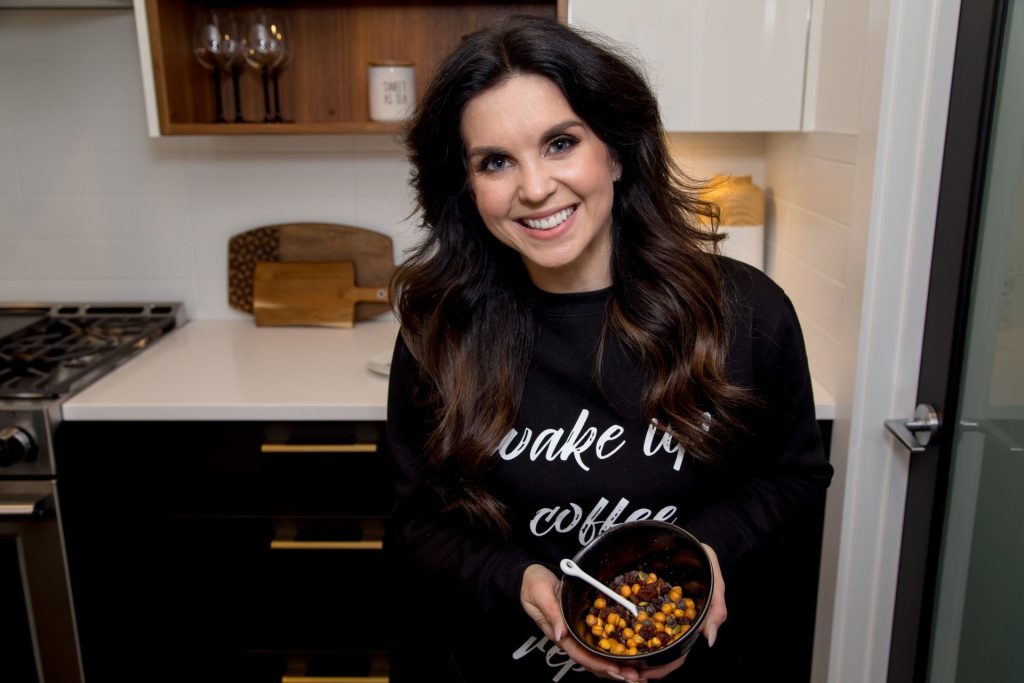 Take on any family adventure this summer with this energizing, homemade trail mix! Make your own homemade trail mix by combining whole-grain cereal, unsalted nuts, dried fruit, and dark chocolate chips. To add an extra protein boost, include some roasted chickpeas or edamame. Portion the mix into individual snack bags for easy access during the trip. Family movie night at the camper, or hotel stay? This trail mix can be upgraded to epic movie-night snack by adding in warm, freshly popped popcorn! 
Campout Favourite: Firecracker Chicken & Gnocchi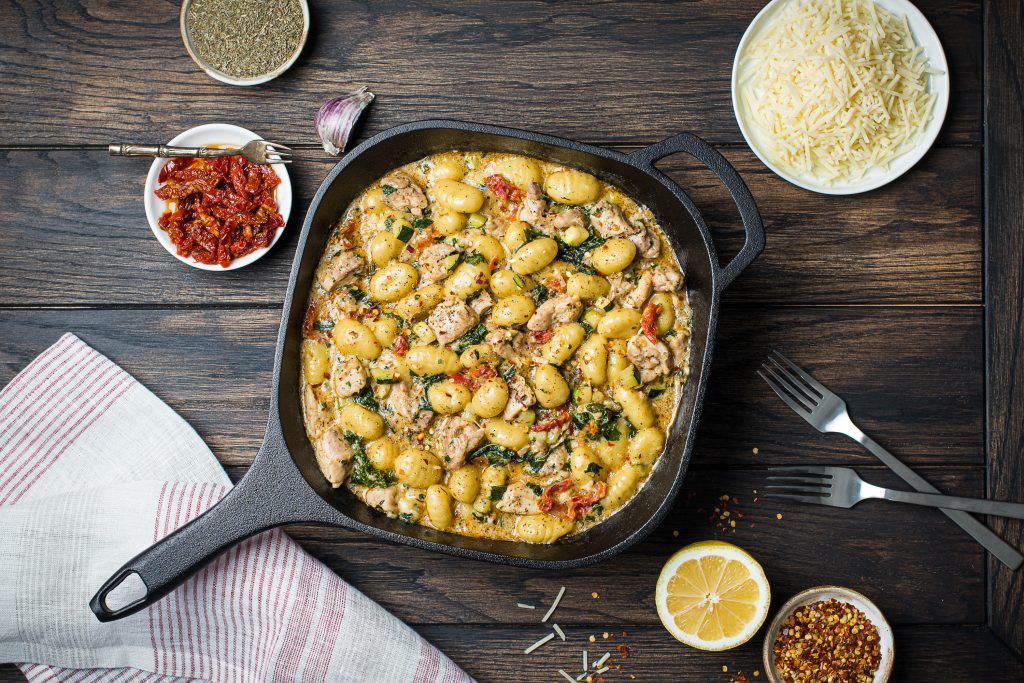 Perfect for outdoor cookouts and camping adventures, Firecracker Chicken & Gnocchi is a one-pan wonder worth planning ahead for. Sure, this recipe can be made in any kitchen, but cooking this dish on the fire in the great outdoors brings a whole new level of yum to the campout table. Loaded with cooked fresh Canadian chicken thighs [#partner], hearty greens and pillowy soft gnocchi–this recipe guarantees happy campers!
"Bean there, done that" Bento Boxes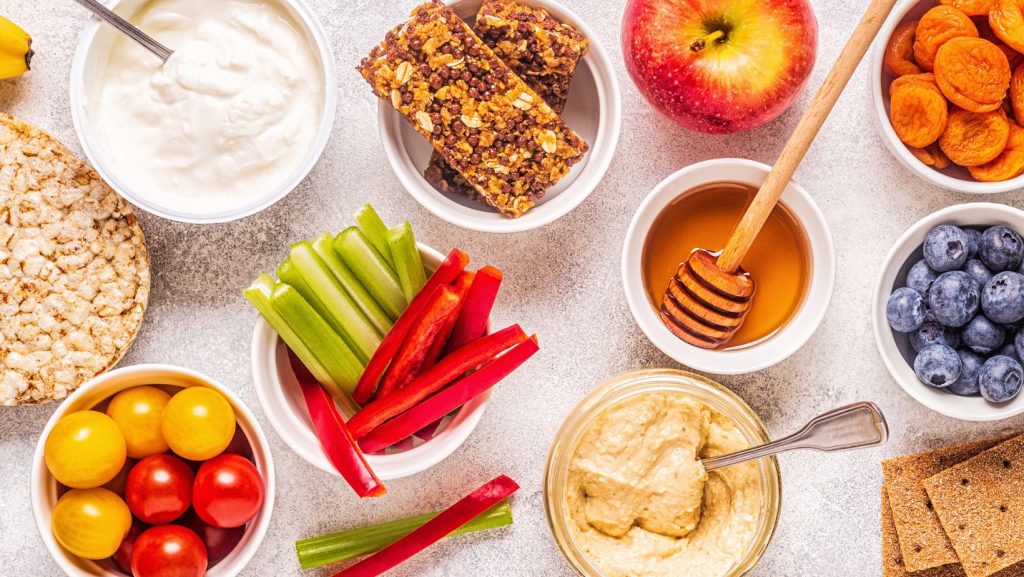 Road-trip "Bean there, some that" bento box in the making!
We love a great bento box when we're on the road. It's car-friendly, easy to personalize and packs the variety and colour this mama strives to provide. For an extra boost of fibre/digestion support while traveling, we try to ensure at least one or two fibre-rich pulses make an appearance on the fuel plan. "Our bean there, done that" bento boxes, tend to include items like: Mini pitas, hummus, roasted spicy chickpeas and local goodies from Steve & Dan's market stand like fresh-picked carrots and blueberries. Did you know vitamin C rich foods like berries help aid iron-absorption? It's true!
Embrace the Detours Dill Dip & Veggies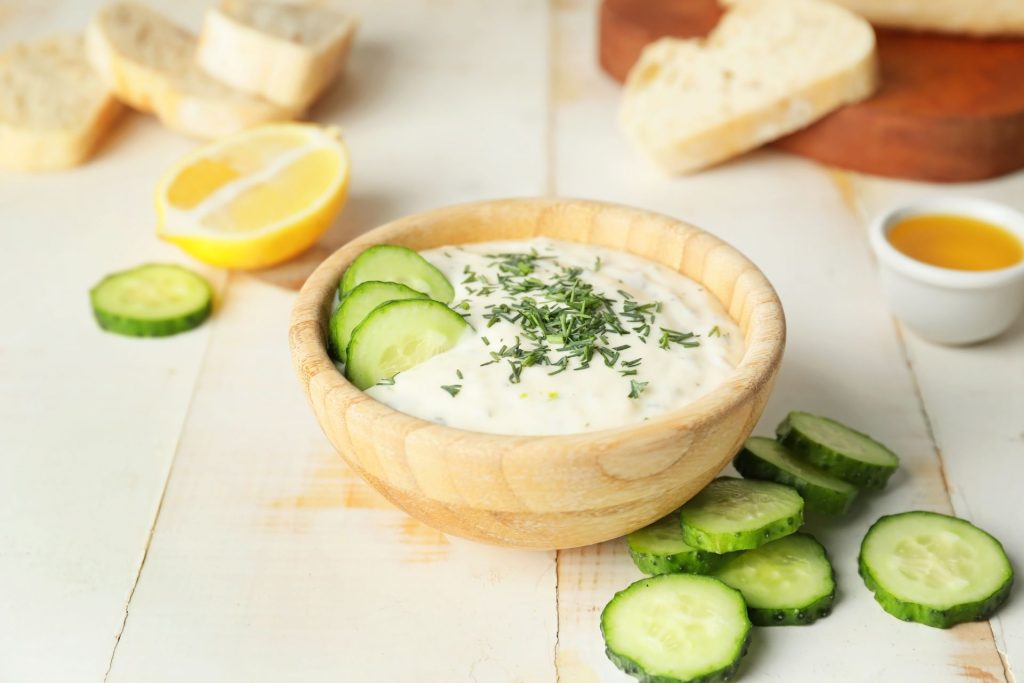 Mix together plain Greek yogurt, chopped fresh dill, a drizzle of honey and splash of apple cider vinegar along with cracked black pepper, until well combined. Add dill dip to a chilled container and keep at the ready to enjoy with road trip-friendly veggies like carrot sticks, pea pods, bell pepper slices, cucumber rounds, celery stalks and broccoli/cauliflower florets. This can't-get-enough combination is the perfect snack to break-out when everyone needs a break from listening to Dad's "singing." Crunch on, friends, crunch on! 
---
We hope these ideas inspire you to plan and prepare ahead a little more before your next road trip. Here's to safe, happy, energized adventures, friends! 
What delightful, satisfying options will you plan for your road trip journey? Share with us on social or in the comments below! 
Joyfully,
Emily 
Emily Mardell is a Registered Dietitian, busy mama of three and proud Alberta foodie. Emily is passionate about quality ingredients and creating delicious, nourishing recipes that bring families together. Follow her on social media @GetJoyfull or GetJoyfull.com for nutrition advice and tips to grow food joy and fill up on family time.
Disclaimer: This post is sponsored by Alberta Chicken Producers, an organization that supports family chicken farms across Alberta, and promotes the health and nutrition benefits of chicken.  It also mentions local growers Steve & Dan's BC Fresh Fruit who are a near and dear GetJoyfull partner. As always, all comments, information and opinions are genuine and my own. Thank you for visiting GetJoyfull.com – EM