There is an extra bunch of cherries in my Steve & Dan's CSA this week, which means there's a chance the kids won't eat them all before I get a chance to make one of my favourite Summertime cherry desserts, clafoutis!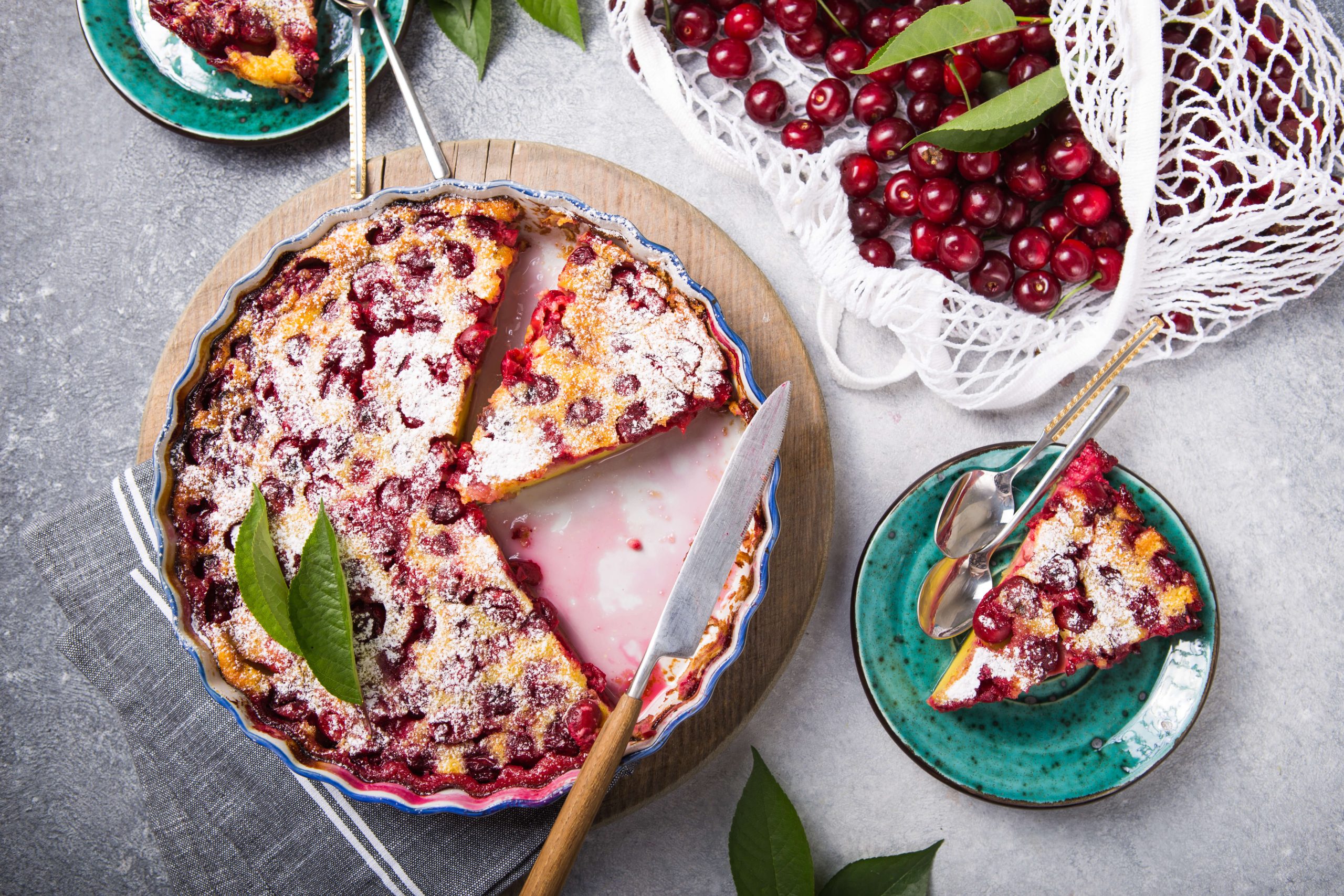 Cherry Clafoutis
Ingredients: 
3 eggs

⅔ cup 2% evaporated milk

1 tsp vanilla extract

2 Tbsp brown sugar, packed

¼ cup almond flour

¼ cup whole-grain flour

1 Tbsp unsalted butter

2 cups pitted cherries 

Icing sugar and whipped cream, optional garnishes
Directions:
Set the oven to 425. Place a 10" cast iron skillet inside to preheat. 

In a medium bowl, whisk together eggs, milk, vanilla, sugar and flours to make a liquidy, smooth batter.

Carefully remove the skillet from the oven and add butter. Brush around with a pastry brush to ensure the skillet is evenly coated with melted buttery goodness. 

Pour batter into a hot skillet and add cherries evenly throughout. 

Bake for 15 minutes until fluffy, lightly crackled and golden brown.

Dust baked clafoutis with icing sugar and garnish with whipped cream before serving. It's optional, but I mean…it's whipped cream
Enjoy, friends!
P.S This can also be made with raspberries, blueberries and peaches! 
If you have extra delicate fruit, or berries on-hand this summer, try this clafoutis recipe, or all the ideas below to ensure they're saved and enjoyed to the fullest! 
BAKE
A simple and delicious "Cherry-Lemon Compote". Cook pitted cherries in a stock pot on low-medium heat with a little water, freshly squeezed lemon juice and rind, along with honey to taste. Cook the fruit until it's soft and glossy, with the texture of a thick, chunky jam. Refrigerate in a mason jar for the week. Enjoy on ricotta toast, stirred into your favourite yogurt or as a warm ice cream sundae topping!
FREEZE
FREEZE a batch of Cherry-Cheesecake Popsicles! In a small bowl combine cream cheese, vanilla yogurt and honey until smooth and creamy. It's a mock cheesecake of sorts! Gently stir in some pitted Rainier cherries. Layer this mixture into popsicle molds with crushed graham crackers and pop in the freezer. The perfect sunny day treat!
MEAL PREP
"Post-workout Cherrylicious Shake Packs" Wash and pit rainier cherries. Set up an assembly line with cherries, chopped kale, sliced banana, and flaxseed. Add all these ingredients to medium biodegradable/reusable freezer bags and freeze for when you need a quick post-workout shake. Simply blend with a muscle recovery protein like Greek yogurt, or whey protein and enjoy! 
Did you know?

Ongoing research suggests that particular compounds found in tart cherries provide unique health benefits, which are showing promise as a favourable performance and recovery aid for active individuals. Two components within the stone fruit are of particular interest; melatonin, and the natural anthocyanins (a type of flavonoid, aka antioxidant). It is the anthocyanins which give cherries their deep, rich colour. Importantly though, the anthocyanins possess anti-inflammatory properties, which can reduce the inflammation and pain after intense training. Be sure to look for deeply coloured cherries and if you can find it, tart cherry juice, too! (Credit: Australian Sports Institute)
We'd love to know how you're sharing and enjoying fresh summer produce and fruit this summer. Share in the comment or connect with us on social. Take care, friends!
Joyfully, 
Emily 
Emily Mardell is a Registered Dietitian, busy mama of three and proud Alberta foodie. Emily is passionate about quality ingredients and creating delicious, nourishing recipes that bring families together. Follow her on social media @GetJoyfull or GetJoyfull.com for nutrition advice and tips to grow food joy and fill up on family time.
Disclaimer: This post was prepared in collaboration with Steve & Dan's Fresh BC Fruit, one of our amazing local grower partners and friends. 
GetJoyfull's "True Roots" program was first inspired by Steve & Dan's commitment to produce quality and trailblazing advocacy to inform and empower local growers and consumers alike. They're truly farmers who care, which is one of the reasons we just love them so much! Oh, and their cherries. And, strawberries. Can't forget their Red Haven peaches. Great, now I'm craving a Honey Crisp Apple Pie, lol. I could go on and on, friends. Be sure to check them and their story out here!