As a busy mom of three, I feel the challenge of finding meals that are both nutritious and appealing to the whole family. With the start of spring bringing a flurry of activities like t-ball, soccer, and ball hockey, I've found myself seeking out new recipes save time and ensure we all keep our energy up! Enter my trusty one-pan wonders! These go-to recipes are simple and satisfy the taste buds of kids and adults alike. In partnership with Alberta Chicken Producers, I'm excited to share some of my favourite one-pan-wonders that fit the bill: fast and flexible, nutritious and delicious, and sweet and savoury!
Let's start with a crowd-pleaser, "One-Pan Balsamic Chicken & Veggies." 
RECIPE: One-Pan Balsamic Chicken & Veggies
Serves 4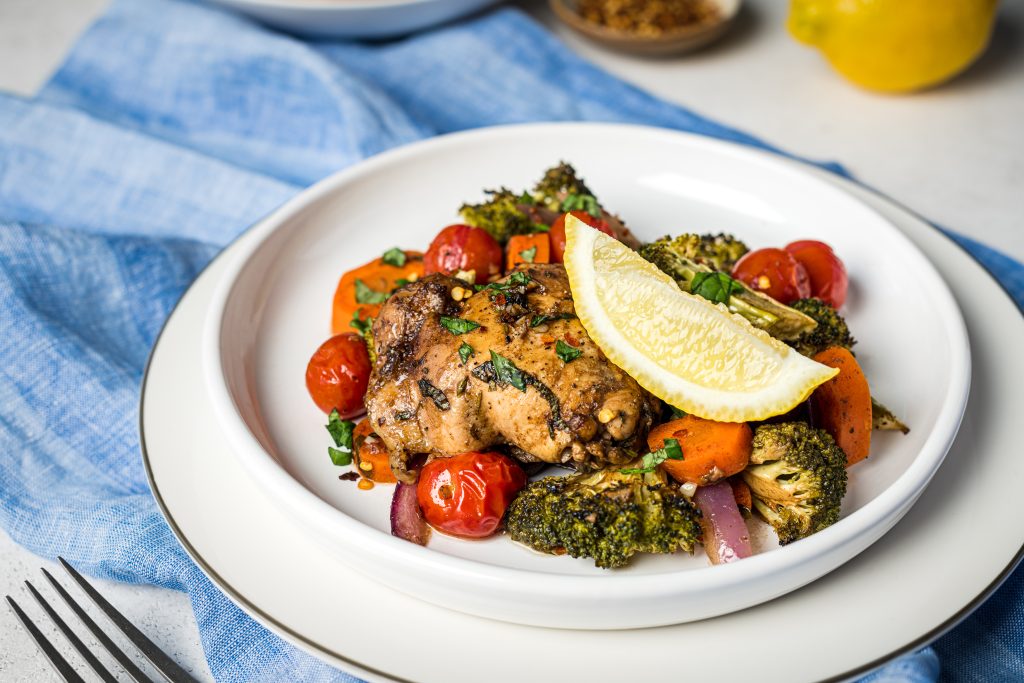 INGREDIENTS:
2 lbs boneless skinless chicken thighs, halved

1 red onion, sliced

2 medium carrots, sliced

2 cups broccoli florets

1 cup cherry tomatoes

1 lemon
Balsamic Marinade:
½ cup balsamic vinegar

⅓ cup oil

4 cloves garlic, minced

2 tbsp fresh thyme, chopped

2 tbsp fresh basil, chopped 

1 tbsp Dijon

Salt and pepper to taste 
DIRECTIONS:
Marinate chicken in balsamic mixture for 30 minutes or up to 2 hours. Keep refrigerated.

Preheat oven to 400

o

F

Add fresh cut veggies, except for tomatoes, to a non-stick baking sheet. Drizzle with ½ cup chicken marinate and stir to evenly coat. 

Add marinated chicken thighs to the baking sheet. Discard remaining marinade. 

Bake chicken & veggies in the oven for 20-25 minutes, or until chicken reaches an internal temperature of 165

o

F. For the last 5 minutes of cooking add tomatoes to the pan. 

Garnish with fresh lemon and additional herbs, or red pepper flakes, if desired. Enjoy with crusty bread.
---
TIPS:
Stir veggies at the 10-minute mark to prevent burning.

Use 2 tsp dried basil and thyme if you do not have fresh on-hand

Update recipe with other veggies like button mushrooms, bell peppers, sweet potato etc.

Add this recipe to your meal prep plan. Portion into lunch containers and enjoy all week!
"Fresh chicken thighs, the star of this recipe, are not only versatile but also a great source of protein, iron, and essential nutrients. A 3-ounce serving of skinless, boneless chicken thighs contains approximately 26 grams of protein! Chicken thighs also provide a good boost of heme iron, which is essential for energy production, brain development, and immune function."
Personalize the Plate
Surprisingly, one-pan wonders are quite easy to personalize. Prefer the sweeter side? Add a squeeze of honey to the balsamic marinade. Jonesin for extra heat? Add a pinch of chili flakes! You can even switch up the vegetables depending on what your family enjoys, what's in season or what's in the back of the freezer, lol #relatable. Btw, this recipe also versatile and budget-savvy…it works and with virtually any cut of chicken!
Keep it Interesting!
Add an element of surprise by varying the flavors of your one-pan wonders from week to week. Favourites like barbecue, honey-mustard and sweet & sour are typical in our rotation, but new flavours are always added to keep things interesting! My favourite way to introduce a new flavour is with a dip! Recently, I served our usual Sunday roasted chicken with a new, tangy yogurt-curry dip. A simple, creamy mix of yogurt, mayonnaise, lemon juice, honey and curry powder. It was a hit! Dips like this are approachable and easy to add or omit. Next time, I'll feel way more confident adding the new curry spice directly into the chicken rub before roasting! 
Hungry for more ideas? Here are a few chicken-inspired One-Pan Wonders making an appearance on our menu this month! 
1. Chicken Stir-Fry
Stir-fry's are a fantastic way to create a balanced meal packed with veggies and lean protein. Teriyaki Chicken Stir-Fry is a delightful blend of tender chicken, crisp vegetables, and a tangy teriyaki sauce. Personalize it by adding your family's favorite vegetables, such as broccoli, bell peppers, snap peas, carrots etc. Add veggies your family enjoys cooked directly to the stir-fry pan, and those preferred raw offer on the side. Keep the one-pan theme going by adding ready-to-eat noodles just before serving.  
2. Pizzalicious Chicken Tenders
Perfect for a busy weeknight or family night in, Pizzalicious Chicken Tenders are a fun, familiar spin on chicken tenders. I pre-prepare chicken tenders simply by cutting chicken breasts into 4-5 pieces and coating each piece with a mixture of paprika, garlic powder, Italian seasoning, salt and pepper. Even uncooked these store really well in the freezer. When a quick air-fryer meal is in order, I pop them in to cook, and for the last 3 minutes of cooking, add a dollop of pesto to the top and sprinkle of shredded mozzarella. These are ridiculously good and so satisfying. One tender packs 10 grams of protein! Personalize for littles by offering to omit the pesto, or by serving with garlic bread and a side of marinara sauce.
3. Sheet Pan Chicken Fajitas
If your family loves recipes they can build to grab and go, recipes like this are likely already in your recipe rotation too! Toss sliced seasoned chicken pieces, bell peppers, and onions on a sheet pan and let the oven work its magic. Serve the sizzling fajita mixture with warm tortillas, lettuce wraps or leftover rice. Personalize further by offering a variety of toppings and condiments, such as shredded cheese, Greek yogurt, or chopped cilantro. Leverage leftovers into a low-fuss chicken fajita salad bowl the next day!
---
Now it's your turn! We'd love to hear from you. Share your favorite one-pan wonders and how you're personalizing them to suit your family's preferences, nutrition needs and grocery budget. Let's inspire each other with our creative ideas and time-saving strategies.
Here's to saving time, nourishing our loved ones, and embracing the joys of spring and summer!
Joyfully,
Emily 
Emily Mardell is a Registered Dietitian, busy mama of three and proud Alberta foodie. Emily is passionate about quality ingredients and creating delicious, nourishing recipes that bring families together. Follow her on social media @GetJoyfull or GetJoyfull.com for nutrition advice and tips to grow food joy and fill up on family time.
Disclaimer: This post is sponsored by Alberta Chicken Producers, an organization that supports family chicken farms across Alberta, and promotes the health and nutrition benefits of chicken.