As a young girl, my grandmother GiGi and her friends would have what we call a "Newfoundland boil-up". They'd pick fresh mussels from the rocks when the tide was low, or wade in the water to get them. Then they would build a fire to cook them up right there on the rocky shores. Times have certainly changed and although it might not be something I would let my Cela do alone, I still wanted her to experience the joy of cooking something in the same way her GiGi did back then.
To help us on our food journey, we enlist the help of my dear friend, Captain Rick Crane of Crane's Legacy. Rick and I have been friends since kindergarten and I always remember him as that outgoing kid with a free spirit and an appetite for fun, and truth-be-told, a little trouble at times.  Both of us, in our own way, were greatly influenced and shaped by our grandparents and share a considerable respect for the values and teachings of the generations before us. Especially the connection to both land and sea. Captain Crane's eyes shimmer as he pilots his vessel across the choppy waves recounting tales of times past and memories shared. It's the same glimmer he had as a tenacious young boy decades ago. When he was five years old he knew he was destined to be a fisherman. He helps us make our way to Woman's Cove, the perfect setting for the GetJoyfull girls to reconnect, and make old memories new again.
As we navigate our way through the rocky shoreline, we are accompanied by more friends — adventure junkie Evan Brake of Evan Brake Films, local guide Darren Park of Four Seasons Tours and photographer Dru Kennedy of Dru Kennedy Photography. These are some of my favourite moments from our time in Newfoundland, capturing beautifully the sweetness and strength of my Cela. Windblown hair, completely immersed in nature. Arguably, never happier.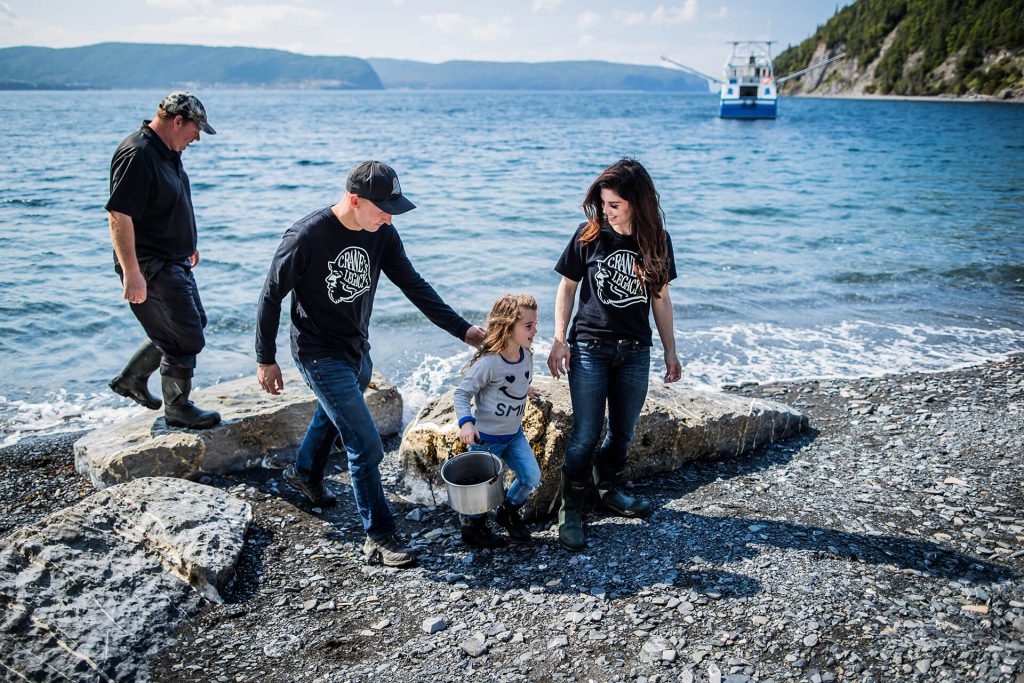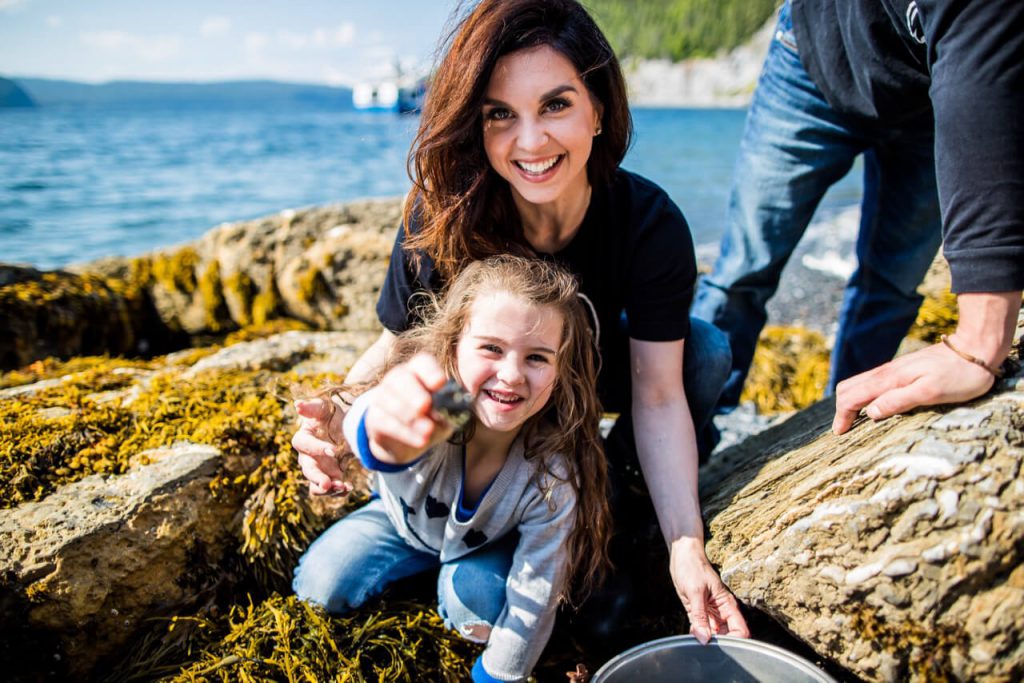 By the time we were through gathering mussels it was safe to say we were gut-foundered and ready to cook up a proper feast. "Gut-foundered?," you ask. Well, one can't spend time in Newfoundland without expanding their vocabulary of unusual and colourful words. Let me defer to the wonder that is Newfoundland & Labrador Tourism for a charming language lesson.
So, there you go a little lesson in the eclectic language of true Newfoundlanders! Although you may not have access to a beach for fresh mussel picking there are a range of incredible local seafood providers that can help connect you with quality mussels to recreate this recipe in your own kitchen. I encourage you to search one out in your area – one of our favourite's is Edmonton-based Fin's Select Meats and Seafood.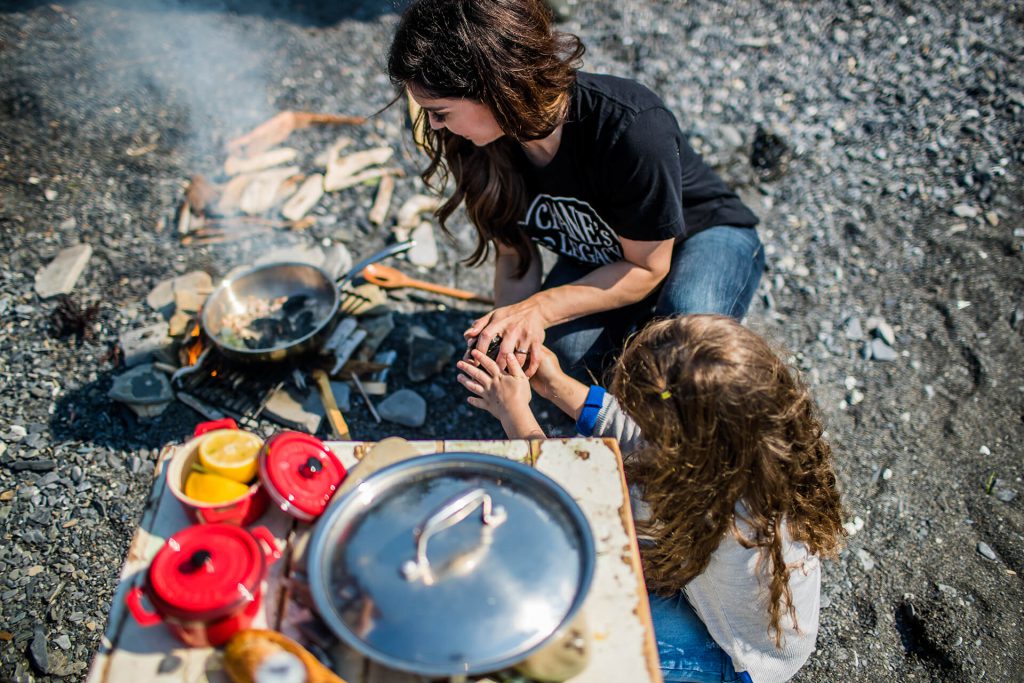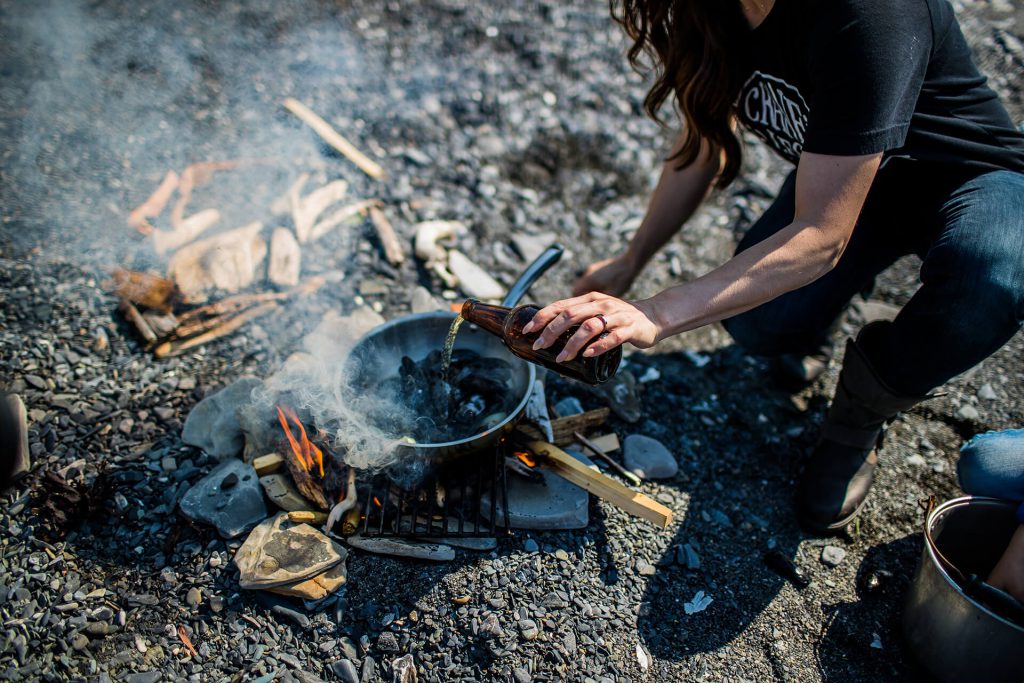 Seaside Mussels with Garlic & Chive
Ingredients
2 cloves of garlic, sliced

2 rashers of bacon, diced

1 Tbsp. olive oil

1 kg mussels, scrubbed and debearded

½ cup cider or beer

¼ cup fresh chives, chopped

1 lemon, sliced
Directions
Peel and slice garlic, finely chop chives, and dice bacon.
Add 1 Tbsp. olive oil in a large pan on a medium-high heat, add the bacon and cook until golden, stirring regularly.
Check fresh mussels. Remove beards, and any that have prematurely opened. They're not suitable for eating.
Add muscles to pan, with your favourite cider or beer. On this day we opted for a Quidi Vidi brew. Cover with lid and steam for 3 to 4 minutes, or until the mussels have opened and are soft, juicy and delicious, shaking the pan occasionally.
When all of the mussels have opened, they're ready – transfer them to the platter. If any of the mussels remain closed, throw them away, they're no good.
Garnish with fresh chives, lemon and crusty bread for dipping.
Your food adventure may not be a trip to Newfoundland, or anywhere far at all. I encourage you to look back and explore your caregivers connections to food. Ask a grandparent about their favourite childhood food memory and reenact it in the here and now – do it together! Build that three-tiered strawberry planter in the backyard for your kids like your grandfather did for you when you were young. Try your hand at making Baba's perogies. Oh, and if you do that — please share! Whatever the getjoyfull moment, dig up those old family traditions and bring them back to life so that passion can live on for generations to come.
Stay tuned next week as we head into the cozy confines of my mom's old kitchen to whip up some delightful cream puffs just in time for Valentine's. As always, don't forget to Fill Up On Family Time.